In 2015 at Pallant House Gallery, a remarkable collection of lost works by war artist Evelyn Mary Dunbar (1906–1960) went on show for the first time. Highlights from the artist's 'lost studio', discovered in a Kent attic in 2013, featured alongside other important rediscovered works, reaffirming Dunbar's position as one of the most significant British figurative artists of the twentieth century.
Belatedly recognised, Evelyn Dunbar's importance in British twentieth-century art is continually being reassessed. Gifted draughtswoman; brilliant Royal College of Art student under Sir William Rothenstein; principal muralist at Brockley School, Lewisham; book illustrator; devout Christian Scientist; official Second World War artist, sole woman artist to be salaried throughout the war; subtly insistent feminist; devoted gardener: Evelyn Dunbar was an individual artist of lively imagination and consummate technique, whose work defies easy classification, although a Pre-Raphaelite influence is often evident.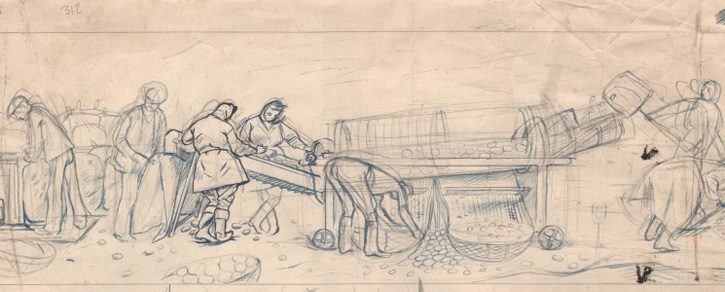 Of Scottish and Yorkshire descent, Evelyn Dunbar lived mainly in Kent. A close but uneven relationship with her former tutor Charles Mahoney led to the creation of the guide Gardeners' Choice (1937), written and illustrated jointly. Evelyn Dunbar's convictions about the synergy of mankind and nature, first expressed through images based on the family garden, later found wider scope in her war paintings, particularly those of the Women's Land Army.
Having separated from Mahoney, in 1942 Evelyn Dunbar married horticultural economist Roger Folley, then an RAF officer. Their shared ecological convictions further encouraged her to present her ideas through allegory. Evelyn Dunbar divided her later post-war years between her visions, teaching and recording her beloved Kent in landscape. She died aged 53, leaving an oeuvre bespeaking a warm, positive personality working in the best humanist tradition of English art.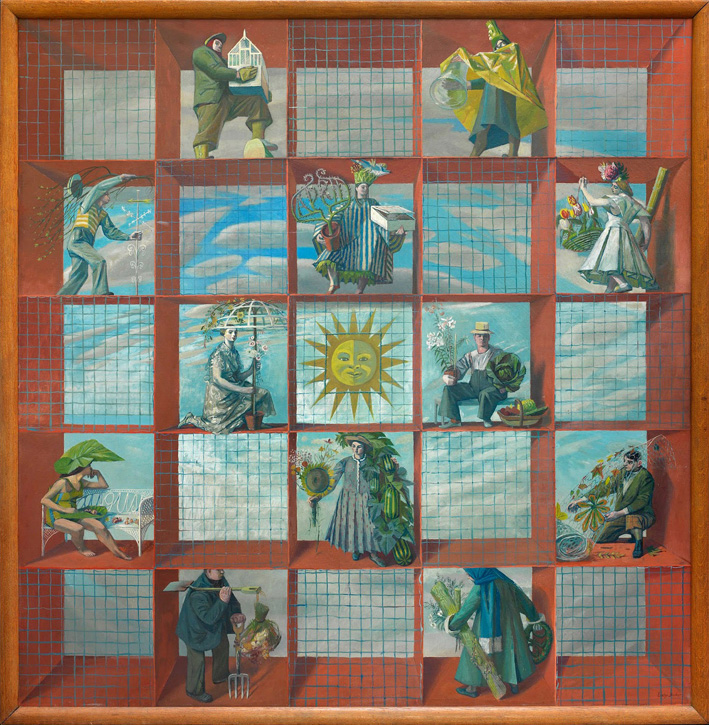 In 2012, Dunbar's painting Autumn and the Poet (1949) appeared on the BBC Antiques Roadshow, leading Ro Dunbar, a relative of the artist, to explore the extraordinary hoard of over 500 paintings, drawings and studies hidden in the attic of her Kent home. The unrecorded works were identified with the help of Christopher Campbell-Howes who had been tracking contents of the 'lost studio' – dismantled in its entirety after Dunbar's death in 1960 – for over 20 years. The discovery doubled the known body of Dunbar's work overnight.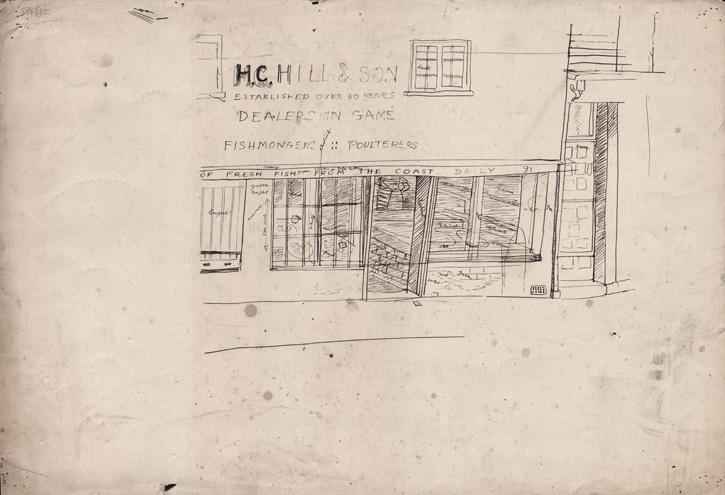 The contents of the 'lost studio' include preliminary drawings and oil studies for some of Dunbar's best-known compositions. These were reunited with major paintings from private and public collections in the exhibition 'Evelyn Dunbar: The Lost Works', which showed over 80 artworks.
As the only salaried female Official War Artist during the Second World War, Dunbar is celebrated for her wartime paintings, and also for public commissions including a mural scheme at Brockley School and illustrations for The Gardener's Diary. She created a large body of family portraits, which were on display alongside illustrations, commercial advertisements and shop signs, and ephemeral materials such as sketchbooks, photographs and letters.
Paul Liss, Director, Liss Llewellyn Fine Art
With thanks to Christopher Campbell-Howes for his contributions.
The exhibition 'Evelyn Dunbar: The Lost Works', a collaboration between Pallant House Gallery and Liss Llewellyn Fine Art, took place from 3rd October 2015 to 14th February 2016.