This spring at Pallant House Gallery, we are celebrating the gallery's extensive collection of British Pop Art through the major exhibition 'POP! Art in a Changing Britain'. The wide range of work represents a transformative moment in British modern art, reflecting changes in artistic discourse – largely in response to the cultural, political and social changes of the era – and a youthful challenge to established conventions. A particularly interesting area of exploration, which arose from the work within the exhibition, is the complex relationship artists have with photography and processed imagery, which we can explore through three major works from the exhibition.
Richard Hamilton, Swingeing London 67
In an article for Studio International in March 1969, Richard Hamilton set out his interest in the role of reportage photography, magazines, cinema and television in providing the artist with an alternative view and connection with the wider world. He noted that this 'return to nature came at second hand through the use of magazines rather than as a response to real landscape or still-life objects or painting a person from life. Somehow it didn't seem necessary to hold on to that older tradition of direct contact with the world. Magazines, or any visual intermediary could as well provide a stimulus.'
A paparazzi photograph reproduced in a newspaper was the departure point for this work by Richard Hamilton. Critical of the arrest and sentencing of his friend, the art dealer Robert Fraser, and lead singer of the Rolling Stones, Mike Jagger, for drug possession, Hamilton produced Swingeing London 67, combining a painted quality with a superimposed screen-print on a photograph, which refers back to the processed quality of the original newspaper image. Hamilton chose to add another layer to the experience of how the viewer understands the visual work by presenting these two figures within a constructed frame alluding to the police van window, through which the drama unfolds.
Peter Blake, Girls with Their Hero
Celebrity icons and screaming fans epitomized the music scene of the late 1950s and 1960s on both sides of the Atlantic. In Girls and Their Hero, Peter Blake, a self-confessed fan of popular culture and ardent collector of ephemera, playfully explores the way in which we connect with celebrities. Presenting a collage of images, apparently drawn from newspapers, magazines and posters, depicting different aspects of Elvis – the soldier, the singer and the heart throb – these painted images comment on the processed nature of publicity images through which fans celebrate their heroes.
Gerald Laing, Brigitte Bardot from Baby Baby Wild Things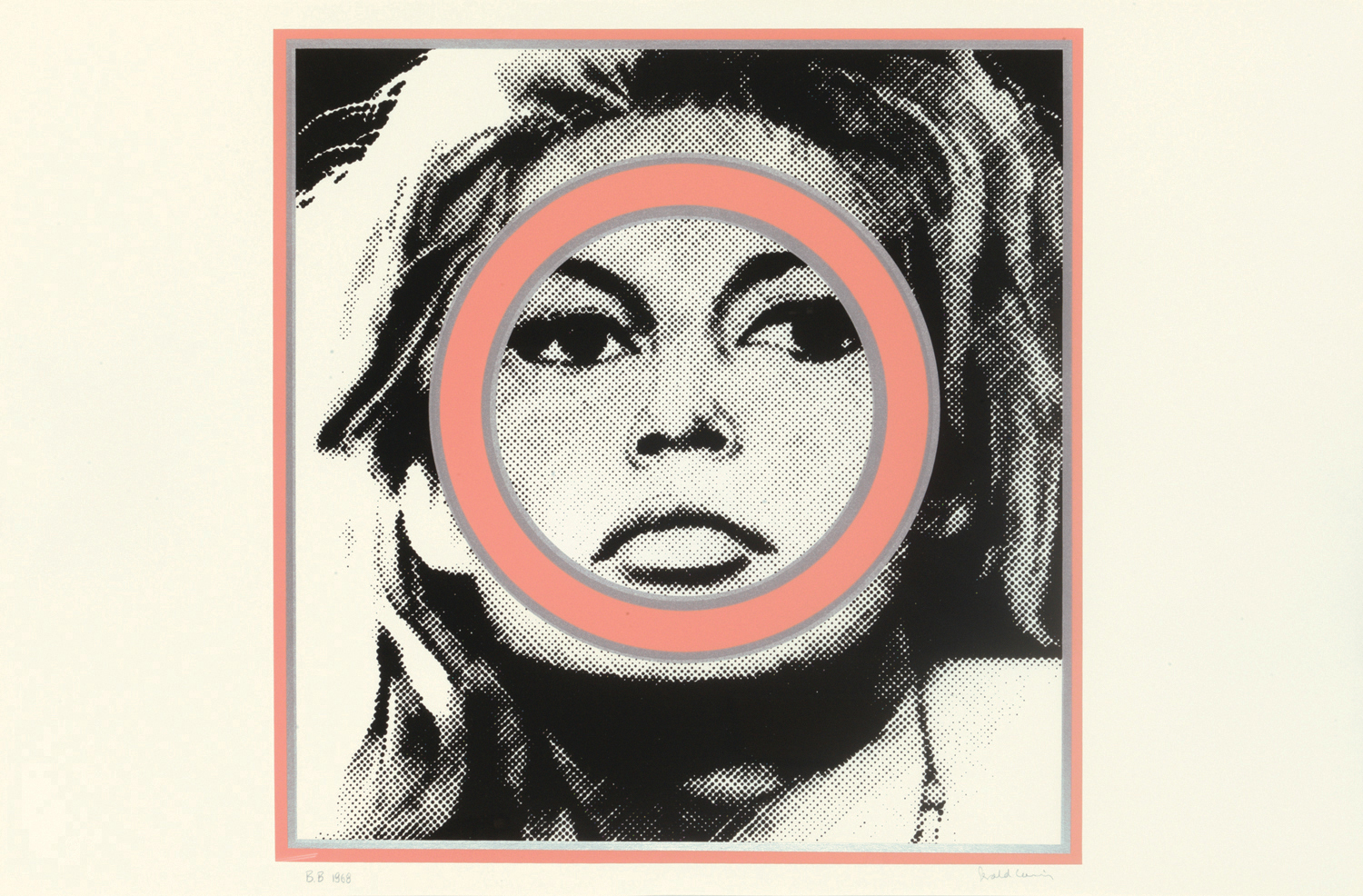 In this brazen act of re-appropriation, Gerald Laing traced and then painted an image of Brigitte Bardot. The original source for the tracing was a printed publicity image used on the poster for the annual 'Young Contemporaries' exhibition, to which Laing then submitted his painting. Playing with the notion of the processed image, Laing also adopted the printed quality of the original image by building up his painting through individual 'Ben-day' dots. His painting was later translated into a screenprint, so extending the interdependent relationship between processed images, painting and prints. This work forms part of a portfolio of prints which we are in the process of acquiring for the collection.
As we take the opportunity to reappraise these works from a position of today's digital, image-saturated world, it seems that more than ever we need to question and challenge the increasingly symbiotic relationship between photography, identity and art.
Louise Weller, Curator at Pallant House Gallery
Louise is co-curator of the exhibition POP! Art in a Changing Britain which runs at Pallant House Gallery until 7th May 2018
Who are you? We are really interested in who is reading this page and how we can better serve our audiences. Please fill in our 30-second survey and we will pick two random winners who will each win a £100 high street store voucher.