If you were a person of consequence in the 1920s, 1930s or 1940s, or wanted to choose a suitable portrait painter for a commission of an important member of society, then it is very likely that the artist you would place at the top of your wish list was Sir Oswald Birley (1880–1952).
Capable of creating not only a fine likeness but possessing an ability to bring thoughtfulness and empathy to his work, Birley was regarded as the 'go-to' portrait painter of the day, a painter who would deliver a work that would capture the essence of the subject and stand the test of time.
Proficient in the techniques of the old masters and an inheritor of the skills honed by painters such as Hans Holbein the younger, Anthony van Dyck and Diego Velázquez, Birley's work provides a tantalising glimpse of the looks, the manners and mores of leading men and women from the first half of the last century. Commissioned to paint George V, other members of the Royal family (including HM The Queen when she was a girl), aristocrats, politicians, artists and scientists of the day, he captured the expression, pose and attitude of a generation of people who lived through and influenced some of history's most tumultuous years.
Nearly a century later, Birley has been somewhat overlooked by art historians; there has not been a major show of his work since a memorial exhibition following his death in 1952. This situation has been redressed with a show of around 45 paintings, a mix of portraits, landscapes and still life works, which are on show at Philip Mould & Company's gallery in Pall Mall until 10th October 2017.
Entitled Power & Beauty: The Art of Oswald Birley, the show has collated a wide range of beautiful works representing his prolific output. The exhibition includes portraits of historical luminaries such as Sir Winston Churchill and his political sparring partner Stanley Baldwin, Kyra Nijinska (the ballerina and daughter of Nijinsky), Field Marshal the Earl Alexander of Tunis, Earl of Euston as well as members of the Birley family.
Many of the works in the show have never been exhibited before. The research team at Philip Mould & Co. undertook a fascinating challenge and managed to sleuth paintings from the dusty corridors of palaces, stately homes and country houses, in order to assemble a collection of works which clearly demonstrate Birley's impressive artistic ability. When seen together, it is clear to see the artist's enthusiasm for theatrical settings and an understanding of the country house aesthetic.
Born in 1880, educated at Harrow and Cambridge, Birley studied art in Paris and Madrid. He was already a professional artist when he served in the First World War and his participation, mapping enemy-held territory from dangerous sorties, was recognised with the Military Cross.
After the war he resumed his work as an artist and became a favourite choice for portraits of military heroes. Contemporaries describe his demeanour as 'soldierly' and he clearly felt an affinity with the generals, admirals and commanders he was invited to paint.
To today's eyes, the pose and expression of many of his subjects convey the attitudes and expectations of a long-vanished time. As the title of this show attests, Birley could accurately capture the power of politicians and military men and the austere or vulnerable beauty of women.
A frequent subject of his paintings was his wife, Rhoda. Widely regarded as a beauty, she married Birley at the age of 20 when he was 41. The exhibition features a particularly beautiful portrait made by Birley soon after their marriage in 1921. Entitled The Green Masque, it depicts Rhoda in Venetian carnival attire, her alabaster face glowing against a dark background, her eyelashes demurely lowered.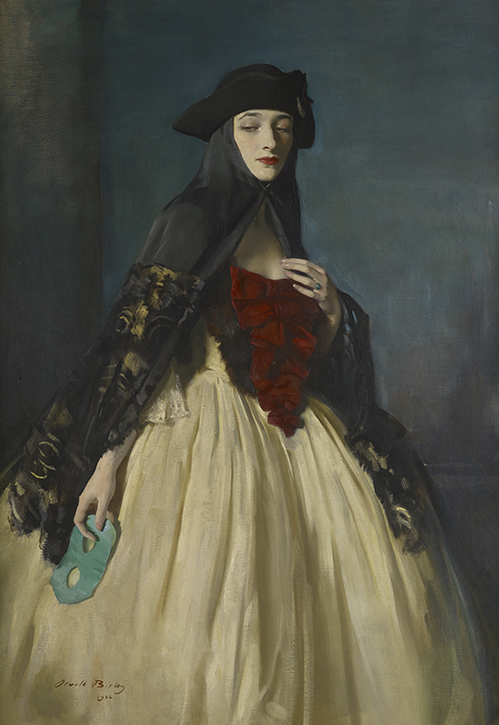 During the Second World War, Birley joined the Home Guard. When a weapon exploded in front of him he was blinded in one eye. This would be a desperate event for anyone, let alone an artist, but Birley was determined to return to painting and, it is said, his technique and abilities were not affected. He painted this self portrait of himself after the accident, positioned so that it conceals his missing eye.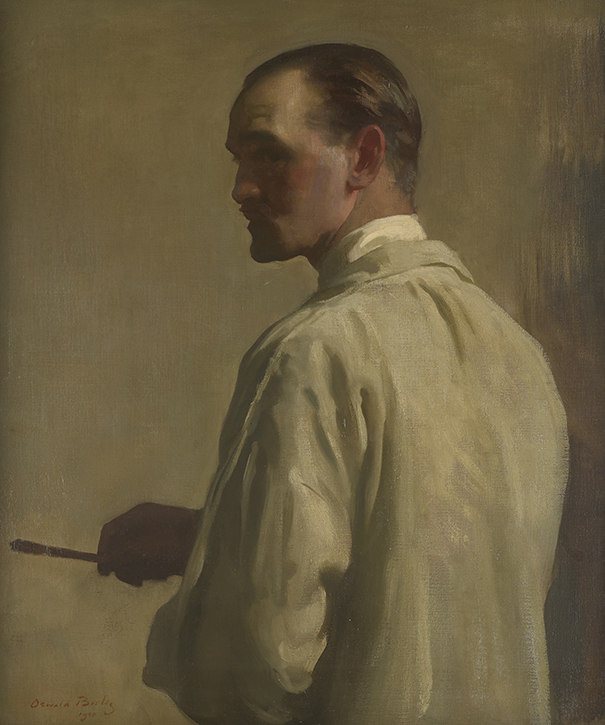 Birley was commissioned to paint Sir Winston Churchill several times. When the Birleys moved from London to their home in Sussex they became neighbours and good friends with Sir Winston and Lady Churchill. Bonded by a shared interest in art, the couples occasionally took painting holidays together in the South of France.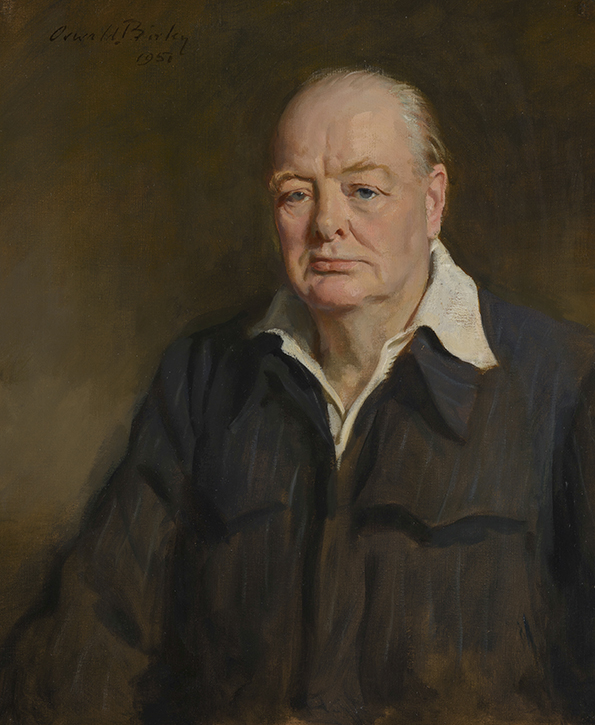 Birley's portraits were created with their ultimate location and environment in mind. He created works which fit perfectly within a country house setting. His works feature the colour, textures and style which still influence the contemporary interpretation of English country house design.
The Birley family's artistic aesthetic has continued through the generations. Sir Oswald's son, Mark Birley, became an acclaimed restaurant and club owner (he founded Annabel's in Berkeley Square). His grandson, Robin Birley, has also set up his own exclusive club, 5 Hertford Street, where many of Birley's paintings adorn the walls.
A passionate collector of his grandfather's work, Robin Birley initiated this exhibition in collaboration with Philip Mould. The aim of the show is to present a broad range of Sir Oswald Birley's work and to offer viewers the opportunity to reappraise this remarkable artist's work.
Ros Freeborn, freelance writer
'Power & Beauty: The Art of Sir Oswald Birley MC' is now on at Philip Mould & Company until 10th October 2017. Free admittance.
Did you know?
Birley was the first British artist to have a studio built for him in Palm Beach in 1926
In 1931 he painted Mohandas Karamchand 'Mahatma' Gandhi, commissioned by the Chief Minister of Gujarat, Sir Prabhashankar Pattani
In 1941 he lost his right eye while supervising a demonstration: an experimental anti-tank which misfired