With the election of Joyce W. Cairns two years ago as the first female President of the Royal Scottish Academy of Art & Architecture (RSA), an important historical marker was set after 192 years of history.
The RSA is a progressive institution today, with equality central in its activities. But, due to historic electing restrictions, the RSA membership is still playing catch-up from the Victorian era. In this article, art historian and curator of modern and contemporary art, Alice Strang, presents the first women who paved the way for those who now help to lead the modern RSA.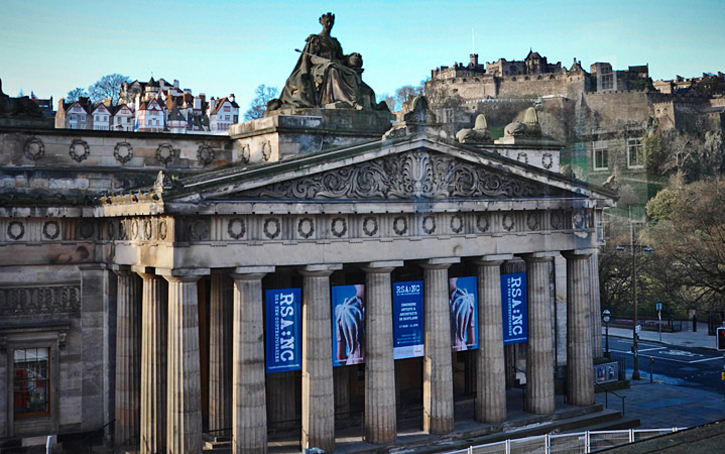 In 1885, Sir William Fettes Douglas, sixth President of the Royal Scottish Academy of Painting, Sculpture and Architecture in Edinburgh, infamously declared that the work of a woman artist was 'like a man's, only weaker and poorer.'
It is not surprising, therefore, that the history of women at the RSA is stark, but improving. The Scottish Academy was founded in Edinburgh in 1826 as a practitioner-led organisation. In 1911, it moved into the Royal Institution building on The Mound, now known as the Royal Scottish Academy Building, where many of its activities are still based. In 1838, it received a Royal Charter from Queen Victoria. The mission of the RSA is 'to support and promote the creation, understanding and enjoyment of the visual arts in Scotland.'
Christina Robertson, the first female honorary member

On its founding, the Academy consisted of 11 Academicians (RSA), or full members, and seven Associate Academicians (ARSA), all of whom were men. In 1827 the category of Honorary Academician (HRSA) was introduced for 'artists and architects of international significance, enlightened practitioners in other art forms and those whose support of the arts is at the highest level.'
Two years later, Christina Robertson became the first female member of the RSA when she was one of 11 artists and an architect to be elected to that rank.
Robertson (née Saunders) was born in Kinghorn, Fife. Believed to have been trained by her uncle, George Sanders, by 1829 she had established a practice in London as a portrait and miniature painter and begun exhibiting at the Royal Academy of Arts (RA) in the English capital. She was made an HRSA rather than RSA because she lived too far away to fulfil the requirement of those of RSA rank to contribute to the running of the Academy in Edinburgh. Robertson exhibited at the RSA six times between 1829 and 1845 and achieved international success, including commissions from the Russian Royal family. She maintained a studio in St Petersburg and in 1841 was elected an Honorary Member of the Imperial Academy of Arts in the city, where she died in 1854.
Josephine Haswell Miller, the first female associate member

Until the membership category was abolished in 2005, the most common route to joining the RSA was to be elected an Associate member. Some members later attained full RSA status. Prospective members had to be proposed and seconded by existing Academicians and Associates.
The first woman to be elected an Associate of the RSA was the painter Josephine Haswell Miller, in 1938. In common with most nominees, she was not successful on the first attempt, having been proposed two years earlier by Alick Riddell Sturrock and Ernest Stephen Lumsden.
Haswell Miller (née Cameron) was born in Glasgow and studied at Glasgow School of Art, where she taught etching and printmaking. In 1916 she married the artist Archibald Elliot Haswell Miller. They moved to Edinburgh in 1930 following her husband's appointment as Keeper of the Scottish National Portrait Gallery. She contributed regularly to group exhibitions in Edinburgh, Glasgow and London, was elected to the Society of Scottish Artists in 1924 and exhibited at the RSA 40 times between 1920 and 1975. On her husband's retirement in 1952, the couple moved to Dorset. Her RSA pension was removed three years later as she was no longer domiciled in Scotland, a fact which would have prevented her from becoming a full Academician.
Phyllis Mary Bone, the first female full member

Between 1826 and 2005, promotion from ARSA to RSA was possible on successful election following the resignation or death of an Academician in the same disciplinary category. This meant in painting, printmaking (from 1989) and sculpture as an artist, or as an architect. In 1936, the sculptor Phyllis Mary Bone was nominated for Associateship by Benno Schotz and Alick Riddell Sturrock. She became an ARSA three years later, and in 1944, became the first female elected a full Academician, filling the space created by the death of James Pittendrigh Macgillivray six years earlier.
Bone was born in Hornby, Lancashire and grew up in Edinburgh. She studied at Edinburgh College of Art and under the animalier Edouard Navellier in Paris. Bone established her reputation with her contribution to the Scottish National War Memorial during the period 1923 to 1927, for which she was responsible for modelling all but one of the animals, among other sculptural work. Prestigious commissions followed, including for the University of Edinburgh and the Scottish Office, which she realised in parallel with the creation of smaller sculptures. A long, prolific and successful career saw her present the bronze Shere Khan, the Tiger of 1930 to the Academy's Diploma Collection – a requirement of being elected to the rank of RSA – and exhibit at the Annual Exhibition 55 times between 1915 and 1972.
Anne Redpath, the first female full painter member

The first female painter to be elected to the rank of RSA was Anne Redpath in 1952, following the deaths of William Somerville Shanks and John Guthrie Spence Smith the year before. She was nominated for Associateship in 1941, 1942 and 1946 before being successful in 1947. When Josephine Haswell Miller seconded Alick Riddell Sturrock's nomination of Redpath in 1941, it was the first time a woman had been in a position to do such a thing.
Redpath was born in Galashiels and studied concurrently at Edinburgh College of Art and Moray House College of Education. In 1920 she married the architect James Beattie Michie and they moved to France, where they lived for 14 years. Redpath returned to Scotland in 1934 with their children and settled in Edinburgh five years later. Her first solo exhibition was held in 1947, her first work to enter a public collection was acquired by Glasgow Art Gallery and Museum in 1949, and in 1960 she became the first Scottish woman to be elected an Associate of the RA. During a prestigious career, she deposited The Chapel of St Jean, Tréboul of c.1956 as her RSA Diploma Work and exhibited at the Academy 30 times between 1919 and 1964.
Beth Fisher, the first female printmaker member

Beth Fisher was the first female to be elected to the membership category of 'Printmaker' in 1989, the year in which it was introduced; she thereby attained the rank of Associate.
Fisher (née Lovejoy) was born in Portland, Maine. She studied at the University of Wisconsin and at the Ruskin School of Drawing and Fine Art, University of Oxford. In 1971 Fisher moved to Scotland, where she helped to establish Glasgow Print Studio in 1972 and later worked at Peacock Visual Arts in Aberdeen for 16 years from 1976. She taught at Glasgow School of Art, Duncan of Jordanstone College of Art and Design, Dundee, and Gray's School of Art, Aberdeen, before retiring from teaching in 2004. Fisher has exhibited at the RSA 22 times between 1990 and 2020 and her touring exhibition 'Grisaille Legacy', began at the RSA in 2010.
Kathryn Findlay, the first female architect member

The first female to be elected to the Architect category of Academy membership was Kathryn Findlay as RSA (Elect) in 2007. This rank signifies that the Member has yet to present a Diploma Work to the Academy's collection, at which point their membership is formalised to 'RSA'.
Findlay was born in Forfar and trained at the Architectural Association School of Architecture in London. On graduating in 1979, she moved to Tokyo to join the office of Arata Isozaki. In 1986 she formed the Ushida Findlay Partnership with her husband Eisaku Findlay. Findlay was the first-ever female and first foreigner since the Meiji Period (1868–1912) to teach architecture at Tokyo University. She later became Professor of Architecture and Environment at the University of Dundee. Distinguished projects include Soft and Hairy House of 1994, Grafton New Hall of 2002 and the ArcelorMittal Orbit with Anish Kapoor and Cecil Balmond for the London 2012 Olympic Park.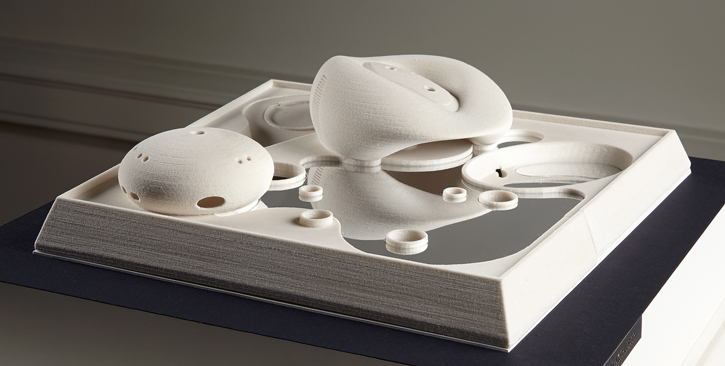 Marion Smith, the first female senior officer bearer

When the sculptor Marion Smith was appointed Secretary in 2012, she became the first female Senior Office Bearer of the RSA. Born in St Andrews, Smith studied at Gray's School of Art and ArtEZ University of the Arts in Arnhem. Working on a scale from the miniature to the monumental, she explores the possibilities of a broad variety of materials and uses traditional skills in innovative ways.
Smith's practice encompasses work made for the gallery as well as site-specific commissions, which 'embody a considered understanding of their context.' Her first solo exhibition was held at the Crawford Arts Centre, St Andrews, in 1997. Among Smith's recent commissions are those for 'Trails + Tales', East Dunbartonshire, in 2018 and for InchDarnie Distillery, Glenrothes, in 2019. She began exhibiting in the RSA Annual Exhibition in 1993, became an ARSA in 1998 and an RSA in 2005.
Joyce W. Cairns, the first female president

On her election in 2018, Joyce W. Cairns became the first female and 22nd President of the RSA. Having contributed to the annual exhibition regularly since 1971, Cairns was elected an ARSA in 1985 and became an RSA in 1998.
Cairns was born in Edinburgh. She studied at Gray's School of Art, Hospitalfield College of Art, Arbroath, the Royal College of Art in London and at Goldsmiths, University of London. She taught at Gray's for 28 years before taking early retirement in 2004, in order to concentrate on her own practice. She has explained that her work is 'mainly autobiographical, based on past memories intertwined with present experiences, often woven around the backcloth of the once fishing village of Footdee, at the mouth of Aberdeen harbour, where [I]… lived for… 35 years.'
Cairns has been a prolific exhibitor since 1970 and her most recent solo exhibition was 'The Magic Gate and Other Stories' at Kilmorack Gallery, Beauly in 2018.
Among the RSA's sister academies, the Royal West of England Academy, founded in Bristol in 1844, was the first to elect a female president when Janet Stancomb-Wills assumed the role in 1911. All four Academies currently have female presidents.
First female presidents, in addition to Cairns in Edinburgh, are Abigail O'Brien at the Royal Hibernian Academy, founded in Dublin in 1823 (elected in 2018, one month before Cairns), Rebecca Salter at the Royal Academy of Arts, founded in London in 1768 (elected in 2019) and Fiona Robinson at the Royal West of England Academy (elected in 2019). Betty Brown, elected in 2018, is currently the sixth female president of the Royal Ulster Academy, founded in Belfast in 1879.
Cairns has a threefold vision for the RSA, Scotland's longest-running artist-led institution: to be more inclusive among its membership, to expand its education programme and to prepare for its 200th anniversary celebrations in 2026.
Alice Strang, art historian, curator and author of Modern Scottish Women: Painters and Sculptors 1885–1965

The RSA 'Christmas Show' runs from 29th November–22nd December 2020. 'Pandemic: a personal response to COVID-19' runs at the RSA from 9th January–5th February 2021 (restrictions permitting).
Further reading

Charles Baile de Laperriere (ed.), The Royal Scottish Academy Exhibitors 1826–1990: A Dictionary of Artists and their Work in the Annual Exhibitions of The Royal Scottish Academy, 1991
Esmé Gordon, The Making of the Royal Scottish Academy, 1988
Colin Greenslade & Arthur Watson (eds), 2003–2013: A Decade of Change at the Royal Scottish Academy, 2015
Tom Normand (ed.), Ages of Wonder: Scotland's Art 1540 to Now Collected by the Royal Scottish Academy of Art and Architecture, 2017