Duccio's double-sided altarpiece, the Maestà, was carried through the streets of Siena in June 1311 following its completion at the artist's studio. It was the richest and most influential work in Christendom at the time. Its journey to the High Altar of Siena Cathedral was accompanied by city-wide celebration and devotion.
Although unable to be paraded through the wintry streets of Hull in quite the same vein as Duccio's Maestà, Pietro Lorenzetti's Sienese gold-ground panel Christ between Saints Paul and Peter (c.1320) received its own triumphant homecoming to the Ferens Art Gallery at the beginning of 2017.
Acquired in 2013, the panel's unveiling followed four years of intensive conservation treatment and scientific study at The National Gallery in London. The panel is characteristically painted in egg tempera, which uses egg yolk as a medium. Once obscured by discoloured layers of varnish and old retouchings, the vibrant colours, minute details and expressive figures of Lorenzetti's panel have now been revealed in their true magnificence.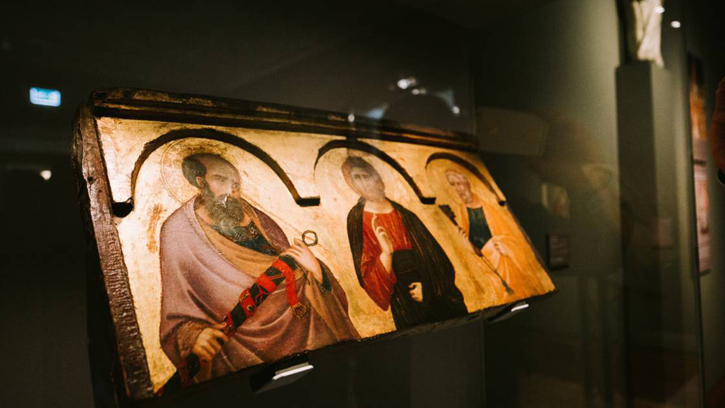 Lorenzetti seems to have been first documented as assisting the 'father' of Sienese painting, Duccio, on an altarpiece for Siena's governing body in 1306. Lorenzetti was part of an extraordinary group of Sienese painters who emerged from Duccio's orbit to flourish in the early fourteenth century. This generation of artists included Pietro's highly accomplished brother Ambrogio Lorenzetti, Segna di Buonaventura, Ugolino di Nerio and Simone Martini.
While still revering Byzantine icon paintings, these artists observed and recorded their world in original and exciting ways. For example, although Pietro Lorenzetti was trained in Duccio's lyrical and decorative style, his figures are often remarkably weighty and three-dimensional. He seems to have been particularly responsive to the Florentine artist Giotto's intensely human figures, as well as the expressive forms of Sienese sculpture.
Current research suggests that the Ferens panel, dated to an early point in Lorenzetti's artistic maturity, possibly around 1320, may have been painted at a similar time to two of his major commissions. Lorenzetti had probably completed his masterworks at the Basilica of Saint Francis in Assisi, Umbria, by September 1319. The main part of this fresco series depicted scenes from the Passion of Christ, featuring complex narrative settings and highly expressive figures. The following year, on 17 April 1320, he was commissioned to paint the so-called Tarlati Polyptych – a large, multi-panelled altarpiece for the church of Santa Maria della Pieve in Arezzo. The main part of this impressive ensemble is still in situ.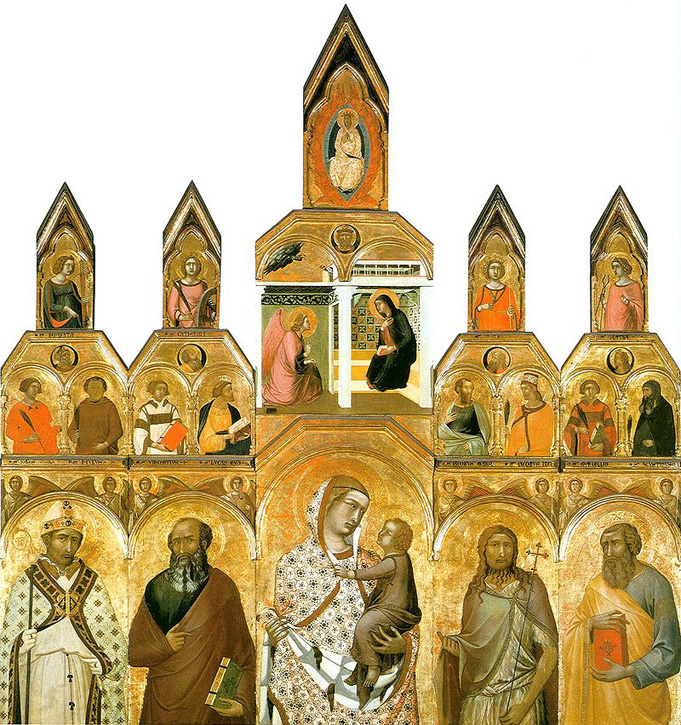 Lorenzetti's entire oeuvre is remarkable for the emotional connection that he creates between his figures and with the viewer. The figures in Christ between Saints Paul and Peter are linked in subtle, silent conversation – demonstrated by their gestures, facial expressions and the movement of their drapery. Though contained within three rounded arches, they share the same golden space. Christ lifts his hand in blessing. He glances towards Saint Paul, who was converted to Christianity after experiencing an intense vision of Jesus. With his head bowed and brow furrowed, Paul clutches the sword with which he was martyred. It is sheathed in its minutely stitched scabbard and is wrapped in a decorative sword-belt. Watching Christ and Paul is Saint Peter. As the guardian of the Kingdom of Heaven, he grips the keys tightly.
Lorenzetti excelled at conveying a world that viewers could relate to by representing innovative, contemporary details. As religion became increasingly focused on human concerns and Christ's human nature, religious art tended to relate to people's experiences. In the Ferens panel, the saints are endowed with objects familiar to a fourteenth-century viewer. Belts comparable to the one which Lorenzetti carefully depicts still exist in museum collections today.
Lorenzetti's eye for detail extends to the decoration of the gold ground with uniquely incised patterns, cross-hatching and tiny punched holes; creating textures which catch the light. The gold lines upon Christ's robe symbolise his divinity and recall Byzantine icons.
The panel's undulating lower edge suggests that it has been cut away from a larger element, providing a clue as to its original function. Research carried out by The National Gallery and Philadelphia Museum of Art suggests that Christ between Saints Paul and Peter may have once been positioned above Lorenzetti's signed panel depicting the Virgin and Child enthroned with a donor and angels of around 1319, now in the Philadelphia Museum of Art. Both panels share a knotty, vertical wood grain and are similar in width. The pair may have featured at the centre of a multi-panelled altarpiece known as a polyptych, perhaps for the church of Santa Maria dei Servi in Siena.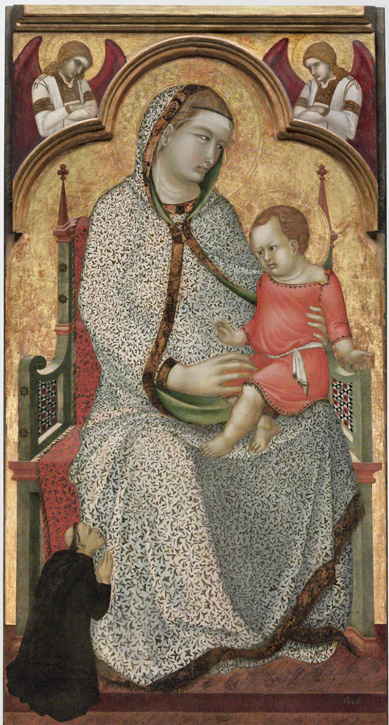 Whether or not the link with the Philadelphia panel is to be confirmed, it is likely that Christ between Saints Paul and Peter would have been part of an impressive altarpiece. Placed upon an altar table, the ensemble would have been the focus of devotion for worshippers. Throughout their history, altarpieces have often been dismantled and dispersed from their original locations. Reasons for this might include changes in the layout, use, or decoration of a church – or fashions in collecting. Lorenzetti's panel was probably brought to England in the second half of the nineteenth century, where it seemingly entered the Cowper family collection at Panshanger Manor, Hertfordshire.
Now on display @HullFerens, see Pietro Lorenzetti's 'Christ between Saints Paul and Peter' restored by our Conservation team #Lorenzetti pic.twitter.com/IOcxfzhDa0

— National Gallery (@NationalGallery) January 14, 2017
Lorenzetti's rare and remarkable panel was saved for the nation by the Ferens when it was acquired in 2013 via private treaty sale, following an export ban. As a newly discovered addition to Lorenzetti's oeuvre, the panel was hardly known before it was consigned to Christie's in 2012. Christ between Saints Paul and Peter is the only autographed work by Pietro Lorenzetti in a UK collection; the other six works associated with his name have been partly attributed to workshop members. It is now the very oldest object in the Ferens collection by over 100 years. The masterpiece has been unveiled for public display for the very first time in Gallery 1 at the Ferens Art Gallery.
Lucy West, The National Gallery Curatorial Trainee with Art Fund support and the assistance of the Vivmar Foundation
The special exhibition 'Pietro Lorenzetti: Siena to Hull, A Masterpiece Revealed' was on at Ferens Art Gallery in 2017. Lorenzetti's panel will remain on permanent display.