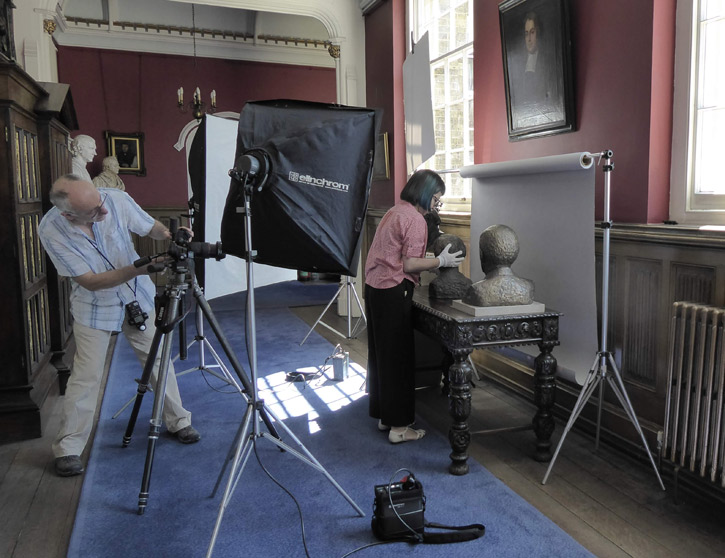 From Shetland to the Channel Islands, our intrepid Coordinators (i.e. our researchers on the sculpture project) have been cataloguing an incredible array of sculpture held and cared for by small museums, large galleries and public buildings across the UK. The Coordinators began cataloguing sculptures in collections in late 2017 and we are delighted that the artworks they are helping to uncover are now starting to be added to the Art UK website.
Each visit to a collection has many stories to tell and there is always a new revelation – for example, why do these two figures look so happy to be riding a water buffalo at Preston Park Museum & Grounds?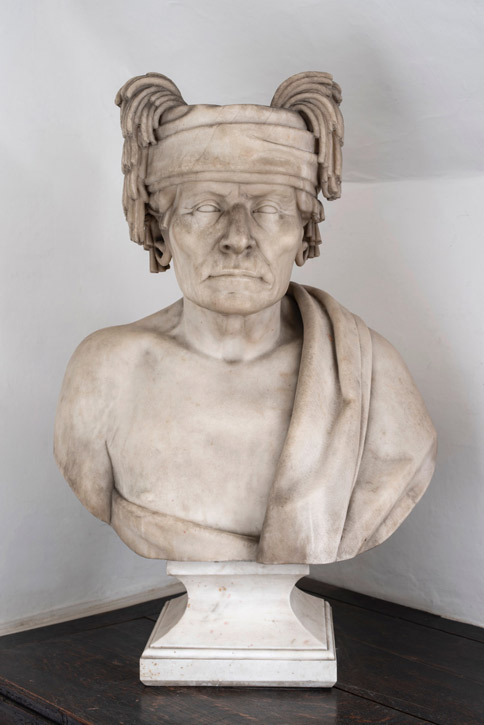 Coordinator for South East England Barbara Pezzini, when encountering a bust catalogued as Dante Alighieri by Francis Vincenti, realised it was not Dante and with a bit of research discovered it represents the Ojiwa chief Aysh-ke-bah-ke-ko-zhay, or Flat Mouth, one of the signatories of a peace treaty in Washington in 1855! How this sculpture made its way to Rye Town Hall is still a mystery!
We have already added the marvellous images of Crouching Venus at Folkestone Museum, and we look forward to more images being added to Art UK like Selika, a fabulous marble and bronze bust of an African woman by Luigi Pagani in Bournemouth's Russell-Cotes Art Gallery and Museum.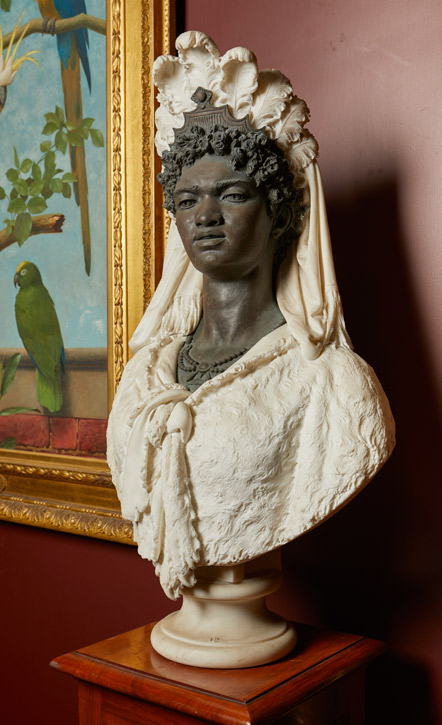 There are many different materials used in sculpture. The first Scottish collection to be photographed, the Scottish Maritime Museum in Irvine, includes Figure of a Shipbuilder by Benno Schotz, made from ciment fondu, a type of cement consisting predominantly of hydraulic calcium aluminates.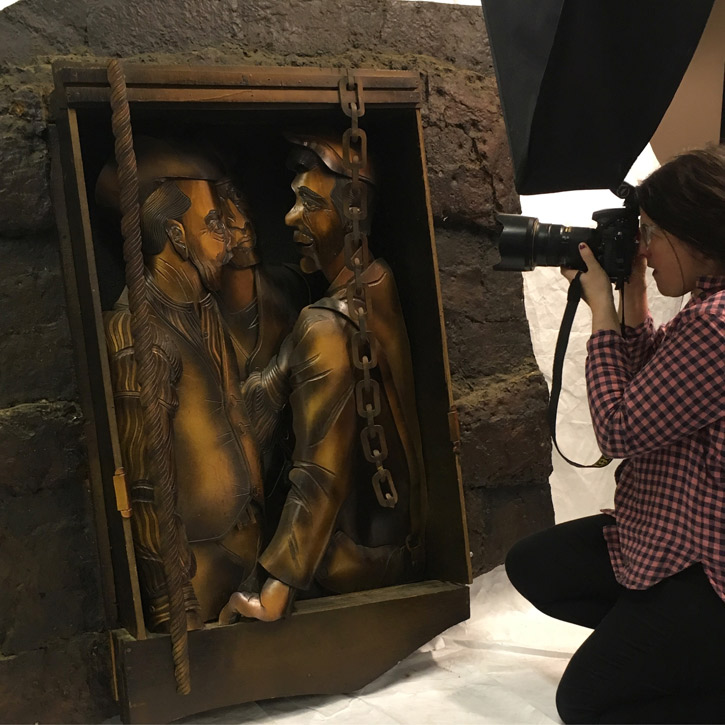 At the Scottish Mining Museum, Three Miners by Andrew Barr is made from metal, leather and wood. The sculpture is seen here being photographed by Art UK photographer Julie Howden.
A glass piece by George Muller entitled Blue Verticals can be seen at the Beecroft Art Gallery in Southend and Gallery Oldham has Small Mollington Knot Cushion made from wool and Dacron by Ann Sutton.
The Buddha appears in all shapes and poses and in unexpected places, such as the store room of The Scout Association.
A prone Buddha is in the collection of Nairn Museums. Surprisingly Nairn have six Buddhas in their small collection of sixteen sculptures.
The images online will not show the meticulous preparation and hard work that has gone into ensuring Art UK has the best images possible of each sculpture. In the ideal situation we have a temporary studio set up, with each artwork placed on grey background paper.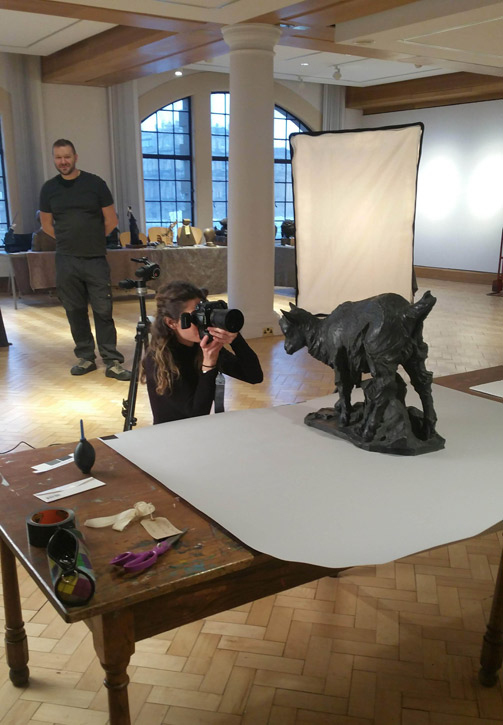 However, this is not always realistic and many pieces have to be shot in situ, sometimes requiring the photographer and Coordinator to make the most of what they have available.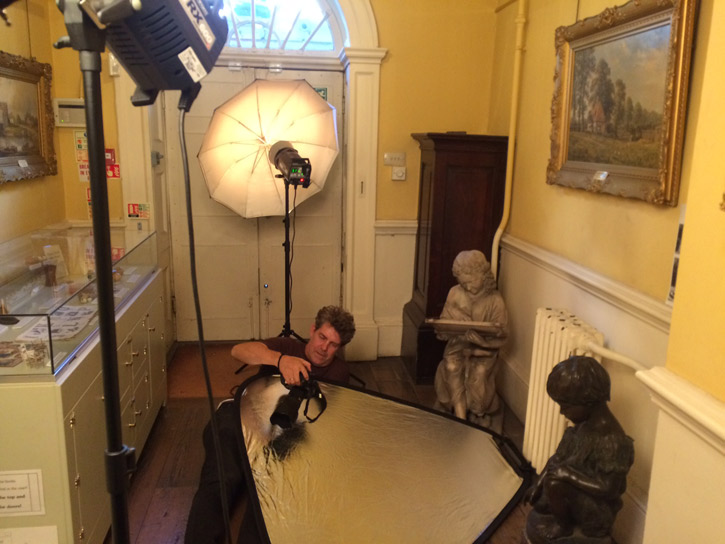 Often collections have sculptures outside their building, as well as inside, so we have to hope for fair weather and good light. A grey day is preferred to strong sunshine, which can pose many problems for the photographers, depending on the material of the work.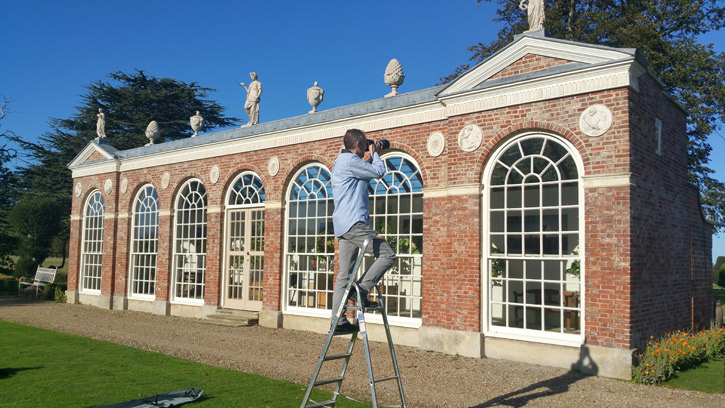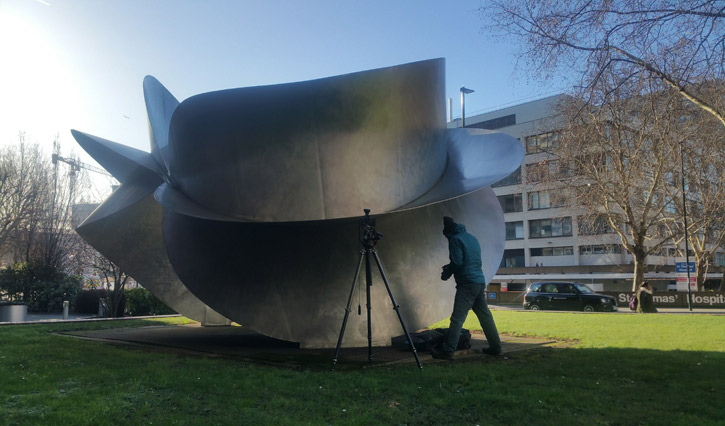 Sculpture is found in many places and the variety of styles, materials and situations never cease to surprise us as we discover each collection's artworks and make unexpected links between collections across the country. We can't wait to see what comes next!
Hazel Buchan Cameron and Alison Mitchelson, Regional Digitisation Managers for Art UK's Sculpture Project