In 2021, Gallery Oldham hosted Edgar Degas's painting Hélène Rouart in Her Father's Study as part of The National Gallery's Masterpiece on Tour programme.
It was the centrepiece of an exhibition considering the ways in which women have been represented in our collection since it was founded in 1883.
You can now see Degas's 'Hélène Rouart in her Father's Study' at @GalleryOldham as part of our Masterpiece tour!

The painting is on show until 8 January 2022. Find out more here: https://t.co/AqdFBxkZBJ pic.twitter.com/SMuUukZp0w

— National Gallery (@NationalGallery) September 18, 2021
For this show, I selected some paintings which I completely love and a good number that I find infuriating. I find the Degas work itself particularly eye-roll inducing, since while it shows the woman named in the painting, it is clearly a portrait of her father.
To me, the painting is essentially a collection of items illustrating the social standing and good taste of Henri Rouart, a friend of the artist. Hélène is very much one of the objects nestled in among them, dwarfed by an oversized chair in front of her. As a starting point for an exhibition, it was great, though, as it raises a number of questions about what makes a really good portrait, and what even constitutes a portrait.
During the research and development phase of the exhibition, we looked more closely at representations of women in our collection. It was interesting to see patterns emerging within small groups when we considered them together.
For instance, in the 1920s, there definitely seemed to be a bit of a craze for draping young women over things and things over women, and then titling the painting according to one of the objects, for example, as in The Feather Fan and The Red Lacquer Cabinet.
Among our 5,000 art objects, we have two paintings featuring older women, also unnamed. Both are shown in a domestic setting, being 'useful' – titled Italian Grandmother and A Patchwork Quilt.
All of these women were detached from their identity and hours of research were required to try to get to the bottom of who these humans were. We managed to get definite or possible identities for some of the women, but not all. If you're interested in some of the ways in which we do this, you can read one of the discussions on Art Detective.
To broaden the scope of the exhibition, I borrowed some contemporary representations of women by artists who are living and working in the north-west of England. We had previously shown Peter Davis' painting Stay Safe Mum (elbow elbow) as part of a Manchester Academy of Fine Arts show, and it had been a big hit with our visitors.
Understandably, the painting really resonated with so many people, with its inclusion of the facemask, depiction of the importance of technology and the title's allusion to the worry many of us had, and may still have, about older relatives who may be more vulnerable to coronavirus. It feels like it really captures a specific moment in time, painted, as it was, during the first lockdown in 2020. We have now acquired this painting for our permanent collection thanks to the donations of our generous gallery visitors.
As part of the acquisition process, I have been keen to ensure that we do not lose the identity of female sitters in the future. In April, Peter Davis and his mum, Joyce Davis, came to the gallery to hand over the painting, and I had a great morning with them both.
I've worked in museums and galleries for 20 years and I cannot think of another occasion on which I've been able to spend time with the subject of a portrait in this way, so it was a proper treat. Here are some of the things I learnt about the living, breathing sitter in our latest acquisition.
Stay Safe Mum (elbow elbow) features the artist's mother, Joyce, holding her smartphone. Joyce has had a mobile phone since the year 2000 but, like many of us, she found herself suddenly much more reliant on video calling once the first national lockdown was imposed in March 2020. Prior to the lockdown, Joyce had gone out every day, but now she found herself isolating at home. Her bridge club moved online and her regular meet-ups with friends and family had to happen through her phone or iPad.
Joyce's phone is prominent in the painting, its cover showing her son Peter in the top middle, with her grandchildren and her sister-in-law also visible. I have checked, and this is really Joyce's phone cover, not an artistic device designed to represent family! Peter chose to paint the background gold as a reference to classical Renaissance painting and to signify preciousness.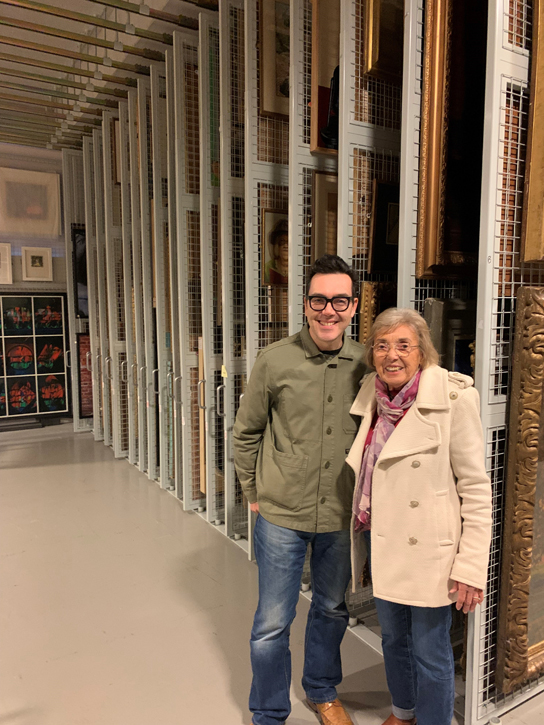 Joyce Daw was born in 1940 in the West Midlands and grew up as one of four children. Her mother was a housewife and her father worked in the foundry at the Fort Dunlop tyre factory. Joyce was diagnosed with a heart murmur when she was 11, four years after the NHS came into existence. By her mid-20s, she needed a mitral valve repair.
Joyce married John Davis when she was eighteen, having met him at a local ballroom dancing school. Their son Peter was born when she was 29 but she needed a second heart operation shortly after. When we chatted, Joyce returned several times to the fact that she was amazed to have lived as long as she had. Her own mother died of heart failure when she was 16, which must have made Joyce even more aware of the potential consequences of her heart condition. At one point, Joyce recounted sitting on the bottom of the stairs when Peter was a toddler, hoping with all her being that she would live to see his tenth birthday.
Joyce says that the pandemic has really changed her relationship with technology, describing FaceTime and Zoom as her 'salvation'. She now speaks online daily to her sister-in-law Jean, who is in her 90s, and one of her bridge sessions still happens online, although the other has gone back to face-to-face. Joyce says she prefers it online as it's easier to keep track of the cards! She has made a new friend in London, who is another bridge player and a friend of a friend, originally.
So here we are: I'm casting out into the digital realm a small chunk of information about Joyce Davis, the sitter in Peter Davis' Stay Safe Mum (elbow elbow), in the hope that I have done all I can to ensure that this unnamed sitter situation will not occur on my watch as an art curator. I have also recorded the conversation I had with Joyce earlier this year, and this audio recording will be archived along with its transcript.
Additionally, here's Peter talking about his work.
I hope I am sparing future generations of people in my role the difficult task of trying to retrospectively identify unnamed people. I'm also seeing this as a record of a lovely morning that I spent with Joyce and Peter. Joyce is a really positive woman who has led an interesting life, tells a good story and is fun to hang out with. You don't usually read about that sort of stuff in art books and on gallery labels, but I hope that if we value and save this sort of information now we will have the option of doing that in the future.
Rebecca Hill, Gallery Oldham