Beautiful art brings colour, life, and personality to any room, but choosing the right prints for your home can be a daunting prospect. There is much to think about, with size, subject matter, colour palette, framing style and positioning all affecting the look and feel of the space while making a statement about your personal taste and style.
But picking perfect prints can also be fun, creative, and inspiring, and here at the Art UK Shop we have a fantastic range of art prints to suit all interiors, from calming scenes for your bedroom sanctuary to botanical art and still lifes for a vintage country kitchen feel. We also offer a wide variety of sizes and framing options so you can create a beautiful bespoke piece for your home.
With so much great art to choose from it can be hard to know where to start, so we've put together our favourite prints for every room of the house to inspire your search.
Living room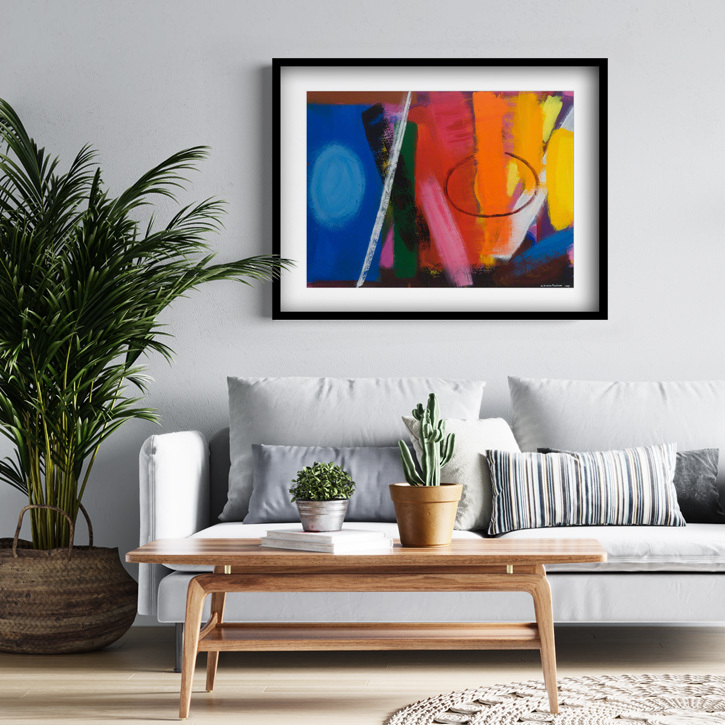 The pressure to choose the perfect print is perhaps greatest in the part of your home most used by guests: the living room. This stunning print by Wilhelmina Barns-Graham will provide a bright and engaging focal point with a fantastic pop of colour. A large print size and simple frame will ensure the artwork makes a bold statement within the room.
Kitchen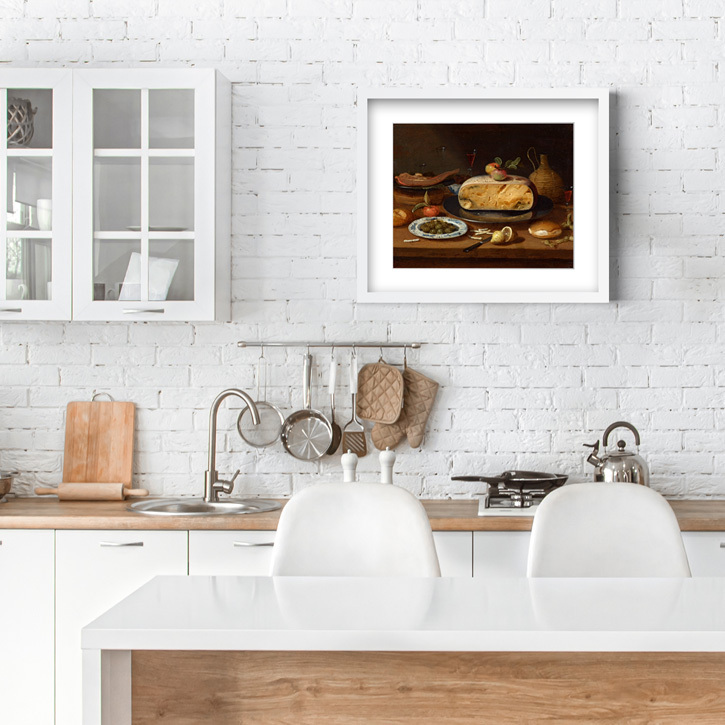 This lovely still life looks almost good enough to eat! Still life painting came to prominence in the Netherlands in the seventeenth century, and this type of composition would have been described as a 'little breakfast' – making this the perfect print to hang above the kitchen table as inspiration for the most important meal of the day. Selecting a smaller print size and matching the frame to your kitchen accent colour will ensure it doesn't overwhelm the space.
Dining room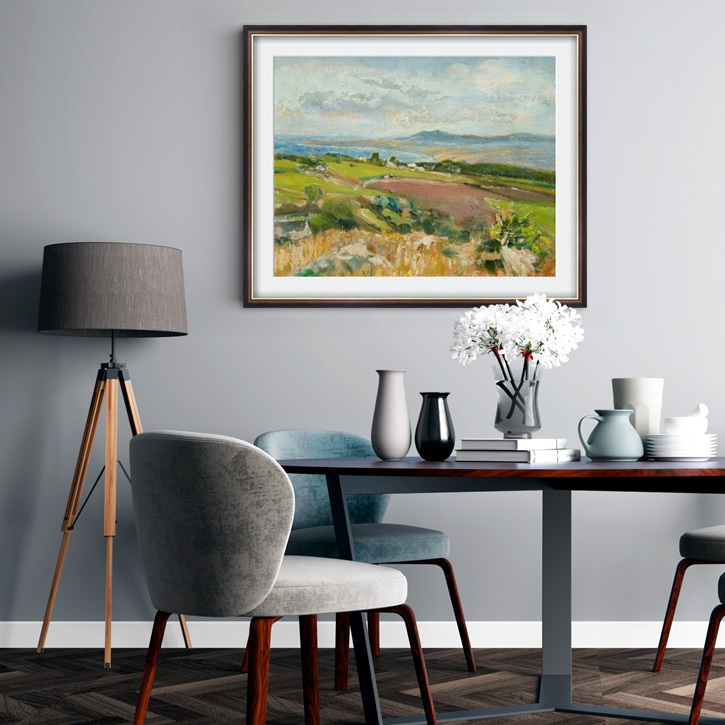 Conversation-prompting art is ideal for the dining room so choosing a large statement print with a personal connection, such as a favourite holiday destination, is a great option. This lovely landscape of St Ives Bay will instantly transport you to the Cornish coast, and a decorative frame could work well if your dining room has a formal feel.
Bedroom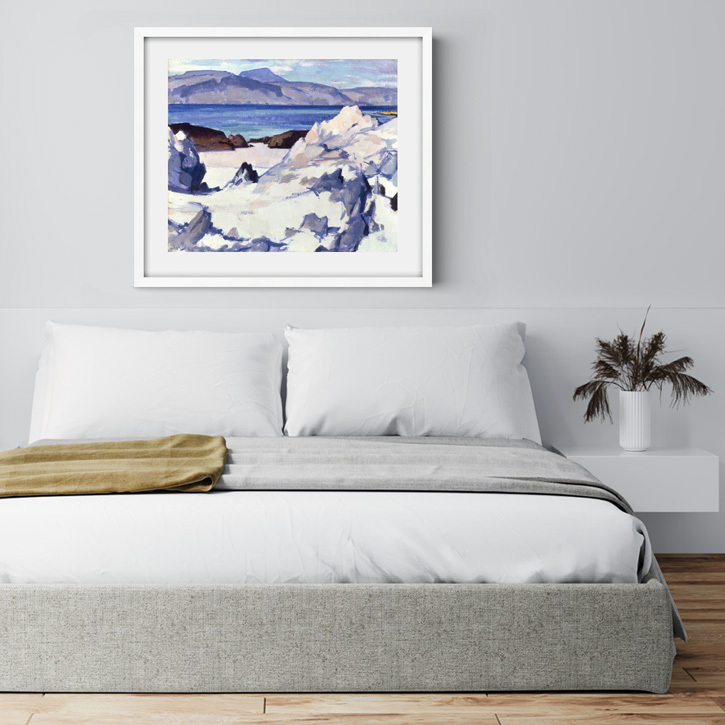 The calming blue hues and picturesque tranquillity of this seascape by Scottish Colourist Samuel John Peploe make it the perfect print for a peaceful bedroom sanctuary. Keep it neutral with a white wooden frame and single mount, and hang opposite the bed to enjoy the relaxing vibes as soon as you wake up.
Bathroom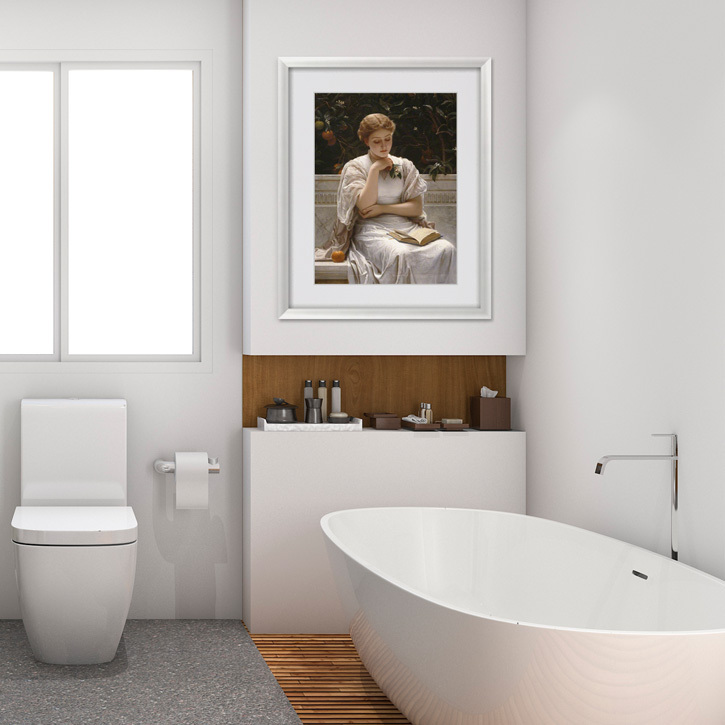 This painting is perhaps the best known of Italian-English painter Charles Edward Perugini. A beautiful example of a Victorian genre painting, it is also a brilliant print for the bathroom which is bound to raise a smile. Why not add a fancy touch by using a metallic frame to match bathroom accessories?
Office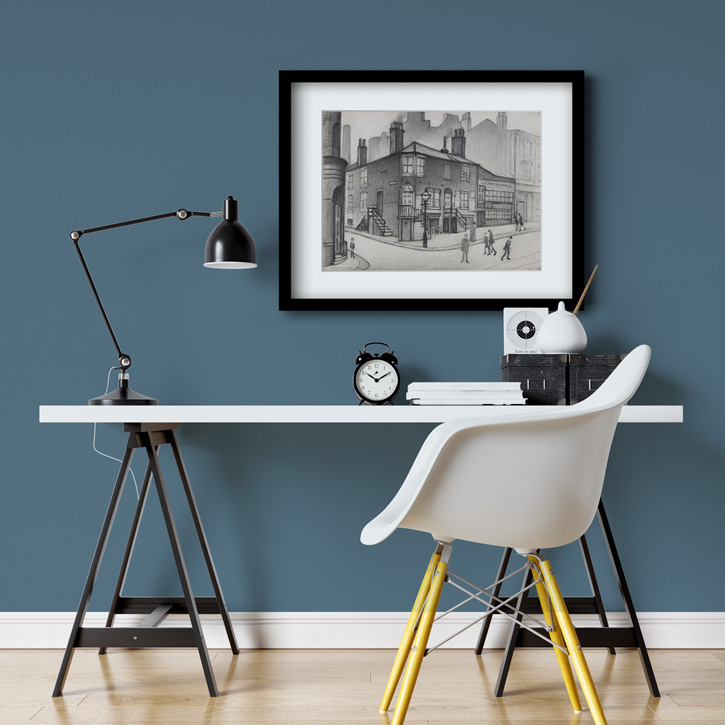 Urban scenes work brilliantly as home office décor. This charming drawing by L. S. Lowry is highly evocative of industrial Manchester and a lovely reminder of the city minus the stress and pressure of modern-day life. Choose a smaller print size with a dark frame to complement the soft pencil tones, and hang in full view of your webcam.
Playroom
This print of a fantastical marine map full of bizarre and colourful sea monsters would make a fun and intriguing addition to a children's playroom. Little ones will be fascinated by dramatic details such as a giant serpent capsizing a vessel and an unsuspecting swimmer caught in a huge crustacean claw. A large print size and bright green frame will keep it fun and ensure even the tiniest detail can be enjoyed.
Orangery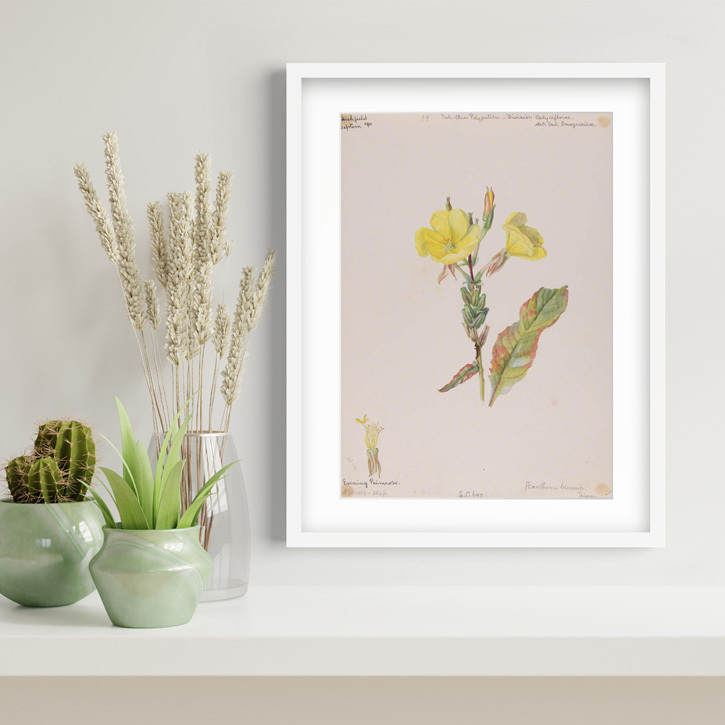 Bessie Downes was an accomplished botanical artist, and this wonderfully detailed painting of evening primrose is just one example of her works that would bring an elegant and stylish touch to your home. It's ideal for hanging in the orangery – if you're lucky enough to have one! – in a light and elegant frame alongside a few feature plants.
There are many more beautiful artworks for your home on the Art UK Shop and we hope you find the perfect print for your empty wall, whichever room it's in. We're still open for business (while adhering to all COVID-19 government guidance and best practice) and of course, all purchases directly support our partner museums, galleries, charities and trusts that care for the nation's art.
Alexandra Colton, Online Shop Officer at Art UK