A Walk in the Park is a new podcast series by Manchester's Whitworth Art Gallery, hosted by the Cultural Park Keeper, Francine Hayfron.
Each episode takes a look at what is happening inside and outside of The Whitworth. In the latest episode, Francine explores the recent exhibition, 'Utopias' and meets the Whitworth Young Contemporaries, along with the artist-in-residence Annabel Taylor-Munt to find out what utopia means for young people today. The following text is written by Leanne Green, curator of the exhibition, which is closed until further notice.
All of the episodes of A Walk in the Park podcast are available to listen to on Mixcloud.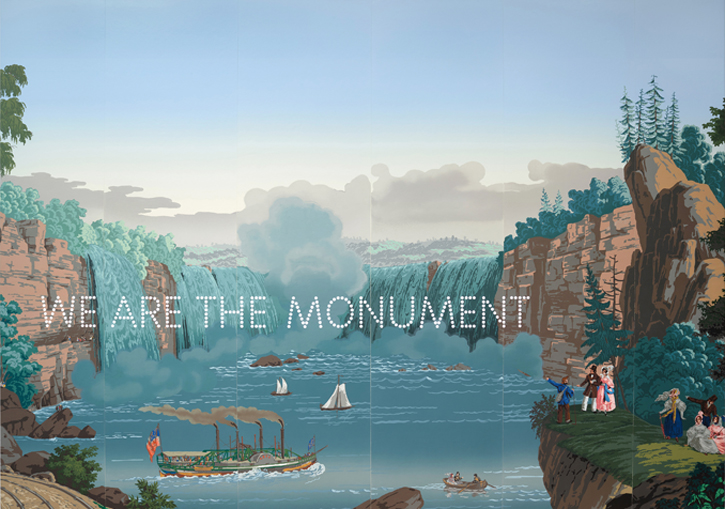 'The world was all before them, where to choose, they hand in hand with wandering steps and slow, through Eden took their solitary way.' – John Milton, Paradise Lost (1667)
On 31st January 2020, the day that Britain left the European Union, The Whitworth opened the exhibition 'Utopias'.
It began with a book: a 1516 edition of Thomas More's Utopia. More conceived of an island community – independent, insular and able to prescribe its own ways of living.
His text has inspired countless interpretations by writers and artists, including Grayson Perry, whose Map of Nowhere (2005) expresses the artist's personal vision of the world – with doubt living at the centre.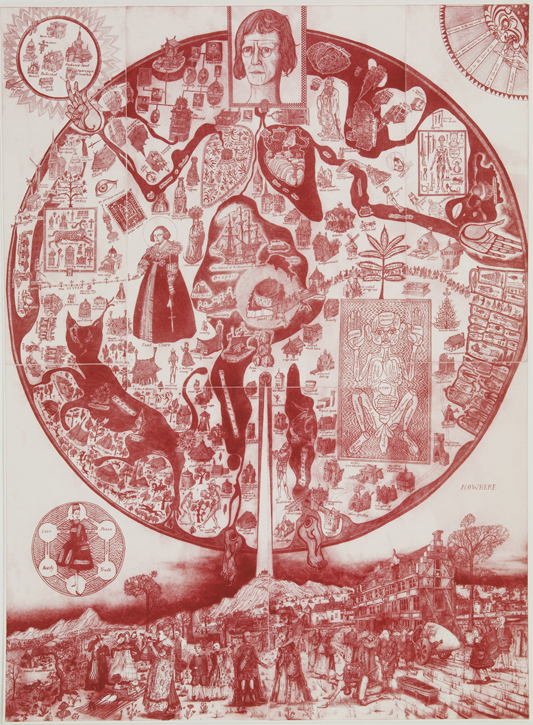 Yet at the root of More's proposition for an ideal world was an inherent contradiction. The term utopia derives from the Greek 'ou-topos' meaning 'no place' – a perfect nation could never be realised because it is different for everybody.
Developed during 2019, within the context of Brexit negotiations, 'Utopias' focused on Britain – addressing how our literary and visual culture has been used to perpetuate an idea of a utopian society that fosters nostalgic yearnings for a seemingly lost past.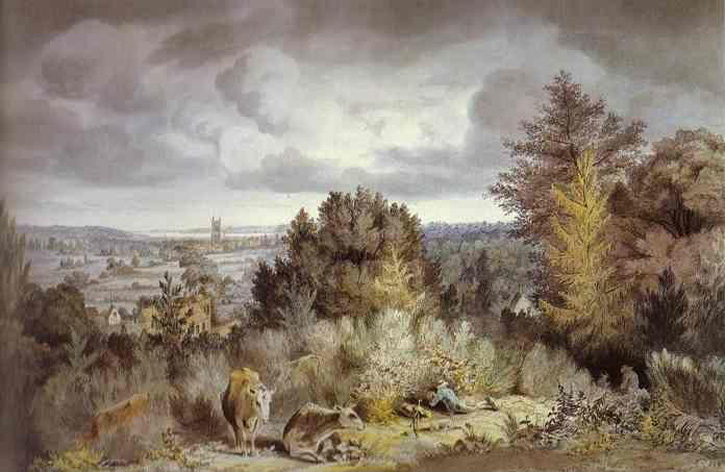 This construction makes cultural use of John Constable's green rolling hills, the grandeur of J. M. W. Turner's Welsh valleys and the peaceful settings of Samuel Palmer's pastoral scenes. It invokes the White Cliffs of Dover, pub lunches, village greens, escaping to the countryside – and it is as much about how this island nation views itself as it is about our relationship with the wider world.
This picture of a utopian Britain is not confined to the world of art, but plays out in the culture and politics of our times. Within the context of Brexit, the notion of a cohesive British national identity drew on these images and ideas, but as we know, there is no single narrative of 'Britishness' – it is subjective and shifts according to each person and locality.
The act of looking towards the countryside as a bastion of national values continues in the nation's collective consciousness, but this notion is flawed. Part of the lure of the countryside is that it represents stability and continuity – an idea that is maintained in opposition to the rapid pace of contemporary living. Yet in being considered the British idyll, it reinforces existing social and geographical hierarchies.
Now, as going outside is reduced to an essential trip to the supermarket, the freedom of experiencing such landscapes – those once painted by Constable, Turner and Palmer – is infused with new meaning. The art that was once used as a device to turn a critical gaze on the pervasive narrative of rural utopia, shifts according to our new context. Today, these images recall freedom and offer hope, giving us an important frame of reference for which to navigate these difficult times.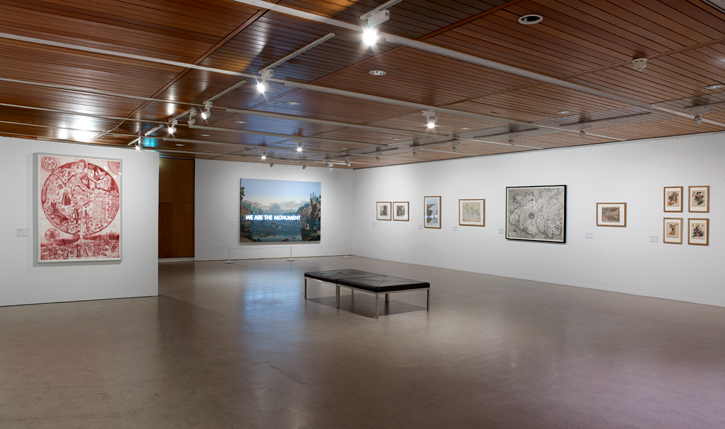 Take Eileen Young's Landscape in Kent (1945), which presents an idyll of country living – a single cottage positioned amongst nature. Young made the work in 1945 at the end of the Second World War when Kent was heavily bombed with many buildings destroyed and lives lost. Yet in the focused image, this terror is a world away. The exhibition highlighted how such escapist utopian imagery ignored the reality of wartime Britain, especially for those living in the city, unable to find sanctuary in the countryside.
In this context, the picture seemingly stood for those who had the opportunity to isolate from the persistence of war. Now it offers new clarity – showing us respite, and resistance, and repair. It also demonstrates what is missing from the majority of British watercolours of the landscape: people. Where before we might have craved such utopian solitary experiences, now we want to be surrounded by others.
In 'Utopias', Timorous Beasties' The London Toile (2005) was presented in exchange with pastoral landscapes, drawing attention to the paradoxical way in which utopias in Britain have been imagined.
At first glance, the scenes appear to show expected highlights of the city – the London Eye, the Gherkin and St Paul's Cathedral. Yet the print also presents us with other aspects of London life – crime taking place in the city's parks, high rise flats and workers walking to the office. As lockdown has continued, inequality in our cities has intensified – unemployment has increased, and our parks have become contested sites, as those without access to gardens and greenspace flock to find relief from being confined indoors.
I began this article with a quote from John Milton's seventeenth-century Paradise Lost – his words conveying how uncertainty coexists with hope. Literature and art cannot cure illness, but they can be an antidote to hopelessness. In developing 'Utopias', pessimism was difficult to avoid, but at its core, utopia is always about hope, and desire for change.
When we are able to re-open our museums and galleries, they will have a meaningful function in welcoming people back together – as social spaces, as hopeful spaces and as sites for resisting the status quo. Art enables us to dismantle what is taken for granted, and in doing so, it gives us the tools for imagining a better future, together.
Leanne Green, Curator at The Whitworth