To quote artist Susie Martin: 'Otto Maciąg was inspirational – a man and an artist of complete integrity. He was not only authentic in himself but hugely generous in helping to uncover a true voice in others. He couldn't give a toffee for fame, or fashion, or fortune – he was rooted in the beauty of what is here now and how to communicate that insight on canvas… My gratitude to Otto and his family is perhaps greatest for this – to be shown that however terrible human experience may be, it can be transformed into art, like base metal into gold.'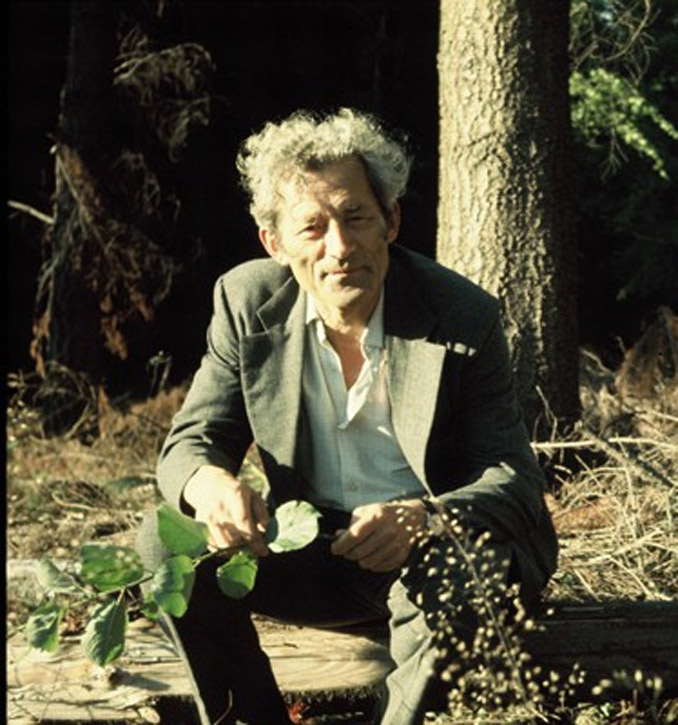 In 1918, Otto was born in Hungary en route to Poland after his Dalmatian-born mother had abandoned their burnt-out family home in Višegrad, now in Bosnia and Herzegovina, while his Polish father, Michał, was still in France. After the family was reunited in Kraków in a newly independent Poland, they moved to Biała Podlaska where all three artistic brothers were inspired by the beauty of the Podlasie landscape, Arab horses in the nearby world-famous stud of Janów Podlaski, and their admiration of the great Polish romantic and realist artists.
A love of rivers and landscape developed from fishing trips in the company of a knowledgeable naturalist. The rivers Wye, Monnow and Dee were to become among Otto's favourite subjects inspiring his masterly depiction of reflections in water and of nocturnal scenes, perhaps referencing Józef Chełmoński (1849–1914). Also evident in Otto's work are the colouristic and textural influences of Jan Matejko (1838–1893).
During September 1939, Otto took part in the defence of Malaszewicze air base and accompanied the evacuation south. Trapped between Russian and German invaders, he crossed the Romanian border and was interned. With forged papers he escaped, eventually reaching Marseilles in 1940, where he joined the Polish Army.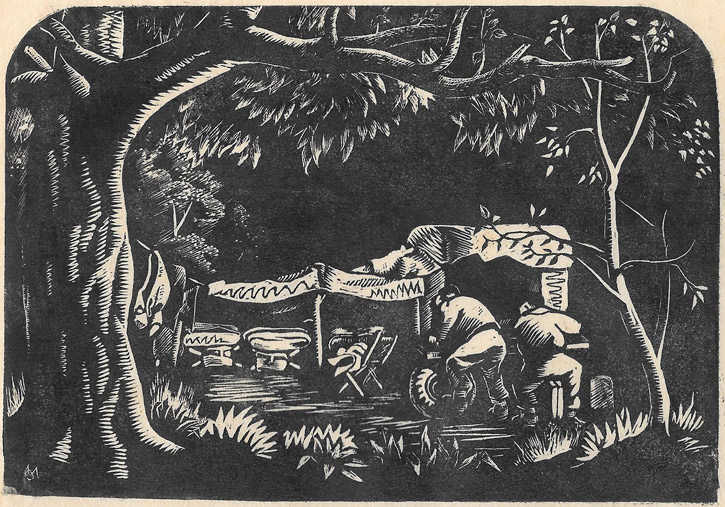 As an officer in the Polish 1st Armoured Division, Otto fought in France, Belgium and Holland and took part in the Normandy landings. When stationed in Scotland, Winifred and Alison McKenzie taught Otto wood engraving and linocut. A few of these early works are shown in the exhibition celebrating his life and work at Monmouth Museum, on display until 30th June 2019.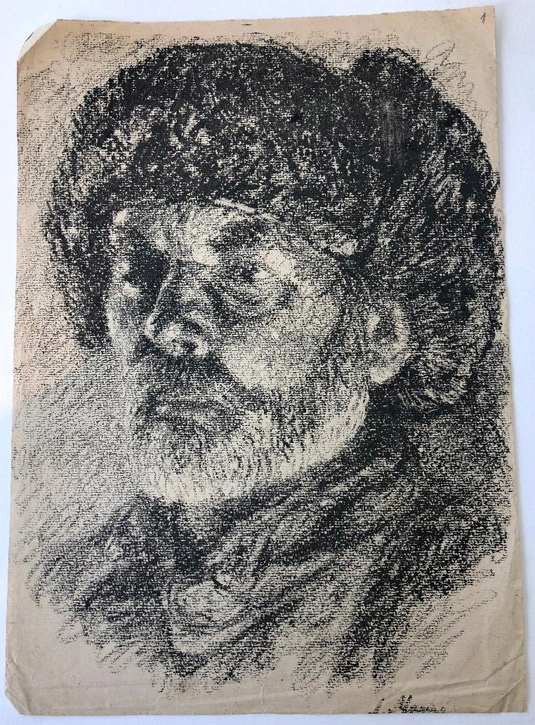 Józef, Otto's elder brother, joined Special Operations Executive in 1943, and was killed in Serbia. In the novel From Russia with Love, Ian Fleming refers to a British agent in Yugoslavia as 'Captain Nash', Józef's pseudonym. Anne Rainsbury, Monmouthshire Museums Curator, discovered this rare sketch by him. Ludwik, Otto's younger brother, was to become Professor at the Academy of Fine Arts in Warsaw. Two of his paintings are currently hanging in the 'Signs of Freedom' exhibition at the Royal Castle in Warsaw.
After the war, though the work prospects of Polish exiles were limited, Otto studied art in Liverpool and secured a teaching job in Monmouth School. There, from 1947 to 1978, he taught ceramics, painting and drawing, history of art and architecture, inspiring many pupils to pursue an artistic career.
The work of some is included in the Monmouth exhibition, their careers described on illustrated panels designed by the graphic designer, David Evans, himself a former pupil. Also featured are sculptor Philip Chatfield, stained glass artist Jim Budd, painters David Parfitt, Keith Underwood and Mick Arnold, architect and watercolourist Timothy Pitt-Lewis, sculptor Anthony Eveleigh, art historian Christopher Herbert, environmental and performance artist Simon Pascoe, as well the varied work of others influenced by Otto – Susie Martin, Sophie Pembridge, Sarah Windrum, Sian Stedman, Sue Exton and Anna, Otto's daughter.
During his retirement, with the help of Michael Tovey, Otto modelled tons of clay into the ceramic murals of Monmouth School Chapel. Other examples of ceramics and sgraffito can be viewed in Castle Gate Medical Practice, Monmouth Priory and the King's Garden, close to the museum.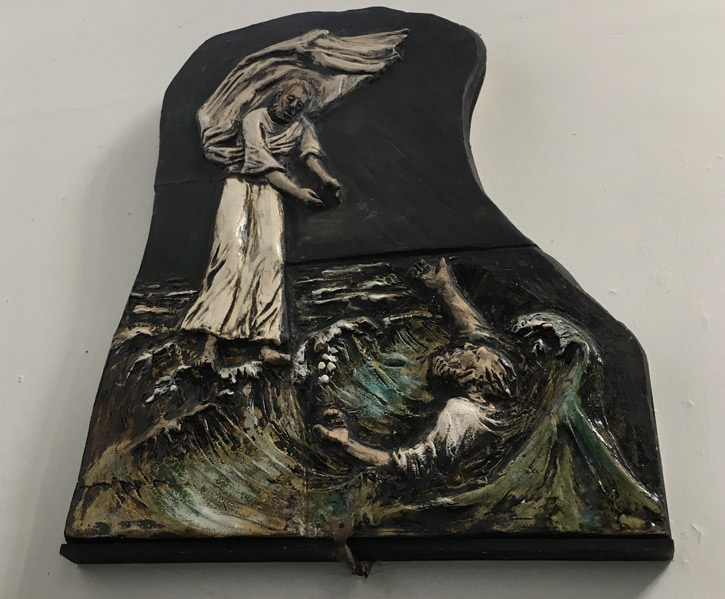 Otto illustrated the Polish Daily newspaper and books by Wiesław Antoni Lasocki, notably about the 'Soldier Bear', Wojtek.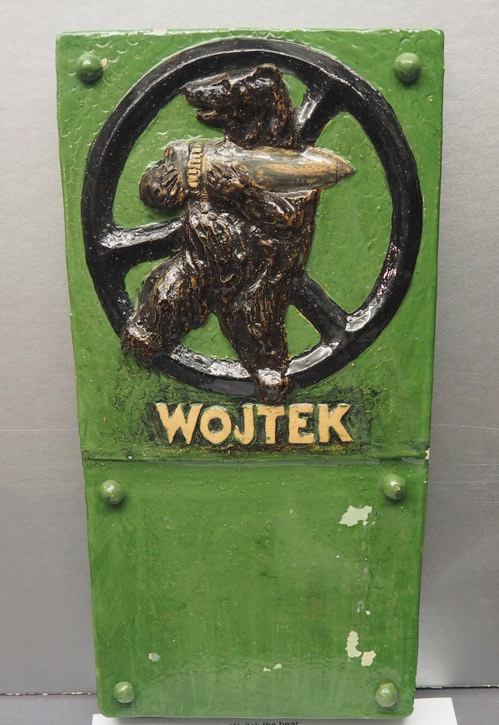 Otto's ceramic plaques of the bear were made for Edinburgh Zoo, Canada and the Imperial War Museum. One of these plaques, as well as the first version of the ceramic of Henry V for Castle Gate Medical Practice, are also featured in the exhibition.
Anna Maciąg, artist and daughter of Otto Maciąg
The exhibition 'A celebration of artist Otto Maciąg' is at Monmouth Museum until 30th June 2019