Over 15 years since the death of the prolific sculptor, Eduardo Paolozzi, the fashion designer and sculptor Nicole Farhi reflects on her close friendship with the artist, revealing how his rich sculptural practice influenced her own work.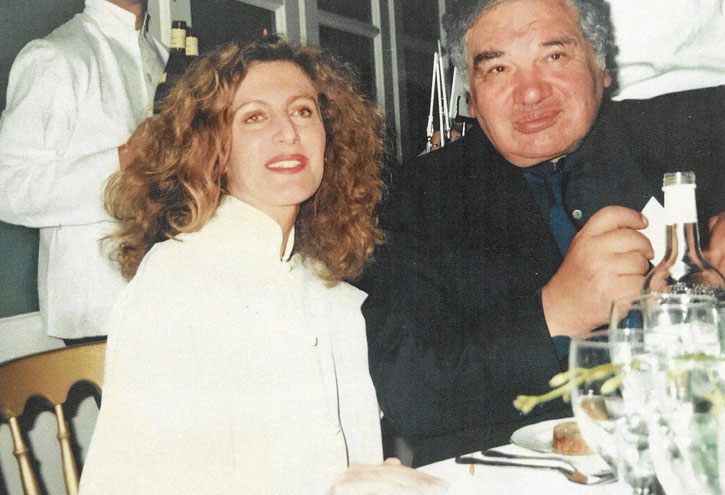 I met Eduardo Paolozzi in the late 1980s at the Royal College of Art's foundry while working on the patina of my first sculpture in bronze. Tissa Ranasinghe was running the casting course.
That day, Eduardo was taking a group of students around the foundry. You couldn't miss him, he was massive, prolific, joyful, completely at home in the foundry surrounded by a dozen of happy students.
He approached me and asked about the name of my sculpture. It was an abstract sculptural piece called Orgasm. The title made him smile, he said he was interested to see more of my work and then invited me to his studio. Eduardo came regularly to my studio where I was developing a series of 'sexual' sculptures – not so much to the taste of my teacher, the late Jean Gibson, who thought they were not worth keeping.
I realised then what a great teacher Eduardo was to his students: looking at the work he was commenting but never condemning. I was to find out later that he was always ready to consider the work of any student, and mine by extension, as always being unique and therefore of value and interest.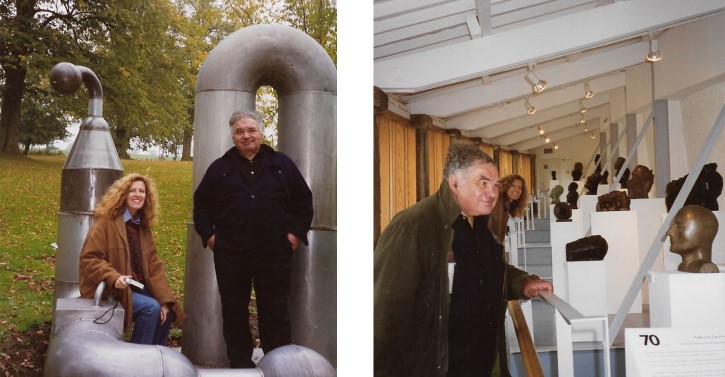 Eduardo started to take me round exhibitions. One glorious day was spent at Yorkshire Sculpture Park, where he had an exhibition. He introduced me to the different foundries he was fond of. He gave me books, particularly medical ones specialising in afflictions of the flesh. I particularly cherished the little wooden boxes and files he had prepared and marked 'For Nicole'. Inside were huge amounts of torn sheets, articles I should read, postcards of his work, drawings and photographs. Sometimes there were even photos of dresses. He had been creating print designs for Hammer Prints in the mid-1950s because he was interested in what I was, by that time, spending most of my time doing, which was designing clothes.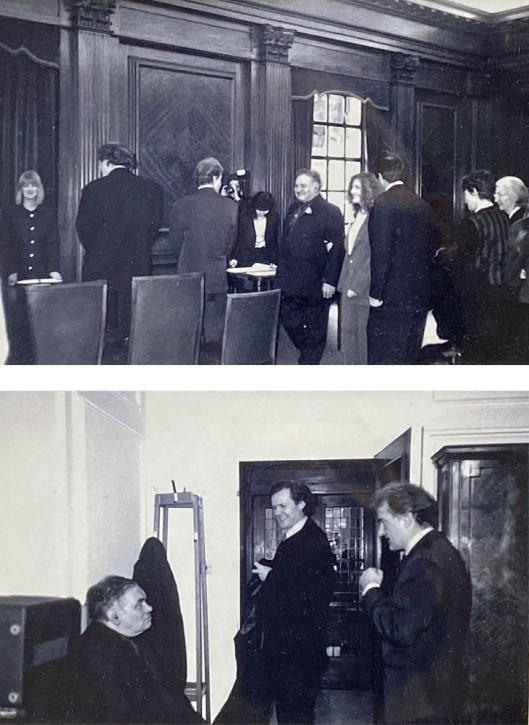 By the early 1990s, Eduardo was not only my friend, but my mentor and had become my father figure. In 1992 I married David Hare, and because my father had passed away, Eduardo offered to take me to our wedding and be my witness. I walked proudly on his arm to the registry office. Later that day, Eduardo made a mischievous and witty speech in which he compared David and me to Salvador Dalí's Lobster Telephone.
Another memorable date was Eduardo's 70th birthday in March 1994. We transformed our back garden into a Paolozzi sculpture park. All of the plaster sculptures he had given us over the years were displayed, some on the lawn, others on the tables. It was a very happy day; Eduardo's friends came from all over the country to be with him. Here in the photograph below, he is chatting with John Cleese.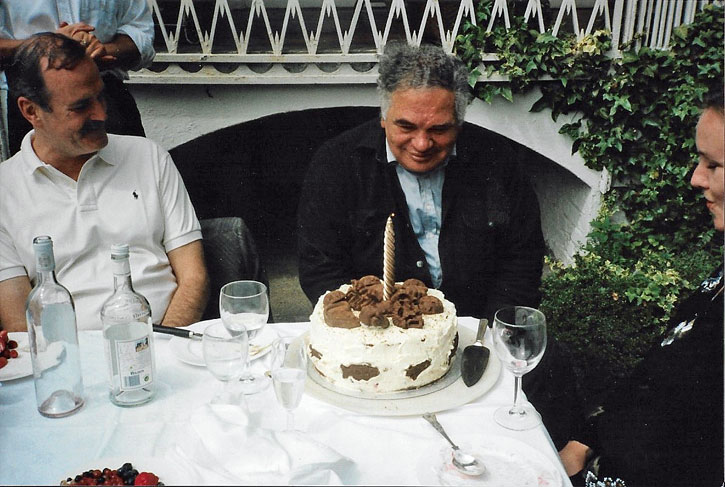 I particularly enjoyed driving him around and walking with him. He was always looking at buildings, windows, people, cars. His curiosity was insatiable; skips were his passion. Always excited to make a find, he would collect old debris or discarded scraps to take back to his studio. He would put them on his shelves next to his plaster casts or give them to his students. I inherited some of them: once he gave me an old basket he had found on the pavement in a street nearby, 'Put it by the fireplace with your wood in it,' he said. I did so immediately, and 30 years later still do.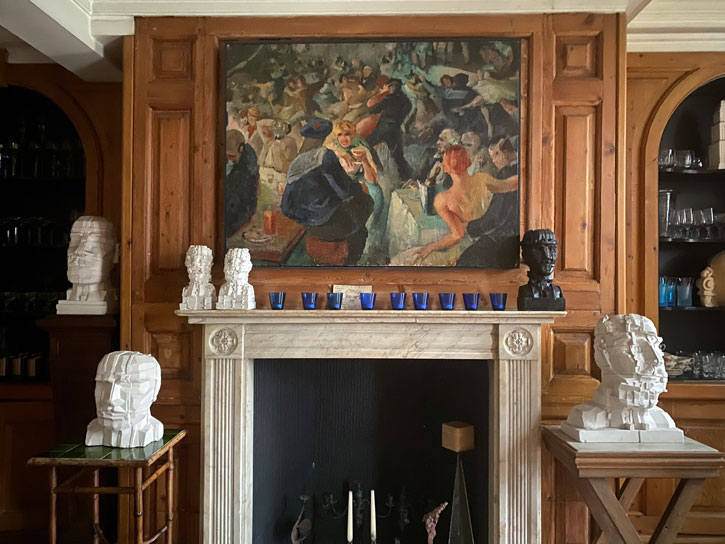 He didn't always come with strange objects, more often he would come for dinner bringing with him all sorts of gifts of plaster casts, little animals from the sculpture Noah's Ark, some plaster heads and prints of famous inventors. One night during the time when he was working on Newton by Blake, the sculpture which now guards the entrance of the British Library, he arrived weighed down by a large maquette of that same Newton.
Still today, all of the doors in each room of our house are kept open, thanks to the plaster feet and hands Eduardo gave us. He was unbelievably generous. He found the act of giving both normal and essential.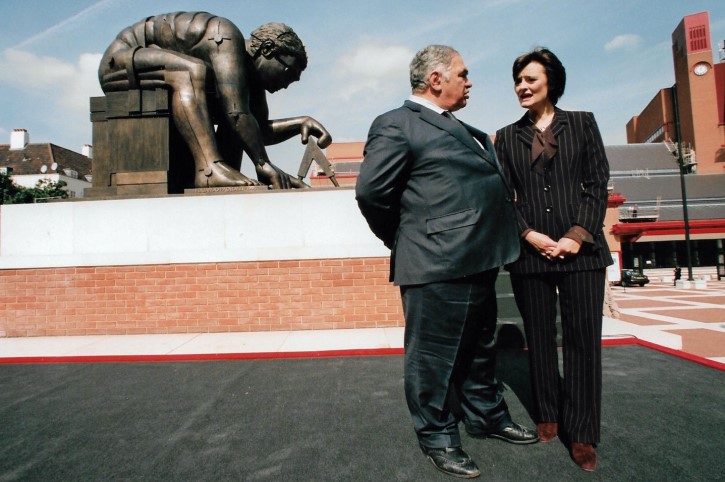 As a young man while living in Paris he had met artists of the avant-garde, Georges Braque, Tristan Tzara, Alberto Giacometti and Fernand Léger. They had all opened their doors to the young artist, welcoming him into their studios. 'It was just what an artist should do,' he used to say, and this is what Eduardo did.
It was Eduardo who triggered my full-scale pursuit of sculpture, especially exploring the head and portrait. The head was a constant subject for Paolozzi throughout his career.
In the early 1950s, he made a series of head studies, fabricating them in wax, plaster and bronze. Around the same time, he developed a series of collages, cutting up and reassembling portraits of newsworthy people – actors or politicians who he had seen on the covers of Time magazine.
At the beginning of the 1980s, Eduardo created a series of fragmented heads, first in plaster, then turned them into bronze and aluminium. Later, his old obsession with cutting and reassembling came back in a new form, this time adding ropes and pieces of wood to hold the different parts of the head together.
Since meeting Eduardo, the human head has become an endless source of inspiration for me. I told Eduardo I wanted to make his bust, I just needed to take some photographs as I wanted to make the bust from memory, the way I felt Eduardo was. The result was a bust that was larger than life, reminiscent of both Vulcan god of fire and forge, and Poseidon god of sea, storm and earthquakes.
That year I entered Eduardo's bust at the Royal Academy Summer Show. During the varnishing night, Eduardo, genuinely proud, showed the bust to his friends and was photographed by it.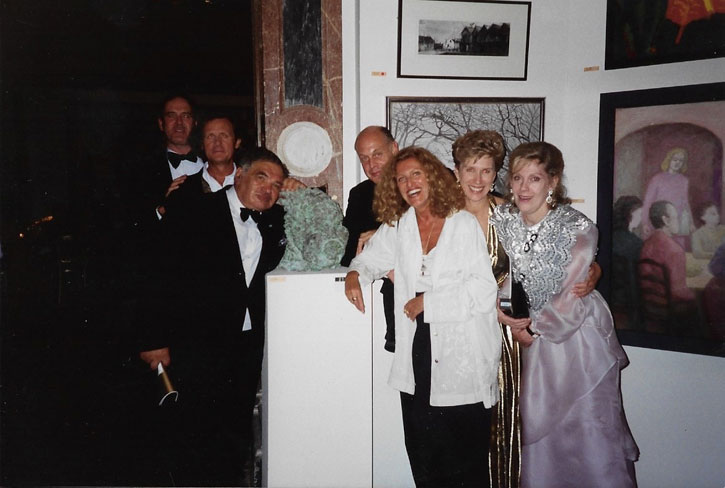 My first solo show, 'The Human Head' at Bowman Sculpture, Duke Street, London was about portrait busts. Eduardo was no longer with us but a new version of his portrait was there. This time I added a little machine part Eduardo had given me in homage to the most prolific artist and generous friend I have ever met.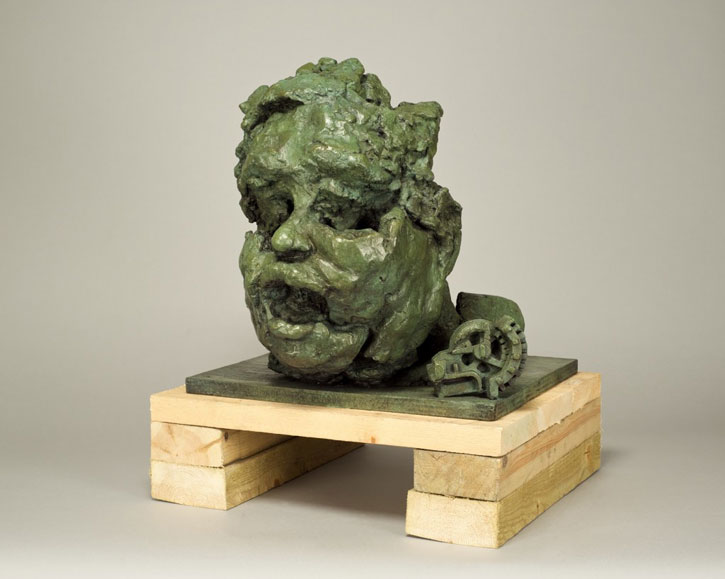 To be inquisitive, to explore new mediums, to love life, people, food, music, books, to love the work, to make and to give – this is what I learned from Eduardo Paolozzi.
Nicole Farhi, sculptor and fashion designer