My main task at Art UK over the last couple of years has been planning our next major digitisation project, which will include cataloguing and photographing sculpture in the UK's public collections and outside in the public realm. Being immersed in thinking about sculpture all day, my eyes are now attuned to spotting them wherever I go. Many of these are snapped on my phone for our Instagram account: @artukdotorg.
On a recent visit to Gallery Oldham, I saw a painting from their collection, which is on display in their Oldham Stories gallery, depicting the unveiling of the town's First World War memorial.
This striking painting, by James Purdy, was the subject of an artwork in focus story on Art UK in March 2016 by Gallery Oldham's Sean Baggaley.
I wanted to know if the war memorial still stood in this position in the town. It does and I was able to find it a few streets away from Gallery Oldham, in front of St Mary's church.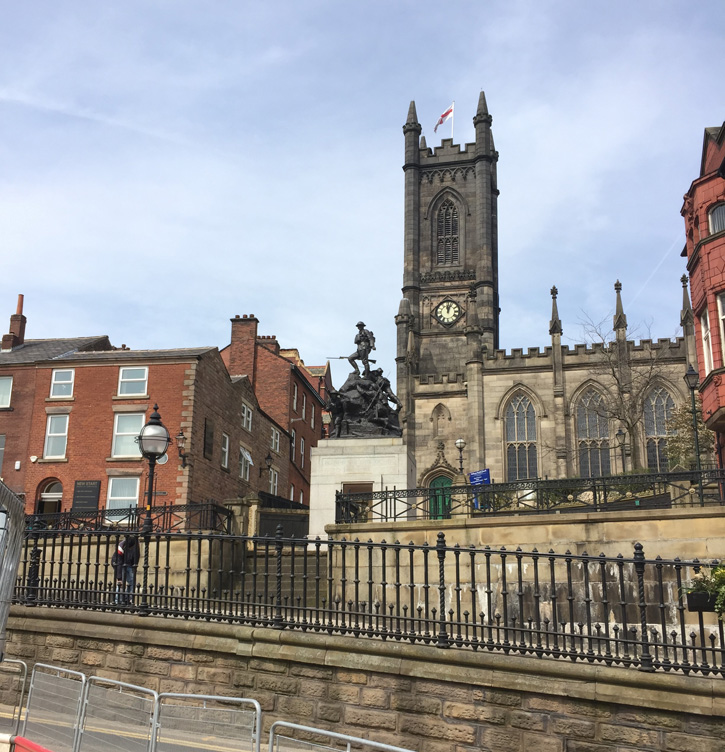 The sculptures were restored in 2013 and are very striking, looking down the hill across the town.
This made me wonder about other sculptures that might be depicted in paintings on Art UK. If there are any, do the sculptures still exist?
One sculpture which does still exist is the Boy and Dolphin on a fountain in Hyde Park, London. Sculpted in 1862 by Alexander Munro, the marble fountain stands in Hyde Park's Rose Garden.
The fountain originally stood in a Victorian sunken garden that was demolished when Park Lane was widened. It was moved to Regent's Park in 1962, then was returned to Hyde Park in 1995.
Some sculptures depicted in paintings no longer exist, meaning that the painting is amongst the only visual representations of the work. A statue of George I was installed in the centre of Leicester Square, London around 1748. It was a gilded statue depicting the king on a horse. It was re-gilt in 1812.
Another painting of the square, painted in the nineteenth century, shows the statue still in position, but by the end of the century it had been neglected and vandalised.
The statue eventually fell to pieces. George I's arms were cut off, then his legs, and afterwards his head. The horse was whitewashed and covered with large black spots, to make it look like a cow.
A stone bust of Lord Nelson can be seen in a painting of a building in Newcastle-under-Lyme, Staffordshire. If you look closely, you can make out Nelson's outline in the pediment of the central building.
If you visit Newcastle-under-Lyme, you won't be able to see the bust in its original position as it was removed from Nelson Place in 1968. Someone then had the idea to paint over it in rather bright colours. The bust is now on display at the town's Brampton Museum.
Andrew Grassie's painting of the Government Art Collection's store shows us a few sculptures in their collection.
The neon sign on the left wall is Things by Martin Creed.
To the left, partially obscured by a cover, is Blue Birds II by Tania Kovats.
The work to the right, nearest the door is Plinth by Rachel Whiteread.
There are probably many more examples of this mixing of media on Art UK. If you find any more, please let us know.
Katey Goodwin, Art UK Head of Research & Digitisation and Project Manager for The Sculpture Project