I thought I knew every inch of Euston Station, having spent many hours there waiting for the platform number for my train to appear on the departures board. Towards the end of 2014, however, I became aware that a new statue had been installed on the main concourse and I was amazed that I hadn't spotted it before. As anyone who travels through Euston will know, it's a really busy place, so I hadn't seen the new sculpture as it was always obscured by large numbers of people surrounding it or sitting on it.
Travellers will pass two sculptures on their way in and out of the station. A statue of railway engineer Robert Stephenson (1803–1859) stands just outside one of the entrances:
The other work is Eduardo Paolozzi's large sculpture Piscator, 1980, dedicated to German theatre director Erwin Piscator.
The new addition to the station's public art is a statue of scientist and navigator Matthew Flinders (1774–1814), credited with popularising the name Australia, and the first person to circumnavigate the 'Great Southern Land' and map South Australia's coastline. The statue, by sculptor Mark Richards, shows Flinders leaning over a chart of Australia, dividers in hand, accompanied by his faithful pet cat Trim.
Flinders is not a household name in the UK, but he is well known in South Australia where the Flinders Ranges, Flinders Chase National Park, Flinders Street and Flinders University all bear his name. A large number of statues erected in Flinders' honour can be seen around Australia, apparently only second in number to statues of Queen Victoria. The statue at Euston is the second of Flinders and Trim to be erected in the UK, with the other unveiled in 2006 in Flinders' birthplace, Donington in Lincolnshire.
Trim the cat was born in 1799 on the Southern Indian Ocean and accompanied Flinders around Australia and to Mauritius. He was described as 'the best and most illustrious of his Race, the most affectionate of friends, faithful of servants, and best of creatures'. Trim is a much-loved cat even now, with a dedicated Wikipedia page and his own merchandise at the State Library of New South Wales.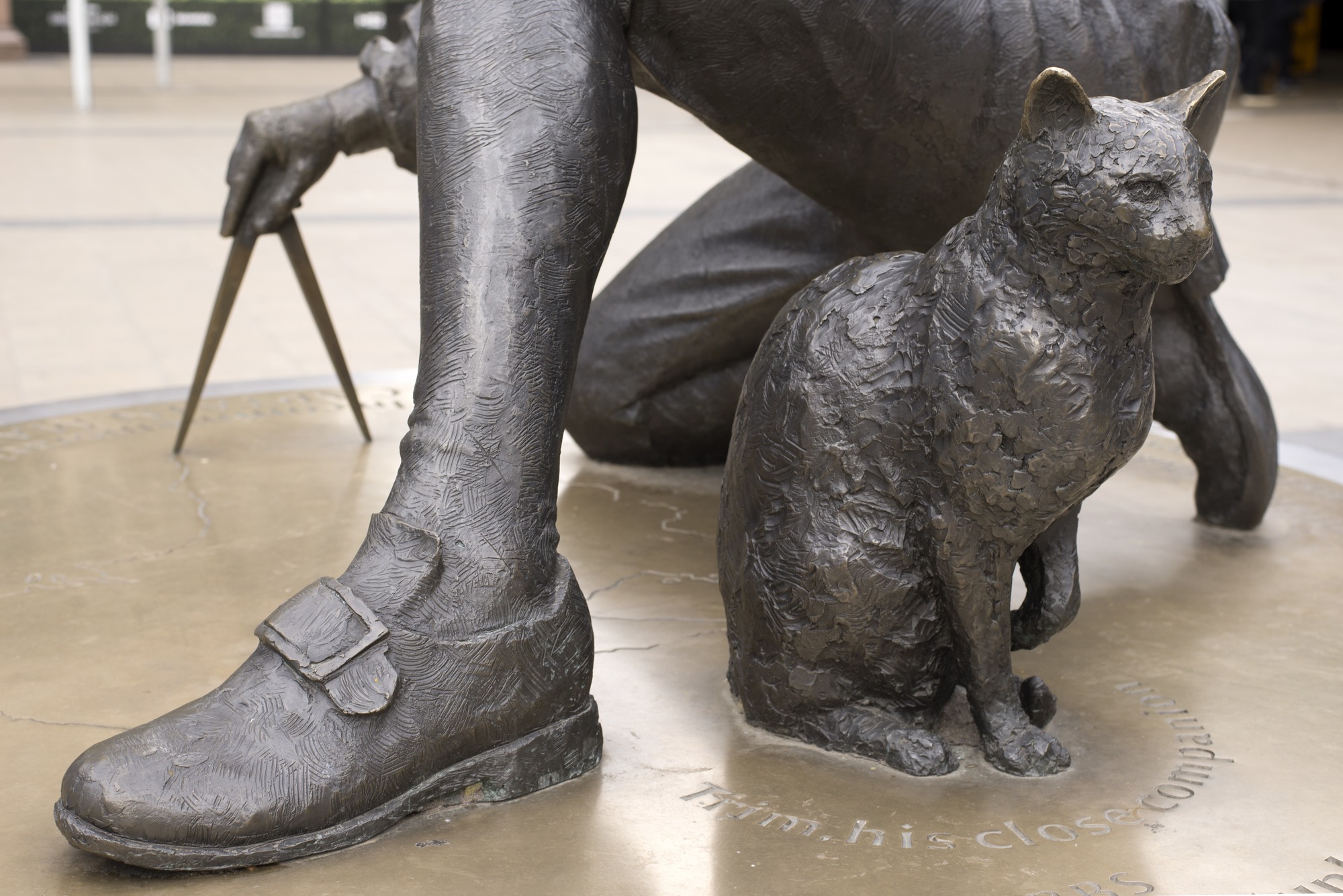 Matthew Flinders died in England in 1814 aged 40 and was buried at St James, Hampstead Road, London. The church was demolished in the 1950s and it is rumoured Flinders' remains are buried under one of the platforms. Some sources say platform 4 or 5, whilst others say his grave might lie somewhere under platforms 12 to 15.*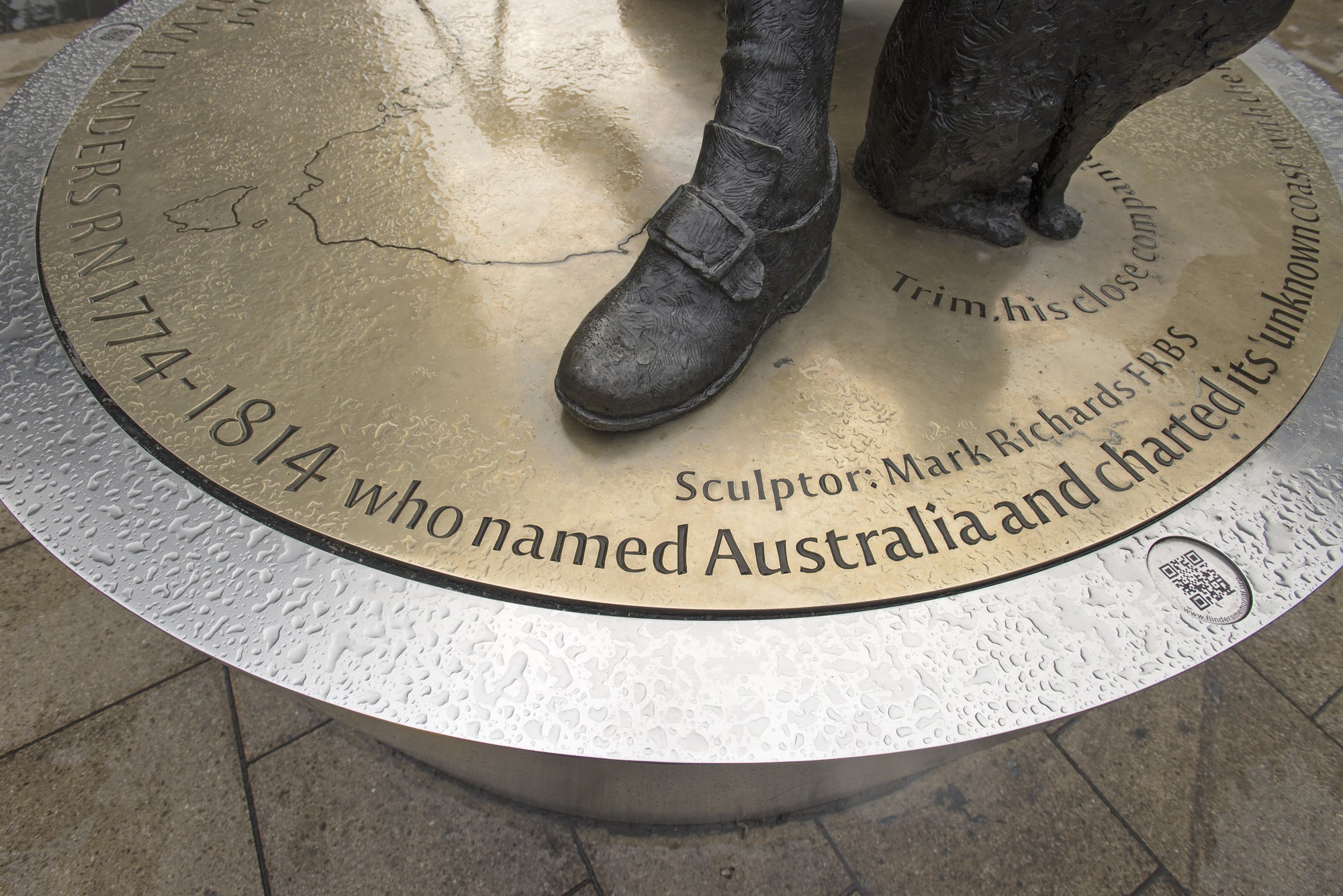 Mark Richards' statue was unveiled by Prince William at Australia House, London, on 21st July 2014. In his speech, Prince William said that he felt particularly honoured to have been invited 'to celebrate a man who did far more than anyone to place Australia – quite literally – on the map'. The statue was subsequently installed within Euston Station.
Many more details about Matthew Flinders' fascinating life and work can be found on the Flinders Memorial website, which is worth visiting to see images of the creation of the statue in progress. A collection of letters and documents about Flinders are held by the National Maritime Museum and can be viewed online.
Thousands of people pass by this impressive memorial each day and I hope that some of them will take a moment to look closer at Matthew Flinders and Trim the cat, rather than just use the plinth as a seat or a place to put their fast-food wrappers.
Katey Goodwin, Deputy Director of Art UK
*Editor's note, 2021: Since Katey wrote this article in 2015, Matthew Flinders remains have been unearthed at Euston as part of the HS2 developments. As reported in 2019, the remains were reinterred in St Mary and the Holy Rood Church in Donington, Flinders' home village.
As part of the wider HS2 developments, the statue of Robert Stephenson has been moved into temporary storage and the sculpture by Eduardo Paolozzi has been covered up as the buildings surrounding it are demolished. The statue of Matthew Flinders and Trim the cat are still on public view, just outside the station entrance.