This autumn, artist Jane Ackroyd and her sculpture Cat, loaned from the Harlow Art Trust Collection, visited three Harlow primary schools – Latton Green Academy, Freshwaters Academy and Newhall Academy – as part of our Masterpieces in Schools initiative to bring sculptures out of galleries and museums and into the classroom.
And what a whirlwind of a week it was! Over three days, Ackroyd, staff from Harlow Art Trust and the Art UK Learning Team worked with over 740 children, parents and teachers to collaboratively make a large-scale animal sculpture for each school.
Children from Reception through to Year 5 worked with Jane to learn a range of new art skills, including colouring wet plaster using acrylic paint and dipping and applying strips of plaster-covered scrim to a pre-made wire and metal armature. Young and old enjoyed working with this new and malleable material.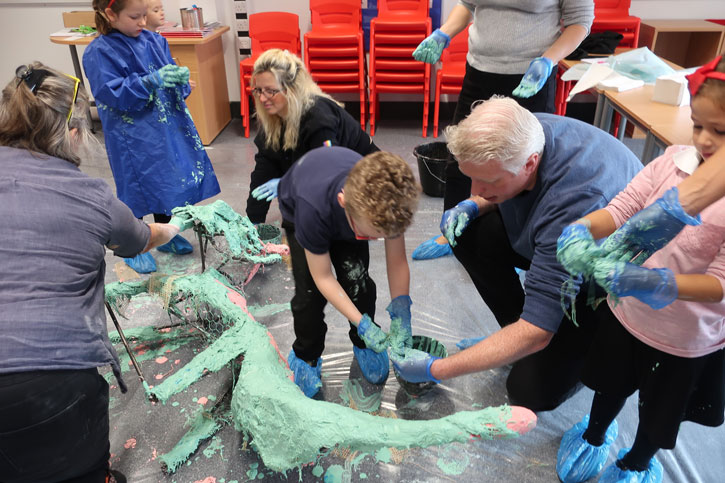 Children also came from other classes to view, discuss and sketch Cat with their teachers. Some wonderfully detailed observational drawings were made. Pupils spent the day off-timetable, taking part in various creative activities inspired by the sculpture. These included listening to cat-related stories, making their own narrative about cats, creating cat masks, junk modelling, cat dance and drama.
When asked if she was enjoying making Giraffe at Latton Green Academy, a student's response was 'This is very, very relaxing, no worries in the world except this!' Another pupil, using wet scrim and plaster, exclaimed 'this is the best thing I've ever done!' Art as therapy? Important for young people in this pressured, results-driven, technical age.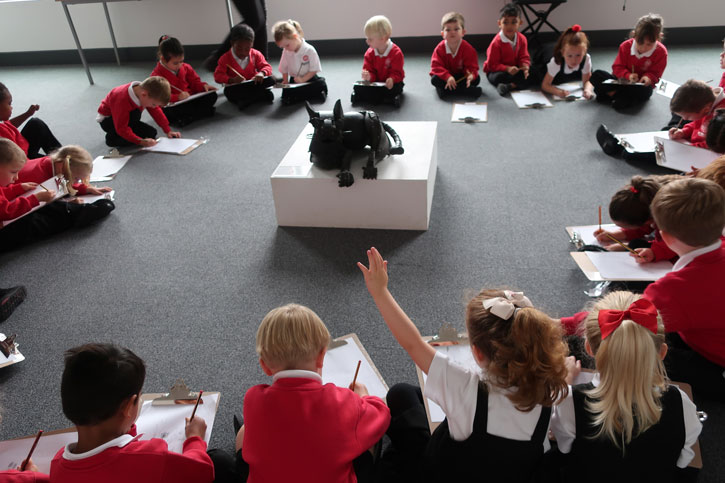 Prior to the workshops, an animal was chosen to represent each school, inspired by Jane's Cat and other sculptures in the town.
'We were particularly fortunate that the artist Jane Ackroyd, who created the cat sculpture when she was a student in the 1980s, was interested in returning to Harlow to make three different animal sculptures with the children at the schools,' said Catherine Mummery of the Harlow Art Trust.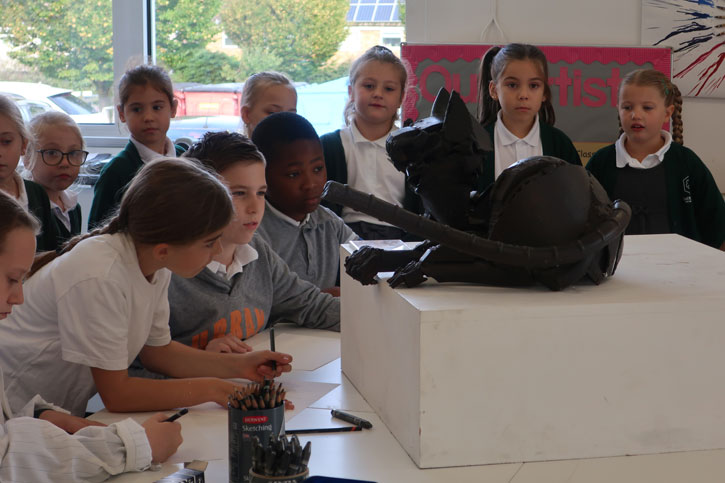 Ackroyd's playful artwork was chosen for its instant appeal to children and adults alike. Acquired for Harlow by the Trust from her degree show at the Royal College of Art in 1983, Cat is perhaps inspired by Picasso's renowned animal sculptures. Composed and welded from found mild-steel materials, including a girder (the tail), Roman nails (the claws) and a ball-shaped object (a rather satisfied and sizeable stomach). Anyone who is an owner, or lover of cats, will recognise how cleverly the artist captures the character and stance of a real-life cat – one paw stretching out lazily over the edge of its plinth...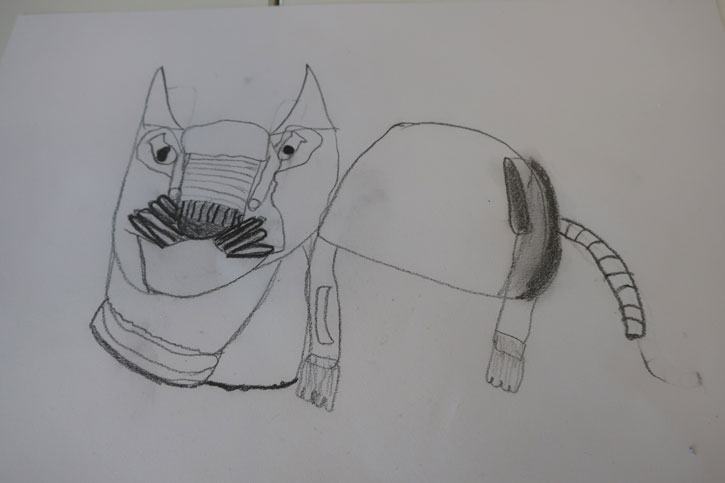 Children also enjoyed learning about the sculpture's mysterious past. Stolen from Old Harlow Library and sprayed gold by thieves, Cat was recovered in 1995, returned to its original patina by the artist and now lives in The Gibberd Gallery in the town's civic centre.
Harlow in Essex has an exceptional art collection located throughout the town. A model for urban design 50 years ago, Harlow was the inspiration of Town Master Planner Frederick Gibberd. Its world-class sculpture collection is largely the result of the Harlow Art Trust, set up in 1953, which has amassed sculpture by major artists such as Henry Moore, Barbara Hepworth, Lynn Chadwick and Elisabeth Frink. The town was planned around a series of neighbourhoods, each with its own shopping centre, schools, health centre, library and community rooms. Gibberd's aspiration for Harlow was to become 'home to the finest of art, as in Florence and other splendid cities.'
Today, Harlow's sculpture is as much part of the social history and human geography of the town as its housing, public buildings and open spaces. However, its inhabitants may have grown up surrounded by these artworks, perhaps taking them for granted, or have come to live in Harlow more recently as the town is rapidly expanding. Its children and parents may well be unaware of the internationally significant artworks right on their doorstep! The Trust's current Adopt a Sculpture schools scheme aims to foster awareness and ownership of these local artworks, with primary schools encouraged to select a sculpture near them and programme whole school interaction with the artwork into their curriculum for a year.
Art UK was delighted to have the sculptor Jane Ackroyd on board for these workshops. She studied at Saint Martin's School of Art and at the Royal College of Art. Ackroyd's public commissions often feature birds and animals. Well at Harlow Museum is another work in the Trust's collection.
The artist herself said: 'Working with the children was so much fun! Their enthusiasm for being messy is infectious. One of the children at Latton Green Academy said 'I could do this a hundred times!' Where normally children's behaviour is 'reined in' during school hours, the experience of these workshops allowed them to express their creativity. They squirted paint into buckets and slapped wet plaster onto metal armatures. The sense of excitement and freedom was hugely evident.'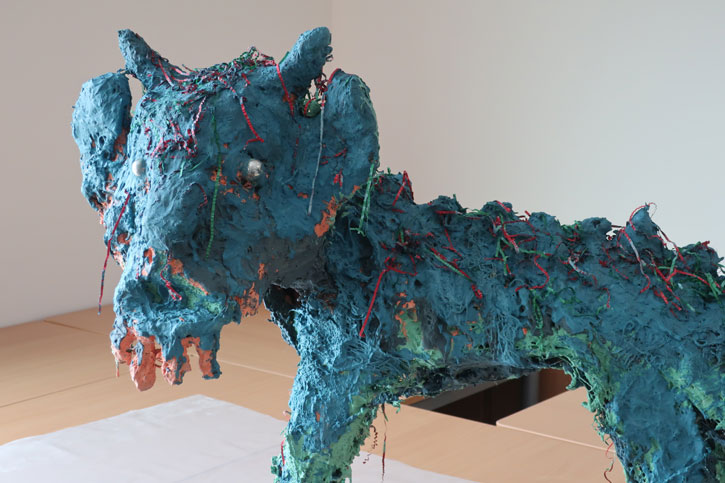 Teachers from all three schools felt that the experience of working with a 'real artist' was beneficial for staff, students and parents and carers. They are also keen to visit other sculptures in the town. Making a collaborative artwork that the school could keep was important to them. This experience gave teaching staff the confidence to 'incorporate sculpture into their curriculum'.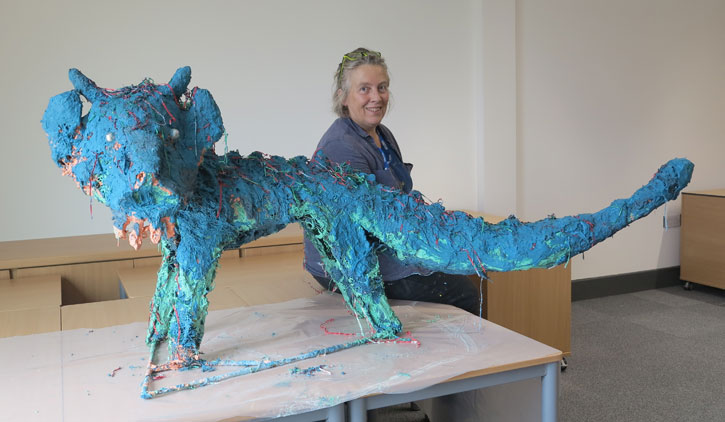 Debbie Gayler is the headteacher at Newhall Primary Academy. The school currently has two year groups – it is a new school and part of a new development for Harlow. She said: 'The children had a great day working alongside Jane Ackroyd with their parents. They are all really proud of their Mythical Cat Dragon. Over the course of the day, the children took part in various arts-related activities... We are looking forward to developing our arts offer further as the school continues to grow.'
Selina Levinson Drake, Learning and Engagement Officer at Art UK
Masterpieces in Schools runs until July 2020 thanks to the generous support of The National Lottery Heritage Fund, the Stavros Niarchos Foundation, R. K. Harrison and Hiscox. For more information, email learning@artuk.org
With thanks to Steve Ward and the team at Harlow Technical Services for carefully transporting and installing Cat in all three primary schools.