Barbara Hepworth and Wilhelmina Barns-Graham arrived in St Ives to bad weather. Hepworth came first, splashing up the drive to Little Parc Owles on the evening of 25th August 1939, her car cramped with the forms of Ben Nicholson, their three small children, a nurse, and a cook. It was too dark to see the landscape she would soon declare 'unconquerable and strange, & my God how sculptural'.
Six months later, on 16th March 1940, Barns-Graham stepped off her train into an east wind. From her room at the nearby Treloyhan Hotel, the 28-year-old painter – who was meant to be in Europe on a travelling scholarship from the Edinburgh School of Art – watched as the rain coursed down her window. 'First impression of St Ives,' she noted in her diary, 'was disappointed'.
Both women were given shelter by Margaret Mellis, a friend of Barns-Graham's from Edinburgh, who was renting Little Parc Owles, in Carbis Bay, with her husband, the critic Adrian Stokes. Mellis and Stokes had taken the house with the intention of providing a refuge for their artist friends escaping London.
By 1940, the house was bursting at the seams. Mellis's studio had been given over to Hepworth's triplets, and housework – growing vegetables and cooking for her guests – took time away from painting. (Adrian's study, the largest room in the house, with a sea view, remained undisturbed.)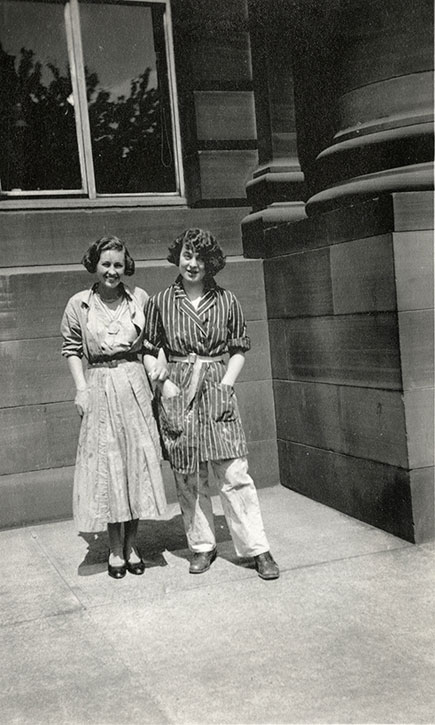 Soon, Hepworth and Nicholson moved elsewhere, though the community remained close-knit, and creative friendships flourished. In her diary, Barns-Graham described the pleasing, box-framed paintings of Alfred Wallis adorning the walls at Little Parc Owles ('Supposed to have influenced Christopher Wood'), and the Perspex sculptures cluttering Naum Gabo's nearby bungalow.
She noticed Hepworth's quick, neat movements (as precise as the drawings of crystals Hepworth produced during the war), and recorded a sherry party at which she met Herbert Read.
Newly determined, she quickly found her own studio: No. 3 Porthmeor, with a single tall window letting in cool, even light off the Atlantic.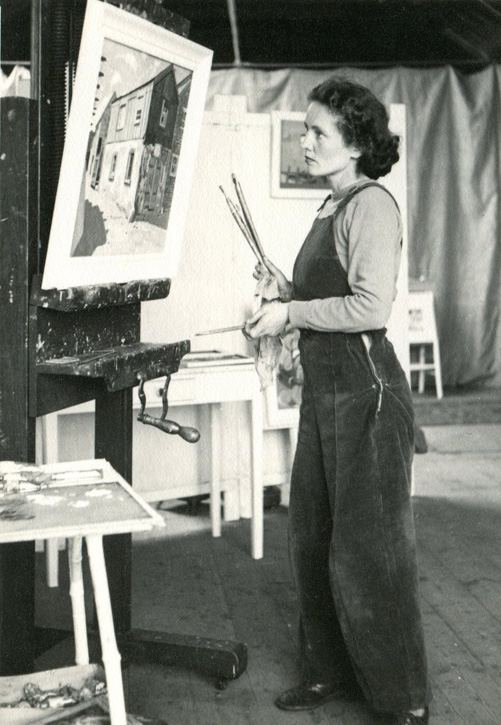 In the retellings of St Ives, the stories of women artists like Mellis and Barns-Graham have been allowed to slip through the gaps. Yet, along with Hepworth, they were central to the transmission of ideas that took place in the Cornish harbour town from 1939.
Being there brought about a transformation in Mellis's work. 'Ben had been saying to me, "Do a collage, do a collage"', she remembered later, 'so I started in July [1940] and became completely engrossed in them'. Collages developed into relief work, such as Relief Construction in Wood (1941), which shared qualities with the work Nicholson was producing at the same time.
Mellis was encouraged by Nicholson's example of working in materials other than paint, though she would come to resent the suggestion of his tutelage.
Instead, Mellis eschewed Nicholson's cool aesthetic, using household materials – labels for mouthwash and wool underwear, a crossword puzzle – and, as in her paintings, insisting on colour. In Collage with Red Triangle (1940), five paper elements abut on a grey-green ground, while a brilliant red triangle sails downwards towards the centre.
Gabo liked the work so much that he requested Mellis make him another, while Nicholson selected Brown Construction (1941) for inclusion in New Movements in Art, which he organised at the London Museum in 1942. For a brief moment, Mellis was at the centre of British wartime experiments in abstract art.
Barns-Graham was also edging towards abstraction, growing increasingly sensitive to form. Her Cornish landscapes evolved into dialogues of colour and shape.
In Island Sheds, St Ives No. 1 (1940) and Porthleven (1951), cottages became pale, shimmering oblongs surrounded by green shoulders of the hillside, enfolded by rust-coloured spits jutting into a pale sea. She was stripping the landscape back, reducing it to its bare bones.
She liked 'the loneliness of going into solitary places', she said later, though she was careful to avoid picturesque scenes. Instead, she painted ruins, as in Box Factory Fire (1948), in which the torn roof of the factory reveals a geometric heap of debris beneath, like a carcass on a beach, its ribcage exposed.
Or, she scoured the shoreline, painting – as in Froth and Seaweed (1945) – the reddish snakes of weed twisting over undulating, thick black lines. She was known to search the local rubbish dump in search of 'hidden colours'.
Later, the relationships of both artists with St Ives shifted. Mellis stayed in St Ives for just seven years, leaving as a result of her divorce, a decision which inevitably distanced her from the success of those who remained. She rejected abstraction, before returning to it later, in the elegant, intuitive constructions – their parts combed from the Suffolk beach close to where she lived – that characterised her final years.
For Barns-Graham, the exclusion felt deliberate. She was left out of the first exhibition of the Crypt Group (though she later became a member) and omitted from accounts of St Ives, most notably Lawrence Alloway's 1954 Nine Abstract Artists. And yet she persisted. A trip to the Grindelwald glacier in Switzerland in 1949 transformed her idea of landscape. From that point, she depicted landscape as geometric, living, and breathing, fretted and complex like Hepworth's drawings of crystals.
For the rest of her career, Barns-Graham worked in both abstraction and representational painting, and across media.
Perhaps for this reason, her contemporaries found her difficult to categorise, and, like Mellis, she was relegated to a secondary category of St Ives artists – the drop-ins and disciples, the imitators and followers. To work outside of the group, to not belong, took courage. For these women, St Ives was only the starting point.
Harriet Baker, writer and contributor to Revisiting Modern British Art
Revisiting Modern British Art, edited by Jo Baring, is published by Lund Humphries on 10th October 2022