The Sculpture Project is happening at a very interesting time for the development of new technology and imaging techniques. We definitely want to embrace this new technology, to ensure we don't get left behind, but the speed of these new developments can be a bit daunting.
When Art UK (formerly the PCF) undertook the paintings project, our approach to photography of the 212,000 2D artworks was fairly straightforward. The photographers were given instructions on lighting, file sizes and image processing. This created a consistent style for all the images across the project, whether they were in a store in Belfast or on display in Wolverhampton. Sculpture opens up a whole new set of challenges. Getting the lighting right for photography can be tricky, especially if the sculpture has a shiny, reflective surface. There is also the issue of taking multiple images of each work and what the background will look like; things we didn't need to worry about for the oil paintings.
We will be testing our sculpture photography methodologies in a few months' time. Photographing three-dimensional artworks gives us the opportunity to explore the possibility of creating 3D images. Viewing 3D images online will give users a new perspective on the work, especially if they are not able to visit the sculpture in person. The last few years have seen a huge increase in 3D imaging methods and technology for both professional and amateur use. Exactly how we will create 3D images for The Sculpture Project is another thing we need to assess during the development phase, but I have already had a go at creating my own images using a free app called 123D Catch. To create a 3D image the user takes multiple images of their chosen 3D object with their phone or iPad, then the 123D Catch software stitches these photographs together. They suggest taking around 20 sequential photos in a loop around the object, then take another loop at a different angle. You need to make sure you cover the whole object, so there are no gaps. This process is called photogrammetry, and is already a well-known technique for creating 3D images. Having experimented with a pottery chicken on my dining room table, I chose a local public sculpture for my next 3D project.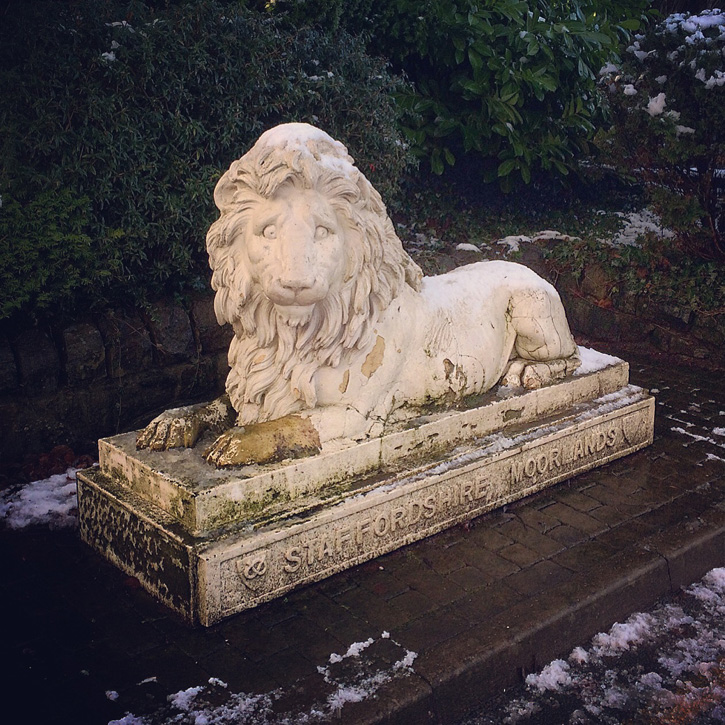 The Staffordshire Moorlands Lion sits near the entrance to the local council offices in Leek. Having been commissioned for Alton Towers by the 15th Earl of Shrewsbury, the lion was moved to Brough Park, Leek in the 1920s, where it stood on a high plinth for many years, before being moved to its current position. It's just over 1m high and sited away from the wall, so I could easily get all the way around it and see its top as well. I was pleased with the result and uploaded the image to the 123D Catch website.
By uploading images to their cloud, you automatically agree to be open with your rights to the image and allow others to share and use it. My image of the lion was very quickly picked up by another user of the 123D Catch website, who created a mesh model of the lion and uploaded that to a site called Blend Swap.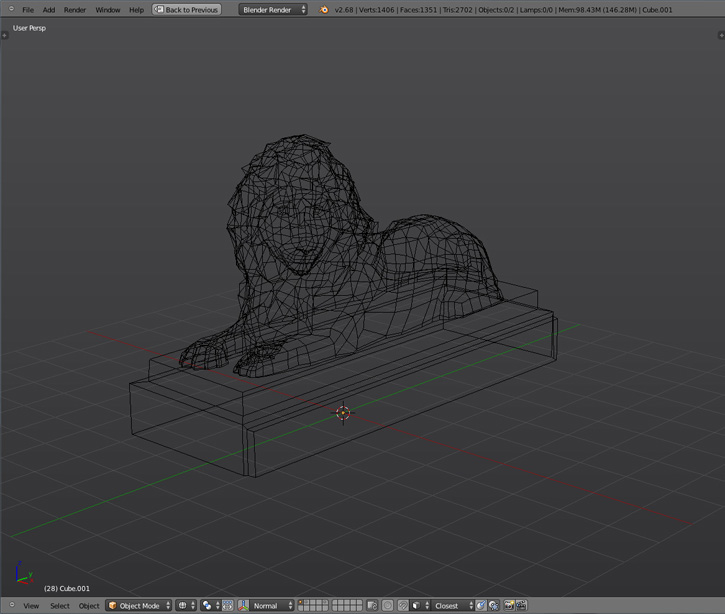 The blend of my lion has now been viewed over 2,600 times and has had 554 downloads.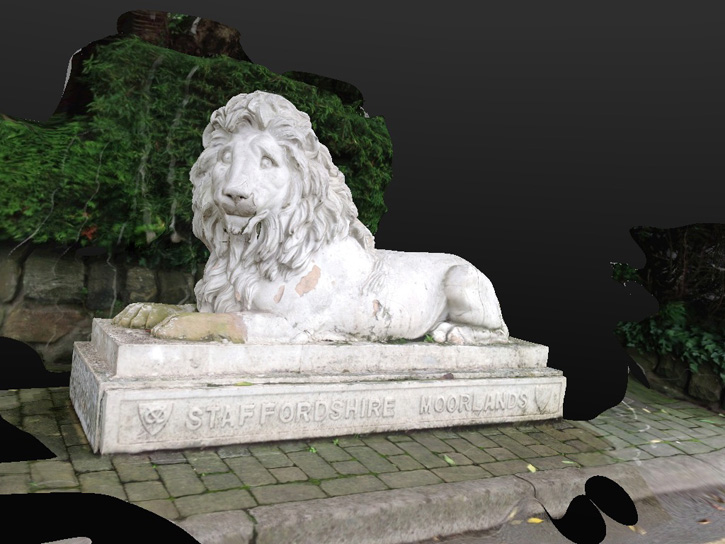 I am happy that the work I created in just a few minutes has had so much interest and I wonder who, around the world, now has a 3D model of the Staffordshire Moorlands Lion. We will update you on our exploration of other photography and 3D imaging technology over the next few months.
Katey Goodwin, Art UK Deputy Director, Head of Digitisation and Public Engagement