Every so often, the nation's art gets its 15 minutes of fame, rubbing shoulders with the silver screen's best actors. From being the centre of the story to being glimpsed in the background, you can spot art in all sorts of films: feelgood teen romps, spy classics, heist movies...
Museums have also served as picturesque backdrops: in The Dreamers, the main characters see how quickly they can sprint through the Louvre, and in The International there's an entire climactic shoot-out in New York's Guggenheim (in which no paintings were harmed – it was filmed in a replica).
But putting museum hijinks aside, skipping swiftly over the dubious Mona Lisa-related symbolism of The Da Vinci Code and leaving artist biopics as a whole other category (which you can read more about on Art UK here), here are our top picks of paintings in films.
Skyfall
The scene is this: James Bond and Q, his new Quartermaster, sit side by side on a bench in London's National Gallery. Briefly taking a break from spying and codebreaking for some introductory banter, they stare ahead at J. M. W. Turner's The Fighting Temeraire.
'It always makes me feel a little bit melancholy' says Q of the painting, '...grand old warship being ignominiously hauled away for scrap... the inevitability of time, don't you think? What do you see?'
'A bloody big ship', grunts Daniel Craig's Bond.
It's doubtful that Turner foresaw his painting being used as a metaphor for Craig's Bond becoming increasingly old and unfit for duty, but such is the resonance of his work that it's still being used in modern-day spy escapades. The painting isn't mentioned again – too much spying and codebreaking to be getting on with.
Another Bond film featuring a famous artwork is Dr No, in which you can spot Goya's portrait of the Duke of Wellington on the wall of Dr Julius No's lair – suggesting he had stolen the portrait, which had at that time been stolen in real life from The National Gallery.
The Thomas Crown Affair
This 1999 remake of the 1968 heist film makes several changes to the original, and one of the most significant is centring it all around art (rather than robbing banks). Thomas Crown, played by Pierce Brosnan, is a billionaire so bored he has to resort to elaborate and unnecessary art heists to amuse himself, and Rene Russo plays the detective attempting to outsmart him.
The main painting featured is Monet's San Giorgio Maggiore by Twilight. It's stolen by Thomas Crown at the very beginning of the film, from the Metropolitan Museum of Art in New York (although it's actually part of the collection of Amgueddfa Cymru – National Museum Wales in Cardiff), and he later tricks Rene Russo's character into believing she's found it at his house.
In the climactic scene (spoiler alert!) it's revealed that the Monet was returned to the museum just two days after it was stolen – but it was painted over to disguise it. Art lovers no doubt wince as tear gas and the sprinkler system reveals the true identity of the painting. In the same scene, Crown steals Manet's Banks of the Seine at Argenteuil (actually in the collection of The Courtauld) to gift to Russo.
Apart from artist biopics, there are few films with such a focus on art, even if it is largely being used as a rich man's toy. It means you can hear lines such as 'is the Impressionist wing sealed off?' delivered with impressive urgency.
Ferris Bueller's Day Off
In 1986, Ferris Bueller peered through the fourth wall and invited us to cut class with him – because 'Life moves pretty fast. If you don't stop and look around once in a while, you could miss it.'
Between stealing a car and dancing in a parade, Ferris and his partners in crime stop at the Art Institute of Chicago. A number of artworks flash by (the director's favourites, apparently) – by Edward Hopper, Wassily Kandinsky, Pablo Picasso, Mary Cassatt, Amedeo Modigliani and Jackson Pollock – but the scene ends with Ferris' friend Cameron focusing intensely on Georges Seurat's A Sunday Afternoon on the Island of La Grande Jatte, the camera zooming in repeatedly until you can see the individual dots.
Cameron appears mesmerised by the painting, and writer/director John Hughes describes the character's epiphany in an audio commentary: 'The closer he looks at the child, the less he sees with this style of painting. The more he looks at it there's nothing there. He fears that the more you look at him there isn't anything to see. There's nothing there. That's him'.
Seurat's work remains in the Art Institute of Chicago, as seen in the film.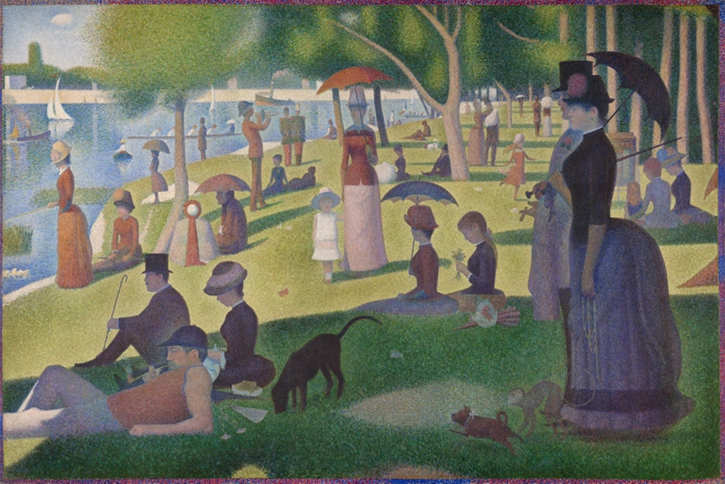 This brightly coloured copy is on Art UK, part of a series of famous artworks reimagined as seen through windows, in the collection of Sherwood Forest Hospitals NHS Foundation Trust.
Seurat completed may studies before embarking on the final work.
There are versions all over the world, including the Metropolitan Museum of Art in New York, two in The National Gallery, and one in the Fitzwilliam Museum, Cambridge.
The message here is really: if you're going to bunk off school for a day, the least you can do is to visit one of the world's foremost art galleries and have a Pointillist epiphany while you're doing it.
Dreams
Quirky and arthouse rather than Hollywood blockbuster, this 1990 film comprises eight segments based on the writer/director Akira Kurosawa's personal dreams. In segment five, entitled Crows, a man finds himself stumbling into a series of Van Gogh paintings.
He runs through fields of haystacks and wanders dazedly across the ridged canvas of Starry Night, admiring wheatfields along the way.
For a film made in 1990, the visual effects – provided by George Lucas' production company – are impressive, and the oneiric nature of the piece is heightened by the music: Chopin's Prelude No. 15 in D flat major.
Midnight in Paris
So prolific are Woody Allen's references to art and famous paintings, this person has put together a list of all the artwork references in his films. But perhaps Midnight in Paris is the most overt (spoilers ahead).
The main character Gil, played by Owen Wilson, stumbles through time and into Gertrude Stein's Parisian apartment by way of F. Scott Fitzgerald and Ernest Hemingway – and so, naturally, meets Pablo Picasso and falls in love with his muse. Later on, we are treated to Gil explaining his time-traveling predicament to Salvador Dali and Man Ray, whose Surrealist tendencies mean they see nothing strange about an extra-chronological love affair.
While Gil is hanging out with Gertrude Stein, we see her critiquing Picasso's Bather, we can spot Picasso's portrait of her on the wall, and then, behind Picasso, we see Cézanne's Bathers – an Allen comment on the artistic relationship between Cézanne and Picasso, perhaps?
Later on, when Gil travels further back to Paris' 'Belle Époque' he encounters Henri de Toulouse-Lautrec, Paul Gauguin and Edgar Degas at the Moulin Rouge, and comes to realise the intoxicating power of nostalgia: perhaps the lost generation or those who lived through the 'Belle Époque' did not find it nearly as romantic or glamorous as we do in hindsight.
Molly Tresadern, Art UK Content Creator and Marketer