A girl born in 1917 in Clayton Green, Lancashire, who would go on to have a 'seismic' romance with the famed Surrealist Max Ernst; who would run away to Paris and befriend Salvador Dalí, Pablo Picasso and Marcel Duchamp; who would make a daring escape across borders in World War Two; who rejected an upper class, debutante life in favour of producing acclaimed art in Mexico; whose artistic legacy has only recently started to be celebrated in the UK.
The life of Leonora Carrington reads like fantastical fiction – but it's all true.
In December 2017, BBC Four charted the story of Mexican art with photographer Alinka Echeverría, and explored the legacy of Carrington as 'The Lost Surrealist'.
A century on from her birth, take a look at the extraordinary life of the British artist who ran away to Mexico, through her own words.
'I fell in love with Max's paintings before I fell in love with Max'
Carrington came across Max Ernst's art at the International Surrealism exhibition, a year before she actually met him. He was 46, and one of the best known Surrealist artists in the world. They met at a dinner party in London when Carrington was 20, and in 1937 ran away together to Paris. They lived and worked in France, becoming friends with the Surrealist circle of artists, which included Marcel Duchamp and André Breton.
Carrington occasionally made real life as surreal as art. At one party she disrobed and presented herself naked; at another, she painted the soles of her bare feet with English mustard.
'I didn't have time to be anyone's muse... I was too busy rebelling against my family and learning to be an artist.'
Carrington was beautiful, adventurous and artistic: the ideal woman to act as a muse to the Surrealists. Many of the men in the Surrealist movement saw women's role as subject and inspiration, not artist.
But Carrington successfully shrugged off this image to forge her own path, working with other women artists in Mexico to create a lifetime of Surreal art that was entirely original and distinct from that produced by her male contemporaries.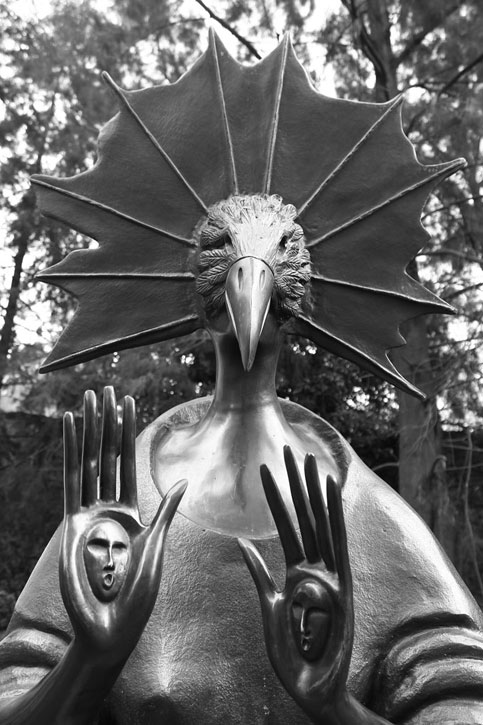 'In the political confusion and the torrid heat, I convinced myself that Madrid was the world's stomach and that I had been chosen for the task of restoring this digestive organ to health.'
The couple were broken up by the Second World War. Ernst, a German citizen, was detained by the French and then interned by the Germans. Carrington fled to Spain, where she suffered a mental breakdown. The quote above comes from a diary entry she wrote at this time, when she was confined to a mental hospital and given seizure-inducing drugs.
Carrington left Spain, with a Mexican visa obtained from marrying Renato Leduc, instead of allowing her family to bring her back to England (they sent a nanny to retrieve her – by submarine). The couple sailed for New York and finally settled in Mexico City, but their marriage of convenience soon ended. Carrington lived and worked mainly in Mexico for the rest of her life.
'I am as mysterious to myself as I am to others'
Motifs re-occur through Carrington's large body of work. Hyenas, horses, crows and half-crocodiles abound. There are ghosts, winged pigs and giant women. Her paintings tend to be dreamlike, and steeped in myth and folklore.
Yet the artist always refused to be drawn into a discussion on their meaning, preferring people to draw their own conclusions and feelings from looking at her work.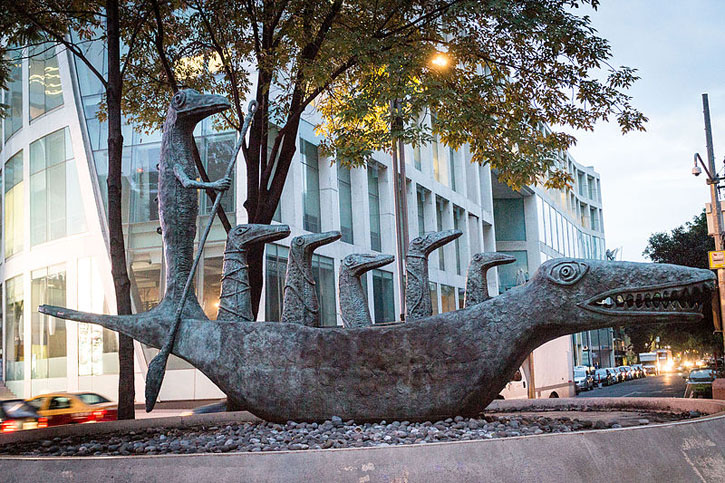 'People under seventy and over seven are very unreliable if they are not cats.' – from The Hearing Trumpet
The Hearing Trumpet is Carrington's only novel, a fittingly surreal tale of a 92-year old woman who, with the aid of the eponymous trumpet, is able to hear that her family are plotting to send her to an institution.
She also penned plays, designed theatrical sets, worked with textiles and wrote a number of short stories. In The Debutante she pays a twisted homage to her own upper-class upbringing, as she depicts a young debutante woman who cannot bear to attend her coming-out party and enlists the help of a hyena to go in her place.
'The paintings of Leonora Carrington are not merely painted. They are brewed. They sometimes seem to have materialised in a cauldron at the stroke of midnight.' – Edward James, art collector and Carrington's friend and patron
Leonora Carrington died in Mexico, the country she had made her home – and which had embraced her back – at the age of 94. The sculptures that live in public in Mexico, and her large and unique body of work survives her in its many forms – including as the direct inspiration for a Madonna video.
Molly Tresadern, Art UK Content Creator and Marketer