So, where were we? I left you at superheroes and underpants with episode two of Landmark. 'What's that got to do with public art?' I hear you ask, well read on to find out as we venture into episode three.
Arriving in the heart of England, our three Midland heat artists provide all the excitement and jeopardy of a newly formed boyband without the risk of Simon Cowell commenting on the quality of their performance. That work is left to the two series experts – Clare Lilley and Hetain Patel. Clare, Director of Programmes at Yorkshire Sculpture Park, is more importantly in this context a very committed Trustee on the Board of Art UK and overall champion for all things sculpture. The artist Hetain Patel who, coincidentally, has just joined the Board that I Chair, the Liverpool Biennial (the UK's largest contemporary art festival), currently has two exhibitions of his own work on view in the UK – one at the John Hansard Gallery, Southampton (until 30th October 2021) and the other at Copperfield Gallery in London (16th September – 23rd October 2021).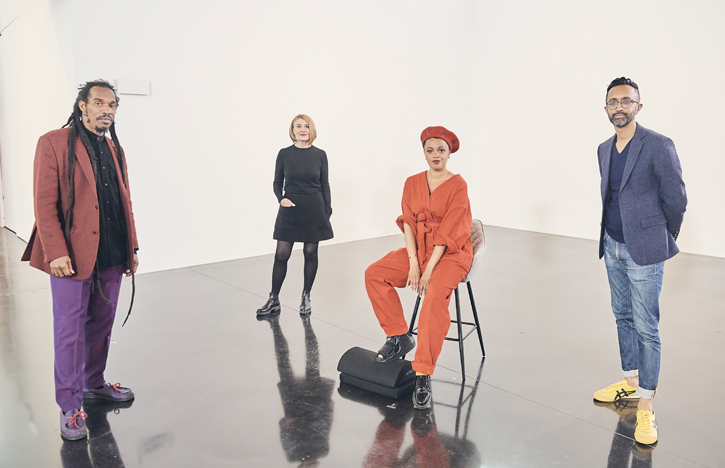 In this episode our two experts are joined by the glorious Benjamin Zephaniah, best known for his poetry and writing but also with a side-line in acting. It is Benjamin, the wordsmith, who speaks to me with his description of what art means to him – it can educate, communicate or just be beautiful. As I often remark, there's still a role for truth and beauty in this business, and our Midlands artists hold these values at the heart of their work.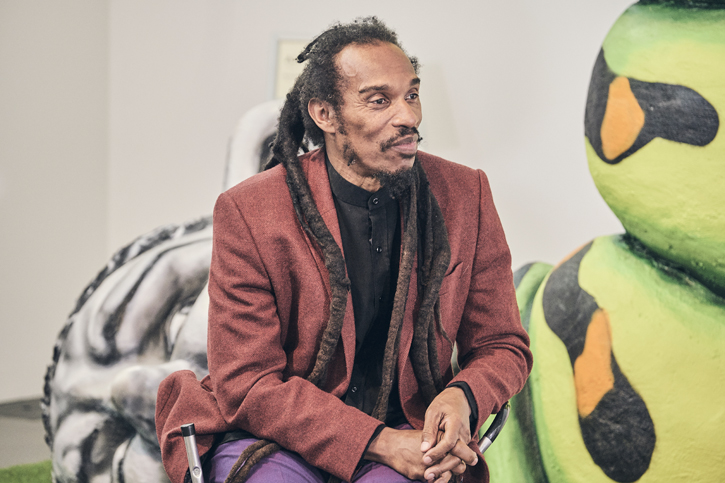 However, for most of them in this episode it is about the communities around them and shared issues that touch us all. That's not to say that truth and beauty and community are mutually exclusive. In fact, at the top of the programme Clare reminds us of the importance of public art being relevant or meaningful to our communities, and Hetain argues that unless it connects people to each other and to place it has little value. Hetain goes on to champion the idea of the public feeling ownership and connection to the work, especially given that the public realm is their space. So, with only two weeks in which to make their work and with £25,000 in their pockets, our three artists get cracking.
Luke Perry, based in the Black Country, claims to have molten steel running through his veins and with over 60 public art sculptures already under his belt comes with a confidence and a strong, inclusive vision.
Luke's family roots can be traced back generations in the Black Country and more specifically to the business of chain-making, so his connection to the region and its industrial heritage is deep. In his work, Luke aims to champion 'real' people, figures that don't usually see themselves represented in public monuments, with a view to celebrating their lives and recognising their valuable, but often forgotten, contributions to our world today.
Alfie Bradley, a multi-disciplinary artist based in Shropshire, was raised in France where he first trained as a stone carver.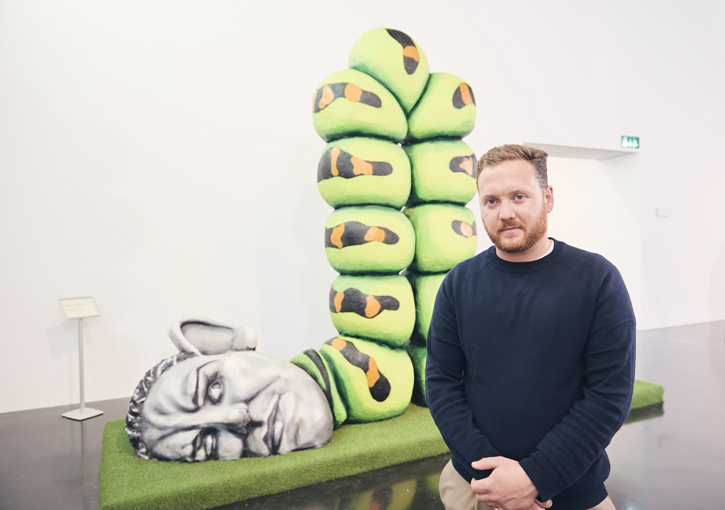 He now works with a range of materials, from spoons to knives, and in this episode with polystyrene and cement. For Alfie, for the work to have any merit, it has to have a message and his Knife Angel, made from knives collected from every single police station in the country, addressing the issue of knife crime, shows that he does indeed put his money where his mouth is.
Our third artist, Jason Wilsher-Mills would agree whole-heartedly with Alfie that art should have heart and a strong message at its core but Jason's approach is not one that you come across very often in our high-minded and serious art world, he likes it to be 'daft'... this is where the underpants come in, but more on that later.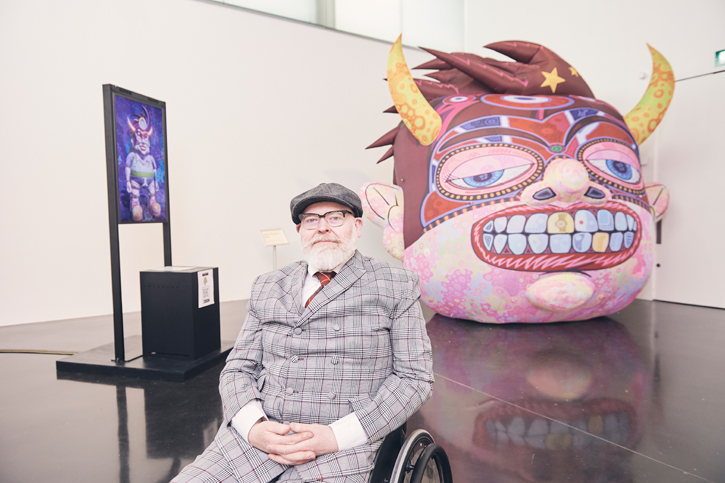 Jason trained as a painter but now works with technology (nothing wrong with that says Mr Hockney) and despite initially feeling conflicted about working with a medium such as digital art that was somehow betraying his formal training he's now, thankfully for us all, got over himself. The risks associated with using VR and technology in making a work set the jeopardy factor at extreme for this episode. Telly gold.
Luke's proposal centres around the idea of bringing the coat of arms for Birmingham into the twenty-first century, by representing it as a monumental shield being raised by the people of the region, all pulling hard on the chains that are so associated with the Black Country. Whilst the 25 figures are to be represented in flat, cut steel, Luke brings 'real' people into the studio to pose for the work so that ultimately the individuals will be actual recognisable portraits of specific figures from the communities.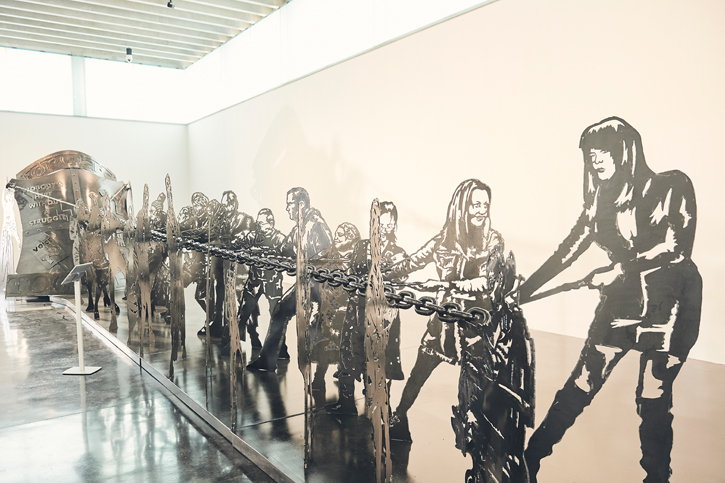 Posing the figures, photographing and then projecting them onto the sheet metal to then see Luke cutting them out truly brings the range of processes involved in art-making to life. Bringing together a team of family and friends, many of them total amateurs in working with the material, there is a real sense of them all 'pouring love and enthusiasm into it', as one of the helpers, Raj, comments.
We first hear about Alfie's project when Hetain visits him in the studio but the meeting leaves Hetain with questions around the use of a human face in the work. Given that the face is clearly gendered, white and of a certain age, Hetain worries that the specificity of the head will exclude many, as we all tend to look for ourselves in a work, especially when it is figurative.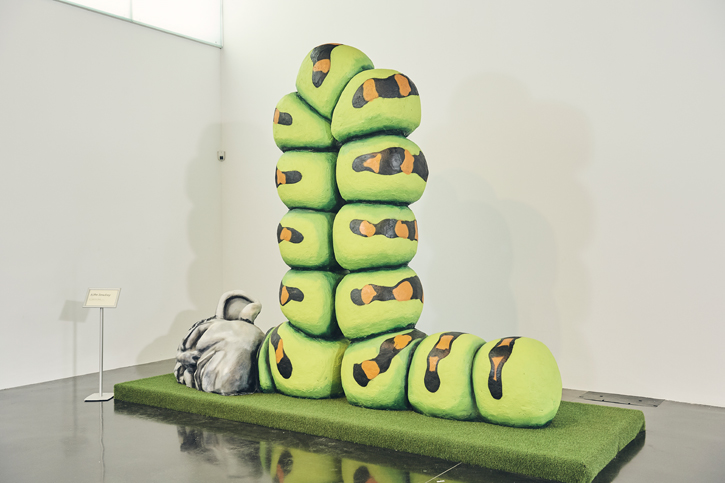 That debate around representation rages today in relation to many of our public monuments of establishment figures, usually white men with questionable histories. Will Alfie be able to make his sculpture more universally relevant? Beyond that, however, there is clearly a poignancy to Alfie's work as the green caterpillar form of the body references the coronavirus genome and the way in which we have all been trapped as a consequence of the pandemic, the head and its position only adding to the melancholy.
There is no place for melancholy in Jason's contribution. Finally – the underpants! In creating his superhero, Jason seems at first to be channelling Niki de St Phalle but before long I see that it's actually closer to Wallace & Gromit or Patrick from SpongeBob SquarePants.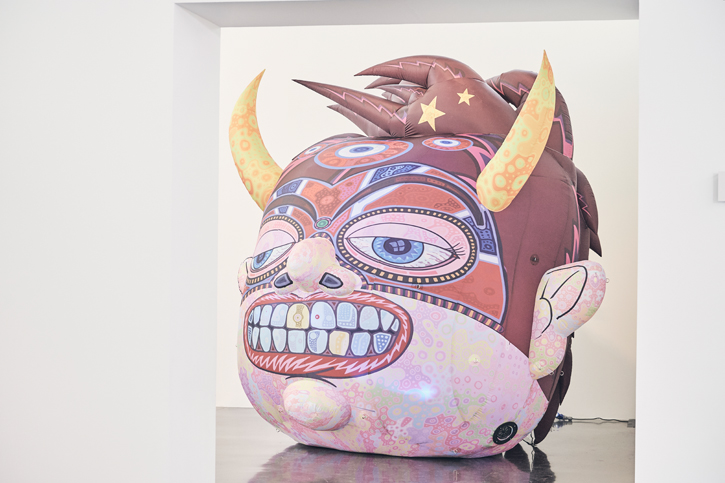 With a giant inflatable head and an interactive, virtual sculpture with screens and motion sensors, Jason is truly embracing the twenty-first-century version of kinetic art and with such high risk given that a lot of the elements will be seen by him for the first time when revealed at The New Art Gallery Walsall. But the power of Jason's work sits in its origins as we see him visit the community of disabled people at the Teamwork Trust, with whom he regularly works, in order to gather their contributions to the shape, colour and attributes of his hero.
As Clare Lilley so aptly puts it on her studio visit to Jason, the work is filled with 'all the people you love in Corby'. That sense of love and emotion is also palpable when Luke reveals his final work to the figures that posed as the raisers of the shield.
At the New Art Gallery where all three pieces are installed, Benjamin Zephaniah reminds us of the value of art in that the earliest humans left art behind but is clearly already anticipating a struggle in deciding who should win from amongst these three very different works.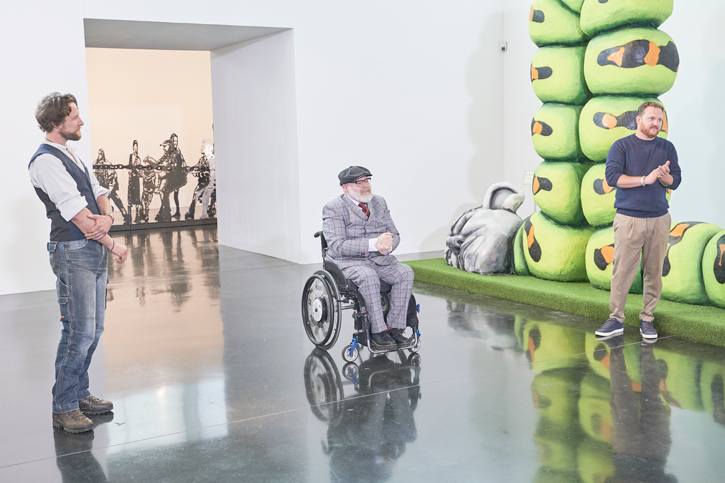 Overall there is a lot of love and a lot of humour in the work of these three artists. There is also a lot of challenge as to what is conventionally acknowledged as 'good art' by people like me (hmmm indeed), so that whilst I might have started this episode with a degree of cynicism and maybe a smidge of prejudice, I found myself wholly persuaded by the end of it. Will you feel the same way, I wonder?
And, with a view to difference and not repeating what has come before, I am still reflecting on Hetain's final comment – 'what are we missing from the public realm now?' and am truly delighted that a TV programme is helping us all consider that challenge together.
Kathleen Soriano, independent curator, art historian and broadcaster
All three works from Episode three are now on display. Luke Perry's Forward Together can be found in Victoria Square in the centre of Birmingham. Alfie Bradley's Caterpillar Man has taken up residence in Dale End Park in Telford, close to Ironbridge Gorge. Jason Wilsher-Mills' The Hero of Corby is on show at Savoy Cinema in Corby, a place regularly visited by the community that helped him develop his concept.
Landmark airs weekly from Monday 6th September at 8pm on Sky Arts (Freeview Channel 11) and streaming service NOW