For the final heat in this series of Landmark, we head north to Scotland where our three artists vie to be crowned winner of the Scottish heat and get a pass to the final – in which they will compete for the prize of a permanent commission for 2021's City of Culture, Coventry.
Scotland has a long and strong association with great art and artists. Most recently a number of them have scooped the Turner Prize (including Charlotte Prodger in 2018 and Douglas Gordon in 1996) with Glasgow School of Art being responsible for sending a number of formidable Scottish artists off into the art world stratosphere – Jim Lambie, Simon Starling, Jenny Saville, Ken Currie, Peter Howson, Alison Watt and Christine Borland, with some other interesting characters among them such as Peter Capaldi (Dr Who or, alternatively, Malcolm Tucker), Robbie Coltrane, Muriel Gray and Pam Hogg.
But long before the likes of this lot, talented individuals like John Lavery, Robert Colquhoun, Margaret Macdonald Mackintosh and her husband Charles Rennie Mackintosh came through the Scottish art education system. It is fitting therefore that when the three sculptures are revealed at the end of this episode we are taken to the Charles Rennie Mackintosh-designed 'House for an Art Lover' set in Glasgow's Bellahouston Park. And I haven't even mentioned the Scottish greats like Sir Henry Raeburn, David Wilkie, Allan Ramsay, Samuel Peploe, Anne Redpath and Elizabeth Blackadder... What a tradition, eh?
But I'm getting ahead of myself as we need to meet the artists, and this week they are an interesting bunch. See what you think, but to my mind, we encounter a serious-minded, mature, and experienced group of artists who all make work that has a sense of purpose and meaning deeply embedded within it.
Despite presenter Gemma Cairney opening the show by suggesting that you need to have a thick skin in order to be a public artist, these three gave me the distinct impression that their skins were thin, delicate and sensitive to the nuances of life and the world in which we live. All three of them are at pains to find ways in which to communicate their version of that truth while remaining allied to their personal values and distinct ways of working.
What? You want to know who they are? They are Michael Pinsky, Kevin Callaghan and Annie Cattrell.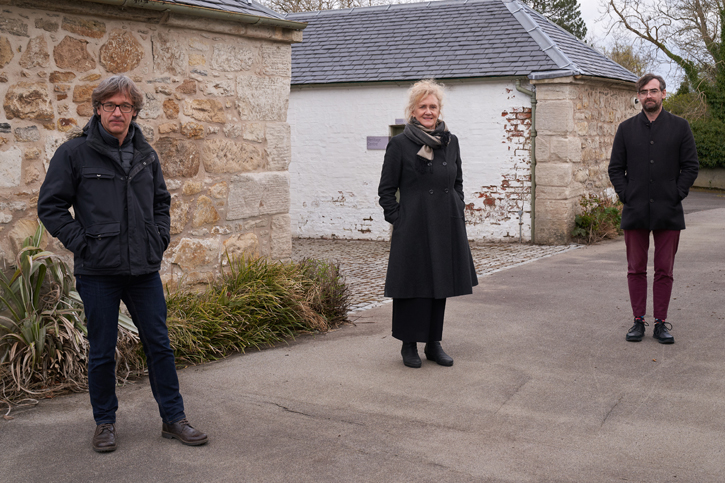 I'll declare an interest here in that I once tried to include Annie in an exhibition that I was making and for that reason visited her studio where I totally fell in love with the tenderness and subtlety of her work (at that time working with paper), but as I'm not a judge on this particular show I think that I can get away with it. Today Annie is a tutor on the Royal College of Art's MA course, having gained her own degree from... yes, you guessed it, Glasgow School of Art, and her masters from the RCA.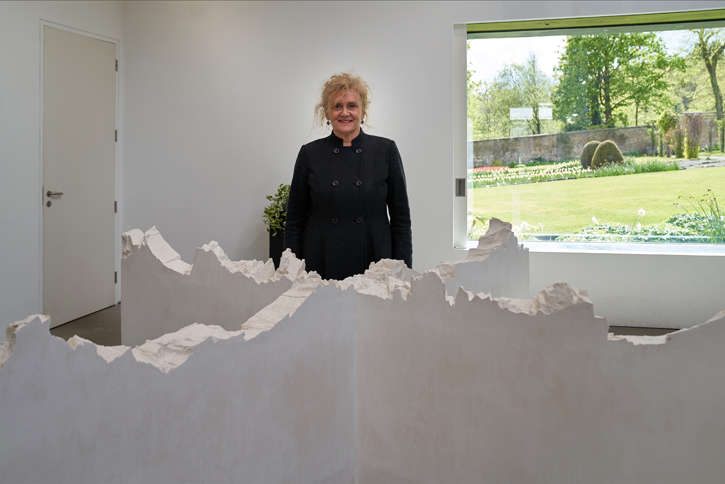 She is Reader in Fine Art, and Research Group Leader in Fine Art and Photography at De Montfort University in Leicester, a Fellow of the Royal Society of Sculptors and has created public art commissions for the Forest of Dean, University of Oxford, University of Cambridge and University College London. Annie has also taken part in exhibitions internationally, from Tokyo to Berlin, Antwerp to New York, and her work is held in significant public collections such as Aberdeen Art Gallery, the Wellcome Collection, Edinburgh Art Centre and the Scottish Arts Council Collection. That's quite a CV, and I've been holding back... For all that achievement Annie is an understated, quiet character who is deeply thoughtful and intently focused on her work.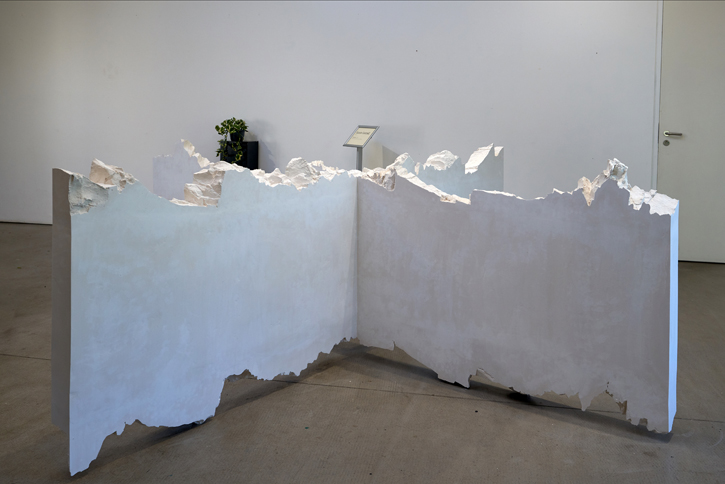 In many ways therefore it is not surprising to see her take a serious subject as her inspiration, and a subject that involves considered preparation and hiking in order to get what she needs. Annie takes us to Siccar Point in Berwickshire on the East Coast of Scotland where she is interested in connecting with the work of James Hutton (1726–1797), commonly held to be the founder of modern geology (and sitter in one of my favourite portraits by Sir Henry Raeburn in the Scottish National Portrait Gallery, Edinburgh).
Hutton used Siccar Point rocks to illustrate his argument that the Earth is in a state of constant formation and erosion and that understanding the processes involved would help us to understand it. It is at that intersection between science and art where Annie enters, deep in amongst the rock formations, busy mould-making and enjoying the intimacy of the process while considering the bigger questions in the cosmos and the deep, beyond-human timescale involved in the making of our world. She revels in the intimacy of working with a place of historic meaning, exploring the surface in a very direct way that will in turn inform her final piece.
Michael Pinsky is also an artist who is looking at the bigger issues in the world.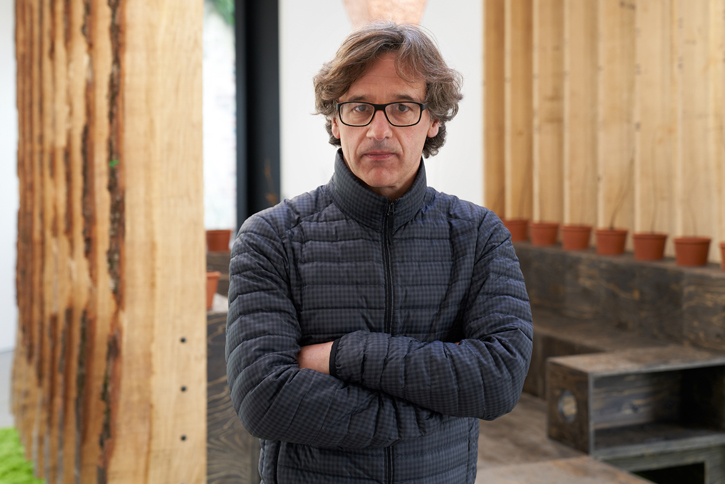 A principled environmentalist and activist, Michael took part in his first protest at the age of seven and his work aims to change minds as well as governmental policy, especially in relation to climate change, urban design, and societal wellbeing. In his own words, 'stop moaning and make something and try and change policy'. Like Annie, Michael's MA was also from the RCA in London. His work has been exhibited at Tate Britain, the V&A, ICA London, Modern Art Oxford, Baltic Gateshead and in the Liverpool Biennial, as well as in Rotterdam, Chengdu, Paris and Los Angeles.
For his sculpture, we start with the drawing and what a beautiful thing it is. His design for a pavilion with an opening in the roof is reminiscent of both the Pantheon in Rome, with its oculus open to the sky, and to James Turrell's Deer Shelter Skyspace at Yorkshire Sculpture Park.
That combination bringing a sense of the ancient and the contemporary together. All three of those structures take us into an internal space from which we gaze out and in Michael's piece, it is with a view to focusing our minds on the issue of climate change and extreme weather. The precision of Michael's drawing is somewhat undermined by the less than exact skills of the sawmill with which he works but then again, what would telly shows like these be without a little bit of jeopardy...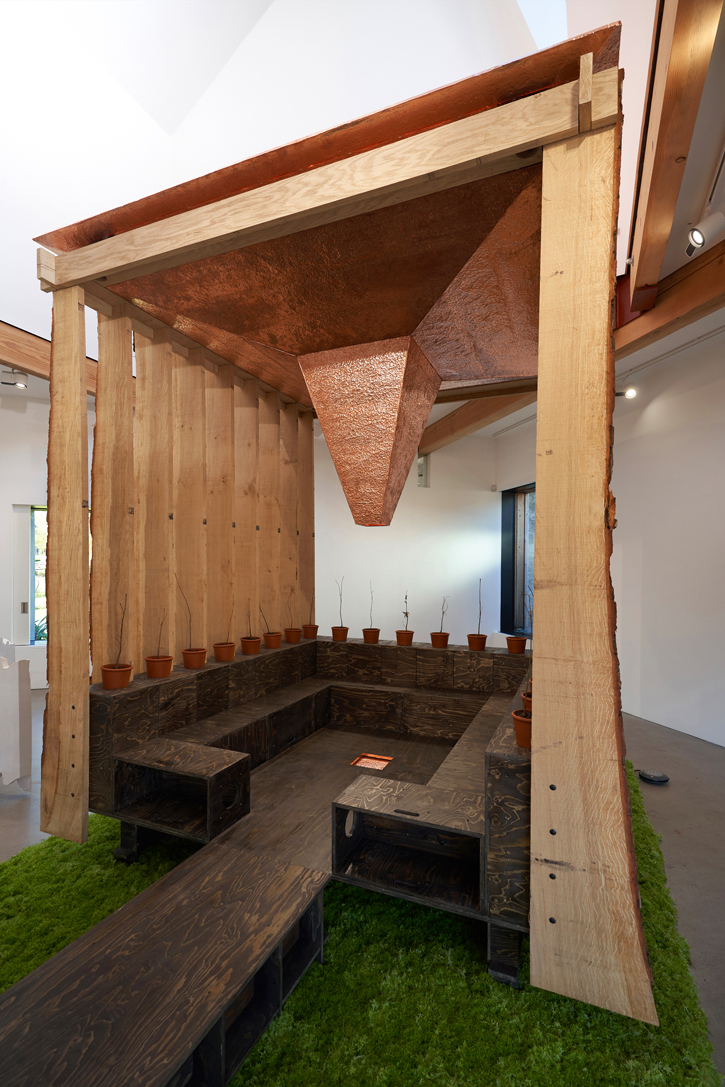 Jeopardy is the name of the game in Kevin Callaghan's work as we see order and geometry turned into something more chaotic. Originally from Derry in Northern Ireland, Kevin purposefully moved himself to Glasgow as he wanted to immerse himself in the vibrant art scene in the city.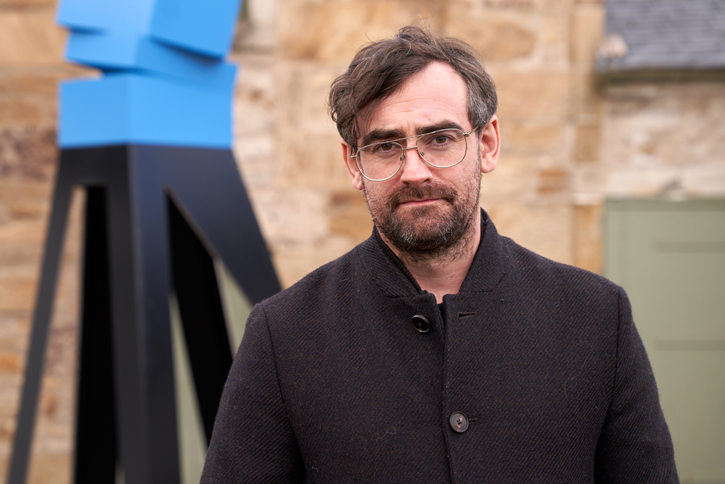 A master craftsman in ceramics, Kevin's abstracted forms see him manipulating traditional shapes in such a way that judge Clare Lilley is convinced reveals a deep knowledge and expertise in mathematics, but Kevin quickly puts her right on that. His work is influenced by a strange combination of mechanical engineering design and Japanese craftsmanship that has encouraged his focus on geometrical sculptures.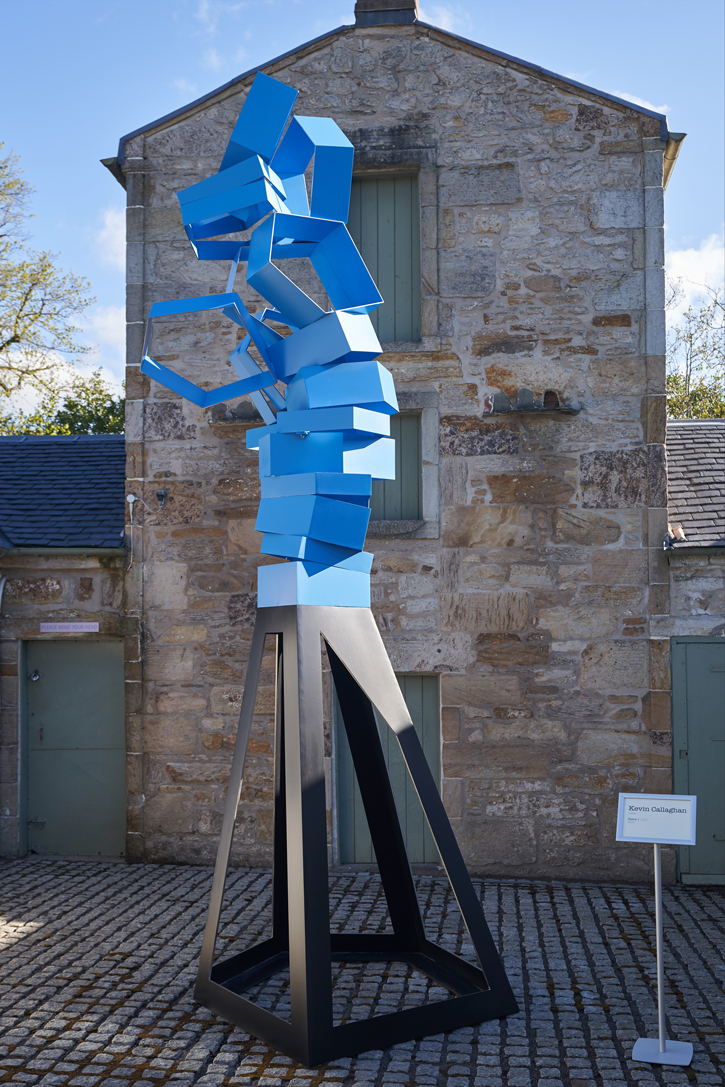 To my mind, there is also something of the Meccano construction to it, that I think you occasionally find in the work of male sculptors (see James Capper)... but I fear I'm wading into gender stereotyping here (although I was always more of an Airfix girl myself).
With all three of our artists in this episode, I think that we understand how each of them has a clear sense of what they are making even before they begin the construction process. That visualisation is what moves them confidently through the making, sometimes blindly as in the case of Michael who, worryingly from a health and safety point of view, works out how to fit it all together as the work progresses, and then there's Kevin, who second-guesses himself when scale becomes an issue.
But with all of them it is also about the sensuality of the materials, be it Kevin's steel, painted in the most specific colour that has been in his mind from the very beginning, or the English oak 'fins' and meditatively beaten copper of Michael's pavilion, or indeed Annie's silicone moulds and the tactility of the jesmonite from which her final piece is constructed.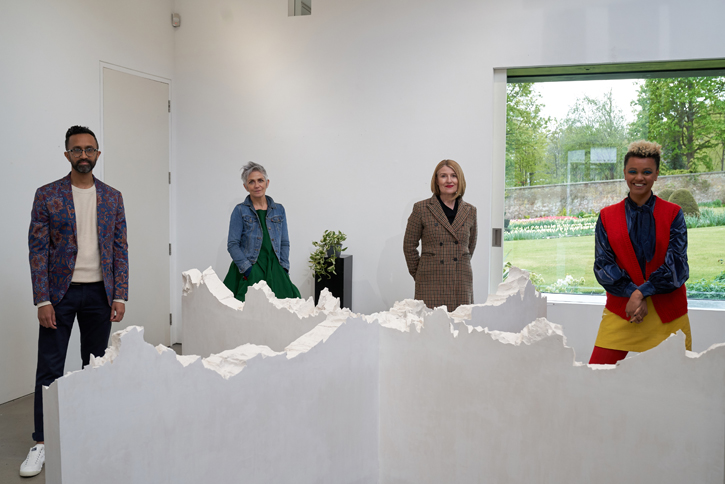 Finally, our judges Clare Lilley and Hetain Patel come together with guest judge, Scottish crime-writer and playwright, Denise Mina. As with writing, Denise believes that good art is about leaving space for the reader or audience to interact with it, so that what the viewer brings to a work of art is as important as the work itself. As Clare points out, all three artists have made work that has a lot to say about where we are today. Ultimately however it seems that our judges this week have gone on gut and for something that has deeply moved all of them, deeply impacting their aesthetic senses.
It's all heading towards a fascinating final!
P.S. Like me, you might find yourself fascinated by the beanie hat action in this episode. Kevin championing the colour coordination, which strangely Gemma has risen to in the final scene where she seems to have matched her eyeshadow and cardigan to Kevin's preferred colour combos! Though, on a more serious note, it probably says more about the freezing cold working conditions in most artist studios.
Kathleen Soriano, independent curator, art historian and broadcaster
Michael and Kevin's works are currently on show at Young Enterprise Scotland. Annie's Compass is on view at the James Hutton Institute in Aberdeen.
Landmark airs weekly from Monday 6th September at 8pm on Sky Arts (Freeview Channel 11) and streaming service NOW