When Lancelot Ribeiro first visited Britain in 1950 and then settled there permanently in 1962, he could not have foreseen how he would develop as a painter, and particularly as a landscape painter. Indian art had no strong landscape tradition for him to draw on. Now it seems possible to determine much of what influenced Ribeiro as landscapist over the subsequent almost 50 years, a fascinating aspect of his prodigious and variegated output.
Ribeiro was born in Bombay (now Mumbai) in 1933. His parents originated in the Portuguese enclave of Goa and both Lancelot and his older half-brother, the artist F. N. Souza, would be influenced by its singular architecture. Ribeiro noted in a 1972 lecture 'My first influences... were the Churches and Statuary of the Catholic Church in Goa along with the symbolic ritual that went with it. The other and perhaps the strongest influence were the paintings of my brother 10 years senior'.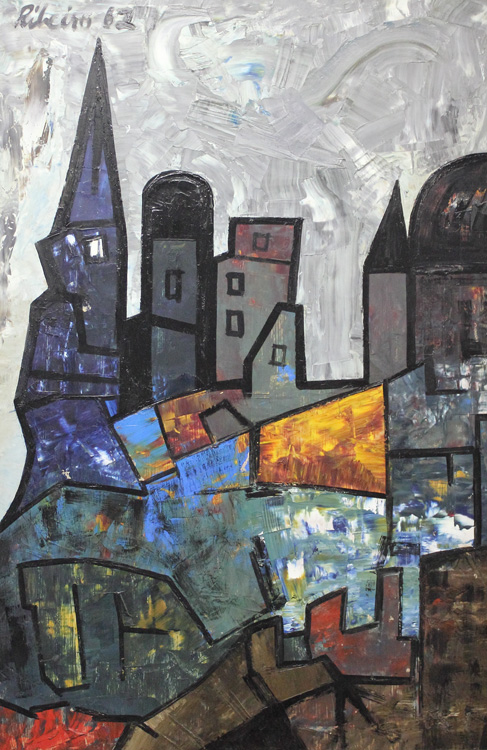 From his earliest works dating from 1958, the heavy-black-outlined, spiky townscapes – reminiscent of the work of the French artist Bernard Buffet and understandably reflecting similar scenes by Souza – began to win buyers and critical appraisal.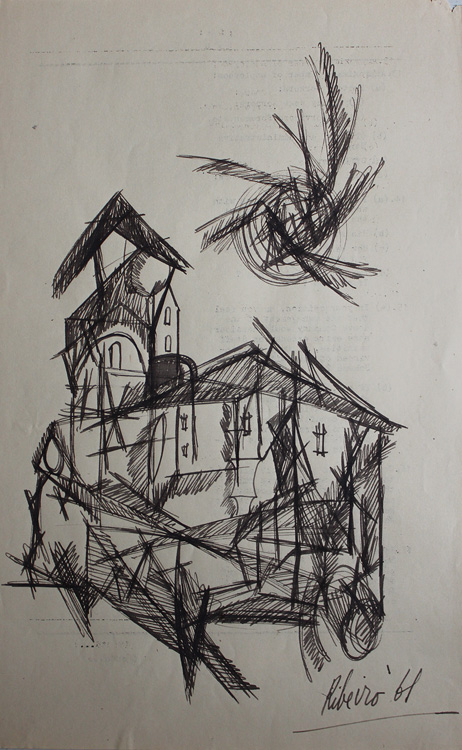 During his first visit to England in the 1950s, he took the opportunity to travel in Europe, mainly to Paris, where the landscapes seen would have left an impression.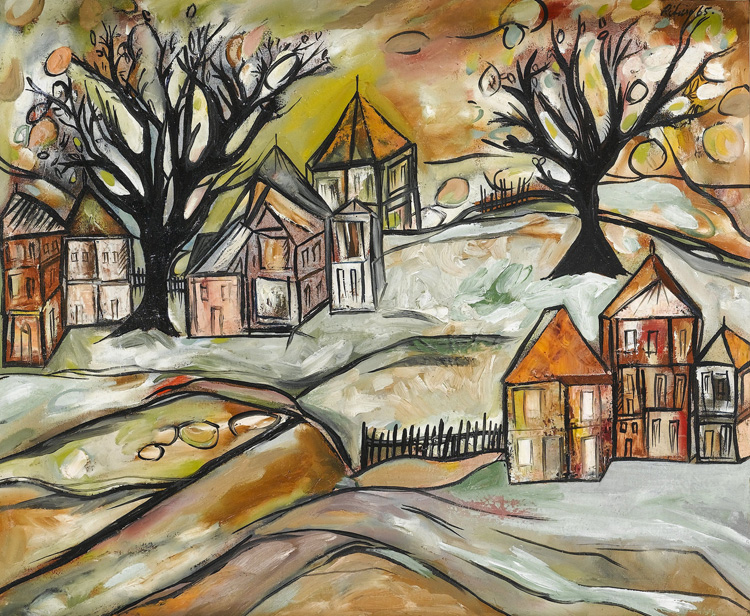 However, by 1965, his canvas A Hamlet in Holland still has strong echoes of his earlier work but starts to reflect a new experimental phase, where he is mixing oil paints with polyvinyl acetate and striving towards 'a more unified and organic style as opposed to the structural and linear aspect'.
The start of a relationship with Brenda Capstick, an archaeology graduate from Oxford who would eventually work for the Museums Association, would take him to the north of England where Brenda came from. She had bases in London and Ingleton, Yorkshire.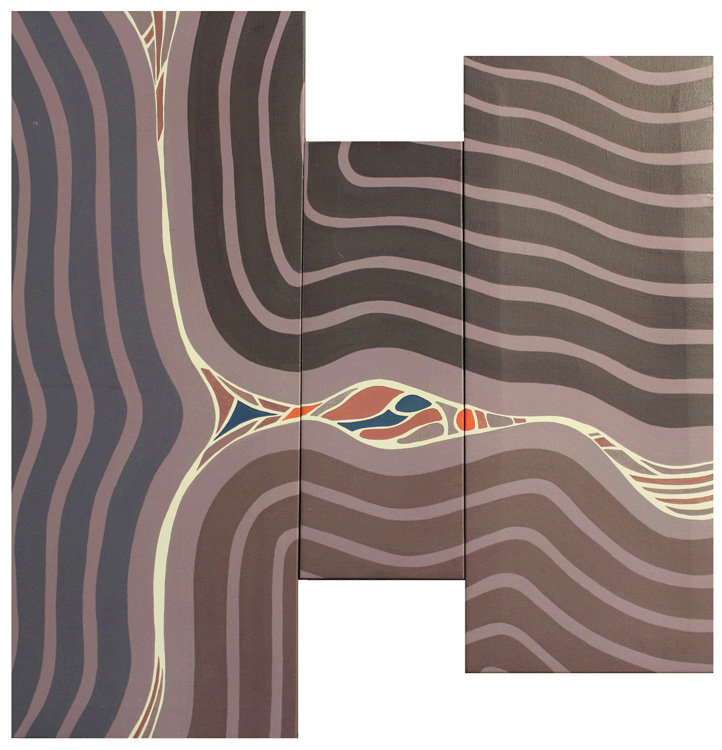 1970s visits to Cumbria and the Lake District sparked a new direction in Ribeiro's work, comprising paintings concerned with terrain but tending towards abstraction, such as Landscape Along a Given Line, of 1978, and the Accented Landscapes of the late 1970s and early 1980s, examples of which lie in Leicester's New Walk Museum collection.
He was also producing a substantial body of naturalistic watercolours very much in the English tradition that he would bring out to show at private dinner parties.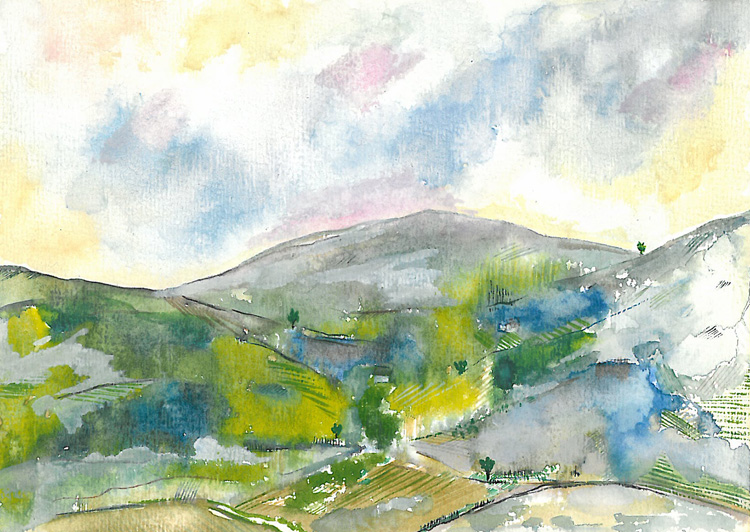 Ribeiro's daughter Marsha, although then fairly young, retains 'many happy recollections of time spent in this part of the country where we stayed at Brenda's house in Ingleton, with long walks and excursions to the Lakes.'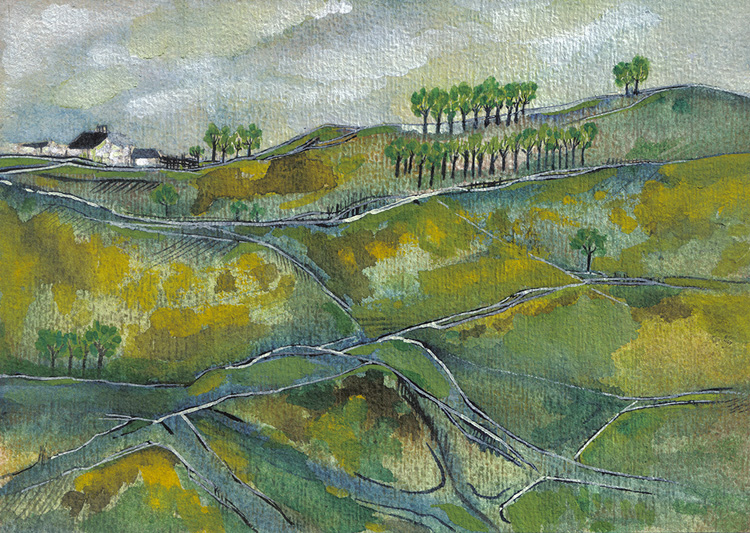 Ingleton visits introduced Lance to Mary Burkett, director of Abbot Hall Art Gallery in Kendal, where he had a substantial exhibition in 1978, the 20 paintings shown including works with titles such as Galactial Stream, Glacial Bed and Curvilinear Directions I and II.
Through the late 1980s Ribeiro went on producing a series of exciting pieces which he collectively labelled Compositional Landscapes: dramatic, spacious works, filled with light and flying objects, an example of which is now a key piece in the Victoria & Albert Museum's South Asia collection.
Marsha Ribeiro writes: 'This piece, A5 in size, was completed in 1987 and heralded the start of a fascination with forms that criss-crossed across a dynamic sky, reminiscent of my father's geologically-inspired series of the late seventies, although these were predominantly larger often multi-panelled canvases, where the image spills over the side.' She recalls the moment it was completed. 'It was drying on his bed. We were both quiet and I could sense his excitement at the effects he had – seemingly unintentionally – produced, as if he were showing me something produced by someone else.'
Alongside such ground-breaking images, Ribeiro started to produce finely-detailed scenes influenced by Hampstead Heath, near his home. His move to a nearby attic flat in 1980 restricted his working space, prompting these works on paper. After the move, he and Marsha would walk on the Heath nearly every Sunday, resulting in watercolours, done solely from memory, being worked up later in the studio. In October 2009, on a visit with him to Canada, Marsha recalls that 'when we were driving through fairly flat countryside, he said – almost to himself – that "there is nothing quite like the landscape back in England."'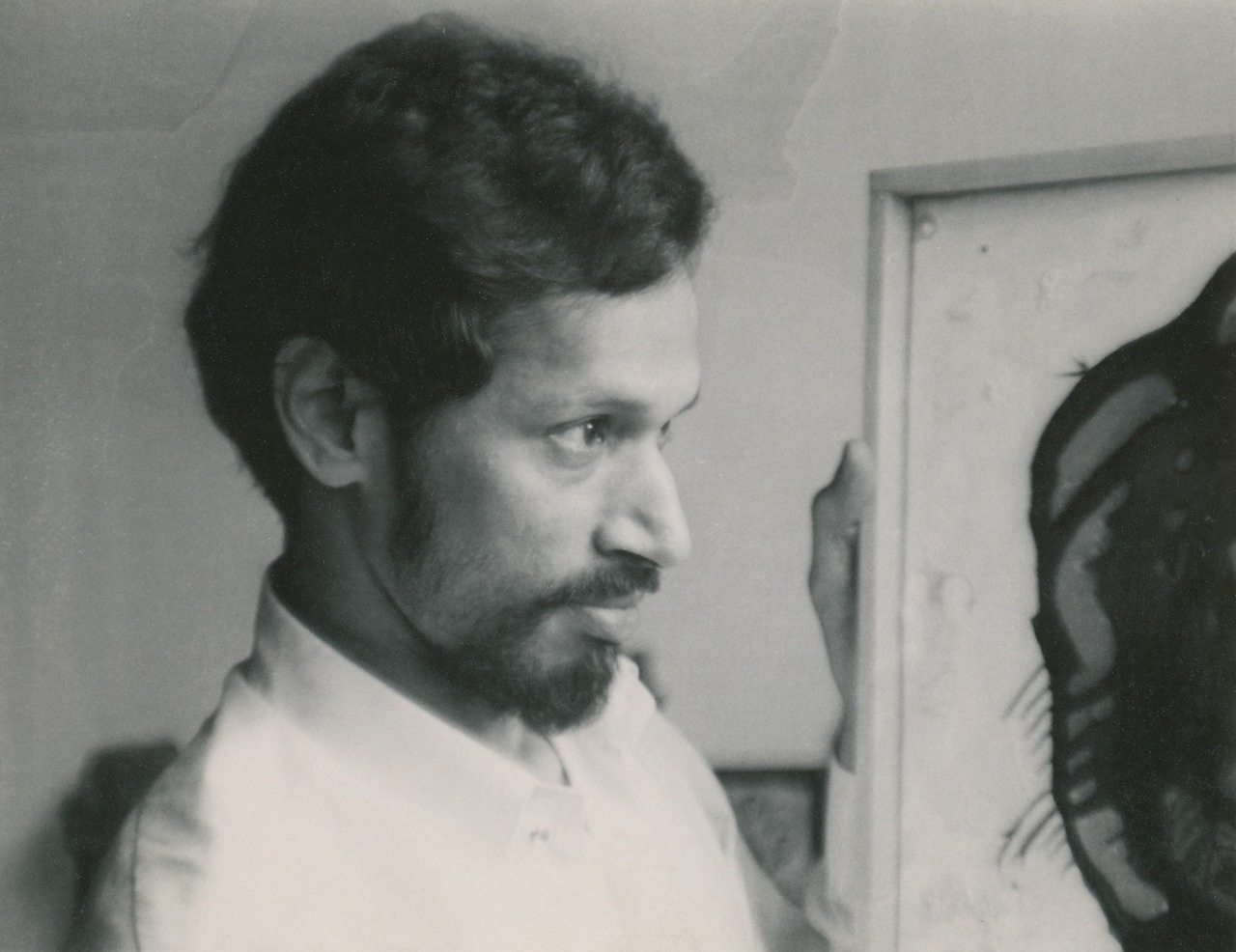 Ribeiro's watercolours such as those done in the north of England were never intended for exhibition. So it was a revelation to his friend and long-champion Professor Patrick Boylan that, after the artist had cooked an excellent meal, they were handed around 'rather like objects from an eighteenth-century museum of curiosities.' Surveying Ribeiro's huge lifetime's output of often challenging images, it is interesting to read in a revelatory 1986 letter to Boylan that his landscape watercolours had latterly given him 'a lot of joy, were extremely relaxing and perhaps levitational. I've never enjoyed doing any of my other work which has always been compulsive.'
David Buckman, art historian
The National Lottery Funded 'Retracing Ribeiro' project celebrates the legacy of Lancelot Ribeiro, supported by the Burgh House Museum, The British Museum, V&A, Central Saint Martins and Camden Archives. A major new retrospective of Ribeiro's work will open at the New Walk Museum, Leicester, from 4 March to 6 May 2018. Visit www.lanceribeiro.co.uk for details.
Lancelot Ribeiro: An artist in India and Europe, by David Buckman, is published by Francis Boutle Publishers, 272 Alexandra Park Road, London N22 7BG, £20.