Three paintings by painter Lancelot Ribeiro (1933–2010) have entered London's Burgh House and Hampstead Museum collection. The first, a miniature 'oil and PVA' townscape (1964), has been acquired for the House with Art Fund support. Measuring only 25.5 by 18.5 centimetres, this work embodies a marked period of change that came to characterise Ribeiro's cityscapes of the sixties. Alongside the acquisition of two watercolours, these three pieces are distinctive and individual in style, and provide an insight into Ribeiro's experimental play with materials and study of technique.
[watercolours] gave me a lot of joy, were extremely relaxing and perhaps levitational. I've felt sure they helped keep me on the rails.
Ribeiro's earliest work, dating from the late 1950s, drew from the unique imprint that Old Portuguese Goa – with its rich Roman Catholic heritage – had left on his artistic consciousness. His oil townscapes, primarily painted on board, were dark architectonic works, favouring, as he explained, a 'structural and linear' approach. Deeply rooted buildings, church basilicas, chapels and steeples, defined by a strong black brushstroke, gave his work of this period a distinctive stained glass effect.
From 1962, Ribeiro's work changed tack. The catalyst was a new experimental medium which initially found form in miniature cityscapes, such as the one now in Burgh House. This was a period when he felt he needed to work at speed, something which led him to explore the possibilities of new forms of polyvinyl acetate (PVA), a synthetic polymer, in its unadulterated state. His long-time supporter and friend, Professor Patrick Boylan, explains: 'traditional [oil] painting techniques... had already begun to wear thin on this restless young painter'.
Ribeiro started corresponding with UK manufacturers for 'plasticised' grades of PVA, which needed to meet his specific criteria; that is to have a 16- to 24-hour drying time, be chemically compatible with water-dissolvent high-strength coloured dyes and able to 'hold' oil paint.
Infused with dyes, these new tailored mixes of PVA allowed him to achieve an array of effects and introduce a new lyrical quality into his work. The strong lines of his earlier work dissolved while a new 'embryonic style' emerged. The familiar basilicas and architectural forms continued to feature but were reconstructed to evoke a sense of movement, reinforced by a simmering sun.
More importantly, this new material facilitated his prodigious output, despite a more intricate and labour-intensive 'production process'. The pages of old magazines served as the initial base, with scenes painted in oils and oils mixed with PVA. When dry, the finished piece would be treated to a final coat of PVA which gave it its luminosity and then be carefully placed on hardboard cut down to size. From a conservation perspective, these steps ensured the painting would be aesthetically and structurally sound over half a century on.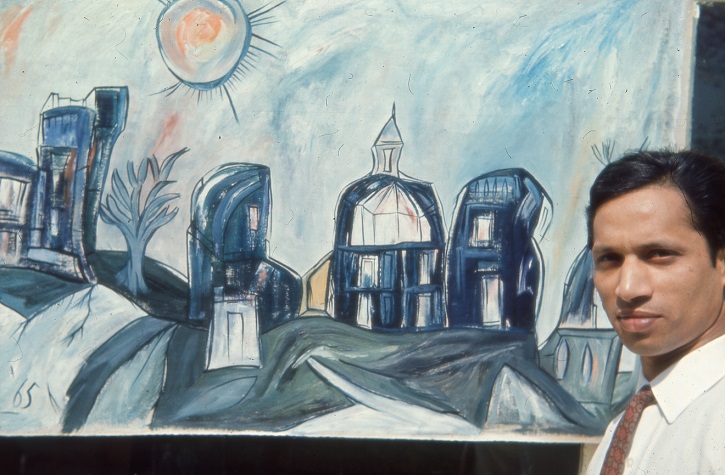 A final surprising strand in the story is he clearly had a personal attachment to this painting. In 1965 he, uncharacteristically, replicated the scene in oil and PVA on a canvas nearly 40 times larger in scale, against which he is soon photographed. The larger scene shares the compositional, colouring and mood elements of its smaller companion.
The two watercolours joining the Burgh House collection come from later periods in Ribeiro's career and, again, illustrate a painter seeking to push the boundaries of his medium to unusual limits.
He had thrown himself into watercolour painting in the early 1970s, choosing standard watercolour paper as the medium of choice. The geological features of Cumbria and the Yorkshire Dales provided the inspiration. With a move into an attic flat near London's Hampstead Heath in 1980, working small-scale seemed, at least initially, to be the only viable option.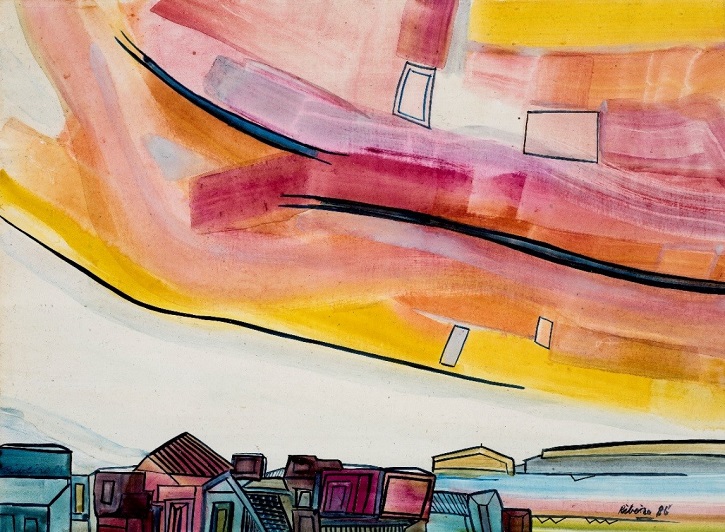 It was not long before he would seek a new challenge, finding ways to work the paint into the surface of laminated card, with a coat of watercolour varnish to give it a lustre finish. Hampstead's Heath through seasonal change provided ample inspiration for an artist ever-attuned to his surroundings and a limited run of remarkably detailed wild grass and tree scenes, such as the treescape (1986) – now in the Burgh House collection – soon emerged. Unsurprisingly, Ribeiro confided to Boylan that watercolours 'gave me a lot of joy, were extremely relaxing and perhaps levitational. I've felt sure they helped keep me on the rails'.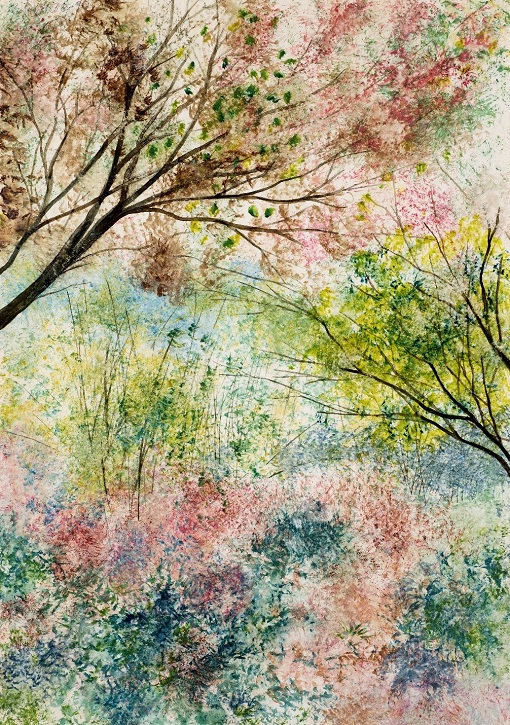 Towards the latter part of the eighties, Ribeiro left the naturalistic phase behind and began a new dynamic chapter of abstraction with multi-dimensional 'Compositional Landscapes'. These miniature A5 scenes reduced towns to the base of the image dominated by a dramatic and seemingly active sky. The laminated backs of his surplus stock of old 1973 exhibition catalogues proved an ideal base to combine watercolour, pen and metallic inks, varnished for posterity.
Ribeiro's innate nature to produce, invent and reinvent over his lifetime is perhaps best summed up by his own words when he attempted to explain his artistic impulses in a 1975 Commonwealth Institute lecture: 'I could go on endlessly to produce painting after painting – interesting perhaps – but somewhat meaningless and self-plagiarising.'
The three paintings are currently on display at the Burgh House and Hampstead Museum in the Christopher Wade room. For information on Lancelot Ribeiro, visit www.lancelotribeiro.com
Marsha Ribeiro, daughter of Lancelot Ribeiro