Social media, tabloids, TV screens – you might think that images of the Kardashian-Jenner sisters are everywhere. Indeed, a common complaint is that even if one wants to avoid them, the girls' visages seem inescapable. But before that brand of famous sisters, there were the Mazarinettes, the original 'It Girl' family who were famous for their wealth, fashion, dramatic personal lives – and the ubiquity of their image.
The Mazarinettes were so named because they were the seven nieces of Cardinal Mazarin, who, during the minority of Louis XIV, could claim the title of the most powerful man in France. He was also the Mazarinettes' Kris Jenner. During the 1650s, he set about bringing his nieces over to France from their native Italy, and upon their arrivals set about arranging brilliant marriages and court positions for them. To the French court, this was scandalous. How could this minor Italian noble keep getting away with marrying his nieces to the richest princes he could? Well, whether the French court liked it or not, he did.
Of the group, our focus will be upon Marie Anne (sometimes rendered Marianne), Marie and Hortense. Between them, they lived multiple lifetimes worth of scandal and drama. The sisters were incredibly famous in seventeenth-century Europe, and their lives were common fodder for the gazettes of the day (a precursor to modern tabloids).
As a teenager, Marie would be the first love of Louis XIV, but her uncle Cardinal Mazarin would thwart the couple's attempts to marry. Hortense almost became a queen herself, but Mazarin refused the multiple proposals of Charles II of England towards her. Decades later, though, Hortense would become Charles' mistress anyway, and then set about having an affair with Charles' illegitimate daughter. Charles, though, didn't seem very fazed by this, and it wouldn't be the only time one of his mistresses had an affair with one of his children.
He was, however, more annoyed when Hortense had an affair with the Prince of Monaco, which ruined burgeoning British-Monegasque relations. Another notable affair would be when Hortense was confined to a nunnery by her abusive husband, along with Sidonie de Courcelles, a woman with whom she was having an affair. According to Hortense's own account, the two set about whiling away their time at the nunnery by playing pranks, including flooding the nuns' beds and adding ink to the holy water, and attempting to escape up the chimney.
these girls lived the wildest of lives, more than worthy of the most scandalous Roman propaganda created around Cleopatra
Later, Marie and Hortense would travel around Europe, often dressed in men's clothing, to escape their husbands – Marie, in turn, came to fear that her own husband was plotting to poison her. Their travels were covered breathlessly by gazettes and letter writers of the day. Even in their lifetime, commentators used to often muse that their lives resembled something out of an adventure novel.
Marianne would have numerous affairs herself, which her husband didn't mind at all – in fact, he once helped her reconcile with her lover when they had a quarrel. She would be caught up in the massive poisoning scandal known as the Affair of the Poisons, in which she was accused of plotting to poison her husband to marry her lover. This charge was almost certainly false, and again her husband was unfazed. At her trial, she would show up with her husband linking one of her arms and her nephew the other. Portraits of the girls, particularly Marie and Hortense, became widely reproduced and incredibly coveted all over Europe – to the point of a duel being fought over one portrait of Hortense.
Among several of these portraits is a recurring motif – one of the sisters luxuriously dressed in loose robes, holding up a pearl and a cup towards the portrait's viewers. In these paintings, the girls are all playing the part of Cleopatra, depicting a (now thought to be) apocryphal story wherein Cleopatra, having been wined and dined at an expensive feast hosted by Mark Antony, promises him an even more extravagant banquet the next night. When he arrives, he is perplexed to see only one goblet on an otherwise empty table. Cleopatra takes off one of her pearl earrings, supposedly the biggest and more expensive in the world, and places it in the goblet, which contains vinegar. With one beverage, she has outspent Antony's extravagance. What better way to depict a group of sisters so known for their glamour and drama?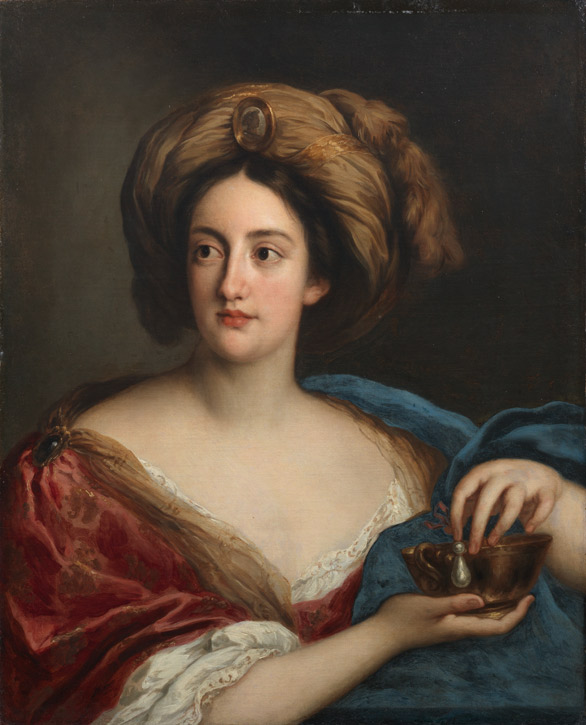 The Mazarinettes were not alone in being portrayed in this way. The story was a fairly common motif for portraits of other noble and royal ladies of Louis XIV's court, including his daughter-in-law the Duchess of Maine, his sister-in-law/cousin/mistress (yes, all three) the Duchess of Orléans, as well as his eldest illegitimate daughter, the Princess of Conti.
Some decades later, the famous British courtesan Kitty Fisher was depicted in this manner by society portraitist Sir Joshua Reynolds. It was also a rather popular subject during the Flemish Baroque and Dutch Golden Age, where it was given what was thought to be the more 'prestigious', history painting treatment via the depiction of elaborate banquet scenes with multiple figures. This way of depicting the anecdote was meant to focus on the story and historical period itself, as opposed to the singular portraits that the Mazarinettes and their contemporaries were the subject of, which were really meant as more of a reflection of the sitter.
While, as previously mentioned, the story is now believed to be apocryphal, a Roman fabrication propagated in the writings of such men as Horace and Pliny the Elder, it remains an important illustration of Roman popular conceptualisation of Cleopatra – as a woman associated with decadence and temptation, and how said conceptualisation endures even to the present day.
In her seminal 1975 text Goddesses, Whores, Wives, and Slaves: Women in Classical Antiquity, historian Sarah Pomeroy commented of Cleopatra that: 'The Romans feared her as they had feared only Hannibal, and they created a legend that survives to this day'. This story certainly plays into the particular type of Roman legend that centres around Cleopatra – a woman so beautiful, so alluring, so decadent, as to be terrifying.
Despite their extreme fame during their own lifetimes, unlike Cleopatra, the Mazarinettes' legend has not endured within contemporary public imagination. This, in my opinion, is a shame – because these girls lived the wildest of lives, more than worthy of the most scandalous Roman propaganda created around Cleopatra, and even more tabloid-worthy than the Kardashians. Basically, I desire, demand, and need a lush period drama miniseries on their lives. Until then, I'll just be staring at all their gorgeous portraiture, wishing I too could glamorously lounge with a priceless pearl, seduce kings, and scandalise all of Europe.
Chloe Esslemont, co-founder of TabloidArtHistory, a social media platform and zine exploring art history and pop culture
.