Katy Hessel is a curator and art historian who founded the Instagram account @thegreatwomenartists in October 2015.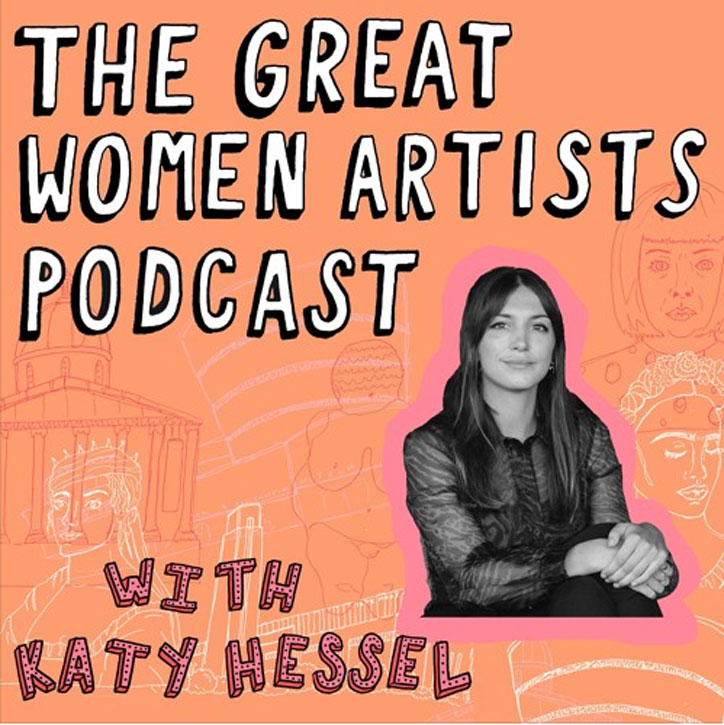 Now immensely popular, the account shines a light on the work of brilliant women artists from all over the world. We asked her to write about some of her favourite female artists whose works are in UK public collections.
Sofonisba Anguissola
Born in Cremona in c.1535 to a noble family, Sofonisba Anguissola was a highly successful artist throughout her lifetime, earning titles such as the Spanish Court Painter and praise by the likes of Michelangelo and Vasari.
Despite being restricted to portraiture, Anguissola often switched up painting conventions – in Self Portrait with Bernardino Campi she pokes fun at her teacher by painting herself nearly one-and-a-half times as big as him, as well as having him painting the embellishment, a task normally assigned to an apprentice.
In her more domestic and conversational works, she interweaves scenes of still lifes and landscapes, showing that she was capable of being one of the leading painters of her time.
Artemisia Gentileschi
Housed in collections such as London's National Gallery, Artemisia Gentileschi was known for her highly dramatic and blood-ridden scenes, which earned her a reputation as one of the most significant artists of the seventeenth century.
Never timid, Gentileschi focused on portraying bold and triumphant women from Biblical and classical scenes. One of her most powerful works is Self Portrait as Saint Catherine of Alexandria, where she portrays herself as a strong, determined woman leaning on a broken wheel of vicious spikes.
Madge Gill
Self-taught outsider artist Madge Gill created thousands of meticulous ink drawings that reflected her obsession with spiritualism.
Born illegitimate in 1882 in East Ham, London, Gill spent her early years in seclusion, and by age 9 she had been placed in an orphanage. After sadly giving birth to a stillborn child, at age 37, Gill began a flurry of drawing activity that was guided by a spirit she called Myrninerest.
Her beautiful and packed drawings (that reach up to 30-feet wide!) often featured a young woman dressed in flowing robes, but no one ever knew who this haunting figure was – perhaps her unborn child, a spirit or herself? Throughout her life, she never sold any works for fear it would anger the spirit Myrninerest.
Lotte Laserstein

Born into a Jewish family in the then-German Empire in 1898, Lotte Laserstein was a thriving artist known for her modern-spirited realist portraits, predominantly of women, in café environments or domestic settings.
Working in the Weimar era and one of the few female students at the Berlin Academy of Fine Arts, her career came to a halt in 1937 when she was forced to flee Germany for Sweden due to the rise of Nazism. Continuing to paint in exile, she managed to secure commissions through influential Swedish patrons.
In the 1950s and beyond, her career was thwarted by the changing post-war climate of modernism and abstraction.
Eva Frankfurther

The German-born Eva Frankfurther – contemporary of Frank Auerbach, and former classmate of Leon Kossoff – created an incredible body of work during her all-too-brief career.
Born into a Jewish family in 1930s Berlin, Frankfurther fled to the UK to avoid persecution under Nazism when she was only nine years old. After studying at Saint Martin's and summers spent in Italy, Frankfurther was drawn to painting numerous portraits of street beggars and pilgrims.
On returning to England, where she would work as a dishwasher at a Piccadilly restaurant by day, Frankfurther spent her evenings capturing people at their most intimate – from mothers and children, old men, waitresses, brides, flower-sellers and street children, experiencing all facets of life in a multicultural, heavily bombed, post-war London.
Alice Neel
Born in Philadelphia in 1900, Alice Neel was a portrait artist whose paintings were defined by their signature thick black outlines, intense stares and exposed scars. The great American painter portrayed all ages, races, shapes and sizes, full of expression and deep in thought, usually seated or lying down.
From a gaunt, vulnerable and bruised Andy Warhol, to her Haitian cleaner, Carmen, Neel painted people for who they were. Never shy to scrutinise, Neel was fearless when it came to painting, especially the opposite sex or people who came from power.
Ahead of her time in both subject and style, Neel received little recognition throughout her life. Despite working in an art scene dominated by men and Abstract Expressionism, Neel remained devoted to her style of painting, which earned her recognition in the 1970s, first with a commission to paint feminist icon Kate Millett for the cover of Time, and then a retrospective at The Whitney in 1974.
Katy Hessel, curator, art historian and creator of @thegreatwomenartists