Kanak Chanpa Chakma is an artist whose activism is deeply embedded within her work. She is one in a long list of Bangladeshi artists using their medium to explore cultural identity, traditions, roots and human rights.
However, her unique perspective and focus on the indigenous Chakma community in which she was raised, makes her work beautifully compelling and powerful beyond measure and today she is recognised as one of Bangladesh's foremost contemporary artists.
The Chakma people live in the eastern regions of the Indian subcontinent. They are believed to have migrated there from the ancient kingdom of Magadha and today live primarily in the Chittagong Hill Tracts of Bangladesh, India and Myanmar. The Hill Tracts of Bangladesh, however, account for the home of the largest Chakma population and it was there where Kanak Chanpa Chakma was born in 1963.
Experiencing a traditional Chakma upbringing, Chanpa grew up accustomed to the traditions and customs of Chakma life, as well as the beauty of the rural landscape. While attending the School of Art at the University of Dhaka in the mid-1980s, this affinity for her culture transformed into a sense of responsibility to represent her community through her art, leading her back to focusing on her origins in the Hill Tracts.
Her authentic and respectful portrayals of the Chakma people earned her much artistic success and fame. In 1986, Chanpa graduated with a Master of Fine Arts and began her career with a very successful solo exhibition in Dhaka. Her work has since gone on to be held by galleries across the world from the Bangladesh National Museum to the UK's Gallery Oldham.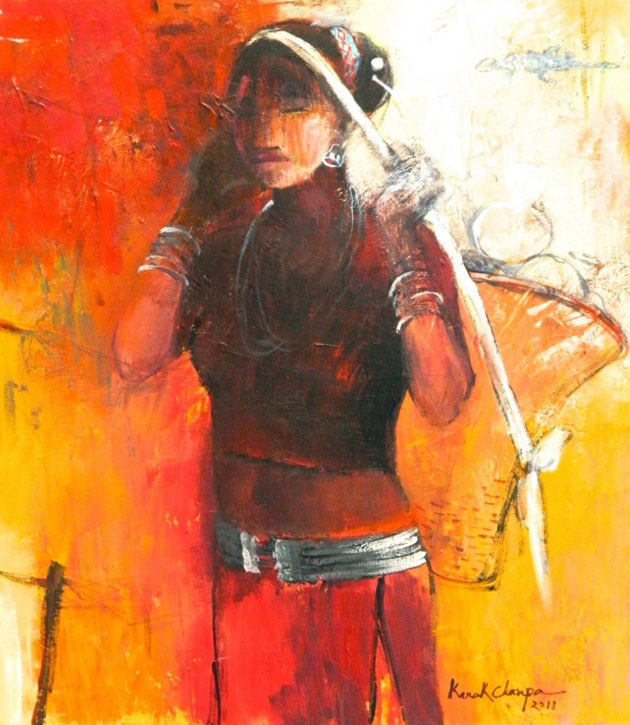 Chanpa's paintings are often accompanied by her usual trio of red, yellow and blue. She is drawn to this colour palette for a number of reasons. She relies on this palette to communicate the vibrancy and beauty of Chakma life, as seen at traditional Chakma festivals and in their clothing.
Chanpa extends the vividity of Chakma dress and culture to envelop the entire canvas, reasserting a sense of pride and place that has been historically targeted and made vulnerable. Her mother, too, is in part responsible for this feature of her work as she herself is a notable textile designer and introduced Chanpa to bright and bold fabrics throughout her childhood.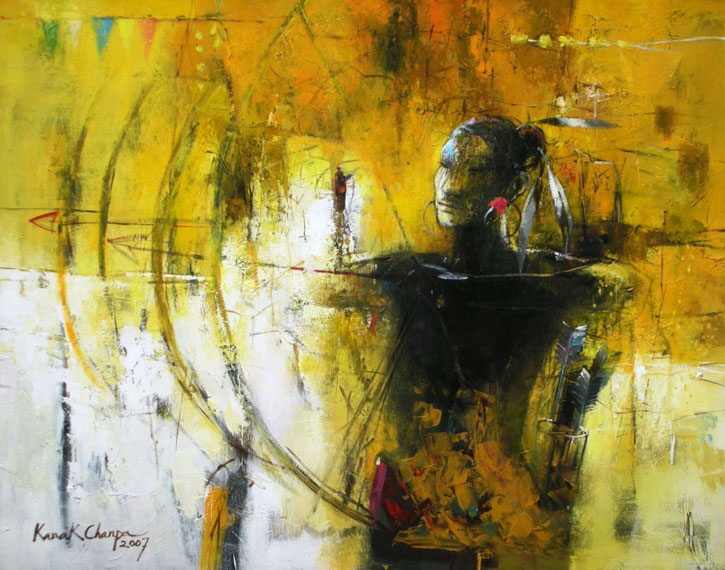 But Chanpa has also expressed a deeper meaning behind her choice of colour. In particular, she uses yellow to convey the hope and spirit of Chakma people. Often, she argues, this is what the Chakma people hold on to and what keeps them going. Red and orange mix to convey the festivals and immense joy felt by the Chakma people who are able to thrive and enjoy their cultural heritage.
However, she also uses red to depict the pain and violence that has been inflicted upon innocent beings. In most of her paintings, we can see a complex balance between these different expressions, one that is indicative of the untold sufferings as well as the joys of the Chakma people.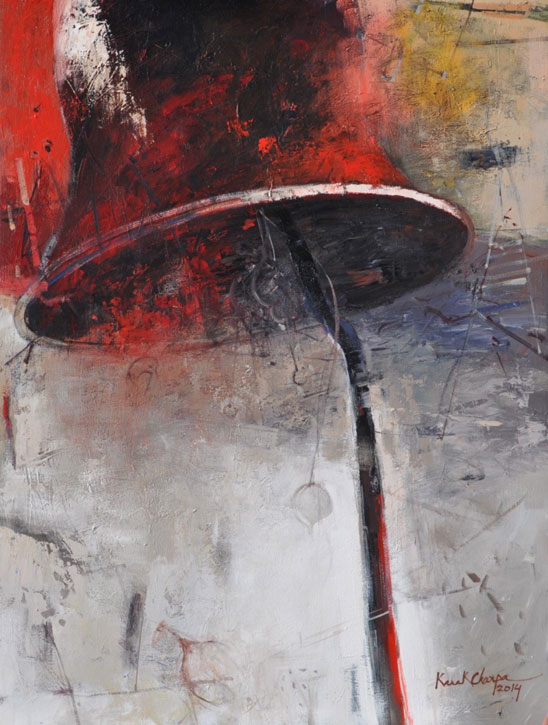 Chanpa draws inspiration from other, more unlikely, sources. For example, the nineteenth-century French Post-Impressionist Paul Gauguin has inspired some of her work, largely due to his application of bold colours. Gauguin famously spent several years in Tahiti, French Polynesia, first setting sail in 1891. However, his pieces depict an idyllic colonial fantasy, the opposite of Chanpa's insightful and thoughtful depictions of her own community, making this source of inspiration somewhat difficult to come to terms with.
The subject of women represents the point at which Chanpa's artistry converges with her activism. Unlike Gauguin's voyeuristic portrayals of nude Tahiti women, Chanpa's exclusive focus on Chakma women is intended as a means to protect and respectfully represent them to a broader public.
A keen advocate for domestic violence awareness and the protection of Chakma women, Chanpa has been inspired by what she perceives as a rhythm in women's bodies. In showing the multiplicity and depth of their lives, Chanpa hopes to usher in a new era of respect for indigenous women. And though she offers big statements through her work, in actuality her art offers us a quiet and intimate insight into the lives of Chakma women.
Despite the aforementioned vibrancy of her work, Chanpa achieves this by placing women at the forefront of peaceful and tranquil scenes. Chores like hunting, carrying water and working are given a broader significance: they are a testament to the extraordinary everyday strength of the women that she depicts.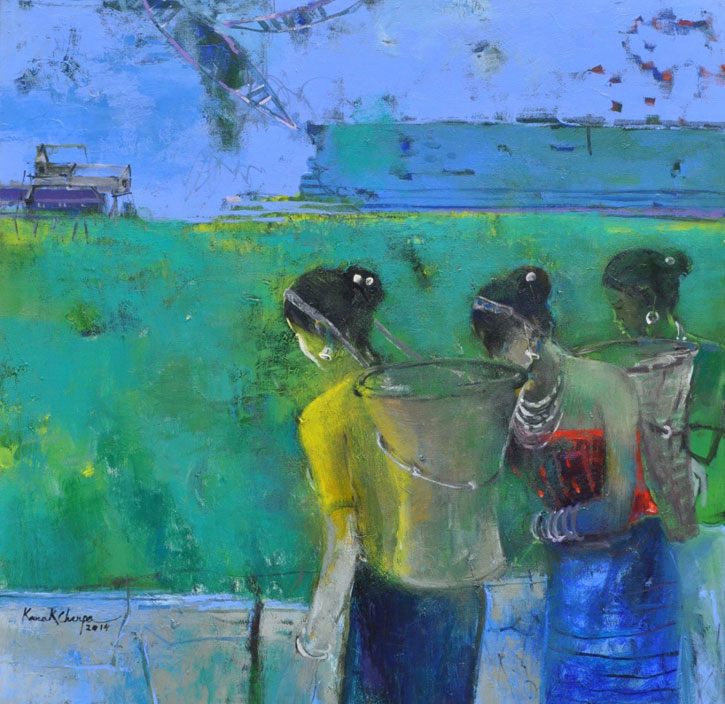 Chanpa's more recent projects include housing stray animals and increasing awareness about their neglect in Bangladesh. Earlier this year in February, she also expressed solidarity with the Black Lives Matter movement through her involvement in the online exhibition 'The Black Story', organised by Gallery Cosmos in Bangladesh. Chanpa's pieces in this exhibition mirrored the same messages of those depicting the Chakma community: freedom, unity and compassion.
Today, Kanak Chanpa Chakma has formed and mentors a young group of indigenous artists hoping to follow in her footsteps. Her only aspiration for the future? To keep painting and inspiring people to empower and understand the Chakma people for as long as she can. Certainly, it seems, she is well-positioned to continue this work.
Alexandra Cosmé, freelance writer