When Damien Hirst opened Newport Street Gallery in 2015, he chose a British painter – unfamiliar to many outside the art world, and even some within it – to be his first exhibited artist.
John Hoyland's profile may have declined since his heyday in the 1960s, yet the Sheffield-born painter once held a claim to notoriety rivalling that of Hirst – his fellow Yorkshireman. At his student exhibition at the Royal Academy of Arts, its president Sir Charles Wheeler was so offended by Hoyland's abstract work he demanded it was taken down from the institution's hallowed walls.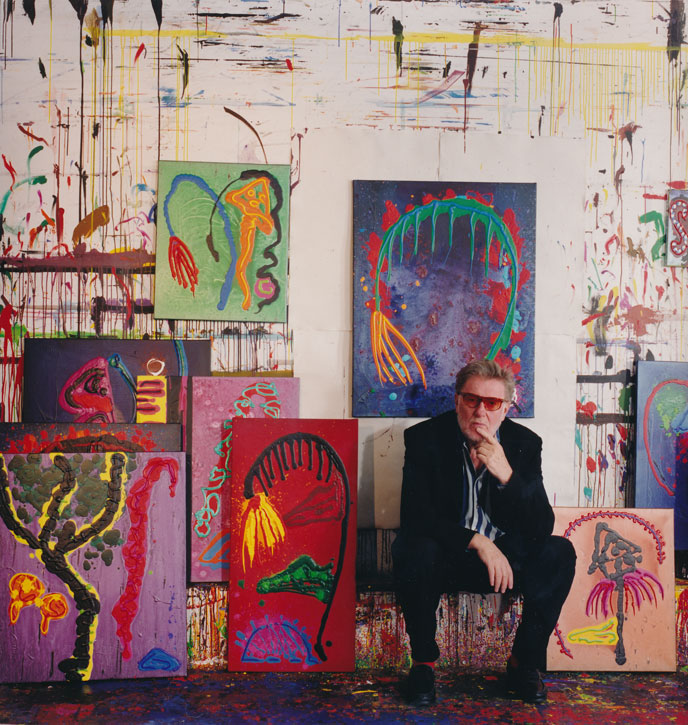 Yet the posthumous Newport Street Gallery show was more than simply a matter of restoring attention to one of the first homegrown figures inspired by Abstract Expressionism, for Hoyland had carried on working and evolving his style over many years, until his death in 2011.
Born into a working-class family in 1934, Hoyland enjoyed drawing from an early age. At the age of 11, he enrolled at his local art school before studying Fine Art at Sheffield College of Art between 1951 and 1956, where he forged a close bond with fellow pupil, and later an artist in his own right, Brian Fielding.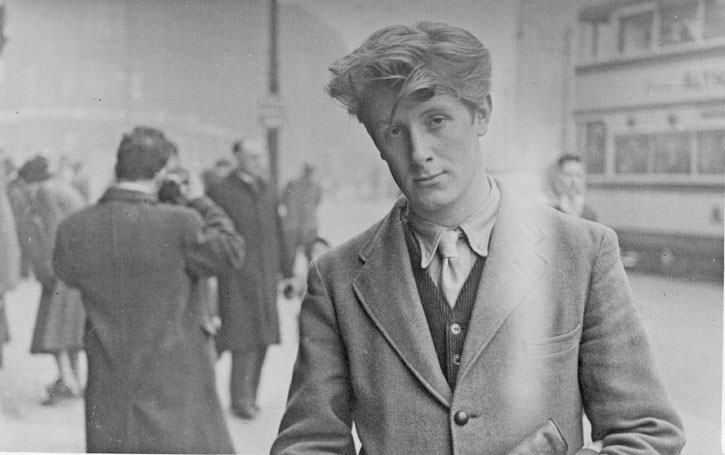 Hoyland developed early passions for artists such as Henri Matisse, Vincent van Gogh, the French Expressionist Georges Rouault and Chaïm Soutine. In 1956, he arrived in London to continue his studies at the RA Schools, where he struggled with its dry approaches to art history and conservative practices. His devotion to colour developed at a summer school in Scarborough, Yorkshire, under the tutelage of the eminent painter Victor Pasmore, among others.
On return to London, he encountered the work of the French artist Nicolas de Stäel: a figure who moved between figurative and abstract styles. Even more formative was Hoyland's exposure to Abstract Expressionism at a landmark Tate exhibition, a revolutionary change in taste that was already sweeping across the US, but had not yet impacted the art establishment in Britain and those behind institutions like the RA.
For his contentious diploma show in 1960 – the one that resulted in the attempted removal of his entirely abstract work – the precision and simplicity of Hoyland's large colour-stained canvases were nevertheless received favourably by fellow radicals. Especially eye-catching was the way different bands of colour suggested the picture had buckled, later seen in works such as No. 22, 20. 2. 62.
A few months after leaving the RA, Hoyland became the youngest painter invited to exhibit with the briefly influential Situation Group of abstract artists, among them William Turnbull, Gillian Ayres and Robyn Denny. The following year, the artist Sylvia Sleigh captured the group in her painting now belonging to the National Portrait Gallery.
Hoyland's relationship with the Situation Group lasted a couple of years until its status began to wane as fresher faces emerged on the London scene. Yet Hoyland's profile was still on the rise; his first solo exhibition arrived in 1964, at the Marlborough Gallery, London, followed by his inclusion in the 'New Generation: 1964' show at Whitechapel Gallery, London, alongside a stellar line-up including David Hockney, Bridget Riley and Patrick Caulfield.
Hoyland taught at Chelsea School of Art alongside Caulfield, who became a close friend, before taking up a post at Slade School of Fine Art and then returning to the RA as a tutor.
Around this time, he was creating flatter works and allowing the paint to soak into the canvas. This technique created simple, yet intensely hued forms that floated against a stark background, similar in style to the Colour Field movement that included the likes of Mark Rothko.
In 1964, Hoyland created 14.6.64, an early example of his practice of naming paintings by their date of completion, thus allowing viewers greater freedom to make their own interpretations. Following the exhibition, he was awarded a Peter Stuyvesant bursary that allowed him to travel to New York, where he met several of his artistic inspirations, among them Helen Frankenthaler and Kenneth Noland, along with their champion, the critic Clement Greenberg.
Several American artists came to hold Hoyland in the same high regard he had for them, notably the pioneer of Abstract Expressionism Robert Motherwell, who became a friend, mentor and champion of the English painter's work. Hoyland also discovered the works of Hans Hofmann, a key influence on Abstract Expressionism, who influenced Hoyland to employ thick layers of brilliantly coloured pigment, partly achieved through the use of acrylics that had started to gain popularity.
In 1967, Hoyland was given his first solo museum show at Whitechapel Gallery, cementing his reputation as one of the UK's key abstract artists. Two years later he represented Britain at the São Paulo Biennale, Brazil, alongside sculptor and fellow RA alumnus Anthony Caro, who became another lifelong friend.
Hoyland returned regularly to the Big Apple, living and working in the city for extended periods in the late 1960s and early 1970s. His art continued to develop in dialogue with American artists, including Noland and Larry Poons, growing more free-flowing, as seen in 22.5.75. More varied forms emerged in Hoyland's work, including thick, impasto layers to add further texture.
Motherwell was especially praiseworthy of the younger artist's preoccupation with the diagonal, such as in Trickster – a form with which the mentor admitted in a letter he 'gave up in defeat'.
Hoyland himself disliked being described as an abstract artist, preferring the term non-figurative. He told the critic Mel Gooding that non-figurative imagery contained 'the potential for the most advanced depth of feeling and meaning'. Elsewhere, he stated his belief that '...paintings are there to be experienced, they are events'.
That final quote dates from 1979, included in a statement Hoyland gave for his first major retrospective at the Serpentine Gallery in London, a city where the artist had settled. By moving away from States, his artistic concerns were allowed to take a more Eurocentric leaning, specifically a shift away from the austere vision of high modernity that had developed in the wake of Abstract Expressionism. Looking back to earlier forms of Modernism, particularly that of Joan Miró, led to his work becoming more spatially complex with a greater feeling of improvisation.
Motherwell had suggested that Hoyland could become the next J. M. W. Turner, though the Englishman was happier perhaps seeing himself combining Turner's 'non-graphic' side with the Spanish master Miró's 'passion, freedom and graphic quality'. In an interview, he remarked: 'How to get the melting together of these two aspects of looking – getting them working together – is of interest to me.'
Hoyland remained restless, both physically and creatively, as the hints of sensual, organic forms that emerged in the early 1980s developed towards the end of the decade into a semi-figurative style. A keen traveler, he now preferred warmer climates – his preferred destinations including Bali and Jamaica, where he shared an apartment with his companion Beverley Heath. Time in these tropical destinations began to inform this abstract-figurative style, that he saw as the creation of cross-cultural 'new hybrids'.
By the early 2000s, Hoyland's figurative impulse became less insistent, as inspirations ranged from the journalism of foreign correspondent Robert Fisk to the deaths of dear friends such as Caulfield. Along with other post-war artists, he began to enjoy a return to popularity, appearing at the RA in 1999, and at Tate St Ives in 2006. His work also formed a key component of 'The Independent Eye' exhibition of British artists that came to maturity in the 1960s at Yale Center for British Art (2010–2011), when he also sat on the judging panel of the RA's summer exhibition.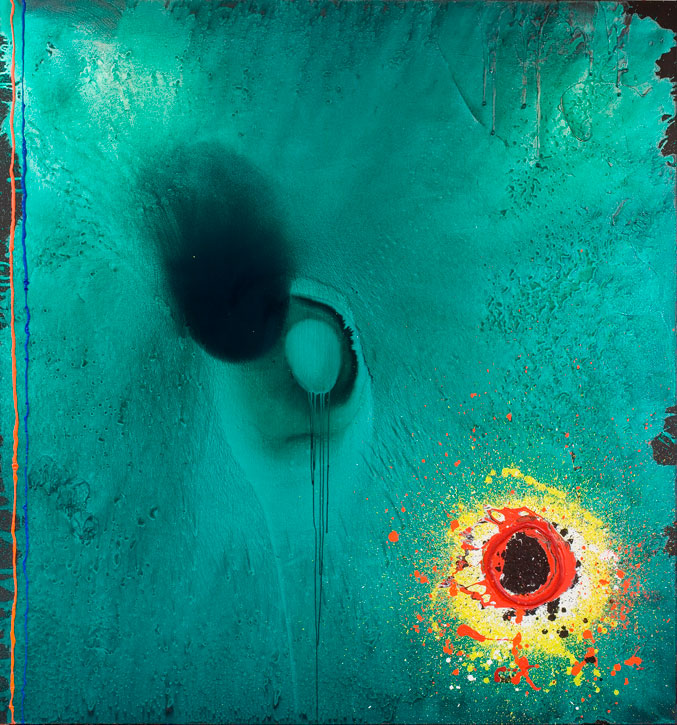 Hoyland continued painting in his final years. His exuberant output was a celebration of life, but also a meditation on his own approaching demise, especially after 2008, when he underwent major heart surgery and married Beverley Heath.
Hoyland used semi-figurative images to confront these ideas, especially cosmic forms, such as suns, moons and stars. He paid homage to artistic heroes, such as Van Gogh, as well as artistic friends, as in Elegy (for Terry Frost), the colours of which allude to Frost's own art, with its stark roundel set against deep emerald, reminiscent of the sea near his home in St Ives, Cornwall.
Several of these works will have their first showing at Millennium Gallery, Sheffield, in an exhibition of paintings from the last eight years of Hoyland's life to commemorate the tenth anniversary of his passing, when Gooding wrote that he 'was widely recognised as one of the greatest abstract artists of his time'.
The show takes Hoyland's work back to the city of his birth, where he and his close friend Brian Fielding once walked around the bombsites of the Second World War, discussing, as Hoyland once reminisced, 'ART with a capital A'.
Chris Mugan, freelance journalist
'John Hoyland: The Last Paintings' runs from 3rd July until 10th October 2021 at Millennium Gallery, Sheffield