'Writing about music is like dancing about architecture', as the saying goes: but what about singing about art? As it turns out, there's a rich seam of singers and songwriters who've taken inspiration from the visual arts, whether it's from an artist's entire works, a life story or a single painting. The world of music is littered with these references, and spans all of the possible genres: from Katy Perry's Mondrian-inspired section of the music video for This Is How We Do through to King Crimson (a rock band originating in the 1960s) writing an entire song about Rembrandt's The Night Watch. We've picked out some of the most interesting, and overt, references to art and artists in music.
David Bowie – Andy Warhol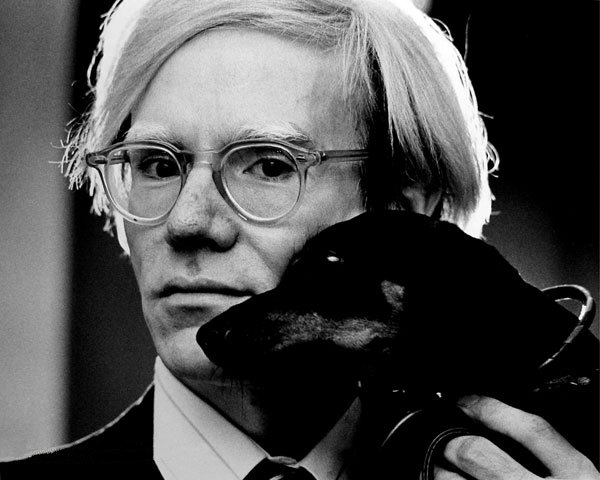 Of course David Bowie was art-literate (he had an impressive collection of his own); of course he wrote an entire song about Andy Warhol; of course, Warhol was characteristically nonchalant when it was played to him (this was the man who once said 'If you want to know everything about me, just look at the surface of my paintings, it's all there, there's nothing more.'). Bowie was never actually sure if Warhol liked his song, which must have been a strange feeling for the musical giant.
It's an unusual song, but then that befits an unusual man: it begins with half-mumbled conversation in which you can hear Bowie teaching someone how to pronounce 'Warhol', before he asks if it's being recorded, laughs and kicks into the song.
'Andy Warhol looks a scream
Hang him on my wall
Andy Warhol, Silver Screen
Can't tell them apart at all'.
Bowie also once played Warhol in the 1996 biopic Basquiat: you can see a clip of his performance, topped with an impressively bouffant wig, here.
Jay-Z – Picasso Baby
The lyrics of Picasso Baby are a roll-call of artists, including Mark Rothko, Jean-Michel Basquiat, Jeff Koons and Francis Bacon. Art venues aren't left out either: Christie's, MoMA and Tate Modern are all referenced.
Jay-Z grew up in one of the art capitals of the world, New York, but if the narratives of his early work are anything to go by, he wouldn't have spent his weekends wandering around MoMA or the Met. The references to the art world in Picasso Baby show the evolution of Shawn Carter from Queens to Jay-Z, the global musician, businessman, and Mr Beyoncé: someone who can not only spend time wandering around MoMA, if he so chooses, but can go to Christie's and buy the art on sale.
The video for the song was entitled Picasso Baby: A Performance Art Film and was created at the Pace Gallery in New York. Inspired by (and featuring) Marina Abramović, Jay-Z invited members of the public up to perform with him over a period of six hours.
'It ain't hard to tell, I'm the new Jean-Michel
Surrounded by Warhols, my whole team ball
Twin Bugattis outside the Art Basel
I just wanna live life colossal
Leonardo da Vinci flows'.
When performed live you're able to witness the rare treat of hip-hop fans repeatedly yelling the chorus 'Picasso Baby!'.
John Cale – Magritte
The links between the art and music worlds are numerous here: Cale was the bassist in The Velvet Underground, whose most famous album artwork – for The Velvet Underground & Nico – was designed by none other than Andy Warhol. Fun fact: on the early vinyl pressing you could peel the now-iconic banana. Cale's artistic credentials don't stop at this song: in 2009, he represented Wales at the Venice Biennale, exhibiting an audio-visual work called Dyddiau Du/Dark Days.
The song itself is rather beautiful and sonorous, with an unusual underlying beat that seems to change tempo randomly.
'I forgotten how often we saw Magritte
He's been much on my mind these days
Often we saw Magritte
Inside a canvas of blue saturated with beauty
In a web of glass
Pinned to the edges of vision'.
Another Magritte fan is Paul Simon, whose song René and Georgette Magritte with their Dog After the War was inspired by a photograph taken of the couple. About the artist rather than the artwork, through the song Simon imagines the couple as fans of 1950s doo-wop music, 'The Penguins, the Moonglows, The Orioles, and The Five Satins'. It's an understated song, quietly melodic and beautifully written; it feels like a very personal tribute from Simon to the Magrittes.
Queen – The Fairy Feller's Master Stroke
The lyrics of this song seem almost entirely nonsensical on first reading – though perhaps we shouldn't be surprised by this from the man who wrote Bohemian Rhapsody:
'Ploughman, waggoner will, and types
Politician with senatorial pope – he's a dilly-dally-o
Pedagogue squinting, wears a frown
And a satyr peers under lady's gown, dirty fellow
What a dirty laddio'.
However, once you pair this song with the painting it was inspired by (and named after), it starts to make a lot more sense. Dadd worked on this painting, considered his masterpiece, for nine years, and wrote an epic poem detailing the lives of the characters he depicts. Freddie Mercury makes direct reference to this mythology in his song, treating this rich, yet unfinished, work of Dadd's with great respect.
Lou Reed – Walk on the Wild Side
It seems you just can't get away from Andy Warhol as an influence on musicians. Lou Reed's most famous song – he once told David Fricke 'I know my obituary has already been written… and it starts out 'doot, di-doot, di-doot…' – Walk on the Wild Side is a series of references to Warhol's New York studio. Holly, Candy, Little Joe, Sugar Plum Fairy and Jackie: each verse refers to one of these real-life 'superstars' who populated The Factory.
While that most famous of Pop Artists isn't actually named, the song has been referred to as a 'hymn to Warhol's New York'.
Lots of artists – Mona Lisa
From the off: we don't have the Mona Lisa on Art UK, because it's not in a UK public collection. But we do have several copies, just in case you'd forgotten what the painting looks like.
The Mona Lisa has become a kind of cultural shorthand to represent the art world. In the apocalypse drama 2012, we see her being packed off to storage to survive the impending doom, demonstrating to us – the general public – that all of the most important art will survive (even if humanity doesn't).
In music, a diverse range of artists have sung about Leonardo's lady, including Nat King Cole, Al Stewart, Shakin' Stevens, Carl Mann, and noughties emo favourites Panic! At The Disco, who sang The Ballad Of Mona Lisa.
However, Nat King Cole's song is the only one with the distinction of having won an Academy Award, used in the film Captain Cary.
'Do you smile to tempt a lover, Mona Lisa?
Or is this your way to hide a broken heart?
Many dreams have been brought to your doorstep
They just lie there and they die there'.
Molly Tresadern, Art UK Content Creator and Marketer
Did you know?
The Rolling Stones' Who's Been Sleeping Here references The Laughing Cavalier
Ian Dury and the Blockheads' Peter the Painter is about Peter Blake: 'Mr Blake is the actual bloke at the Royal College of Useful Knowledge...'
The Pogues' The Wake of the Medusa is a reworking of Théodore Géricault's The Raft of the Medusa, with songwriter Jem Finer placing the band within the painting
Don McLean wrote two songs about Van Gogh: Vincent (better known for its opening line 'Starry, starry night…') and Empty Chairs
Belinda Carlisle sang about art in Shades of Michelangelo