Some paths in life are planned; others we take unexpectedly. Coming from a musical family, Jane Joseph had intentions of attending the Royal School of Music to study piano, but did not pass the audition due to performance anxiety:
'I was always looking out of the window when I should have been practising, and so a family friend asked me one day: "Have you thought about attending art school?" So I started at Regent Street Polytechnic at age 18, two days a week. In doing so, I discovered something wonderful – working on a visual thing, you had your own time to get it right.'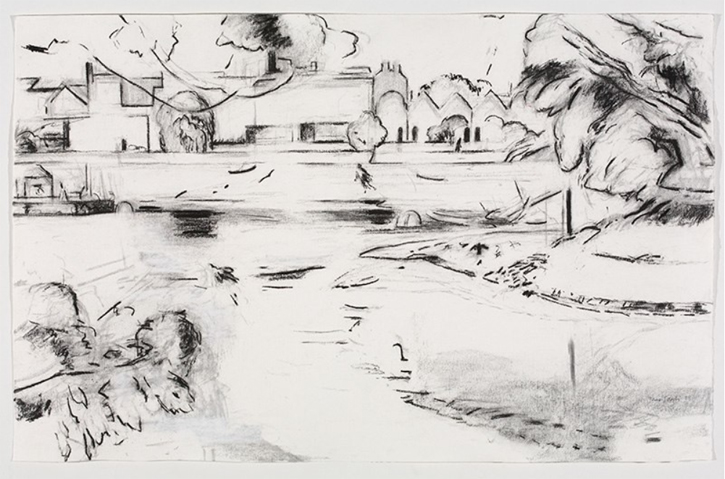 Joseph went on to study Fine Art at Camberwell School of Arts and Crafts (1961–1965), under the leadership of Robert Medley. She recalls how, despite the increasing interest in Abstraction and Conceptual art: 'Medley was all visual, he wasn't about ideas. He insisted that we tried to excel in a very personal way. You can't teach someone how to find a personal language, but it was somehow underlying stressed, that, in the end, you had to find a personal way of making work.'
Joseph tells me of the vibrant artistic community at Camberwell at the time: 'Several members of the Euston Road School still taught there. Medley also brought in many young artists who had recently graduated from the RCA, Slade and other London art schools.' Notable artist-teachers included Frank Auerbach, Frank Bowling, Henry Inlander, Anthony Fry, Euan Uglow and David Hepher. 'We were taught from Cezanne and Matisse, and Francis Bacon was very important.'
After Camberwell, under recommendation from Medley, Joseph gained the Leverhulme Travelling Award, and spent the year in Italy, attending the British School in Rome and looking at works by the likes of Piero della Francesca, Duccio, Fra Angelico and Domenico Veneziano. This formative time cemented the practice of close-looking which would remain a constant in Joseph's work: 'Painters who don't look at others' work, make works that look like others' work!' she says, with a smile. 'Of course, it takes time to find a path and to develop a personal language.'
Joseph's 1979 etching entitled Faker references Tom Keating, a prolific twentieth-century art forger who went to trial at Old Bailey in 1977. She explains: 'I was intrigued that someone couldn't find their own language, and had to do what he did.'
For Joseph, teaching – and nurturing the skills of other artists – has been integral to the development of a personal style. 'Teaching offered me the necessity to be articulate in a certain way about looking and trying to draw what you were seeing. It helped me; I learnt through it.'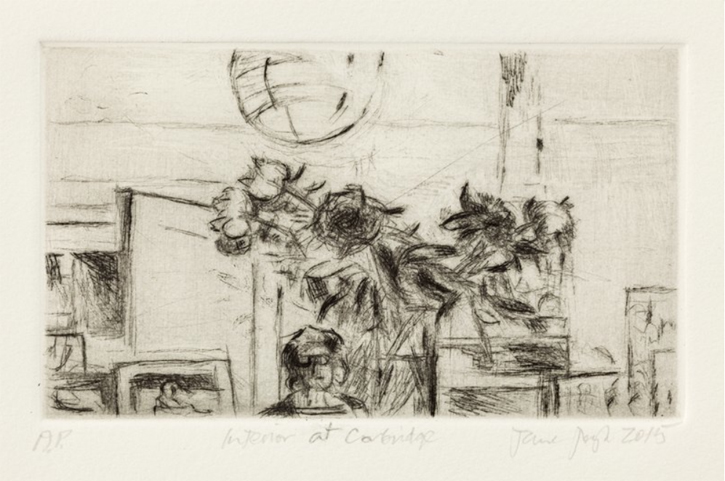 In 1969 she took up her first teaching post in Newport, Wales, where she bought a building for £150 and turned it into a studio. That year she also started teaching at Morley College London, substituting for Anthony Fry, and going on to share a class with Maggi Hambling. 'I would teach on Wednesdays, and Maggi on Thursdays. She would tell them to do one thing, and I would tell them not to do it! I think it worked well,' she says, smiling. 'For instance, I wouldn't let them use black, but Maggi insisted they had to use black on their palette.'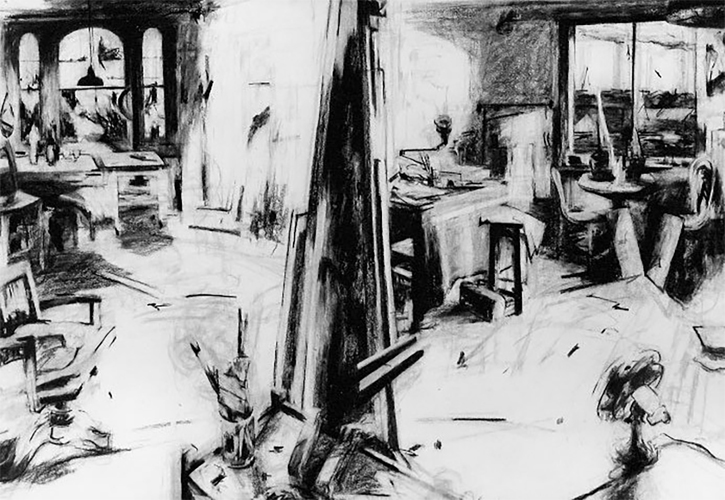 Joseph also employed a strict policy to get the best out of her students. 'I ran a silent class where no-one was allowed to talk whilst the model was posing. I decided to use a model because if we all looked at the same thing, it was a way of sharing. And the focus was on the looking.' She recalls a wonderful sense of freedom in the role: 'At that time we were paid on a very high grade. And nobody ever told me what to do!' She went on to teach at Morley College London until 2012, whilst holding a post at Wimbledon College of Arts for 23 years.
As the title of her current exhibition at the Morley Gallery suggests, drawing is central to Joseph's practice, and all but two works are drawn or painted from observation. 'Much of the work is about London, where I've lived for most of my life.'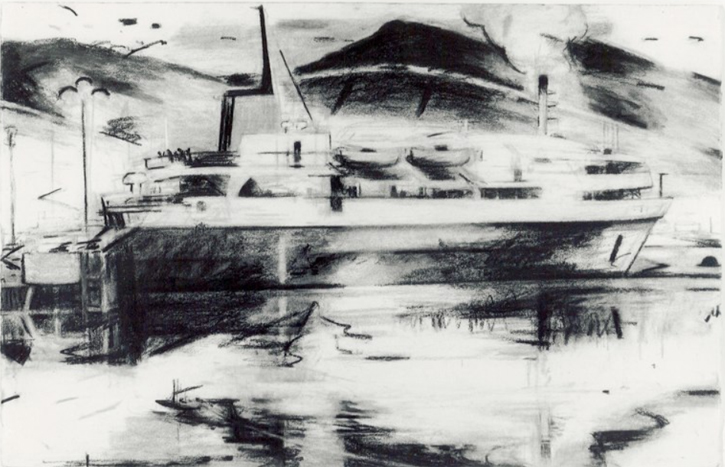 Joseph's work breathes life into the everyday and often-overlooked – municipal buildings, bridges, and buses in transit, in which the constant pace of the urban capital is palpable. 'There should always be movement in a visual piece. One of the things about city life is that it is always moving, somehow. People are coming and going, and doing things. I suppose I've always liked depicting things that suggest work.'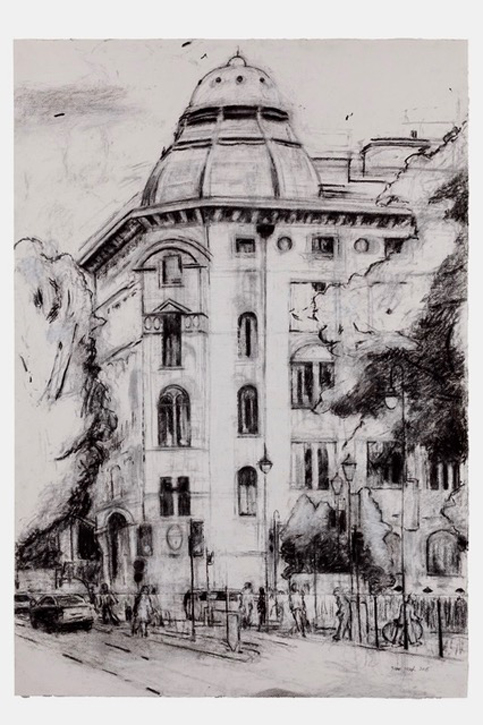 Joseph engages a narrow range of subjects, of which she returns to consistently, allowing for a familiarity which, for her, is essential. Nevertheless, conditions such as weather, light and human interaction provide infinite variety: 'A subject is never the same twice, and the more you look at it, the more differences you are going to find.' Negative space also holds a quiet, enigmatic power in her works: 'I wanted more and more to make the white paper speak as much as the black marks. But of course, you need dark to make light, however little of it you use.'
Alongside her large-scale architectural drawings, Joseph looks to the natural world, as seen in her drawings of the Mallaig countryside on the West Coast of Scotland, and Rosendale Allotments in Herne Hill, London. She explains: 'Plants were something to focus on when everything around you was so chaotic.' In the works, nature is an inherent but robust presence. 'The beauty of them was how they survived London and human life all around them.'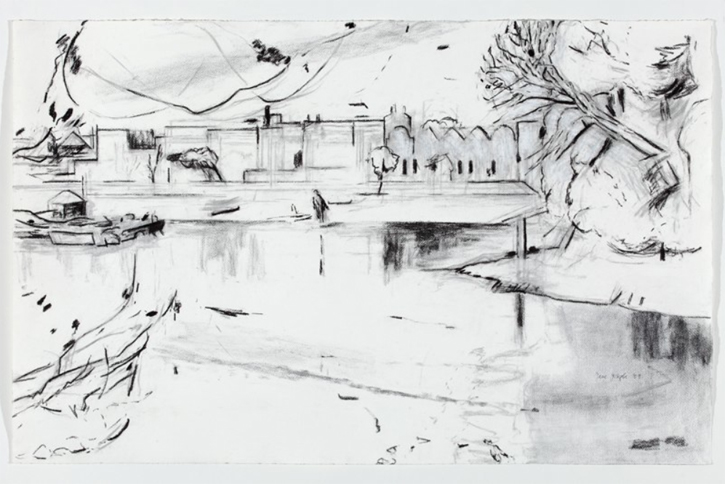 This sentiment is echoed in a series of etchings commissioned by The Folio Society in 1999 to accompany Primo Levi's seminal text If This Is a Man, a portrayal of Levi's experience as a Jewish prisoner of war in Auschwitz. 'It was the first time that I'd ever had to make a body of work.' Joseph, who is Jewish, but did not grow up practising the religion, tells me: 'For me, the text is about survival. It's about managing. What I tried to focus on was the uplifting side of the writing. I decided that it was fundamentally important to stick to the fact that he survived.'
The etchings are currently on display at The Fitzwilliam Museum, Cambridge.
On the confines of genre and the often gendered, side-lining of artistic disciplines, Joseph notes: 'Printmaking is not taken seriously as a heavyweight substantial medium in its own right – it is often viewed purely as craft. However, nothing is created in a vacuum. Etchings have got to come down from a bigger discipline.'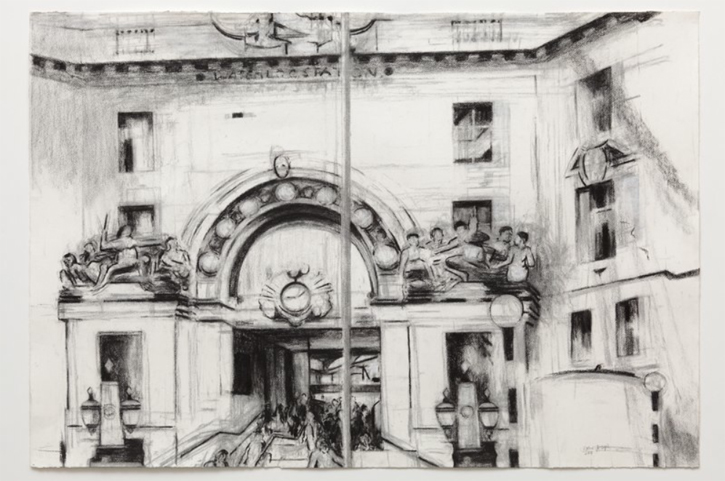 Curiously, Joseph has never referred to herself as an 'artist', but rather a painter, printmaker and draughtsman. And what is so enticing about printmaking? 'It's the reverse. It's like reading a book. Like how you get used to looking in a mirror – I got used to the reverse very quickly. It points out the next step to make. You are looking at what you've drawn in a mirror image, and it points out different things to you. It's full of very boring procedures,' she says, drily – 'But they gave me time to think about what to do next.'
A retrospective of Joseph's 45-year career and showcase of many of her finest artworks, 'A Life Drawn' is a celebration of a life of art – teaching and supporting young artists as a treasured member of the Morley community.
A LIFE DRAWN
Jane Joseph Retrospective
1 - 30 March 2023

A retrospective on Joseph's career and showcase of many of her finest artworks, A Life Drawn is a celebration of a life of art; teaching and supporting young artists as a treasured member of the Morley community. pic.twitter.com/FPxcQssGZe

— Morley College London (@morleycollege) March 16, 2023
Melissa Baksh, art historian, freelance writer, and Gallery and Exhibitions Officer at Morley College London
The exhibition 'A Life Drawn: Jane Joseph retrospective' is at the Morley Gallery until 30th March 2023.
Enjoyed this story? Get all the latest Art UK stories sent directly to your inbox when you sign up for our newsletter.