With its mission to democratise access to the national art collection, Art UK has pioneered several innovative tools for digital engagement on its website. Anyone can delve into the UK's brilliant public art by curating their own digital art exhibition using Curations, help solve art mysteries with Art Detective, or explore masterpieces in the classroom via our curriculum-supporting schools resources.
This month sees the launch of the newest initiative, which will support audiences and collections by making the art we own more searchable. Step forward, Tagger.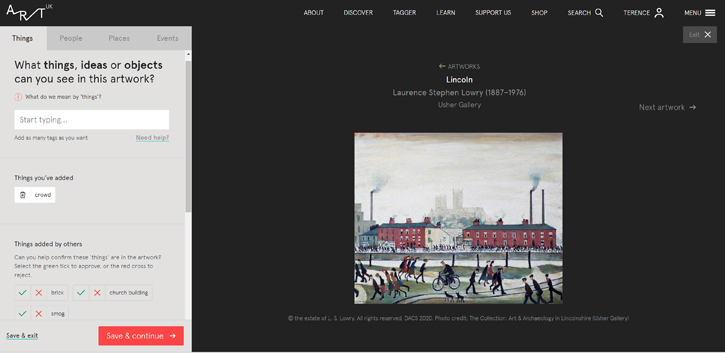 As Head of Digital Infrastructure at Art UK, Terry Gould has been the driving force behind this new digital tool. We caught up with him to find out why we should all stop doomscrolling and come play tag...
Gemma Briggs: Tell us about Tagger in a nutshell – what is it all about?
Terry Gould: Our platform has 293,000 artworks and counting, and Tagger presents an opportunity to go in and contribute tags to an artwork. Users do this by looking at the image and it's as simple as 'say what you see'. Tell us about the objects and the people, places and events associated with the artwork.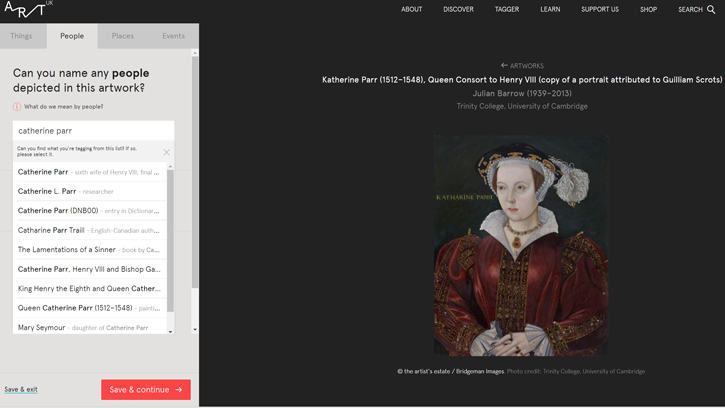 You can do 'entity tagging' – this uses a pre-populated list of tags from Wikidata – or you can enter your own tag if it's not there. Entity tagging is hugely valuable for us and the collections who share their artwork on our platform because it will allow us in time to do some very interesting things with search and discovery.
Gemma: It sounds quite technical, how have you made it easy for someone to get going?
Terry: When you start tagging for the first time there is a tutorial that takes you through the steps, one two three. We encourage people to try things out and give it a shot. There's no such thing as a wrong answer and you're not going to break anything!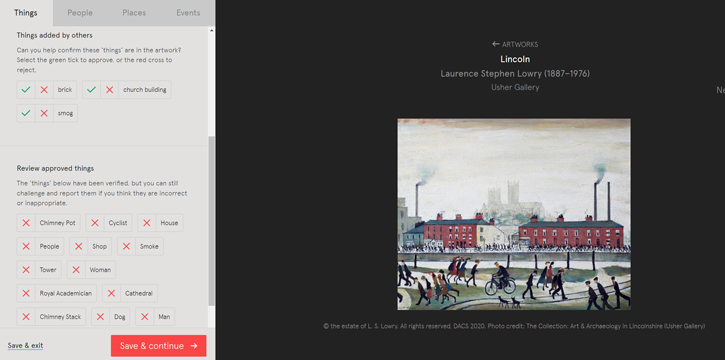 There are three challenges or tasks, such as verifying existing tags. When you have added a tag it doesn't go and link up to an artwork straight away. This might seem a little frustrating but what we are looking for is for other people to come in and say, 'yes this is right' or 'I'm not so sure about this'.
When we hit a magic number of verifiers – we're looking for three to agree and say, 'yes, this is definitely a golden retriever in this picture' – then it gets linked up into our system and integrated into our search and discovery, so that other users will be able to find the works featuring this tag.
Gemma: So if you are a golden retriever fanatic, can you just concentrate on tagging or verifying relevant artworks, or does Tagger decide which pictures you're going to look at?
Terry: You have a choice here: you can either dive in and randomly go through the artworks that we have, or you can filter using our search system. So you can find artworks that have already been tagged with 'dog' and then identify the breeds of dog in the picture. This is incredibly useful and it could be birds or ships, there are so many specialities and knowledge that people across the UK have that they can bring in to help other people search the art.
You can filter by type, region and date. So if you were only interested in sculptures in Glasgow made between 1720 and 1890, you could filter that way. Or you can even do it by pre-selecting your favourite works in your local gallery.
Gemma: It sounds as though Tagger is a great tool whatever your interest and whether you're an academic or someone who wants to discover art.
Terry: Yes, there's a broad range of audiences and we want to have that breadth of information come in. Art UK is for everyone – not just for specialists – it's for any user across the world to come in and explore the wealth of collections we have on offer and help contribute towards the understanding and the stories we tell.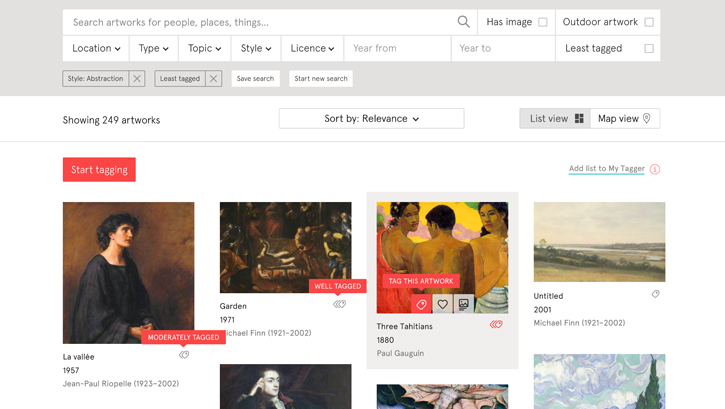 You need very little technical skill to take part – we have designed this to be as user-friendly as possible. You can just dive in from a range of devices. This is the first stage of the project and there may be things we can improve over time to make it better. Over the next few months, if users find something that doesn't seem right or they have a question, please let Art UK know as it's important for us to make sure the platform is delivering.
Gemma: So the people who are taking part for us now are like the Tagger pioneers?
Terry: There was an original tagging project years ago when Art UK was known as Your Paintings, and it proved to be incredibly popular. Since then we've completed the digitisation of oil paintings and sculpture, and we're adding works on paper so there is a huge variety of new artworks.
We'd love to see it being used in classrooms as part of improving digital skills. There's a lot of interest around digital volunteering and we see Tagger as part of this, because you are volunteering your time to contribute to the common knowledge of the UK's national art collection. It's flexible around your time.
Gemma: What do you think are the other benefits for the user?
Terry: It means you see artworks you wouldn't otherwise know. Using Tagger I've come across many artworks I'd never seen. There is so much that comes to the surface when you dive in – it's a great way of looking at new artworks through a very different lens. Tagger is a more participatory experience rather than being lectured to.
The other aspect of it, I would love it if a user said to me that they were doing it as a background activity while watching the TV. Replacing something like mobile phone games or doomscrolling on social media. Getting away from that and doing something that challenges you to look at art in a different way.
Every contribution is welcome. There are two dashboards, a public one on the Tagger page that shows how the project is going. There's also your 'My Tagger' dashboard that lets you see your contribution. Another aspect of this personal dashboard is you can choose to make it public and go towards our top Tagger league. Who's been tagging most this month, this week or all time? There's going to be a bit of competition going on here.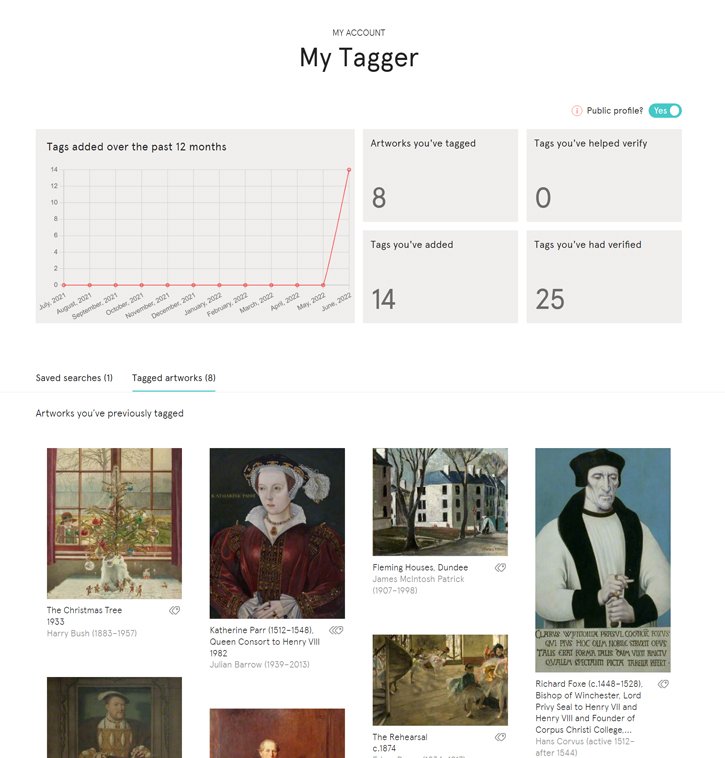 Gemma: It's clear that this is an important new initiative, how much effort has gone into it?
Terry: The Tagger project has been in the back of our minds for many years. The design phase has taken just over six months but we've been talking about it and coming up with an idea for much longer. Also securing the funding from the Ampersand Foundation and Scottish Government has been key in making this happen. This is very much Stage A and we're already thinking of what will happen in Stage B.
Another area we are looking to is partnerships with technology providers and researchers, particularly around computer vision and machine learning. The idea is that once we have multiple machine learning systems in place, the computer will try and guess what's in the picture and will have the tags there. But of course, we are not going to trust the computer entirely. After all, early computer vision hasn't been that successful in, for example, the simplest things like telling the difference between a dog and a muffin.
Today's guessing game: 'Chihuahua or muffin'? pic.twitter.com/eoFWWPXBBB

— Dr Andy Cope (@beingbrilliant) April 6, 2022
On a more serious note, I am very aware that machine learning and computer vision has a legacy of algorithmic bias and that we must be especially careful when introducing machine-based tags into our systems to ensure that such prejudices do not slip into our records. So we are not starting out with a position of trust here. Our audiences will be key in questioning the choices of the machine and saying whether the tags they have given are right or wrong.
Try out Tagger today and see what you can discover!
Gemma Briggs, Head of Marketing and Communications at Art UK