Oswald Clingan Smith, @Smithsupercat, Cat-in-Charge of the Stirling Smith Art Gallery and Museum, consents to an interview with a representative of Art UK...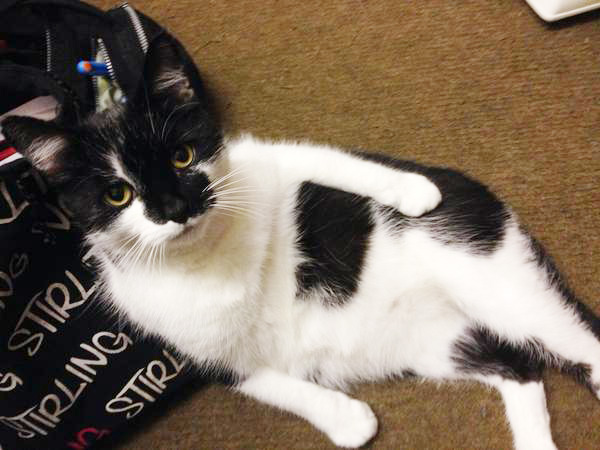 Art UK: You have been Cat-in-Charge now for 11 years. Are there any paintings of you, and are they on show to the public?
Oswald: That's a sore point. There are not as many as there should be. Last year, Scottish artist Ailsa Black included a portrait of me in her exhibition at the Smith, and it was purchased for the gallery by a Friend of the Smith.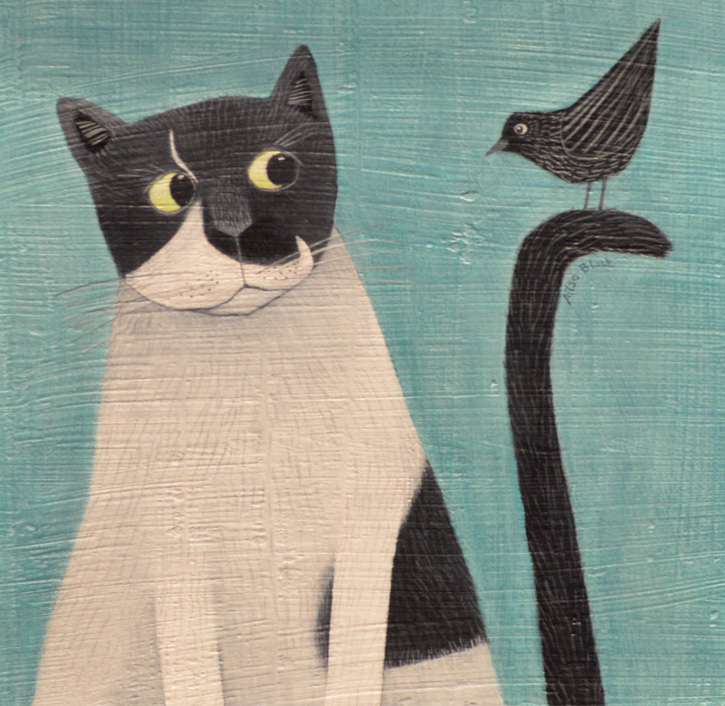 When artist Marie-Louise Wrightson painted her Stirling Smith Girl to celebrate the Smith's collections, she included a portrait of me as one of the 20 elements which make the Smith significant. You'll see me at the top of the Stirling Smith Girl's head.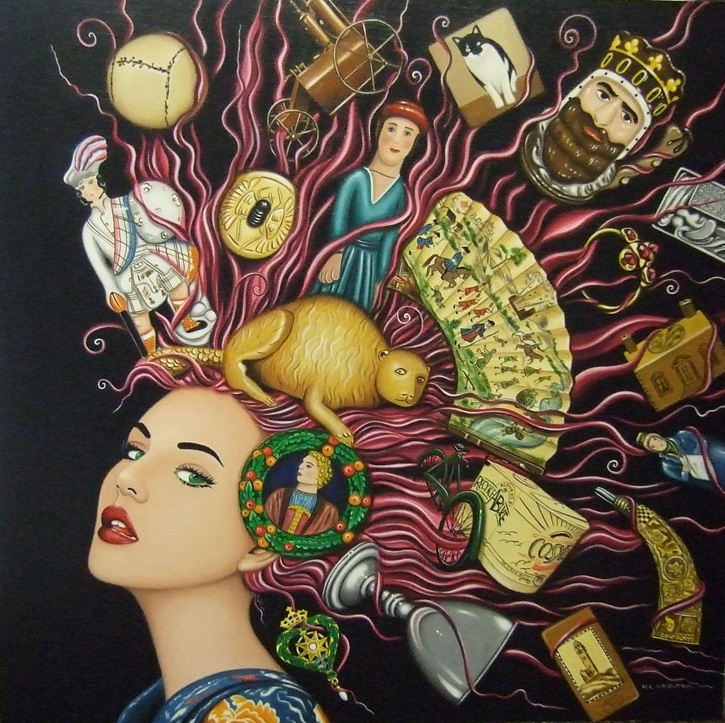 Often, the visitors will come in to draw me. Here's an example left by eight-year-old Glen Flisch.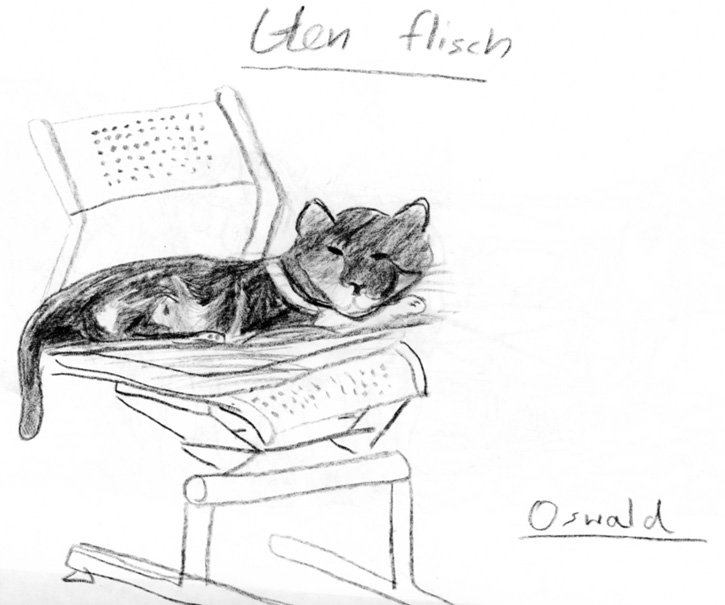 Art UK: How, and by whom, would you like to be painted?
Oswald: Without a doubt, by Elizabeth Blackadder, the Queen of Cat Painters of our times. She's from Falkirk, you know, which is quite near Stirling. I like her Two Cats on a Kelim (Brighton and Hove Museums and Art Galleries) and Flowers and Black Cat (Middlesborough Institute of Modern Art). It is about time somebody commissioned her to do the portrait which my beauty and character deserve.
Art UK: And how would you like the painting to be hung?
Oswald: I'd like it to be hung now, and in perpetuity in the entrance hall in the Smith, just like the portrait of Callum, the Dandie Dinmont terrier, by John Emms, which has been hanging in the National Galleries of Scotland since 1919. His master left a bequest of £55,000 on condition that Callum was always to be on show. And terriers are so ugly! At least when my special portrait is done, it will be kept on public display on account of the magnificence of my coat, and my purrsonality.
Art UK: If you could go back in art history, who would you have chosen to do your portrait?
Oswald: That would be Henriette Ronner (1821–1909) the original Queen of Cat Painters, who painted the cats of the crowned heads of Europe. The artist was Belgian, and we have one work by her in the Smith collection, A Bit of Cheese where one of my ancestors faces down two angry dogs, whilst her kitten plays on the table on a copy of The Scotsman newspaper, before dislodging the cheese dish.
Hartlepool has the biggest collection of Ronner paintings, and every one of them is a delight. She had a true understanding of the feline spirit.
Her painting of chickens in the Perth Art Gallery and Museum has me licking my lips. Simply delicious!
Art UK: Are there other cat painters you like?
Oswald: Baba and Billy (1920) by John Duncan in Kirkcaldy Art Gallery and Museum is surely one of the best dual portraits of a Cat and his Personal Assistant ever, I wish John Duncan had painted me. We have a portrait of Robert the Bruce by him, which my staff like.
Art UK: Are there other paintings to your taste in the Smith collections?
Oswald: A good lip-smacker is His Own Catch of Trout by Sir George Harvey. He painted this when a boy of 14, to display in the shop window where he worked as an apprentice in Stirling, selling books and fishing tackle.
Sadly, he spent the rest of his life painting people, dogs and horses. It is not every artist who is called upon to paint cats – it's a very specialist calling.
Art UK: So, Oswald – what other creatures feature in the art collections of the Stirling Smith Art Gallery and Museum?
Oswald: We have a special group featuring cattle. The old Scottish drove roads of Scotland converged on Stirling, and every herd of cattle had to pass over Stirling Bridge on the way south to the trysts and cattle markets of Falkirk, Carlisle and finally Smithfield in London, before the coming of the railways. For that reason, artist Joseph Denovan Adam set up his atelier or School of Animal Art in Stirling, and students came from all over Europe to learn how to paint animals. Cattle (1878) is one of his best-known paintings.
Going to Pasture shows a fold of cattle moving to new grazing.
Perhaps his masterpiece is Black Beast Wanderer, which shows the traditional Highland cow in a blizzard. Capturing the spirit of the beast against a totally white background must have been such a challenge.
These little black cattle or 'kyloe' were the native Scottish cattle, before the breeders in the nineteenth century got to work to change their size and hair colour. The cattle also gave their name to the process of 'blackmail' – black signifying the cattle and 'mail' the process of having them taken from you and returned after a payment of 'mail' or 'rent', a practise perfected in the Aberfoyle area by Rob Roy MacGregor.
Denovan Adam ran his school of art from Craigmill House which still stands in the Stirling to Alloa Road. In the grounds was a purpose-built studio, where the students could shelter whilst painting the cattle in the field outside. This watercolour by Denovan Adam shows Craigmill House in the centre distance, its grounds and the studio in the distance on the right.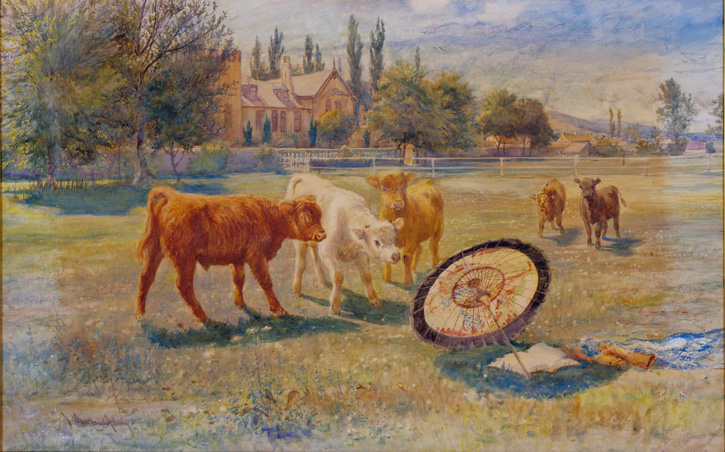 This painting of Two Dogs by Joseph Denovan Adam does not really have my approval. I think he painted it to pay the gas bill! They're decorative, but not much else.
Similarly, this painting of a dog with a rat by C. Pelham isn't great, as it implies that dogs are good at ratting, when we all know that cats are much, much better hunters.
Art UK: Do you have much trouble with dogs in the Smith, apart from those in the paintings, Oswald?
Oswald: I don't like to see dogs in paintings at all. Look at this painting by George Harvey, The Lost Child Restored – there's not one dog, but two, taking up all the attention in the centre of the painting. The two gold fish on the right are a bit more to my taste.
Unfortunately, my staff do allow dogs on the premises, and even have a dog bowl at the door of the Smith. I often take up my position there, to discourage them.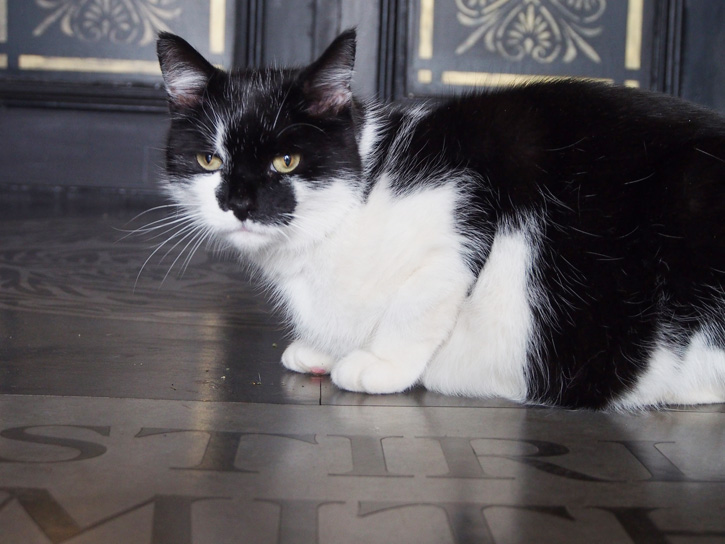 Art UK: What is your best advice in how a good gallery and museum should be run, especially by a Cat-in-Charge?
Oswald: Undoubtedly, staff training is the key to success. I have taken this on board with every staff member, and they know what I like, when I like it, and how I like it delivered. I work closely with all of them, so that they never fail my expectations. I have even taught the gardeners to grow catnip at the right height, so that I can enjoy it on the side steps.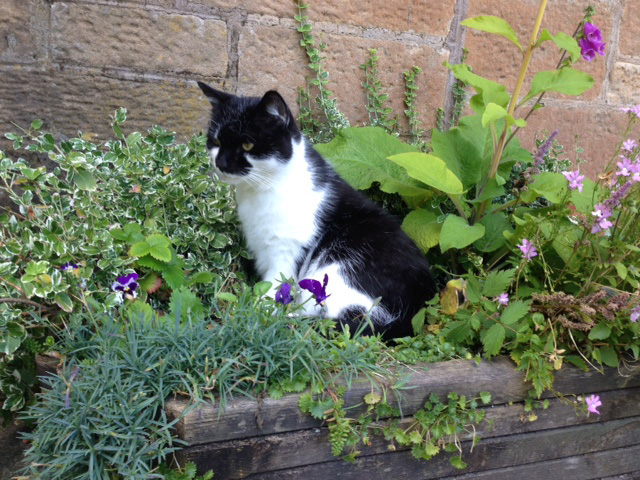 Art UK: So, are you popular with visitors too?
Oswald: Most visitors come to see me, or be guided by me. As a lot of them would like to take me home with them, one of my Staff, Elizabeth Douglas, published a knitting pattern, so that visitors can knit their own Oswald. I think there is a knitted Oswald on every Continent, that's how popular I am!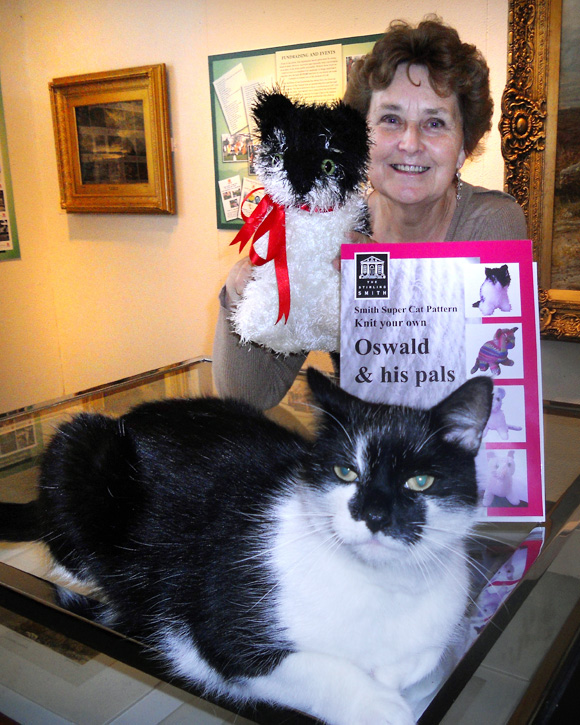 Art UK: So, you are known abroad as well?
Oswald: I have featured in Mr Iwago's World of Cats, the popular Japanese TV programme and have many followers in Japan.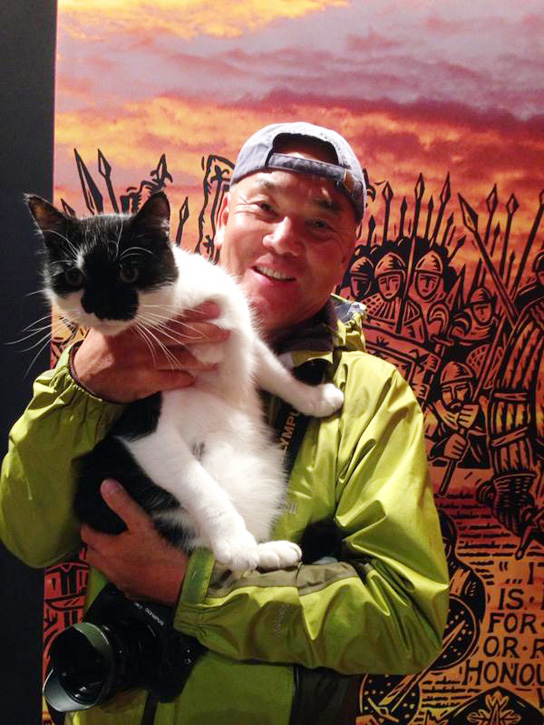 I've also starred in Russia 1 Television's cat programme with the handsome film star Viktor Loginov.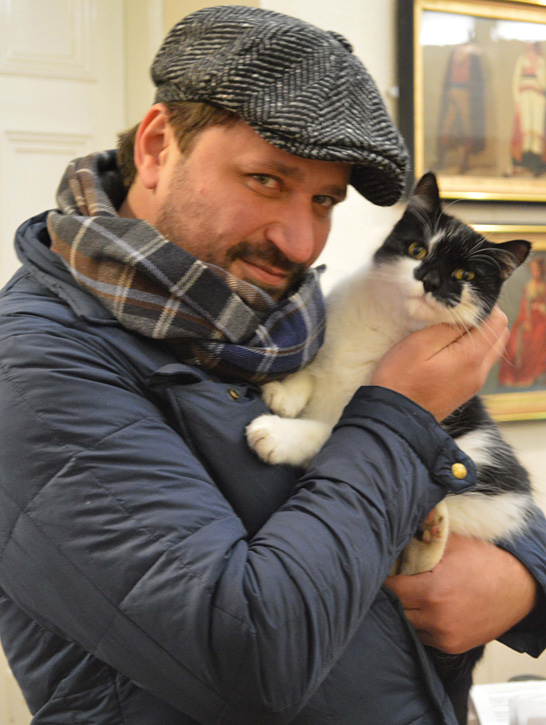 Art UK: So, how do you keep in touch with your fans?
Oswald: My Twitter feed is popular, as is my Facebook page, and thanks to good staff training, my staff post regularly on them.
Art UK: What about your colleagues in other museums? Do you keep in touch?
Oswald: @CuratorialCats is the great Twitter link which keeps all of us in touch and celebrates the feline contribution every Monday with #MewseumMonday. Remember – cats rule the internet. @CuratorialCanines has never really taken off. Cats have been Gods since ancient Egyptian times, and we still are, especially when we run museums and galleries.
Art UK would like to thank Elspeth King, PA to Oswald and Director of the Stirling Smith Art Gallery and Museum, for arranging this interview.