'For your picture starter, you are going to see a painting. For ten points, I simply want the name of the artist please'.
These were the words uttered by the inimitable quizmaster of 'University Challenge', Mr Jeremy Paxman, in my quarter final captaining Emmanuel College, Cambridge against Corpus Christi, Oxford.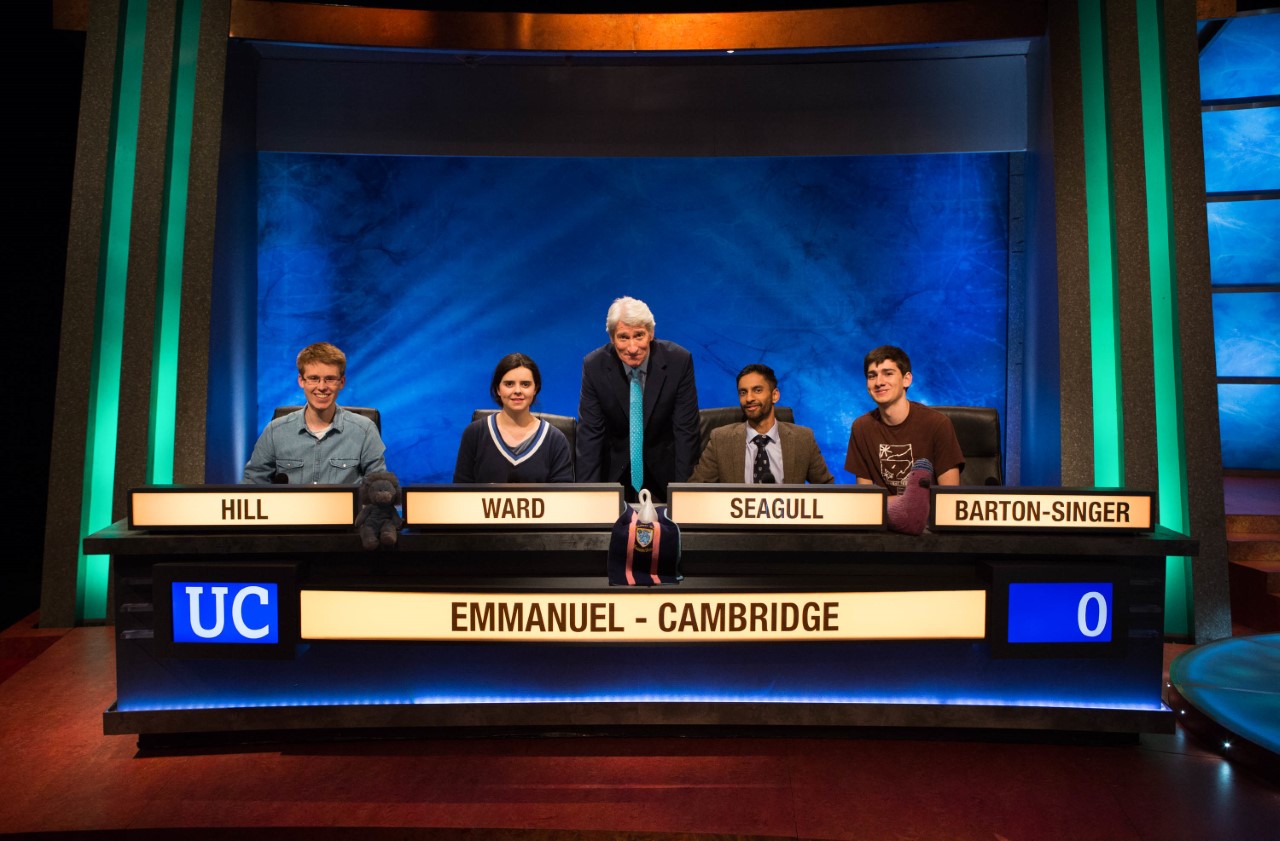 When I heard the word 'painting', my heart started racing. Within Team Emma (our affectionate nickname for our college), I was the designated 'art guy' and had been waiting patiently for nearly two hours of quizzing and four full matches before an art starter-for-ten finally came up.
I almost jumped on the buzzer and upon hearing Roger Tilling (the voice of 'University Challenge') shout out 'Emmanuel Seagull', I joyfully answered 'Vermeer' like a child accepting a birthday cake, upon seeing The Art of Painting (an apt analogy as the episode was actually broadcast on my birthday too!). Watch this moment of glee captured on YouTube:
I'm a Maths secondary school teacher alongside starting my PhD in Education specialising in Mathematics, but my ambitious teaching job over next few hundred words is to get you to be able to answer every art question on University Challenge (or at least nudge you on your way there!) Here are my top five tips to start.
1. Art for art's sake
I tell my students that it is easier to remember something when you actually enjoy learning it – the same goes for art. My love for art was sparked at the age of five when my father gifted me a book on the seventeenth-century Dutch master Rembrandt. On flicking through the pages, I was entranced by Belshazzar's Feast, with its life-like gold cloak and the richness of the colours pouring off the image. This fired a life-long appreciation of art and immersing myself in galleries. As a West Ham United fan, I get moved by beautifully crafted goals scored on the football pitch. I was equally in awe upon seeing both versions of Leonardo da Vinci's Virgin of the Rocks in The National Gallery during their 2011–2012 blockbuster of an exhibition.
2. The history of art
Identifying the artist and their works can be complemented powerfully by the history, culture and context behind the art. Our resident historian for Team Emma, Tom Hill, answered an art question on TV where he correctly located Rouen Cathedral as the location of more than 30 of Monet's paintings. He beat me to this question even though I had a Monet print of The Thames below Westminster adorning my bedroom wall for more than a decade! Watching documentaries on art history can open your mind to the field. I'm a particularly big fan of a former 'University Challenge' contestant, Dr Janina Ramirez. Her recent BBC series An Art Lovers' Guide, with Alastair Sooke, allows you to explore the art and cultural history of places from the comfort of your sofa.
3. The power of lists
Jeremy Paxman often asks questions where he tells you the nationality of the artist. In Team Emma's semi-final against the mighty Wolfson Cambridge (captained by my friend and quiz powerhouse Eric Monkman), we received a set of bonus questions where Mr Paxman told us that all three artists were Italians. Knowing their nationality allowed us to filter our thought process and identify Botticelli (whose style we were able to recognise, like Venus and Mars) and Michelangelo. Unfortunately we lost one question by opting for Raphael instead of Giotto.
It is worth investing some time with the internet to create lists of countries and their key artists (including years of birth and death). For extra brownie points, create a separate list of artists under their movements such as Renaissance, Impressionism or Pop Art.
4. Art beyond painting
Paintings tend to be the area of artistic focus on 'University Challenge'. Ms Hannah Shapley, a friend who is a secondary school Art teacher, has helped me to appreciate that art exists beyond just paintings. There's a whole world of art outside of paintings that Mr Paxman could test you on such as sculpture, works of architecture or even identifying the faces of artists (such as spotting Lucian Freud from the self portrait below). This can tie in quite neatly with creating your lists and can help develop your general cultural awareness of different periods of art.
5. Speed like Usain Bolt
This lightning bolt of a sprinter is quick out of his blocks from the starter gun in a 100 metre race, and you'll need to be equally snappy on the buzzer for art starters too! You can develop your swiftness in identifying art works by using technology. There are many art related apps you can download to your phone or laptop, but I'm a fan of Sporcle. It's an online trivia website that has many quizzes covering a wide area of knowledge, including art. Try this one to whet your palette where you have to identify the artist from a close up.
Best of luck in your journey and I hope that by the time you next see an art starter-for-ten on 'University Challenge', you'll be answering before Mr Paxman has time to put up the painting on screen!
Bobby Seagull, 'University Challenge' team captain for Emmanuel College, Cambridge