Although he was only 23 when a German bullet tragically killed him during an infantry charge in 1915, Henri Gaudier-Brzeska (1891–1915) had already achieved an astonishing amount as a sculptor.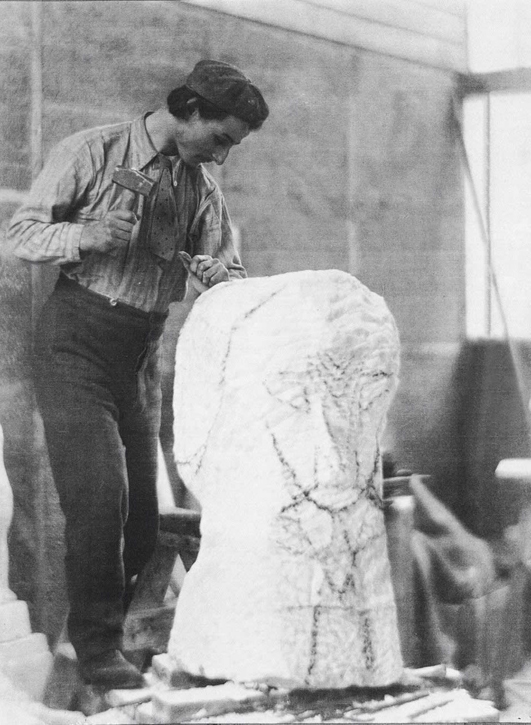 The son of a French craftsman-carpenter, Henri Gaudier grew up at St Jean-de-Braye near Orléans. But his urge to explore as widely as possible meant that in 1906 this restless teenager visited London on a travelling scholarship. The following year he began a lengthy period of research in Bristol and Cardiff.
Then, in 1909, he won a bursary to study in Nuremberg and Munich, but his urge to draw was by now so overwhelming that he became an avid museum visitor as well as eagerly devouring books on art history. In 1910 he became passionately attached to Sophie Brzeska, a Polish woman who was 20 years older than him. Gaudier added her surname to his own, and in 1911 an explosion of family disapproval about their relationship led them both to settle in London.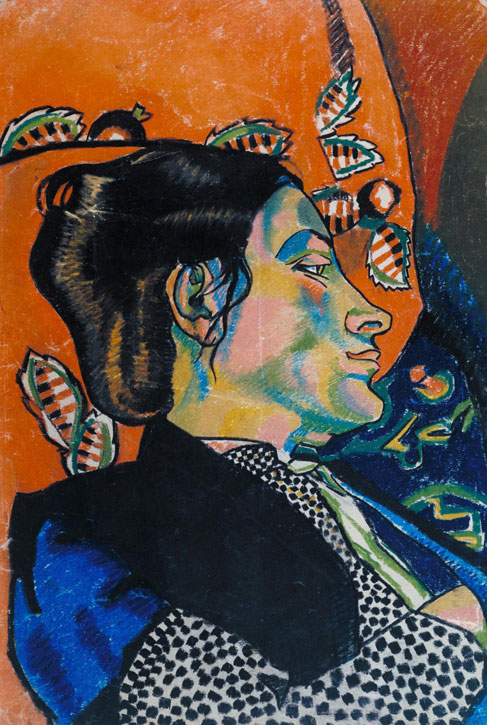 At first, a chronic lack of money obliged Gaudier to work as a clerk to a shipping broker. But after meeting artists as stimulating as Jacob Epstein and Wyndham Lewis, he succeeded by 1913 in devoting himself 'entirely to my art'.
Modelling in clay and carving directly into stones, he delighted in displaying a bravura ability to execute work in an almost bewildering variety of styles, veering within a few energetic months from the coolness of classicism to multi-coloured extravagance.
Much of his early work in London has the high-spirited eclecticism of a young man testing himself against as diverse an array of cultures as possible. In one excited letter, he described how 'a short visit to the British Museum' had inspired him to dart, with hungry and prodigious swiftness, from room to room taking in the statues from all corners of the globe.
But Gaudier was equally alert to radical contemporary developments, showing in his vigorously modelled bust of Horace Brodzky (Tate) an awareness of the Heads of Jeannette series which Matisse had displayed in Roger Fry's seminal 'Second Post-Impressionist Exhibition' of 1912–1913.
The incipient Cubist angularity of Gaudier's Brodzky bust also suggests an interest in Picasso's Head of a Woman (Fernande) of 1909. Moreover, Brodzky himself recalled a crucial meeting between Constantin Brancuși and an admiring Gaudier at the 1913 Allied Artists Salon in London, where the younger man decided that Brancusi was a 'fine fellow'.
Above all, though, Gaudier evidently needed little encouragement to pursue the path of exploration already pioneered in England by Epstein and Eric Gill. Sympathising with their profound respect for certain unorthodox aspects of tradition, Gaudier had an open-minded willingness to range far beyond his youthful admiration for Auguste Rodin. Now, at the age of 22, he may well have looked closely at Sleeping Muse II, the sculpture which Brancuși displayed in that 1913 London exhibition.
The ovoid head in one of Gaudier's most outstanding carvings, Red Stone Dancer (Tate), bears a distinct resemblance to Brancuși's bronze.
But Gaudier has stamped his carving with a very different vitality by placing a provocative triangle on the head's otherwise unadorned surface. Geometry is likewise asserted on the right breast, which bears a circle and thereby announces in an almost programmatic way Gaudier's increasing affiliation with the emergent Vorticist group.
Compared with work by Wyndham Lewis or any other member of the Vorticist movement, which launched itself when the feisty BLAST magazine was published in 1914, Gaudier's involvement with mechanistic abstraction is only very partial in his Red Stone Dancer. Throughout the rest of this figure, he revels in his ability to give geometry organic life. He takes extraordinary liberties with anatomical propriety, twisting and pulling the dancer's limbs with an exhilarating sense of vitality.
Before long, however, he was stiffening the masses of his other sculpture. Taking as a springboard the monumental Rapa Nui-Easter Island carving Hoa Hakananai'a, which he would undoubtedly have admired in the British Museum's collection, he was now prepared to declare that the new sculpture 'has no relation to classic Greek, but... is continuing the tradition of the barbaric peoples of the earth (for whom we have sympathy and admiration).'
Fired by a thirst for versatile formal experiment which makes Eric Gill appear positively cautious, Gaudier spent a great deal of time in the remaining months of his life exploring the possibilities of a 'barbaric' sculpture. He embodied a mechanistic concern in an outstanding work called Bird Swallowing a Fish (Kettle's Yard), which turns a predatory act of nature into a cold and menacing struggle between martial aggressors. Gaudier liked to carry a sketchbook with him wherever he went, and this powerful bronze probably originated in drawings he had made outdoors, either deep in the countryside or in a London park.
Bird Swallowing a Fish makes the central tension dramatically clear: although the bird attempts to consume its smaller prey, the fish seems quite capable of choking the bird. In this respect, Gaudier managed to create a work which uncannily foreshadows the disturbing and gruesome stalemate suffered by opposing forces in the First World War. Bird Swallowing a Fish can therefore be said to possess the power of unconscious prophecy.
It would be wrong to suggest that Gaudier's short career culminated solely in such disturbing work. He was equally capable of creating more tender and sensual pieces, but his courageous insistence on joining the French army soon after war broke out effectively brought his career to a premature end. Wyndham Lewis was among the friends who witnessed Gaudier's departure at Charing Cross Station. 'I remember him in the carriage window of the boat-train, with his excited eyes', Lewis wrote later. 'We left the platform, a depressed, almost a guilty, group. It is easy to laugh at the exaggerated estimate 'the artist' puts upon his precious life. But when it really is an artist – and there are very few – it is at the death of something terribly alive that you are assisting. And this little figure was so preternaturally alive.'
Gaudier's tragic death occurred on 5th June 1915, when he was killed by a machine-gun bullet in his forehead during a charge near a French village aptly named La Targette. His loss made the psychologically unstable Sophie Brzeska blame herself, and her life came to an end 10 years later in a mental hospital. But she also succeeded in planning his much-needed 1918 memorial exhibition, held at the Leicester Galleries in London.
Gaudier's friend Ezra Pound wrote an impassioned catalogue preface, declaring that 'the volume and scope of the work is, for so young a man, wholly amazing, no less in variety than in the speed of development.'
Pound also wrote an excellent memoir about Gaudier, published both in London and New York, where he emphasised with elegiac eloquence that 'I am not writing in a momentary fit of grief or of enthusiasm. I am not making phrases. I am not adding in any way to statements I had made and printed during Gaudier's lifetime. A great spirit has been among us, and a great artist is gone.'
Richard Cork, art historian and author of Wild Thing: Epstein, Gaudier-Brzeska, Gill (2009)