'Hannah Starkey: In Real Life' is an exhibition at The Hepworth Wakefield which presents over two decades of the contemporary British photographer's creative output. As a first major survey of an intriguing body of work, the show's spanning of Starkey's explorations – of the often unnoticed aspects of the everyday – interestingly becomes compelling viewing.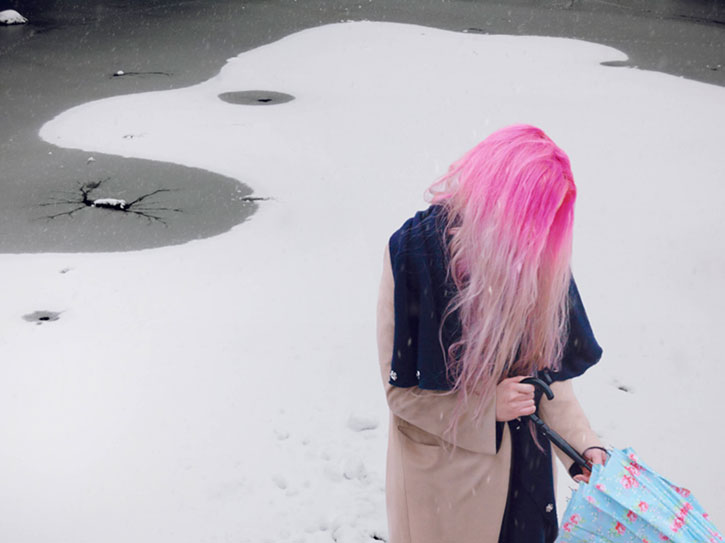 Born in Northern Ireland in 1971, Starkey later left her homeland to attend Napier University in Edinburgh where she began her studies in photography. Her choice of medium was informed by an event at an early age.
'Photography found me. I was given a camera at the age of 14 by the nuns in my convent secondary school in Belfast. I had had a stroke after a head injury which had affected my speech and language processing. A camera was an inspired idea,' Hannah explains.
After gaining an MA in the subject from the Royal College of Art in London in 1997, Starkey continued to explore themes akin to her critically acclaimed graduate show, titled 'Women Looking at Women'. Her ongoing work has been inspired by both memories of her early life and by those around her in her current base in London, particularly within the mundane existence of everyday lives.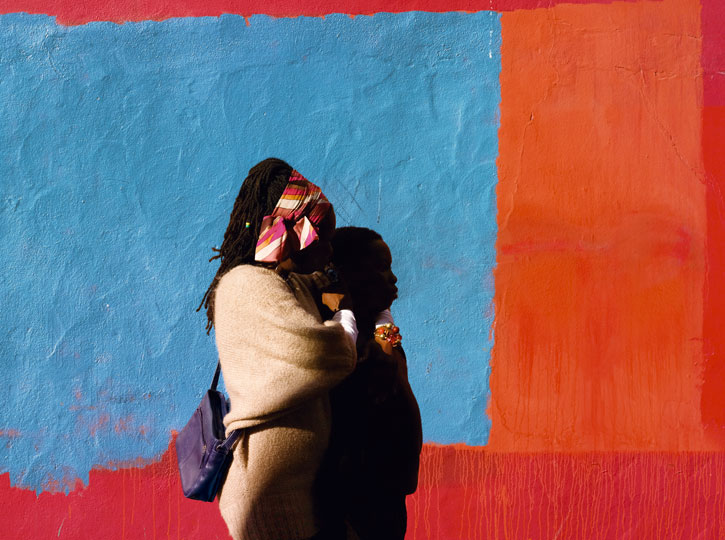 What makes Starkey's work particularly fascinating is that she does not simply document life, however, but consciously creates scenarios for the viewer to consider. The photographer is known for her staged settings and use of actresses or willing participants plucked from nearby locations. While her focus on women as subjects considers the female perspective through thoughtful construction, it simultaneously also allows space for interpretation.
In her work Clouds, September 2015, for example, a young woman is reflected as leaning against a huge mural featuring a grandiose London skyline shrouded in mist. While projecting contrast to the subject's humdrum activity of waiting for a bus, it is a scene which invites, but does not enforce, particular narrative possibilities.
By producing photographic reflections based on her daily observations of the city's public spaces, including the cafes, bars and streets, Starkey can explore how women negotiate the urban environment. Her photographs, however, are also intended to allow the viewer to dwell on the happenings which may be attached to the instances she presents, in both time and place. In this way, Starkey combines images with imagining.
'My pictures are intentionally vague, ambiguous, to encourage the viewer to project their own narrative. They are always narrative driven and are encoded with emotionally intelligent cues. EQ is very important to me to get across in a picture. I want to illicit feeling of empathy, connection and resonate with the viewer through the language of the artform.'
To achieve her thematic goals, Starkey applies meticulous attention to setting, props and costumes. The use of lighting also plays a significant role and the creation of her compositions, in turn, has been likened to that of a narrative painter in fact.
Despite such integral considerations, Hannah states; 'I am always on a wing and a prayer. I test photography the whole time through my lacklustre approach. I pretend that I'm not that interested to see what it comes up with. Photography teaches me about myself and society around me through the act of looking at photographs... For me photography is magic and has its own plans, I just follow optimistically in its path, defending and protecting it.'
Considering her thematic ideas, such images as, for example, 'Pussy power', Women's March, London 2017, are part of a female-centric exploration which may be contemplated as the very definition of 'the female gaze'. In many ways, her creative constructions are also deconstructions, in a reimagining of the framing of women in which Starkey also highlights her own autonomy as photographer through her fashioning and control of her imagery.
'I am a woman. I have raised two daughters and I am a female photographer. For me it is important to record how I see women, because I see from the female perspective in a world that is dominated by the male gaze. I see how destructive this gaze is to women's agency. If I can add a counter photograph to the ones that are already out there, then that's important,' Hannah explains.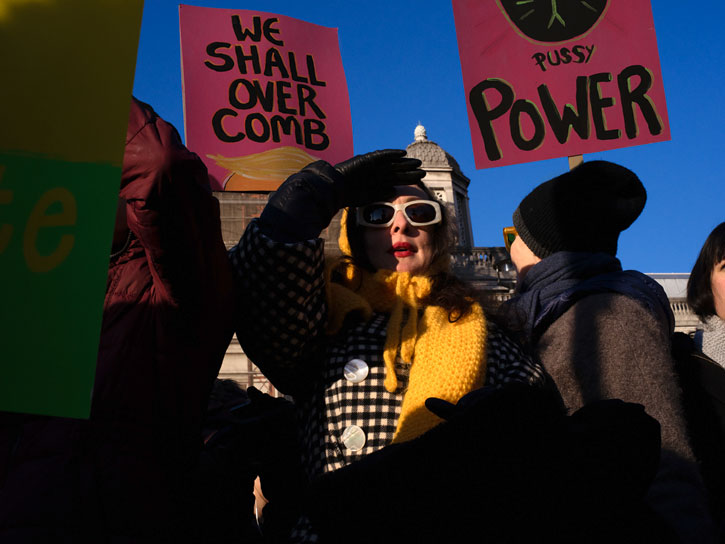 In her recent visits to Wakefield, while preparing for her exhibition, Starkey facilitated a connection with young female photographers from the area. As the result of a mentorship programme, she has supported an exhibition of their resulting work at The Art House, Wakefield. To allow contemplation on the issues of teenage girls, the photographer has also worked with students from the city's performing arts school to produce work commissioned by The Hepworth itself.
Regarding her own show at the gallery, the exhibition presents a body of work which teases the very perceptions of the viewer by her blurring of distinctions between documentary and staging. Encouraging open interpretation, her portraits encapsulating everyday interactions and fleeting moments of introspection, are sometimes untitled with a date only. This includes, for example, Untitled, May 1997 in which a younger female subject studies her own mirrored reflection while scrutinised by a reflected older female.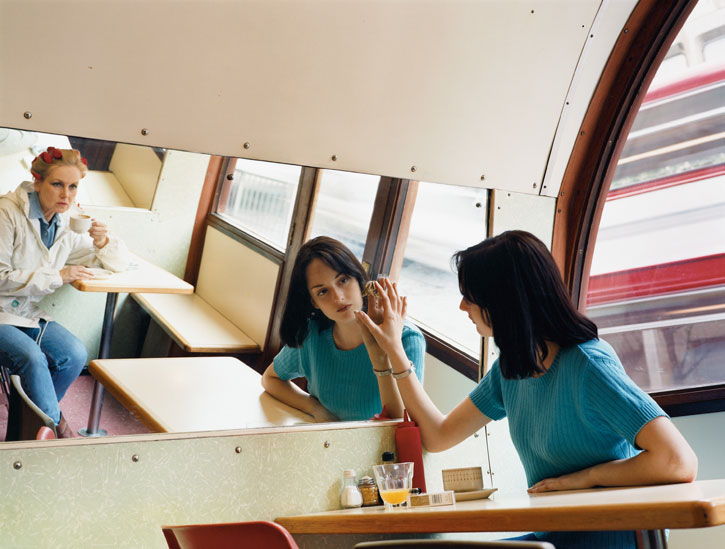 Despite the clever, choreographed nature of Starkey's practice, however, there are also very real influences and insights included, whether gained from her own personal evolution and her lived female experiences or from an awareness of the broader political and social changes from the late 1990s onwards.
'Layering and weaving narrative through how the images are constructed. I make a path for the eye to follow. To wind its way through the composition looking for clues and codes to unpick the image.'
Any neat comparisons, for example, with the work of US artist Cindy Sherman would be too convenient. While Sherman's staging focused on exploring the visual encoding of contemporary culture, Starkey's work explores the unremarkable silences of the common experience… in quite a remarkable fashion.
Hannah Starkey is an extraordinary contemporary artist working with a camera. Her unique body of work, on show at the Hepworth, is one of the most relevant photographic exhibitions of the age.
P. L. Henderson, art historian, curator of @womensart1 and author of Unravelling Women's Art (Aurora Metro, 2021)
'Hannah Starkey: In Real Life' at The Hepworth Wakefield, West Yorkshire, runs until 30th April 2023