Graham Sutherland was a prolific twentieth-century artist, working in a huge variety of mediums – including print, tapestry, ceramics and stage costumes – but he is most well known for his paintings. His semi-abstract landscapes are surrealist in their depiction of strange, looming natural forms and with their use of visual metaphor. His move to painting portraits later in his career allowed his corporeal shapes to solidify into people.
A devout Catholic, perhaps Sutherland's most famous commission depicted Jesus Christ in a gigantic tapestry for Coventry Cathedral. As an official war artist, he had painted the destruction left behind but also the Prime Minister that led the country through the conflict – the story behind Sutherland's ill-fated commission of Winston Churchill is still being retold today.
Graham Vivian Sutherland was born in Streatham in South London in 1903, to parents Elsie and George Humphreys Vivian (or 'H. V.') Sutherland. While Sutherland's father was a lawyer and civil servant, both parents were amateur painters and musicians. The young artist showed a talent for drawing and loved walking in nature. Sutherland first started training as an engineering apprentice in Derby, as the locomotive works had ties to his family. However, after a year, Sutherland's father agreed that he could leave engineering and go to art school. His first choice was The Slade but as it had no places left, Goldsmiths instead became his art college in 1921.
Though still in his early 20s, Graham Sutherland showed huge talent as a printmaker, and he made a living in engravings and etchings, exhibiting works in London. His prints were mainly in the English Romantic pastoral tradition: finely executed scenes of trees, water and land with rich textures. They often show rural workers, though the etching Adam and Eve shows Sutherland start to introduce his religious interests into his pictures. Purchased from his first solo show in 1924 while he was still a student, a man holding tools and a half-dressed woman peer down a dark passage enveloped in creeping foliage.
Goldsmiths provided a sound, practical education, yet Sutherland noted a lack of modernist influence: '... it was totally out of touch with the great European movements, then in full flower and moving to a climax... I do not remember hearing a word about the Impressionists and on the subject of the Modern Movement there was profound silence.'
Having graduated in 1926, Sutherland became a Catholic and married his wife Kathleen the year following. Kathleen Barry was herself a student at Goldsmiths. After arranging a date to the ballet through shyly passing a note, the two became inseparable. After college, they settled in Kent, and Sutherland started teaching at the Chelsea School of Art.
Unfortunately, the dawn of a new decade proved a difficult time for the couple. Their son, John, died in infancy in 1929. Also, economic recession meant the British print sales market, on which Sutherland had based his career, took a downturn. His print Pastoral has been lauded as a signifier of his mood at that time: creeping, tentacle-like branches and bulbous vegetation surround a claustrophobic passage.
"I love the sense of brooding drama found in Sutherland's #landscape paintings of the late 1930s and early 1940s." Ken Simons.

Ken's Show is on display until 17 June. https://t.co/GFLbK6K7yQ.
Graham Sutherland, Pastoral 1930. Tate © The estate of Graham Sutherland. pic.twitter.com/RlA1RK6Rrh

— Tate Liverpool (@tateliverpool) June 4, 2018
However, a 1934 trip to Pembrokeshire in Wales proved inspirational to Sutherland. The artist was so moved by the lush landscape of gorse, rocky hollows, valleys and hills that he took up painting. Identifying with a land of 'exultant strangeness', he returned year after year, producing oil paintings tinged with surrealistic forms – some of which were exhibited at the 1936 International Surrealist Exhibition in London, then later at his first solo painting show in 1938.
The latter was predominantly formed of Welsh landscapes. The first rumblings of war, however, may be traced in his work – as the Tate record explains, Black Landscape shows Sutherland's anxiety at this time. 'Both the title and the ominous twilight effect suggest imminent violence... Here it is the stark rocky landscape that rises up as a dark, threatening presence.'
Looking at Sutherland's works in chronological order, human-like forms begin to erupt from the landscape, becoming more ominous as the Second World War progresses. White gorse is a pale, clawed hand. Two dark hedges lean together and conspire.
Tree forms lie fallen, wounded and exhausted. The nature that Sutherland has dedicated to finely depicting all his career has always held attention in his work, but the 1930s and early 1940s are when the artist starts to paint trees, rocks and natural forms as beings with their own agency.
The Second World War meant the end of Sutherland's teaching post in Chelsea, and he and his wife moved to Gloucestershire. However the Sutherlands' move to a rural setting did not mean that the artist could dedicate himself purely to the natural landscape that so bewitched him.
Appointed as an official war artist in 1940, Graham Sutherland painted bomb damage to mines and urban centres during the conflict, creating in total around 150 artworks. Speaking on the radio in 1941, he said: 'The sordidness and the anguish implied by some of the scenes of devastation will cause one to invent forms which are the pictorial essence of sordidness and anguish... Dirty-looking forms, tormented forms, forms which take on an almost human aspect.'
With the end of the war, Sutherland's career took off: he had exhibitions in the UK and abroad, and a new teaching post at Goldsmiths. The artist took on some important commissions, despite beginning to spend several months a year on the French Riviera – the climate aided Kathleen's health problems, but also the landscape stirred excitement in the artist. In 1944, the Vicar of St Matthew's Church in Northampton commissioned Sutherland to paint a Crucifixion scene. Completed in 1946, it was Sutherland's first painted formal figure study.
He made several smaller studies, now in public collections, for the larger piece in the church. Christ appears pale, his pained expression and broken limbs hinting at his agony on the cross. Sutherland used photographs of his own body strung from the ceiling as reference points, as well as photographs of Nazi concentration camps.
The Crucifixion started Sutherland's 'thorn period', in which religious iconography and foreboding natural forms combined. The spikes and points, used to decisively divide space and barriers, become more abstracted over time. Other hard naturalistic forms, such as fossils, were the basis for his Origins of the Land.
Ever productive, Sutherland's output did not abate in the 1940s and 1950s: his abstracted landscapes evolved in complexity. Colours and forms built into rich, confusing scenes, full of movement and detail.
Yet Sutherland also produced a great many portraits at this time. While his surrealistic paintings developed in their complexity and iconography, Sutherland painted representative yet unconventional likenesses of friends and notable figures, including Somerset Maugham.
Reputedly, Maugham was shocked and dismayed by the portrait when he first saw it but later came around, believing it to reveal his personality more than he wanted to admit. The artist Gerald Kelly said the portrait showed the sitter 'like the madam of a brothel in Shanghai'. The orientalist touches, bamboo stool and sumptuous clothing can be read as nods to the Asian settings of Maugham's writing.
The portrait was not the only one of Sutherland's to cause offence or controversy.
In 1954, Members of Parliament commissioned a portrait of Winston Churchill to celebrate the Prime Minister's 80th birthday. As dramatised in the television series The Crown, Sutherland and Churchill's relationship was not straightforward. Churchill was a keen artist himself, though of a very different ilk to Sutherland. Both loved the landscape, art and their country, yet they clashed politically – the Conservative PM mocking Sutherland's socialist leanings – and stylistically. Churchill was happy to paint a fictionalised scene for aesthetic purposes, but Sutherland was unflinching in his portraits, preferring to speak the truth with his brushwork.
The elderly Churchill was not a good sitter, falling asleep, fidgeting and wishing to take a lead in the portrait's composition. Inevitably, the commission was not a success: Churchill rejected the portrait a few days before the official presentation, stating 'the painting, however masterly in execution, is not suitable', the pose suggesting him on the lavatory, 'half-witted'.
In what must have been a humiliating experience for both men, Churchill unveiled with a cutting quip that the work was 'a remarkable example of modern art', to the amusement of the crowd gathered at Westminster Hall and the live audience watching on television. As Simon Schama explains, Sutherland delivered the truth, but Churchill did not want the truth: 'No bulldog, no babyface. Just an obituary in paint'.
Though made to hang in parliament, the portrait was sent to Churchill's home, Chartwell. It transpired later that Lady Churchill ordered it to be destroyed in a bonfire. Some of the preparatory studies remain in public collections.
Though the commission was a negative experience, portraiture was just one string to Sutherland's bow. His other paintings, his surrealist landscapes, were exhibited at the Venice Biennale in 1952, and in 1960 he was awarded the Order of Merit. During this time, he worked to create a high-profile commission for the newly built Coventry Cathedral.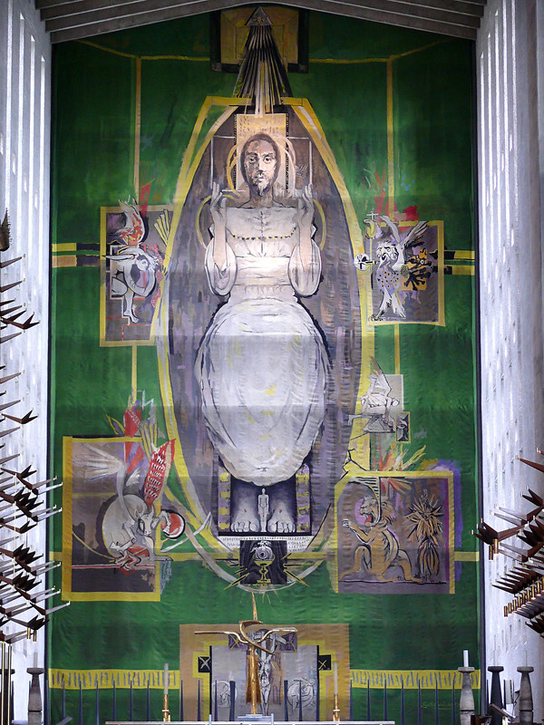 Unveiled in 1962, Christ in Glory is a gargantuan tapestry (one of the largest single-piece tapestries in the world), 23 metres high by 12 metres wide. Designed by Sutherland, it was made in the French workshop of Pinton Frères of Felletin. A team of 12 weavers, occasionally visited by Sutherland, worked on the piece for two years, using more than 900 colours.
The tapestry's design features Christ surrounded by the symbols of the Four Evangelists: a lion, a calf, an eagle and an angel. Christ is shown as a protector above humanity, serene and beyond pain. Sutherland's source materials included sketches of zoo animals in Maidstone, faces painted by Rembrandt and cyclists in Paris Match magazine. Sketches and studies are held at Coventry's Herbert Art Gallery & Museum.
In the later years of his life, Sutherland spent time in Venice, the south of France and also returned to Pembrokeshire, the natural landscape continuing to lend its shapes and forms to his paintings. In a letter to his biographer Rosalind Thuillier, Sutherland explains the 'vocabulary of forms' in the location 'appeal to me at the point where they are free more or less from their environment and then ready to lead a new life in pictorial form'. So thankful to the part of the country that inspired him, he left a body of work as the Graham Sutherland Gallery at Picton Castle in Pembrokeshire in 1976, the collection eventually transferring to Amgueddfa Cymru – National Museum Wales.
Always prolific, Sutherland continued to make his portrait commissions and his own surreal scenes up until his death at the age of 76. His later 'landscapes' are kaleidoscopic in their detail – natural forms bend and distort against dreamlike backdrops, and echoes of objects are almost recognisable until they dissolve away into other shapes and colours.
Made the year before he died, Untitled (Keep Out), for example, seems to show the impish face of a cloaked figure, between tree-like forms. A painted sign warns the viewer before the welcoming yellow glow of a mysterious entrance.
Looking at Sutherland's work is an exercise in spotting details, an attempt to recognise clues and signs – it feels like divining a message from the natural landscape, a message that may or may not be there.
Like his contemporary Henry Moore, Sutherland obtained global recognition for his art but continually reflected the forms of the British landscape in his work: Edward Sackville-West lauded the artists as two of the most significant in the twentieth century, both possessing 'the unmoved, receptive eyes which alone can reflect the tragic idyll of contemporary England.'
Sutherland's modernist thinking emerged out of a background in Romantic appreciation of nature, and he elevated the landscape through his spiritual outlook. That a large number of his artworks are kept in public collections attest to his originality.
Jade King, Lead Editor at Art UK