Graham Fagen's art is both universal and deeply rooted in place. Whether working as a war artist in Kosovo or bringing the poetry of Robert Burns into conversation with Jamaican reggae, he draws on his own background while making cultural connections that can surprise and intrigue.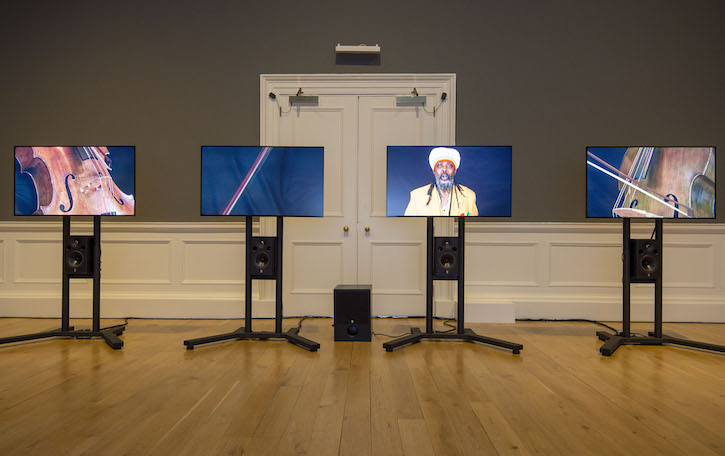 Born in 1966, the Scottish artist grew up in a working-class housing scheme in Irvine new town, 25 miles southwest of Glasgow. His family moved there from the city in 1970 when their tenement block was set for demolition.
Those formative years and the cultural and social experiences that have shaped him are integral to Fagen's work, encompassing film, photography, sculpture, painting, theatre and music.
'I'm not an artist that works with a particular medium – I'm interested in cultural formers and forms,' he says. 'So it's maybe quite right that the culture that shaped and formed me is one of the more prominent subject areas that I look at in my work.'
A piece from 1993, Former and Form, acts as a physical manifestation of Fagen's interest in how culture and identity are created. It consists of a simple wooden rectangular mould held together by two G-clamps, next to which is a block of cement that corresponds to the interior space of the mould – former, meet form.
'That was a really important work for me,' he explains. 'It's a thinking model for how I understand my role and responsibility as an artist, how I'm interested in that cause and effect relationship, the things that shape and form us in order for us to form a culture.'
Fagen, who now lives in Glasgow, studied Fine Art, Sculpture, at Glasgow School of Art, graduating in 1988. From 1989 to 1990 he studied for a master's degree in Art and Architecture at Kent Institute of Art & Design.
Much of his work digs deep into working-class Scottish identity and history, but never in obvious ways. He is interested in creating dialogues that ask us to examine and perhaps rethink entrenched ideas and cultural norms.
In Weapons (1998), Fagen draws directly from his childhood in Irvine. Six colour photographs depict what he describes as 'things I'd understood to be toys when I was a kid and had later realised were weapons'.
View this post on Instagram
There's a 'flame thrower' made from an aerosol can and cigarette lighter; a finger sling fashioned from elastic bands and U-shaped nails; a 'pish balloon' (a balloon filled with urine). A scarily mundane collection of everyday violence, it helped bring Fagen's work to a wider audience when it was selected for 2000's 'British Art Show 5'.
Perhaps in part because of the impact of Weapons, in that same year, Fagen was approached by the Imperial War Museum to visit Kosovo as a war artist. The commission forced him to think hard about his art.
'I remember at the time thinking that if I'm given an opportunity to go to a culture that has broken down to the point it's at war with itself, but I don't take that opportunity, then I'm not living up to the reasons I have for being an artist.'
Having accepted the commission, Fagen was acutely aware of needing to match the professionalism of the soldiers and NGOs who were doing life-or-death work. 'I decided there was no point going to Kosovo and being wide-eyed and naive,' he remembers. 'It made me consider the importance of the artist's responsibility within that difficult and tough situation.'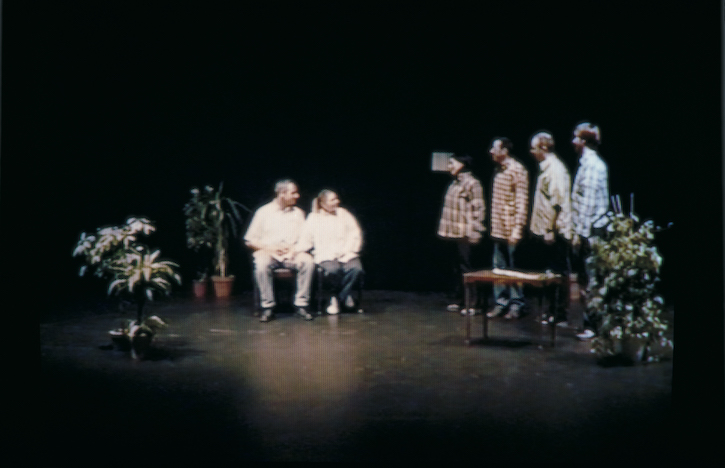 His trip was used to gather narrative clues for the resulting artwork, Theatre (2000), a theatrical video piece that was first shown at the Imperial War Museum. Theatre's cast of white and check-shirted actors – representing the war's two opposing sides – acted out a repetitive loop of control and collapse as the power dynamic between them kept changing.
'I was trying to open up the simple complexities of conflict,' says Fagen. 'I didn't want people to watch the work and say, "Those people are clearly Kosovan Albanian and those people are Kosovan Serb". I didn't want the work to be questioned or thought about in that way.'
Theatre and performance are important aspects of Fagen's practice. He has worked with theatre director Graham Eatough on a number of projects, including a five-screen video installation Killing Time (2006) at Dundee Contemporary Arts, and the durational performance, The Making of Us (2014), part of the Glasgow International art festival.
Fagen's twin interest in reggae and Robert Burns has been a particularly rich source of inspiration. Like most Scottish children, he was introduced to Burns at school. His love of reggae developed in his teens via punk bands such as The Clash and the record label On-U Sounds.
It wasn't until much later, in 2000, that he made a cultural link between the two, on reading The Life of Robert Burns by Catherine Carswell. The book, originally published in 1930, reveals that Burns had intended to emigrate to Jamaica to work as an overseer of slaves on a sugar plantation.
'What Catherine's book did was give me some kind of intellectual link between Burns and reggae, some kind of permission for me as an artist to work with that connection,' explains Fagen. 'I was quite angry, and shocked, and annoyed when I came across that information. Angry because it hadn't been taught.'
As Fagen researched Burns' links to Jamaica, he discovered details of the ships that the poet had booked passage on but never taken: The Roselle, The Nancy, The Bell.
In 2006, he made a series of prints of his own drawings of the ships, based on their depiction in original newspaper adverts. A permanent public art commission for Edinburgh Art Festival, A Drama In Time (2016), includes two of the drawings from that series rendered in neon.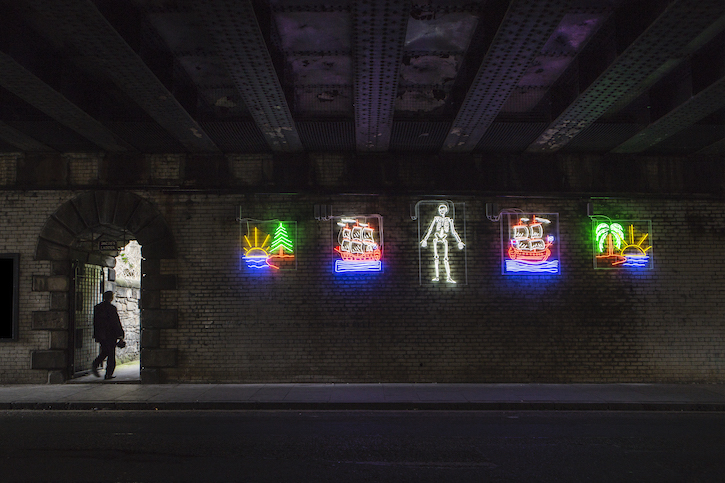 Fagen's fusing of Robert Burns and reggae has evolved over time. What began with a performative DJ set alternating between reggae records and recordings of Burns' poetry (Radio Roselle, 2002) has developed into a series of collaborative performances and recordings of Burns' work made with reggae singer Ghetto Priest.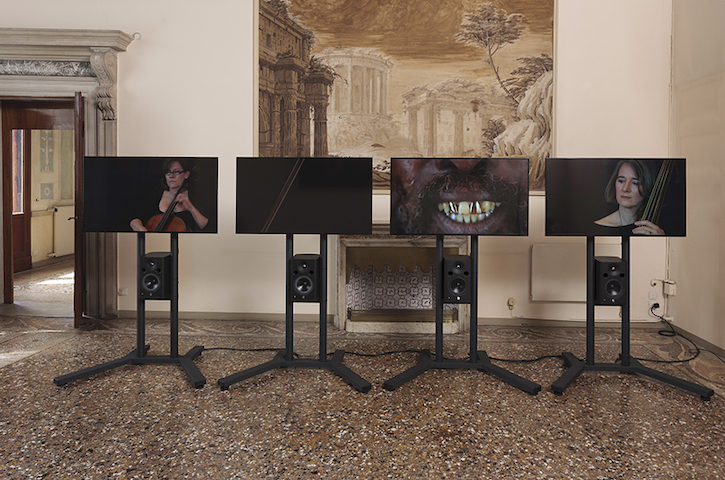 In the four-screen audio-visual installation, The Slave's Lament (2015), Ghetto Priest sings Burns' poem of the same name. The piece, which also involved working with the composer Sally Beamish and players from the Scottish Ensemble, premiered at the 2015 Venice Biennale as part of Fagen's 'Scotland + Venice' exhibition, which was curated by Hospitalfield.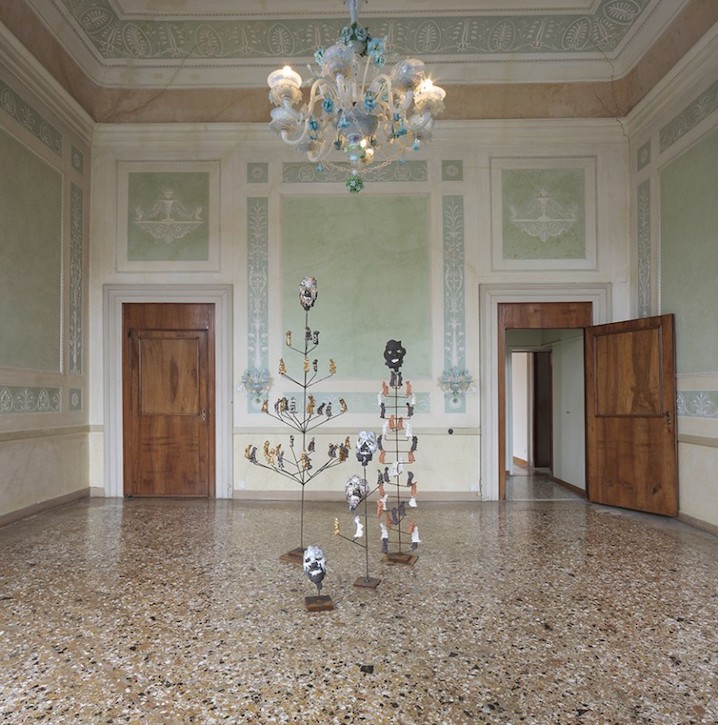 Fagen filled four rooms of the opulent Palazzo Fontana in Venice with a range of works that included colourful Indian ink paintings of his own teeth and a large bronze tree cast from maritime rope. Titled Rope Tree, this eerily powerful work evoked the horrors of the slave trade, making connections to Venice, Scotland and beyond.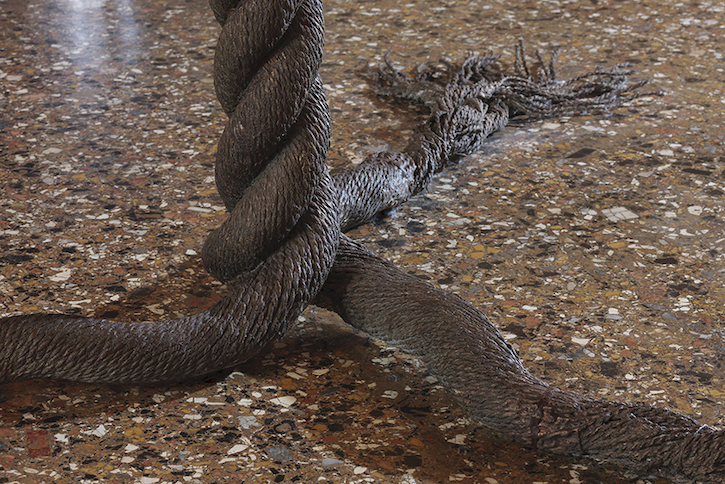 An earlier sculpture, Scheme for Nature (2014), provides a formal link to Rope Tree. The bronze fir tree was made for the garden of the Talbot House museum, in Poperinge, Belgium, a place of respite for soldiers during the First World War. The fir references the Christmas truce of 1914, when German and British troops met and shook hands in No Man's Land.
Fagen talks of the sculptures being connected by 'that idea of nature and/or nature versus us. The fir is very specifically related to war and its origin; the rope tree relates to us as people and the inhumanity that we can have'.
Plants of all kinds crop up in Fagen's work: rose bushes (Where The Heart Is, 2002), pansies (My Favourite Flower is the Pansy, 1998), leeks (Sceptre, 2005). It's an interest that he again traces back to the family home in Irvine with its neat front and back gardens. He is currently working on a new series of small-scale paintings of flowers with a working title of Plan(t)s.
Painting provides a more immediate way of working for Fagen, in contrast to his often complicated large-scale projects. During lockdown, he created a series of blurry Indian ink drawings of rainbows and flags, their colours merging, formal structures breaking down. A short video, Lockdown Rainbows and Flags (2021), shot on an iPhone for the Matt's Gallery project Mattflix, shows Fagen at work in his studio, accompanied by – of course – a reggae soundtrack.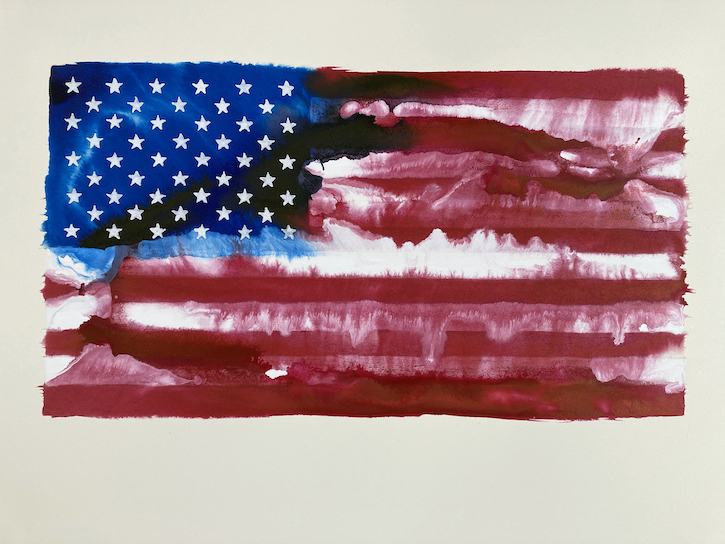 Whatever the medium, there's a kind of intellectual matter-of-factness about Fagen's work, a genuine sense of openness and exploration. His art is always working hard to communicate and connect.
Chris Sharratt, freelance writer
This content was supported by Creative Scotland