Scotland's biggest festival of contemporary visual art is returning to venues around Glasgow this month, showing the work of more than 100 artists in over 30 spaces, after its postponement last year.
As well as its commissioned programme, Glasgow International is showcasing exhibitions from independent artists, curators and producers across the city, and has also expanded its digital programme for 2021. We highlight six exhibitions not to miss.
Jimmy Robert at the Hunterian Art Gallery
Jimmy Robert explores the traces left by Glasgow's role in colonialism in this major new body of work 'Tobacco Flower' (11th June to 5th September 2021). Robert has researched artworks in the historical collection of the Hunterian Art Gallery, University of Glasgow – namely tobacco flower textile designs by Charles Rennie Mackintosh – responding to them to make work that incorporates film, photography and sound.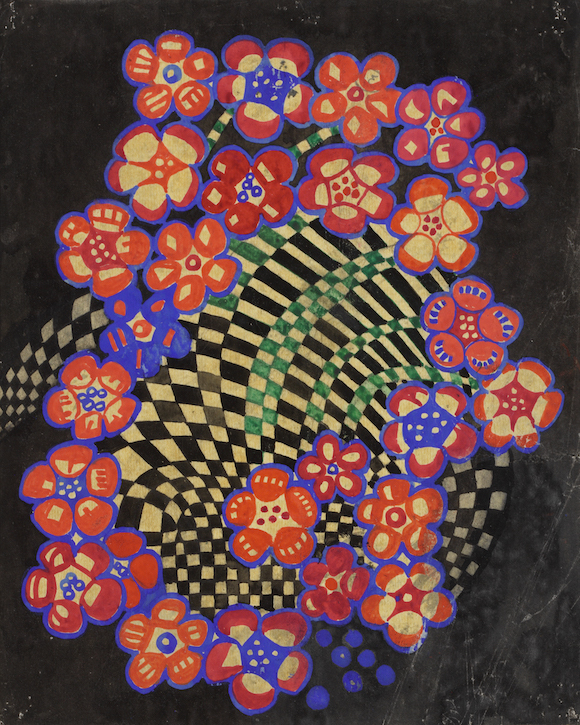 Robert, who was born in Guadeloupe and now lives in Berlin, has focused in recent performance work on relationships between Europe and the Caribbean. This new work made in response to the Hunterian's Mackintosh Collection – a hugely significant collection encompassing Mackintosh's work as an artist, designer and architect, as well as work by Margaret Macdonald Mackintosh – continues to explore these concerns.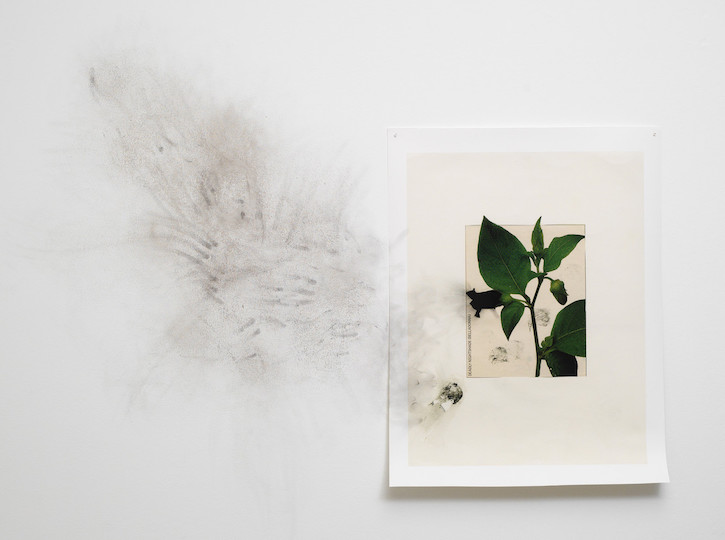 Carol Rhodes at Kelvingrove Art Gallery and Museum
The first posthumous solo show of work by Carol Rhodes (1959–2018) in Scotland, this exhibition at Kelvingrove, 'See the World', is part of the festival's commissioned programme and focuses on the artist's rarely exhibited drawings as well as key paintings.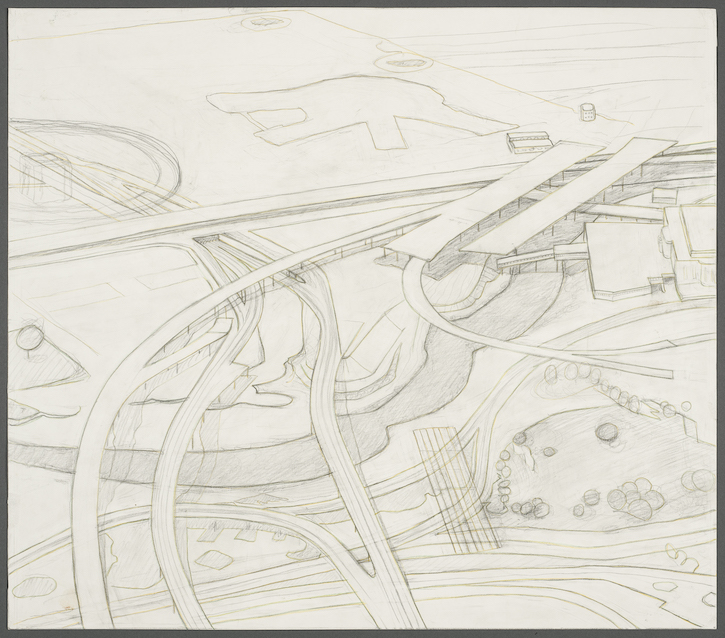 Rhodes, who was born in Edinburgh, grew up in India but returned to Scotland as a teenager, where she went on to study and later teach at Glasgow School of Art. She was also one of the early committee members at the Transmission Gallery in Glasgow, and also worked at both Tramway and CCA.
Her work focuses on overlooked or 'hidden' places, such as service stations, industrial areas, airports and motorways, and she frequently painted them from aerial viewpoints. Human activity is constantly evident in her artwork, although never featured directly, creating a constant sense of absence, ambiguity and detachment.
Alberta Whittle at Glasgow Sculpture Studios
Barbadian-Scottish artist Alberta Whittle, who'll be working with Glasgow International again as the Scotland + Venice representative for the 2022 Biennale, has created a new film and series of audio works in response to the colonial history of the Forth and Clyde canal linking Glasgow and Edinburgh for this year's festival. Her body of work, business as usual: hostile environment, originally began in 2019 and incorporated archival footage relating to the Windrush scandal.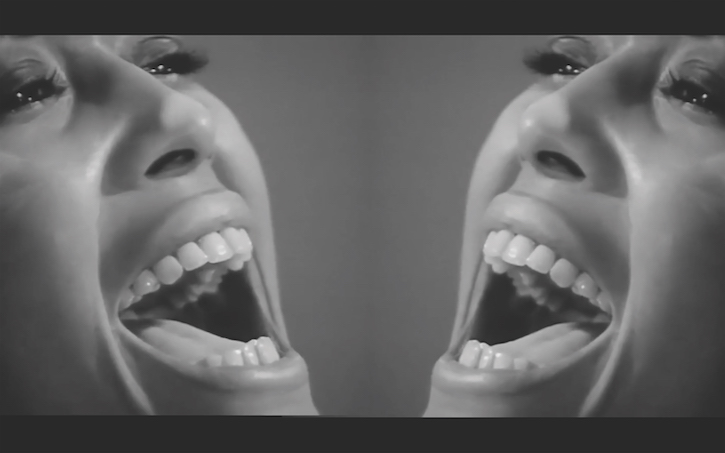 The project has been co-commissioned by Glasgow Sculpture Studios and made in discussion with the artist and Glasgow-based writers, artists, communities and community leaders, including Maryhill Integration Network's Joyous Choir. The works reflect on and explore waterways as sites of renewal and regeneration, and are designed to be listened to as people travel along the canal at their own pace.
Georgina Starr at Tramway
Tramway hosts the screening of an ambitious film Quarantaine by Georgina Starr for this year's festival. The film refers to the French word for forty and also alludes to enforced isolation. The film continues Starr's long-held interest in the occult and the uncanny.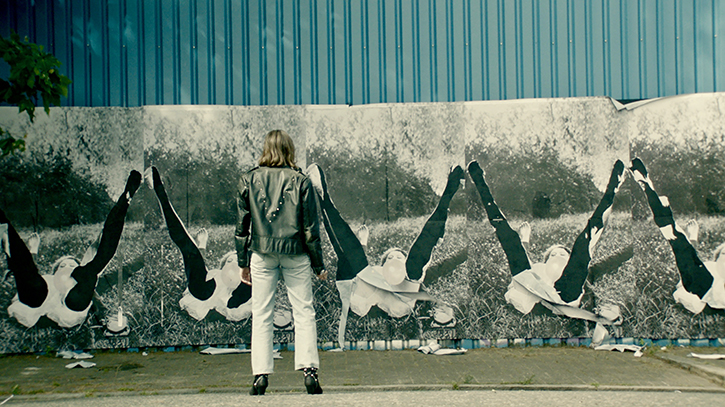 Starr is best known for her video, sound and performance artworks, and became known in the 1990s for a series of complex works using audio, text and moving image. In Mentioning, Starr recorded a series of private conversations in cafés and bars around London, which she developed into a video and audio work, as well as a limited-edition cassette box set.
Eva Rothschild at The Modern Institute
Eva Rothschild's show 'Peak Times' at The Modern Institute – which also expands into the space outside the gallery – continues the artist's interest in reinvigorating conventional sculpture with a series of new works that aim to create multiple spaces for contemplation, conversation and collective engagement.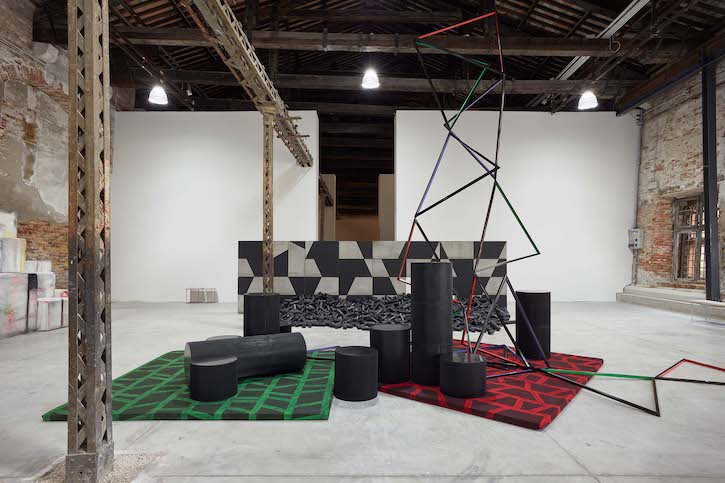 Rothschild uses a variety of materials in her work that include Perspex, Jesmonite, resin, leather and glass – and, for Little Cloud, plaster, bandage, gesso, aluminium and steel. She uses connecting, often geometric, forms to engage different spaces and invite interpretation by the viewer.
Donald Rodney at Celine

A leading member of the BLK Art Group, an artist-run collective that confronted issues around racism particularly in the art world, Donald Rodney (1961–1998) used images in his work from mass media and pop culture to examine radicalised identity.
For Glasgow International, the artist-run space Celine is hosting the first solo presentation of his work in Scotland, 'Donald Rodney at Celine'.
Rodney suffered from sickle cell anaemia and incorporated his illness into his artwork. In his sculpture My Mother. My Father. My Sister. My Brother (1996–1997) – seen in the photographic work In the House of My Father he created a tiny house from pieces of his own skin that were removed during one of the many operations he had to undergo while living with the disease.
Rhona Taylor, Commissioning Editor, Scotland, at Art UK
Glasgow International runs from 11th to 27th June 2021