Gallery Oldham's eclectic collection of artworks represents the diverse community of Oldham. A rise in minority ethnic group populations between 2001 and 2011, most notably those of Pakistani and Bangladeshi heritage, has influenced the way in which we collect art. More varied than it once was – for example, when the museum first opened in the 1800s relying largely on donations from wealthy businessmen and philanthropists – the collection today aims to reflect a diverse and contemporary community.
One particular collection we are excited to introduce to Art UK is the work of Bangladeshi artist Abdus Shakoor Shah: one of the most distinguished artists working in Bangladesh today. We were delighted to acquire a complete set of his watercolours based on traditional Bangladeshi folk ballads.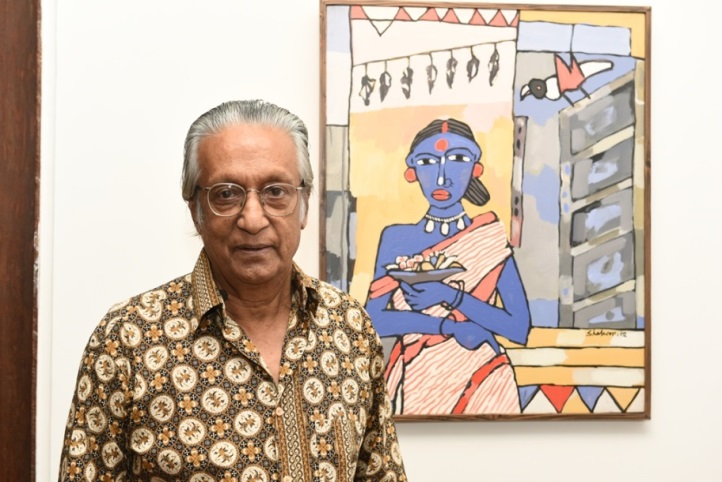 Shakoor, born in 1947 in what is now Bangladesh during the year of the Partition of India, has been heavily influenced by his patriotic sentiment. He recalls the decades of Bengali oppression under West Pakistan and the brutal 1971 genocide which attempted to curb the Bengali nationalist movement. The suppression of the Bengali culture before the independence of Bangladesh in 1971 from Pakistan resulted in a passionate nationalism to protect the region's indigenous language and folklore. It is this heritage that Shakoor celebrates in his work.
Traditional Bengali folk ballads such as the Maimansingha Gitika, in which the role of heroines takes centre stage, are a particular influence for Shakoor. Beautifully illustrated through the artist's distinctive use of calligraphy, As the years rolled by, Mahua was taught… relates:
'Her beauty was so dazzling that she looked like a gem… a bright stone in a dark house. Whoever saw her was charmed [;] when she walked, her long flowing tresses seemed to touch her very ankles.'
Similarly, He was even more handsome than Madan… pays homage to one of the ballad's goddesses in whom '[the] astrologer could discover signs of great luck' and whose 'gentle charms like moon-beams brightened the house'.
A strong visual symbolism compliments the poetry in each work. Untitled alludes to the importance of nature in Bangladeshi folklore, interweaving flora and fauna in a decorative manner. The artist's joyful and symbolic use of pattern is heightened by his bold and bright colours, inspired by Bengali folk motifs. Furthermore, his child-like treatment of the media – with its mottled surface and bold but somewhat unsteady lines – suggests the naivety and candour of Bengali folklore.
In his own words, Shakoor has always tried to portray his Bengali identity through his art. Gallery Oldham is proud to present an artist both overtly influenced by his shared cultural heritage yet distinctly contemporary and individual. While the Maimansingha Gitika ballads perhaps derive from as early as the Middle Ages, their fables of love, nature and morality are timeless. Our entire Shakoor collection has now been digitised and is free to explore on Art UK.
Hannah Josey, Collections Assistant – Digital Access and Engagement, Gallery Oldham