One of the most loved painters in the Alpine Club's collection is Gabriel Loppé (1825–1913), who was one of the first true painter/alpinists and also a pioneering photographer.
As an artist, he was largely self-taught, and he climbed Mont Blanc some 40 times, generally painting on the summit as though he were perched on a small hill. Several times he concentrated for so long that, as celebrated mountaineer and explorer Sir Douglas Freshfield recalled, his turn-ups became frozen and had to be freed using an ice axe. He also regularly installed a little encampment, with all his painting gear, on the top of the Montagne de la Côte which became known as 'Le chateau de Loppé'.
It is not surprising that one of the Club's earliest members, Sir Leslie Stephen, joked: 'Gabriel Loppé is the court painter to his Majesty Mont Blanc'. In 1873, a strong party consisting of Stephen, Kennedy, Dévouassoud, Almer and Loppé, among others, reached a new col (a 'col' is the lowest point on a mountain ridge between two peaks). When they arrived, to their surprise, they found some 20 swallows, caught in a storm during migration, huddled together, frozen to death in the snow. The spot was appropriately named 'Col des Hirondelles'.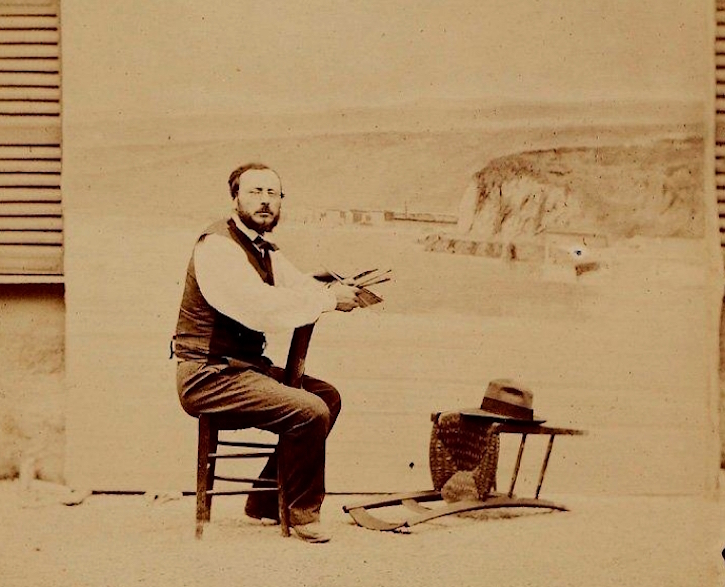 In addition to finding enormous favour in London, Loppé became one of a few French exhibitors at the Royal Academy, as well as at the Alpine Club and elsewhere. Gradually, he became recognised as the leading 'peintre de haute montagne' in Chamonix where he helped to found the Compagnie des Guides de Haute Montagne, a spin-off from his series of first ascents with local guides and Alpine Club members. His studio is still standing today, somewhat hidden in the centre of Chamonix, with its interior exactly as it was when he died in 1913 – his ropes, crampons and ice axes still hanging on the pegs in the kitchen.
The Alpine Club is fortunate to have oil paintings by Loppé in its collection, including a view of a sunrise on the Grandes Jorasses seen from the summit of Mont Blanc, in addition to ten lithographs.
Born in Montpellier, Gabriel Loppé later studied in Paris under François Diday and Alexandre Calame, both gold-medal winners in Paris exhibitions. Early on, in about 1846, he encountered Beresford Walker in Meiringen who initiated him into the joys and dangers of mountaineering, and the so-called inaccessible places where he had to learn how to use an ice axe in addition to the paintbrush.
Loppé held his first exhibition in Geneva in 1852 – he and his first wife Marguerite were living in Annecy at the time – before moving to Geneva in 1862. Lithography was just coming into fashion and many of his works were reproduced. He worked in oils and also made drawings in 'mine de plomb' (graphite crayon) on ochre or blue-tinted paper, often using white gouache for highlights. It was during this period that he painted Donati's comet from the Buet – on the same day, 21st September 1858, that Edward Theodore Compton was painting the comet in the Lake District.
In 1860, Sir Alfred Wills (founding Alpine Club member and later President) called on Loppé and introduced him to the Club, of which he became the first French member in 1864; Sir Leslie Stephen (then Vice-President) seconded the motion. Loppé's paintings were much appreciated by the British, as indeed were his personal qualities. Sir Douglas Freshfield was heard to remark: 'He only needs to push open the door of the A. C. for an alpine wind to follow him.'
In 1874, Loppé's first wife died, leaving him with three young children. He later married Elizabeth Eccles, a leading member of the suffragette movement and sister of mountaineer and geologist James Eccles FGS, in 1887. Gabriel Loppé died in Paris in 1913.
Nigel Buckley, Honorary Keeper of Artifacts, and Simon Pierse, Honorary Keeper of Paintings, Alpine Club
Extracts taken from Peter Mallalieu's The Artists of the Alpine Club: a Biographical Dictionary, Alpine Club and the Ernest Press, 2007