Albert Adams was a South African-born, London-based artist whose work began to gain wider attention later in his life, and whose output included painting, etching, printmaking and book cover design. Fastidious, imaginative and technically brilliant, Adams experimented widely with style and scale throughout his career. His subjects and themes embraced political oppression and resistance, religion, macabre or darkly surreal scenarios, and a long-standing fascination with self-portraiture from an array of approaches.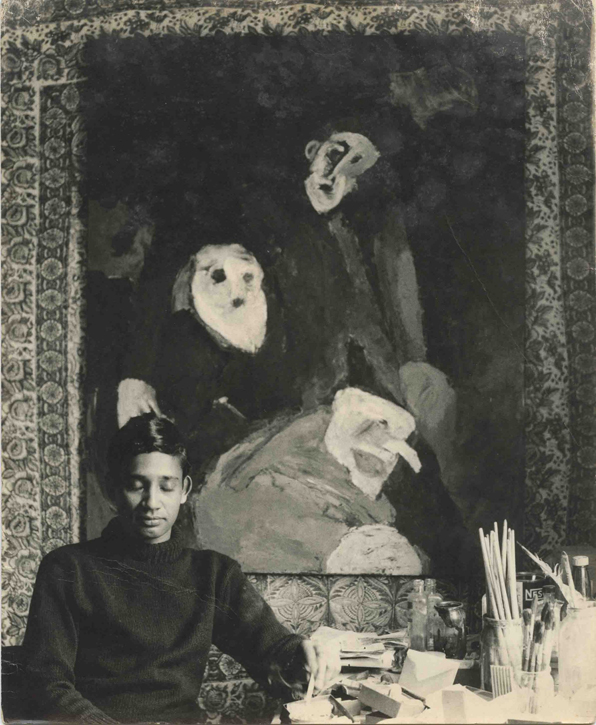 The first symposium to focus on Adams took place online, hosted by the University of Salford in March 2022, part of a movement to recuperate the artist and establish a reputation befitting his extraordinary body of work.
Born in Johannesburg in 1929, and raised mostly in Cape Town, Adams was 21 years old when South Africa's 'Population Registration Act' was enacted in 1950, establishing the system of strict racialised white-supremacist apartheid that formally categorised the country's population into African, Indian, 'white' and 'coloured' peoples.
Adams' own mixed African ('Cape Coloured') and Indian heritage placed him askance of those unrealistic demarcations and he was actively excluded from accessing the formal art education he sought at home. Later in his life, he would find comfort and identification in his Indian heritage, visiting India and finding strong kinship with the place and its people.
A university scholarship brought Adams to the Slade School of Art in London in 1953, where he remained a student until 1956. The Slade of the 1950s, and London's broader art milieu, made for a distinctive confluence of factors and approaches that would either inspire or repel Adams' work in various directions.
It was the era of the Euston Road School and the London School of painters: Lucian Freud was a tutor at Slade in Adams' time, and several other tutors were influential painters who had once been students themselves, including Claude Rogers. Adams' counted Paula Rego and Euan Uglow among his class peers. Adams was a gay man, and London's sophisticated gay subculture, closely related as it was to the art scene, may also have played a part in his life in the new city.
Elena Crippa, Senior Curator of Tate Britain, suggests Adams' tutor Rodrigo Moynihan as a potential key influence on the young Adams, an artist whose work moved from abstraction into figuration onto a new and different type of abstraction. The deep impact of German Expressionism can also be felt throughout Adams' body of work and was firmly in place prior to arriving in London.
There was a growing international character at Slade and other universities across Britain, with artists such as Ibrahim El-Salahi and Anwar Jalal Shemza attending the Slade, and many schemes actively bringing students to the capital from the Commonwealth and beyond.
After graduating, Adams went on to the Munich Art School, and to Austria to study with Oskar Kokoschka. He settled in London, painting and drawing with intense focus and commitment, mainly from his home studio in Delancey Street, Camden Town.
A simultaneous celebration/defiance/transcendence of artistic category and practice is not a bad starting point for considering the work of Albert Adams, but may also explain why he has sometimes been overlooked or sidelined through time. You will often find Adams missing from lists of significant British artists, Black and/or Indian artists, gay/queer/LGBTQ+ artists, post-war artists and so on.
Rasheed Araeen's influential 1989 exhibition 'The Other Show' – a proactive curatorial counter to racism and ignorance of diversity in the art scene, which included an explicit 'Afro-Asian' focus – didn't count Adams as one of its 24 exhibiting artists.
The art collection at the University of Salford holds a significant collection of Adams' works and studio artefacts, including a dedicated 'Albert Adams Room' hosting a permanent exhibition. The collection was partly purchased and partly bequeathed by Adams' surviving partner, Edward 'Ted' Glennon.
Adams' connection to the city began via a friendship with fellow Slade student, the Salford artist Harold Riley. Visits to Salford and Riley over the years cemented a connection that Riley has written about in his short publication, Albert Adams: Notes about a Friend, produced to accompany a posthumous exhibition of Adams' work at the Rupert Gallery in South Africa.
'He had been marked by Apartheid,' Riley wrote, 'and finding a security in living was always a priority at the back of his mind.' Teaching, therefore, took up much of Albert's time: perhaps another reason his career did not come into focus as clearly as some of his peers.
Adams did not consider himself to be in exile from South Africa and returned to visit and exhibit at various times in his life, beginning in 1959 when his famous South Africa triptychs of 1958–1959 were first shown in a bold confrontation with the system that had inspired them. South Africa, his 1959 oil on board, is often likened to Picasso's Guernica, preserving the raw energy of a moment of violence.
Later works offered less direct and more symbolic representations of violence and injustice, but Adams' political acuity and early life experiences as a deeply marginalised citizen never left him.
He always paid attention to injustice in other forms and other places. In 2004 he added chilling works entitled Abu Ghraib to a long, intermittent series dwelling on the dark recesses of carceral suffering. In 2006 he recalled his sense of South Africa as 'a vast and terrifying prison' and the prison metaphor abounds in his work. As Marilyn Martin has written, 'Adams was a modernist and expressionist, but he remained spiritually and politically contemporary.'
Works such as Figure with a Power Cord are an example of Adams' more oblique representations of violence and its outcomes. The figure is faceless and/or defaced, and therefore anonymised, powerless, easy to harm, kill and forget. We may think of the terrible hood of a death row prisoner or of Guantanamo's unknown detainees. The noose-like possibilities of the cord, its violently suggestive position near the neck of an already ghostly figure, summon up prison suicides, lynchings or perhaps the self-annihilation that violent punitive systems encourage. The growing movement for police and prison abolition might find a powerful lexicon of contemporary imagery in the art of Albert Adams.
An artist's legacy is often a negotiation over time, with shifting contexts, neglected perspectives and revisionist understandings. Adams' work feels both urgent and contemporary, a reflection on our manifold political crises and on his broad application of half a century of artistic skill. The sheer technical scope, beauty and vivacity of his work is compelling enough to warrant new audiences.
Intersectional tools of understanding gifted to us by Black scholars may also help (re)position Adams through new frames of sexuality, post-colonialism, abolitionism and race. Back at the 1959 exhibition opening, Austrian Expressionist Oskar Kokoschka, tutor to Adams, gave a speech, saying: 'We live with closed eyes, not daring to see the misery we create on Earth. The task of the artist is to see.'
Greg Thorpe, writer, curator and creative producer
See a Curation about the artist's work by the University of Salford
The 'Albert Adams: In Context' project was funded by the Paul Mellon Centre for Studies in British Art and supported by the Salford Advantage Fund.
The Albert Adams collection is purchased and gifted with Art Fund support, made possible with the generosity of Edward Glennon.
Further reading
Harold Riley, Albert Adams: Notes about a Friend, 2017, The Riley Archive
University of Salford, 'Albert Adams: In Context', symposium resources, 2022
University of Salford, 'Albert Adams: Further Information and Context', 2022