Until recently, Surrealism seems to have been dominated by the Western white male of the 1920s, expanding a little to fit a number of women and South American artists. But to view Surrealism as confined to these groups is to ignore influence, intersectionality, and a great wealth of artists and their work.
It's the canonically overlooked artists that Tate's 'Surrealism Beyond Borders' (until 29th August 2022) seeks to rehabilitate, placing them within the story of the movement. Here, well-known figures such as Salvador Dalí, Jean Arp, Giorgio de Chirico, and Man Ray sit alongside undeservedly less famous artists. There is a wide distribution of work by female artists, from Remedios Varo to Dora Maar, Ithell Colquhoun and Lee Miller – particularly important given the relatively small numbers of women previously recognised as part of the Surrealist movement.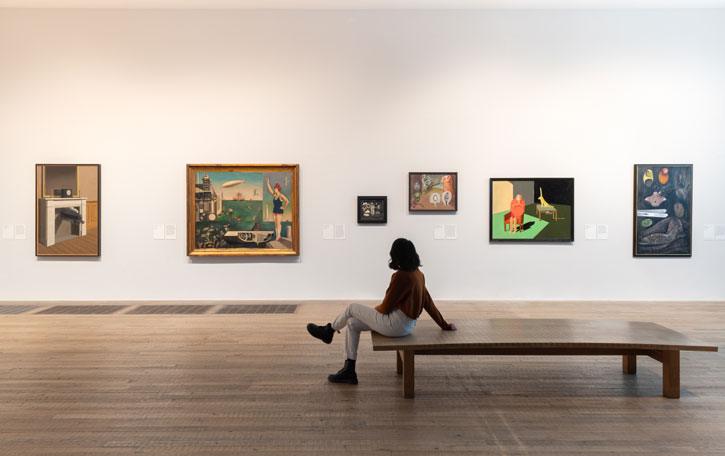 The exhibition moves through various countries and time periods, focusing on differing themes and groupings. To the surreally uninitiated, 'Surrealism Beyond Borders' could be pretty intimidating. The movement's geographical, conceptual, and temporal disparity are a focus of the show, showcasing a large number of artists in a dense hang that shows just how broad the movement could be.
The shift away from Western and even South American artists is refreshing and a truer representation of the internationalism of Surrealism. Amongst many other places, 'Surrealism Beyond Borders' travels to Japan, to show the photographs of Toshiko Okanoue, whose monochromatic photocollages were only produced until her marriage, then remained undiscovered until the 1990s.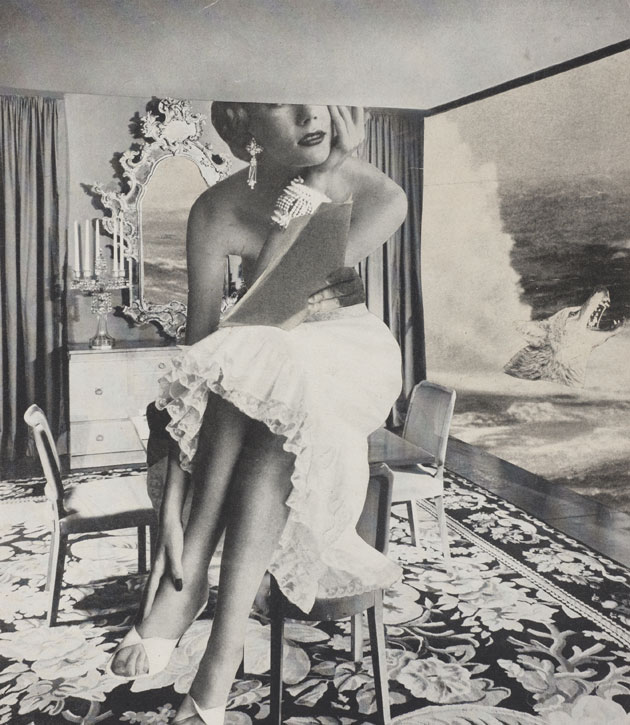 The Call is displayed in a salon hang of photographs towards the beginning of the exhibition, with a span of over thirty years and many different nationalities. These surrealist photographs are dotted throughout, demonstrating how everyday objects and scenes can be made to express something otherworldly or odd. Okanoue rubs shoulders with Kati Horna, whose photos here depict the surreal female body. Horna was born into a Hungarian Jewish family, and her path across Europe and over the sea to Mexico was a response to encroaching fascism. Known for her documentation of the Spanish Civil War, Horna viewed her medium of photography as a necessary response to forced displacement.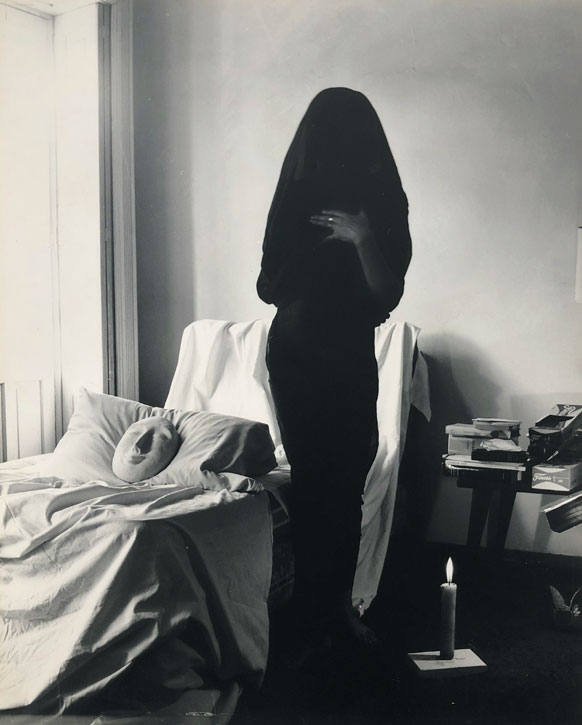 The exhibition moves into an exploration of dreams, a common concern of Surrealists, displaying the pale, elongated and suggestive forms of Mayo's (Antoine Malliarakis') Coups de bâtons. Mayo was born in Egypt, had a Greek name, but was culturally French. He, like others (including Agar), exhibited with Surrealists but refused to join the larger movement as he didn't want to join something collaborative.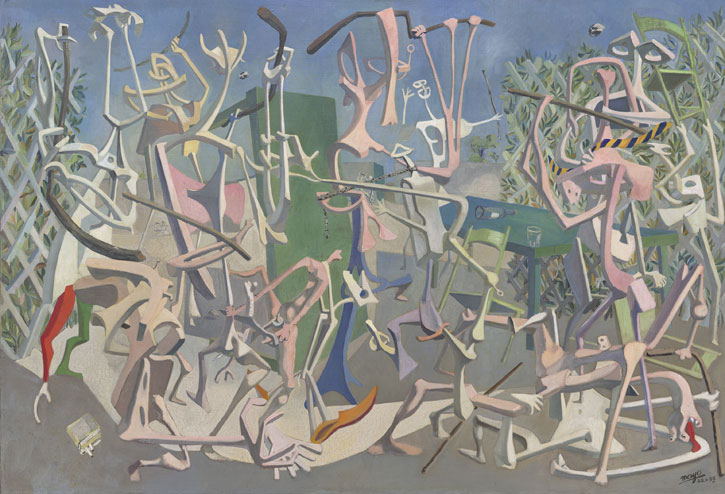 These uncanny, stretched forms are the basis of the Surrealist collaborative drawing and painting game Exquisite Corpse, represented at the heart of the exhibition by Ted Joans' over nine-metre collaboration with 132 artists, Long Distance, a work that stretched two years beyond his own lifetime, from 1976 to 2005. His rooms are filled with the sound of jazz, Joan's 'religion' and arguably a surreal art form in its own right.

Jazz bleeds into a focus on South American and Caribbean islands, including the bright, cartoon-like shapes of Eugenio Granell's The Magical Blazons of Tropical Flight. Granell painted this work in the Dominican Republic after fleeing from internment in Europe, a move that unlocked his desire to create art. Like many others in the movement, Granell conveys a sense of horror, desire, and the subconscious in his unsettling shapes.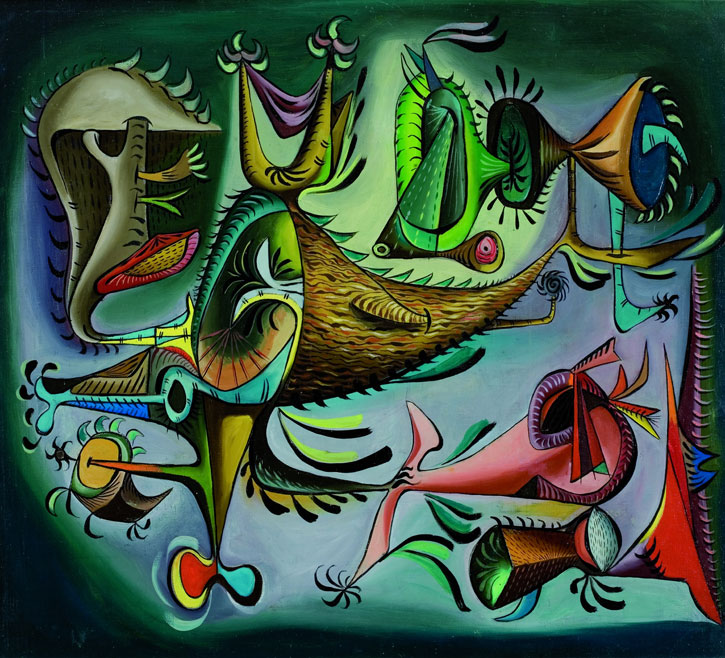 These writhing creatures are seen throughout, with Amy Nimr's sexualised, melting, Untitled (Anatomical Corpse) a terrifying but beautiful example.
Nimr is an interesting example of an artist who bridged the geographical gap between non-European art (in her case, Egyptian), and the European, largely French, Surrealist establishment. Her upper-class social status and money helped, but her career is a varied one, represented in other collections in Britain by earlier, more figurative work.
In contrast to Nimr's upbringing, Ramses Younan, represented here by a Dalí-like desertscape, was born into a poor Egyptian family and remained in his native country, forging his own way through the collectives and groups of Egypt and editing and founding journals to promote their work. The simultaneous proximity and distance of Nimr and Younan is a reminder of how Surrealism was a movement that could be of interest to any artist, in any country, crossing over social and geographical boundaries.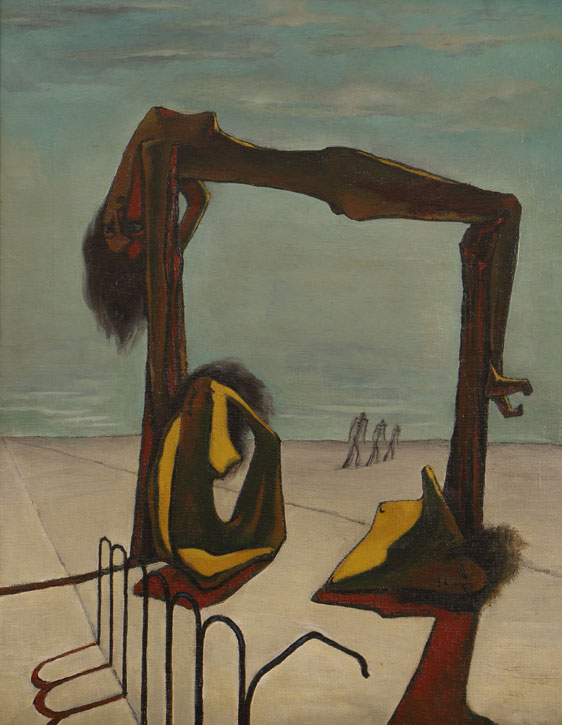 Among the arguably better-known artists in 'Surrealism Beyond Borders', Leonora Carrington has had something of a revival recently in her own right, an artist who outlived many of her contemporaries. Carrington met the 47-year-old Surrealist Max Ernst when she was 19, which was the beginning of an artistically inspiring but emotionally destructive romantic relationship. When he left her, she fled to Mexico from war-torn Europe, where she painted and wrote.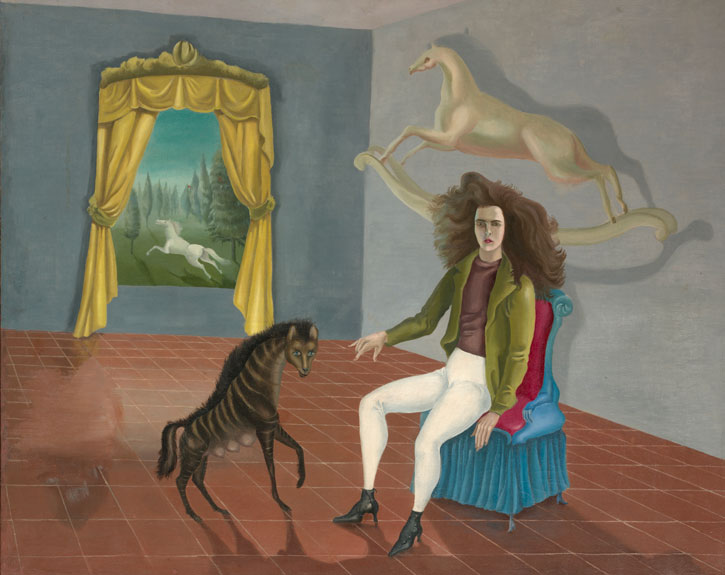 Her self-portrait, hung in the final room of the show, is a striking painting of the artist in a space with a tiled floor, surrounded by bizarre animals and a mysterious blur that suggested something that has been excised but not entirely erased, to the left of the painting. There are other stunning examples of her work here, including the intricate Chiki, ton Pays (Chiki, Your Country), a Boschian vision of bizarre figures in a dreamlike landscape.
Her portrait hangs surrounded by Surrealism in varied forms, from sculpture to semi-abstraction, demonstrating the strong links between the exhibited works, but also their great scale and difference.
'Surrealism Beyond Borders' is both fluid and narrativeless, an incentive to move beyond the canonical, or even the linearity of Surrealism, which fittingly, has always aimed to reimage and look beyond assumed rules.
India Lewis, freelance writer
'Surrealism Beyond Borders' is on at Tate Modern, London until 29th August 2022