Before environmentalism occupied a central place in contemporary culture, artists during the post-war era diverged from the formalist tendencies of modernism and began creating sculptural works that engaged directly with nature.
However, anxieties about the demise of nature began before the post-war era, and long before scientists confirmed the existence of climate change. Preoccupied with increasing industrialisation, urbanisation and pollution, intellectuals and artists in the nineteenth century sparked new discussions about ecological awareness.
In 1827, the word 'environment' was defined in the English vernacular as 'nature, or conditions in which a person or thing live.' Not long after, figures such as John Ruskin (1819–1900) raised new sensibilities about the environment and campaigned for the preservation of nature. Even the writings of Charles Dickens show concerns with Victorian overpopulation in cities, toxic smog, and poor sanitation.
By the twentieth century, artists from Helen and Newton Harrison to Richard Long were contributing towards ecological practices, creating conceptual installations, or 'Earthworks', a movement that would expand into 'Environmental art'.
Here are some of the artists who created ecologically minded works that directly engage with nature.
Richard Long
A leading conceptual British artist, Richard Long (b.1945) has been creating site-specific works since the 1960s and is considered one of the figureheads of Land Art.
Over half a century ago, he created one of his most famous works, A Line Made by Walking (1967), in which he created a path by treading over the same ground repeatedly. The artist then documented his indents upon the earth through photography.
Long's excursions in nature bridge performance art and conceptual sculpture. A prolific hiker, the Bristol-born artist once explained: 'If you undertake a walk, you are echoing the whole history of mankind.'
For Long, leaving human traces and footprints in the wilderness has a primal quality, one which belies the idea that art should be a permanent, static object. By working in nature, Long has drawn artists and audiences' attention to the unadorned beauty and fragility of nature.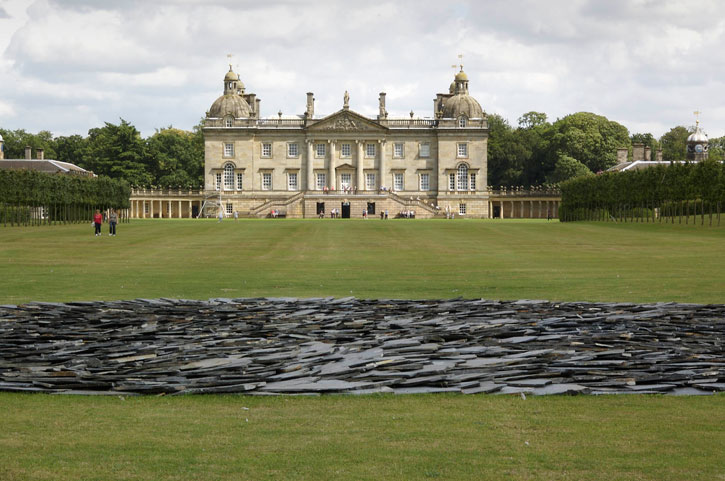 In 2003, Long was commissioned to create EARTH SKY and Full Moon Circle at the eighteenth-century manor Houghton Hall in Norfolk. He used Cornish slate as his material, a stone which he has used consistently since the 1970s.
David Nash
The artist David Nash (b.1945) has worked with trees, wood and the natural environment since the 1960s. Living and working in the remote northern Welsh town of Blaenau Ffestiniog, Nash works in nature. He manipulates wood and saplings to produce sculptures that bridge abstraction and figuration.
Nash's work involves carving, hewing and sometimes charring already-dead trees, leaving them blackened and burned.
Andy Goldsworthy
A British sculptor known for his site-specific works in natural settings, Andy Goldsworthy (b.1956) doesn't define himself as an 'environmental artist', yet his works undeniably affiliate with ecologically minded practices that emerged in the 1960s.
Goldsworthy's installation Outclosure resulted from his interest in the tradition of making common land inaccessible, resulting from the Inclosure Consolidation Act of 1801. This act politicised common land, as it meant that peasants were forced to sell to those more powerful, resulting in large numbers of dispossessed migrants.
In this instance, Goldsworthy's practice highlights the historical human commodification and control of land, which in turn, leads to the depletion of nature and social conflict.
Anya Gallaccio
Scottish-born artist Anya Gallaccio (b.1963) is affiliated with the Young British Artists and mostly works with natural, organic or perishable materials.
She creates minimalist, site-specific installations that work that engages with the theme of decay and chance, meaning Gallaccio is often unable to predict the 'final product' or end result of her artwork.
Gallaccio's practice also uses organic materials from nature as a form of anti-consumerist gesture, prompting us to think about human erosion of nature and waste. Her works are 'subject to the ravages of time and nature' and she has used unorthodox artistic materials such as ice, fruit, flowers and sugar.
The work above – Blessed – consists of bronze-cast apples hanging from a tree.
Lydia Figes, Content Editor at Art UK