Art history and fashion have a long-standing relationship. Intrigued with new forms, colours, textures, and broader socio-cultural references, fashion designers have regularly turned towards the visual arts for sartorial inspiration. But fashion, as a living form of art, deserves to be analysed within the same frameworks as art history.
From Dolce & Gabbana's Alta Moda fashion shows inspired by paintings of the Italian Renaissance, to Alexander McQueen's love for Elizabethan silhouettes and ostentatious ruffs, the worlds of painting and haute couture have often collided.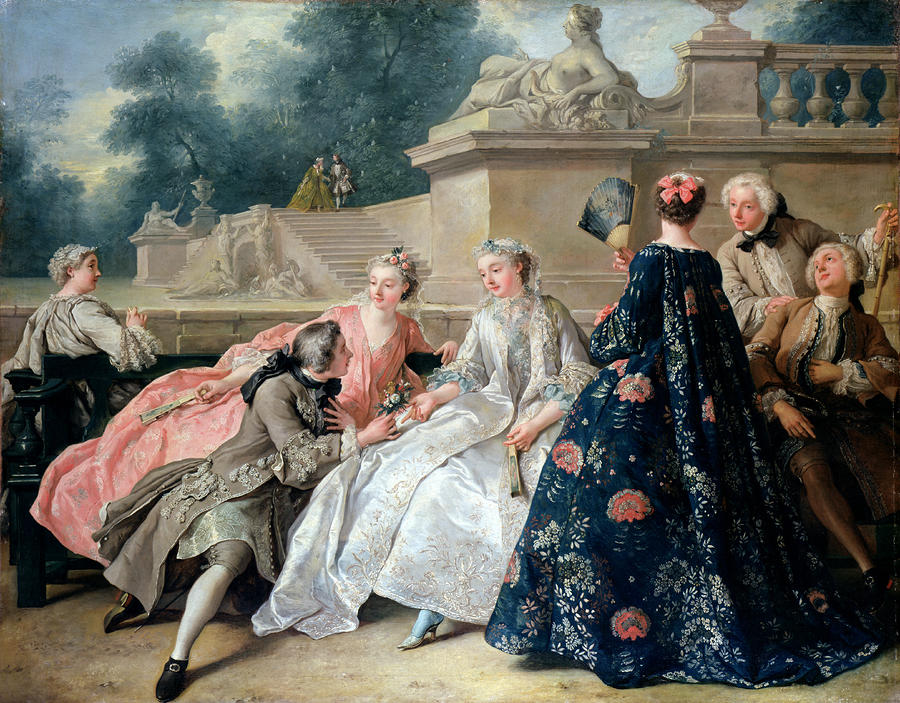 In time for London Fashion Week, here are some famous examples of when art inspired fashion.
The Middle Ages
You may be surprised to know that Hieronymous Bosch, the Netherlandish artist whose work reflects medieval codes of morality, is one of the fashion world's favourite art historical references.
His famous fifteenth-century triptych The Garden of Earthly Delights has inspired countless designers, from Zandra Rhodes to Raf Simons and Alexander McQueen.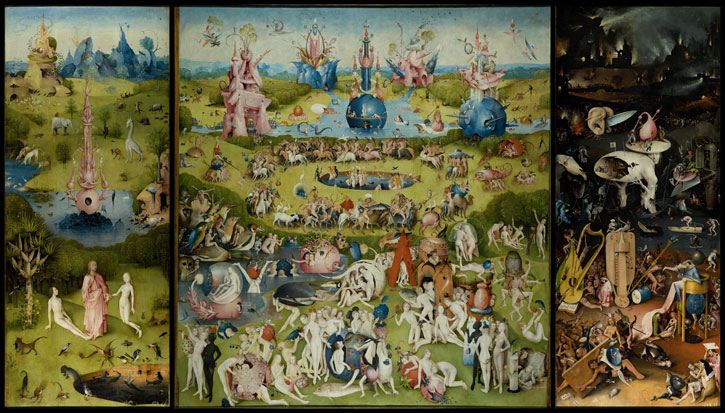 For the Gucci SS18 Campaign titled 'Gucci Hallucination', Spanish artist Ignasi Monreal was commissioned to create an Instagram-driven project inspired by art historical references. In this instance, he created a fantastical digital animation inspired by Bosch's famous triptych. By referencing and mixing both the historic and contemporary worlds, fine art and fashion, Monreal revives and readapts a traditional, painterly genre.
View this post on Instagram
Valentino designer Pierpaolo Piccioli has also been captivated by Bosch's surreal and celestial garden. He invited Zandra Rhodes to reinterpret the heavens and hells of Bosch, adopting a colour palette of earthy hues of greens and browns against acid pinks and violets.
The Renaissance
Last year, Renaissance-inspired fashion experienced a renaissance in twenty-first-century fashion trends. Continuing the theme of the 2018 Met Gala, 'Heavenly Bodies', designers began fabricating bold shapes and silhouettes mimicking fifteenth- and sixteenth-century Italian paintings.
Before the flurry of interest in Renaissance forms, designers such as Dolce & Gabbana, Pierpaolo Piccioli and Marie Grazia Chiuri were already experimenting with this era of art history, creating legendary haute couture looks that took the fashion world by storm.
Renaissance fashions and painting have been reinterpreted by looks such as the billowing 'Juliet Sleeve', chiffon and taffeta gowns, detailed floral prints, and Shakespearean ruffs. The hair accessories – headbands, bejewelled headpieces – have also come back into fashion.
Dolce & Gabbana even designed dresses emblazoned with the paintings by Leonardo da Vinci, Raphael, Giovanni Bellini and Sandro Botticelli for their 2018 Alta Moda show.
In this instance, a model wears a dress featuring the Portrait of Giovanna Tornabuoni, executed in 1488 by Domenico Ghirlandaio. The exquisite profile portrait was commissioned by the sitter's husband Lorenzo Tornabuoni, after his wife's death the same year.
The Elizabethans
Elizabeth I is undeniably one of history's greatest fashion icons. Her dramatic silhouettes have inspired many haute couture designers, including Valentino and Vivienne Westwood among many others.
Perhaps more so than any other royal, the Virgin Queen used clothing to create a powerful mythology for herself, one which legitimised and strengthened her God-like reign and regal status.
Elizabeth was known for her opulent, embroidered dresses incorporating rare and expensive jewels, glossy pearls and intricate ornate brooches.
Like all aristocratic Elizabethan woman, she wore a chemise, stiff corset, a petticoat, a farthingale, stockings, a gown, and usually an ostentatious neck ruff. Stiffened with starch (derived from grains, wheat or corn), some of the most extreme ruffs were more than a foot wide (known as cartwheel ruffs) and took many hours to make. The ruff was a status symbol, one which made clear that the person wearing it was of great importance and didn't do manual labour.
Baroque opulence
The Italian Baroque has also provided plenty of inspiration for contemporary designers. Known for its theatricality and grandeur across the visual arts, music and architecture, the Baroque style emerged out of Mannerism and the High Renaissance and prompted an interest in ornate detail, excess, and splendour.
Baroque compositions and forms are characterised by movement and energy, aspects which have appealed to fashion designers looking to embrace the theatrical in their garments. Baroque portraits of women from nobility inspired Dolce & Gabbana, seen in these exquisite shoes above.
Japanese ukiyo-e
The Japanese genre of ukiyo-e prints is often translated as 'pictures of the floating world' and flourished in the seventeenth century, during Japan's Edo Period.
In the following century, The Great Wave Off Kanagawa by Katsushika Hokusai (1760–1849) became one of the most famous Japanese woodblock prints in existence. Unsurprisingly, the striking visual has been reinterpreted by fashion designers, such as Russian designer Alena Akhmadulina.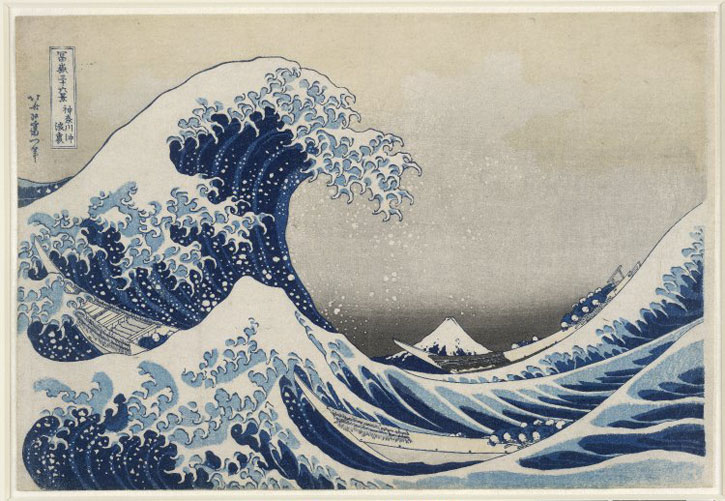 View this post on Instagram
Rococo
The allure of the eighteenth century has consistently been revisited by haute couture fashion designers, looking to recreate the whimsical decadence that characterised the fashions of Marie Antoinette and her courtiers at the Chateau of Versailles in the mid- to late 1700s.
From Christian Dior to Balenciaga, runway fashion has reinterpreted looks such as taffeta silks in pastel colours, fur-trimmed lined robes and dresses, powdered wigs, and garments with shell and floral designs.
Although Dolce & Gabbana make reference to Rubens' Venus at a Mirror in their text, the overall aesthetic of this image recalls the French Rococo. The artist who epitomised this style was Francois Boucher (1703–1770). He was known for his idyllic scenes showing courtly love or voluptuous mythological goddesses surrounded by putti and cherubs. In 1759, he painted the famous mistress of Louis XV, Madame de Pompadour, as seen above.
The Rococo genre of 'La toilette', in which an artist captured a woman in a state of undress before her dressing table and maidservant, was popularised by artists such as Boucher (although the tradition was brought into existence centuries before). Sumptuous and often voyeuristic, these depictions offered a fleeting glimpse into a private, feminine, domestic setting, one which reflected the Rococo fashion for suggestive and sensual scenes.
Regency fashion
Regency period fashion in Britain is often thought of as the 'Jane Austen era', when women wore relatively understated, elegant dresses (usually without corsets) and men dressed in tailored culottes, breeches, jackets, and Hessian boots.
Inspired by the simplicity of classical attire, the fashions of the day reflected changing moral and social values, which advocated for a return to nature and simplicity. This era also gave rise to the term 'the dandy', a fashionable character who prided himself on sophisticated sartorial taste reflecting 'natural excellence'.
Women's fashions often involved muslin chemises showing bare arms, high-waist dresses known as the 'empire' silhouette, pastel fabrics, turbans and gloves. Unlike customs in previous centuries, the woman's waist was de-emphasised. Instead, clothing highlighted the chest, shoulders and arms.
Here, Catherine, Duchess of Cambridge, wears a gold-embroidered Alexander McQueen dress in the Empire silhouette design.
The Victorians
By the commencement of the Victoria era in the nineteenth century, the whimsical, classical-inspired fashions of the eighteenth century had disappeared and were replaced by a more formal, restrictive attire. The corset returned and necklines emphasised the V-shape. Women's robes were heavier, darker and incorporated more frills, bows, and lace.
Whereas pre-1850s dresses often had collapsed sleeves and low necklines, by the latter half of the century women rarely showed any bare skin and higher necklines and collars were introduced.
Here is a striking comparison between the dress of a young Victorian woman in 1857 with ERDEM's Spring/Summer 2019 collection.
The Belle Époque
As we reach the turn of the nineteenth century, here is Vivienne Westwood's iconic look which Christy Turlington took to the runway in the early 1990s.
Channelling the Parisian era of the Belle Époque at the fin-de-siecle, Westwood recalls Henri de Toulouse-Lautrec's caricatures of provocative cabaret dancers at the Moulin Rouge.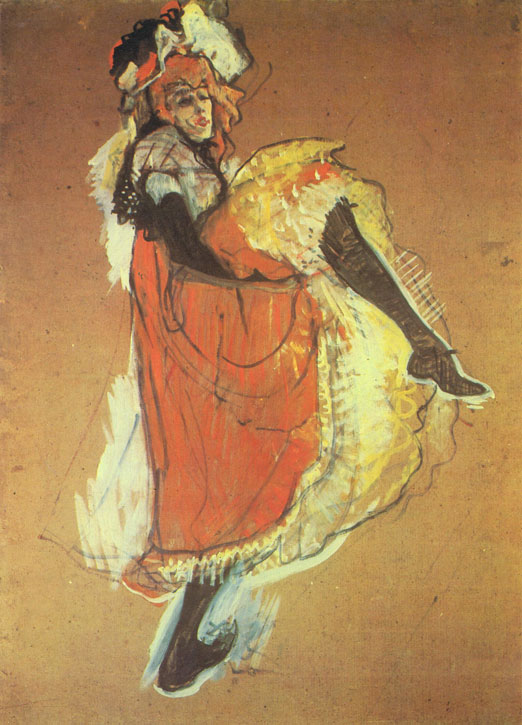 With an almost limitless range of styles to explore, whatever happens in fashion's future, it's certain that art will continue to inspire designers for years to come.
Lydia Figes, Content Creator at Art UK