Can fashion ever be considered art?
As the discipline of fashion history is now taken seriously, and technology allows for the development of wearable art, there's a blurring of lines between the two.
When we think of fashion, we think of a world that embodies the innovative and the contemporary, novelty and transience. But though they may be separated by the centuries, some of the most illustrious fashion designers of our times have drawn inspiration from the work of painters who lived long before them. Delving into the nation's art collections, it's fascinating to turn up paintings which have metamorphosed in some shape or form into garments on the catwalk. Whilst portraits of the wealthy and noble are often used to showcase their fashionable attire, flaunting their status and power, on Art UK we can see the other side of the coin: paintings that have come to life in designer collections.
As a designer, she delighted in the grandeur of the Old Masters and hoped that by using references to them in her collections she would inspire a love of high culture and provide something of an education to young designers.
Here we look at three designers who've honoured their artist heroes by using their works as inspiration for cutting-edge designs.
Vivienne Westwood
Westwood has frequently looked to history as a source of inspiration, going right back to the early years of her career.
Despite being thought of as the Queen of Punk, she actually spent many hours studying the paintings and costumes at the Victoria and Albert Museum and she and her partner Malcolm McLaren based their 1983 'Pirate' collection on an engraving of a pirate Westwood found there. However, she particularly fell in love with The Wallace Collection and its collections of French eighteenth-century furniture, Sèvres porcelain and paintings by Watteau, Boucher and Greuze. She was attracted by the shapes created by the garments portrayed in the rococo and baroque artworks, just as Balenciaga before her had found inspiration in the costumes and copes of figures in the devotional paintings of Zurbarán and courtly portraits of Velázquez.
The Wallace Collection proved a rich source of inspiration for more than one of Westwood's collections, but it was her 'Portrait' collection of Autumn 1990 which drew on it most vividly. A collection that was to prove a turning point in her career and attract a list of wealthy and elegant clients such as Sian Phillips and Lady Romilly McAlpine, 'Portrait' revived the splendour and hedonism of the ancien régime and sent it sashaying down the catwalk. And not just any catwalk. Seeking a glamorous venue to show 'Portrait', Westwood refused the first offer of a location made by the British Fashion Council and eventually settled on the gilded and elegant headquarters of the Institute of Directors in Pall Mall, where the collection found its match among portraits of the royal family, gold paintwork and glittering chandeliers.
At the time the UK was heading for an economic recession and the prevailing mood in fashion was one of minimalism and grunge, with drooping shoulder lines and waif-like models echoing the national mood. Westwood went against the grain, sending her models out onto the catwalk in sumptuous eighteenth-century costumes, in blatant homage to her artist heroes. 'Modernity is a fetish, a myth' she proudly declared. Designs first used in Sèvres porcelain were strewn over skirts while patterns adapted from the intricate inlaid marquetry of cabinetmaker André-Charles Boulle and recreated in gold shimmered down black velvet tube dresses. However, perhaps the most iconic garment to emerge from the collection was the Boucher corset.
Vivienne chose Boucher's 1743 painting Daphnis and Chloe for a corset worthy of Madame de Pompadour. It was not just the splendour and frivolity of the ancien régime paintings that delighted her but the stories often contained within them – the hedonism of the aristocracy or a tryst between two country lovers against a pastoral backdrop.
In this painting the young shepherd Daphnis is enjoying gazing on his lover's naked body as she sleeps. In the myth, said to be the inspiration for The Winter's Tale, these two have to undergo many trials before they are united in marriage. Westwood, with characteristic fearlessness, was not afraid to lift the painting wholesale and print it onto the front of a boned bodice, the eroticism of the painting finding a cheeky partnership with the bosom-enhancing corset. In a later reiteration she takes an image of the corset and uses it to create a trompe l'oeil t-shirt, bringing eighteenth-century art into conversation with the quintessential everyday garment of our times (this t-shirt and others by Westwood are on display as part of the exhibition 'T-Shirt: Cult, Culture, Subversion' at the Fashion and Textile Museum in London, until 6 May 2018). As a designer, she delighted in the grandeur of the Old Masters and hoped that by using references to them in her collections she would inspire a love of high culture and provide something of an education to young designers.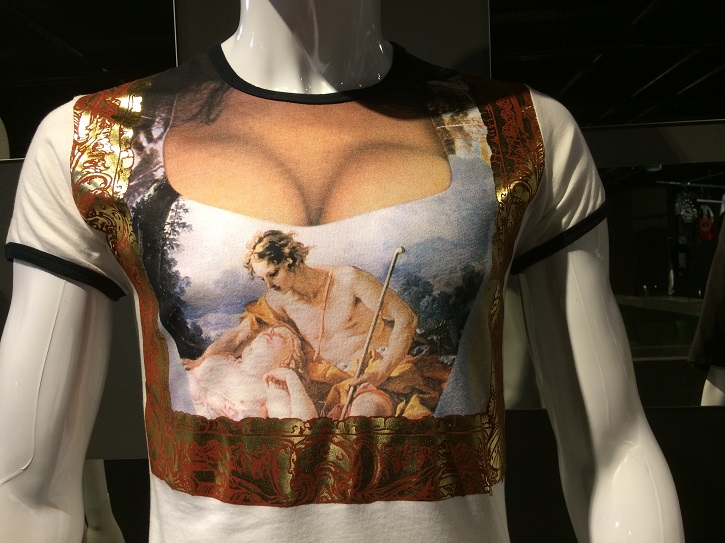 In 2003, Westwood returned to Boucher for her 'Anglophilia' collection, choosing the portrait of Madame de Pompadour, mistress to Louis XV, as inspiration. As well as being a great lover of fashion herself, Madame de Pompadour used her influence to transform the fortunes of the Sèvres porcelain factory and gave her name to a particular deep pink used in its manufacture, still known as Pompadour Pink. Emulating the wonderful rustling silk of the French aristocrat's gown, Westwood designed a lavish ball dress which honoured the full skirts and balloon sleeves of the original, yet incorporated Westwood's signature asymmetrical cut and a rakish sash tied round the neck.
Four years later this same wildly luxurious style was reworked for New York's queen of fashion Carrie Bradshaw in Sex and the City: The Movie, proving the enduring power of the fairy-tale gown down the centuries.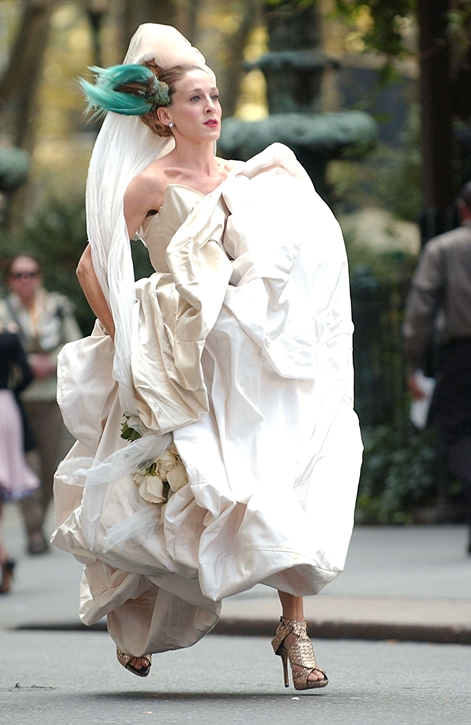 John Galliano
Controversial designer John Galliano – four-time winner of the British Designer of the Year, who has headed up both the fashion houses of Givenchy and Dior as well as his own studio – is famous for his flamboyant, theatrical creations and colourful personal costumes. He frequently appears at the end of his runway shows as a character in his own drama, be that a pirate, ringmaster or Napoleonic general, inspired perhaps by his time working as a dresser at London's National Theatre in his youth.
However, Galliano has also looked to artists such as Velázquez, Zurbarán and Goya for inspiration in colour and style, referencing his Spanish heritage. Galliano moved from his native Gibraltar to England at the age of six. His mother, a flamenco dancer, insisted that the family looked well-dressed on all occasions and took her son out and about in very elaborate outfits, which soon attracted teasing at school. However, she instilled a deep sense of creativity in him which found its outlet in his studies at Saint Martin's School of Art. His graduation collection of 1984, Les Incroyables, based on the French Revolution, was bought in its entirety by influential London boutique Browns.
Galliano drew on Goya portraits in particular for his Autumn 2016 collection, where he sent models down the runway in filmy lingerie-inspired dresses topped by rugged military-style coats decorated with epaulettes and elaborate frogging which the Duke of Wellington himself would have felt at home in, as seen in this portrait from The Wellington Collection at Apsley House. The result is a harmonious blend of soft feminine styling with imposing military panache.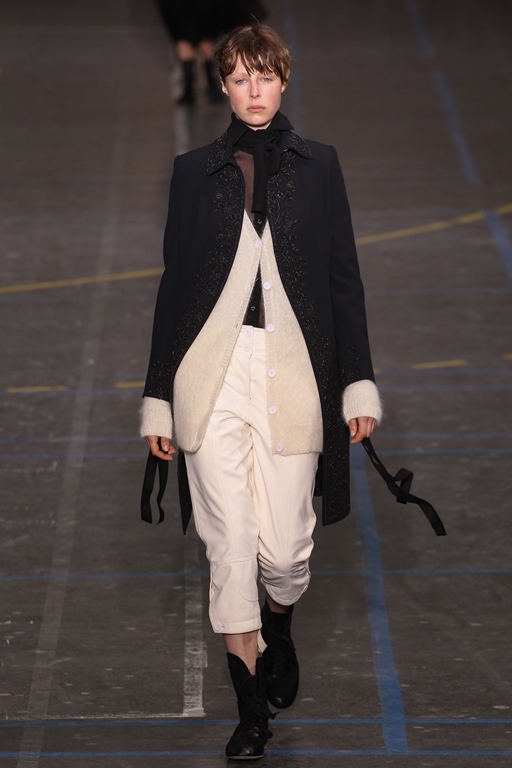 Anna Sui
Award-winning American designer Anna Sui, the subject of a retrospective at London's Fashion and Textile Museum in 2017, infuses her collections with her love of art, history and the costumes of ethnic groups and cultural sub-groups. Myth and magic combine with ancient cultures and rock-star glamour to create colourful textural garments accessorised with eye-catching headgear and shoes.
Sui claims that her favourite part of putting together a collection is the research, and her attention to detail is legendary. A teenage fascination with the prints of Aubrey Beardsley and the elaborate natural patterns of Art Nouveau led her on a journey to explore the nineteenth and early twentieth centuries for artistic inspiration. The rich colours and decorative schemes of the period have translated into retail stores decorated in deep purple paint and black lacquered mirrors, with Tiffany lamps hanging from the ceiling.
However, it was a visit to Tate's Pre-Raphaelite exhibition of 2012 that really clinched the era as the inspiration for Sui's Spring 2014 collection. As a young designer Anna yearned to dress rock stars and in the work of artists like Waterhouse, Rossetti and Burne-Jones – rock stars of their day complete with model girlfriends – she found a common love of beauty, myth and rich decorative detail. Looking at her deep rose Victorian-styled panne velvet dress, with its luxuriously oversized sleeves and thick lace collar, we can see the clear influence of the heavily draped aesthetic costumes of Pre-Raphaelite maidens, like the ones surrounding a lovesick Venus in Burne-Jones' Laus Veneris.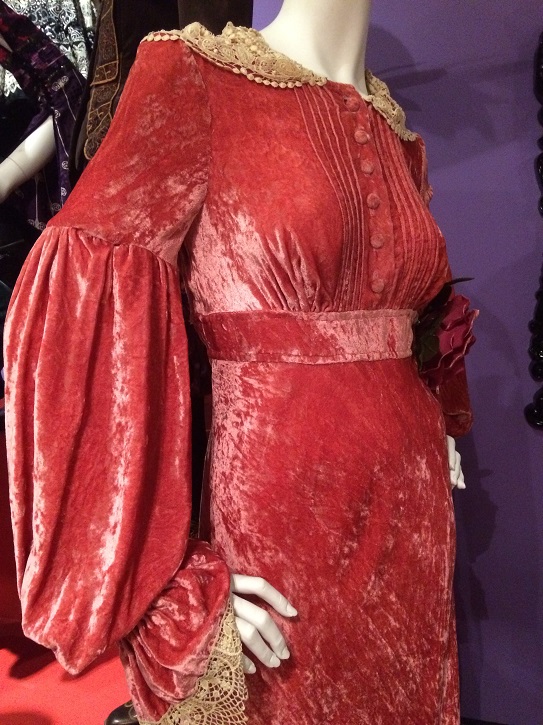 Westwood, Galliano and Sui are just a few examples of the many designers who have looked to paintings to drive their imaginations and inspire their creations. And it is not simply a question of looking to the Old Masters: Agnès B created an entire range of t-shirts featuring the work of artists such as Malevich, Picabia, and Picasso, while Alexander McQueen worked with Damien Hirst to create best-selling skull designs for silk scarves. Who knows which paintings on Art UK might be poised to spark the next catwalk trend?
Lucy Ellis