One of the web's best-kept secrets is that there is free access to many of Oxford University Press's online dictionaries for most public library card holders in the UK.
Whether you want to find the meaning of the word 'zygaena' from 600,000 entries in the Oxford English Dictionary or read about New Orleans jazz in Oxford Music Online, your public library card will open up these resources to you free of charge.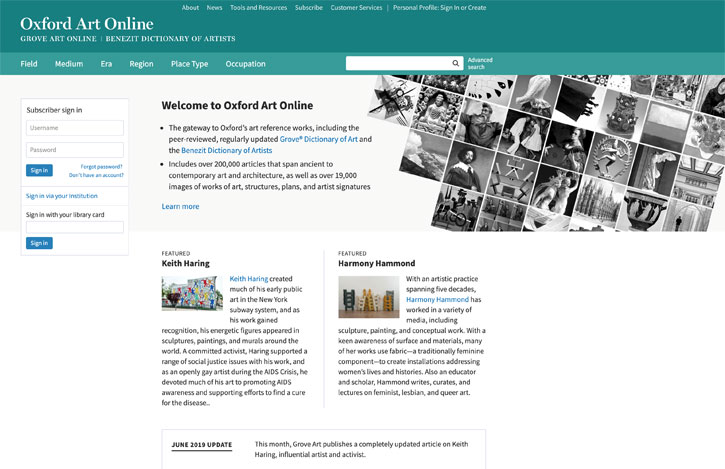 Access varies from local authority to local authority and depends on whether the authority is part of the scheme – but most are. There are sometimes special instructions for entering your library card, for example with Newcastle City Council.
What a great reason to make better use of your local library!
More relevant to those interested in art, Oxford Art Online gives you access to over 200,000 reference articles drawn from Grove Dictionary of Art and the Benezit Dictionary of Artists. And if you want biographical information about British artists or the sitters in portraits, go to the Oxford Dictionary of National Biography (ODNB). This will give you access to over 60,000 authoritative biographies. Both of these are extraordinary resources.
Art UK makes access to Oxford Art Online and the ODNB easy with direct links to the relevant pages from the artist profile pages on Art UK.
For example, if you are interested in finding out more about Eileen Agar, simply follow the links beside the short biographies (also from Oxford). All you need to do is register on Art UK and add your library card number. Then, whenever you are logged in, you will be able to go directly to the OUP resources. Next year, we will be looking to make it easier to link from named sitters in portraits directly to their biographies on the ODNB.
Jo Payne, Head of Biographical and General Reference at Oxford University Press, says: 'we've been glad to work with Art UK for a number of years as they've sought to bring art in public ownership more into public awareness.'
All of this is possible thanks to the partnership between Art UK and OUP. Through this collaboration, Oxford University Press has also generously allowed Art UK to reproduce the short biographies shown on the artist profile pages. These are drawn from the Oxford Dictionary of Art and Artists. Later in 2019, we will also be adding many of the terms from the Oxford Concise Dictionary of Art Terms.
So, if you haven't yet got a public library card, apply for one today at your local library.
Andrew Ellis, Director of Art UK