Art UK's series of online talks, produced in collaboration with Bloomberg Philanthropies, sheds light on art surprises in UK collections.
When the UK's museums and galleries closed their doors with the onset of the coronavirus pandemic, Art UK began to think about how we could help collections to tell the incredible stories of their artworks. In collaboration with Bloomberg Philanthropies, we created Art Unlocked, an online talk series in which museum and gallery curators and directors from across the UK deliver a 30-minute talk on selected works from their collection.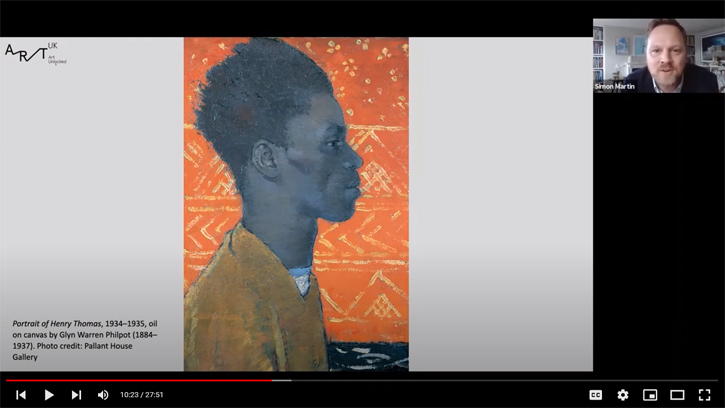 Such has been the success of the series, that even with the lifting of restrictions and reopening of galleries, the talks are still going strong. With unique stories and intriguing insights, it is little wonder that they are devoured by thousands of art and history fans every month. Here we highlight five things we have learnt from Art Unlocked.
1. Manx National Heritage holds an internationally significant collection of internment art
With a collection of 6,000 artworks uniquely made up of pieces produced by Manx artists, artists working on the Isle of Man or artworks inspired by the Isle of Man, this Art Unlocked talk promised landscapes, maritime themes and paintings that capture the Island's draw as a tourist destination. Katie King, Curator of Art & Social History, introduced us to the Impressionistic work of John Miller Nicholson, the Island's greatest painter, and an atmospheric watercolour from Art Nouveau designer Archibald Knox.
The most unexpected work the talk brought to our attention, however, was a powerful watercolour on newspaper by Austrian Jewish artist Hugo Dachinger.
Painted whilst he was interned at Mooragh Internment Camp in Ramsey, it shows a young boy and girl behind barbed wire and forms part of Manx National Heritage's internationally significant collection of internment art.
Watch the Manx National Heritage talk by Katie King, Curator of Art & Social History:
The related Curation contains works by John Holland, John Miller Nicholson, Archibald Knox, Joseph William Swynnerton, Hugo Dachinger and Bryan Kneale.
2. The work of Scotland's first professional female artist was reattributed to male painters
The McManus, established in 1874, contains over 10,000 items and includes one of the finest collections of nineteenth- and twentieth-century Scottish painting in the country. Anna Robertson, Fine and Applied Art Manager, selected six works with personal resonance, including a significant recent acquisition for the gallery, a portrait of Willielma Campbell, Lady Glenorchy.
It was painted in 1762 by the remarkable Catherine Read, the first Scottish woman to pursue professional training as an artist. Despite her groundbreaking achievements producing over 300 portraits, she remains little-known, with Robertson explaining that after Read's death, many of her paintings were reattributed to male peers including Joshua Reynolds, Allan Ramsay and Thomas Gainsborough. A blue plaque for Catherine Read features outside the McManus as part of the Dundee Women's Trail, which highlights the hidden history of Dundee women.
Watch The McManus, Dundee's Art Gallery and Museum talk by Anna Robertson, Fine and Applied Art Manager at the McManus:
The related Curation contains works by William McTaggart, Catherine Read, John Pettie, James McIntosh Patrick, David Batchelor and Frances Walker.
3. The role of Welsh women in the Greenham Common Peace Camp is immortalised in a work by Welsh artist and protester, Claudia Williams
With works representing the people, landscape and culture of Wales, the collection of its National Library celebrates the rich history of the nation. Morfudd Bevan, Art Curator, shed light on how the Library's collection of artists' archives – letters, diaries and notes – adds a further dimension to the understanding of an artist's work and character.
Claudia Williams painted a key story from Welsh women's history, showing a group of protestors and children gathered around a fire at night during the Greenham protests.
The peace camp began in 1981 when a Welsh group, Women for Life on Earth, marched from Cardiff to Greenham to protest the housing of nuclear cruise missiles at the RAF base. Williams attended several times during 1983–1984 and the Library also holds the artist's Greenham Common sketchbook containing preparatory sketches for this artwork.
This talk was given during Women's History Month and focused on works by six women, also including a still life by renowned artist Gwen John and an insightful contemporary portrait from Seren Morgan Jones.
Watch the National Library of Wales talk by Morfudd Bevan, Art Curator of the National Library of Wales:
The related Curation contains works by Gwen John, Ray Howard-Jones, Claudia Williams, Mary Lloyd Jones and Seren Morgan Jones.
4. The names we should all know from Black British History
Greg Bunbury is the curator of the community-driven initiative Black Outdoor Art, which takes an innovative approach using outdoor advertising space as a platform for Black British creativity and expression. Bunbury's own graphic posters join the works of other Black artists and illustrators in delivering essential commentary on themes including racism, equality and empowerment.
In this Art Unlocked talk, Bunbury explained that each work is the product of a discussion and point of view as unique as the artists behind them. Posters such as Bunbury's I Can't Breathe, 2020, respond to contemporary events, in this case, the death of George Floyd.
By contrast, the artwork Black British History by Jahnavi Inniss was created in response to the gaps in the timeline of Black British History, using the cultural technique of quilting to give visibility to the existence and contributions of Black people in Britain during the seventeenth and nineteenth centuries.
She aims to dismantle the 'single story' that Black people only arrived in Britain after the Second World War.
Watch the Black Outdoor Art talk by Curator and artist Greg Bunbury:
The related Curation features works by Greg Bunbury, Samuel Mensah, Jahnavi Inniss, Bokani, Kingsley Nebechi and Harkiran Kalsi.
5. Leicester Museums helped spark Sir David Attenborough's interest in natural history
In a talk earlier this year, Mark Simmons, Audience Development & Engagement Manager, used a portrait by Leicester-based artist Bryan Organ to explore how the career of local hero Sir David Attenborough was encouraged by the city's museums in his childhood. In particular, he explained, Attenborough was inspired by the museum's Charna fossil, the first Precambrian fossil to be identified.
In the curation that accompanies this Art Unlocked episode, Simmons references Attenborough talking in 2010 of finding fossils in his youth. 'Sir David said, "of course I wanted to know what they were. So, I brought them here to the Museum... The influence of this museum had a profound effect on my career". This portrait of Sir David Attenborough was inspired by his 1996 television series about Birds of Paradise, and incorporates numerous images of these birds into its background.'
Watch the Leicester Museum & Art Gallery talk by Mark Simmons, Audience Development & Engagement Manager:
The related Curation features works by Ernst Neuschul, William Hogarth, Laura Knight, Ram Krishan Sharma, Bryan Organ and Charles Green.
Art Unlocked is a cornerstone of the partnership between Art UK and Bloomberg Philanthropies, which aims to help strengthen and improve digital access to the UK's national collection of art while encouraging broader engagement with local museums and art galleries.
Art Unlocked is free to attend and you can register your interest via Eventbrite. Make sure that you are following Art UK on Twitter and are subscribed to our weekly newsletter to hear about other upcoming talks. You can also check our Art Unlocked about page for details of past or upcoming events.
Gemma Briggs, Head of Marketing and Communications at Art UK