Gallery Oldham is marking the 100th year anniversary of the death of Sam Fitton by focusing on his cartoons, many of which are on display in our latest exhibition, 'Finding the Funny: Sam Fitton', which runs until 17th June 2023.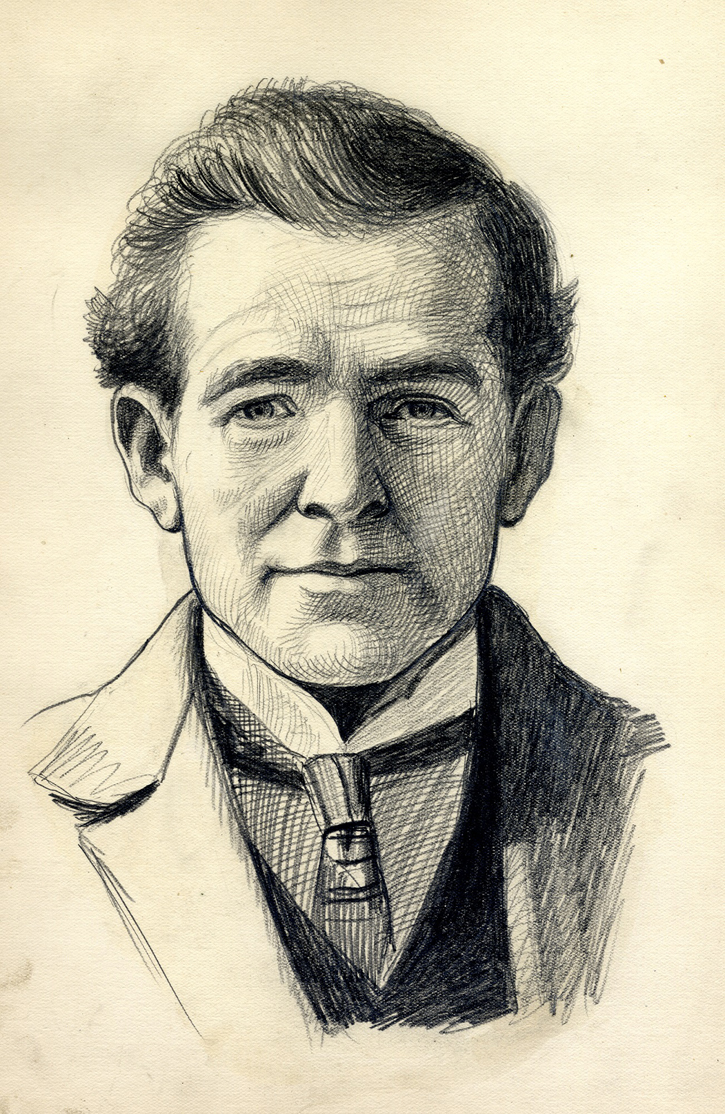 Sam Fitton was born in 1868 and lived almost his entire life in and around High Crompton, a village between the great cotton towns of Oldham and Rochdale. Fitton originally worked in the local cotton mills but he went on to make a living as a skilled illustrator, poet, dialect writer and performer.
Drawing was a passion for Sam Fitton from an early age. Whilst working as a Little Piecer (crawling under spinning mules to mend broken threads) he drew characters on the walls depicting other workers and famous personalities. When it came to whitewashing the interior of the mill which happened every year, the workers did not want to paint over his amusing cartoons. His employers spotted Sam's artistic talent and encouraged him by commissioning some pictures.
He went on to a scholarship at Oldham School of Art where the Oldham artist George Wimpenny also studied. This portrait of Sam Fitton was painted by George Wimpenny (1857–1939) in 1911.
Ill health meant that Sam had to leave work at the mill and in 1907, he began to contribute a weekly cartoon to the Cotton Factory Times. This popular newspaper for Lancashire and Cheshire millworkers sold more than 50,000 copies a week at its peak. This figure only gives a small estimate of its actual readership as copies of the Cotton Factory Times would have been read aloud during breaks and shared amongst workers.
Over the next twelve years, he drew more than 400 cartoons for the newspaper, creating a unique visual record of the cotton industry, its workers and the communities in which they lived.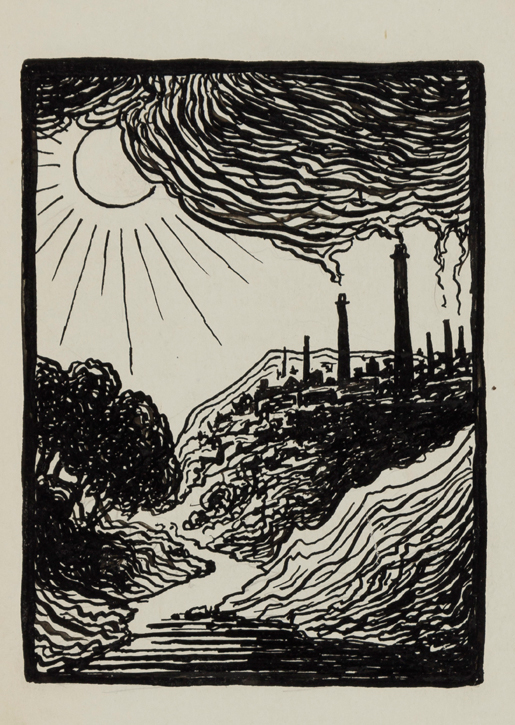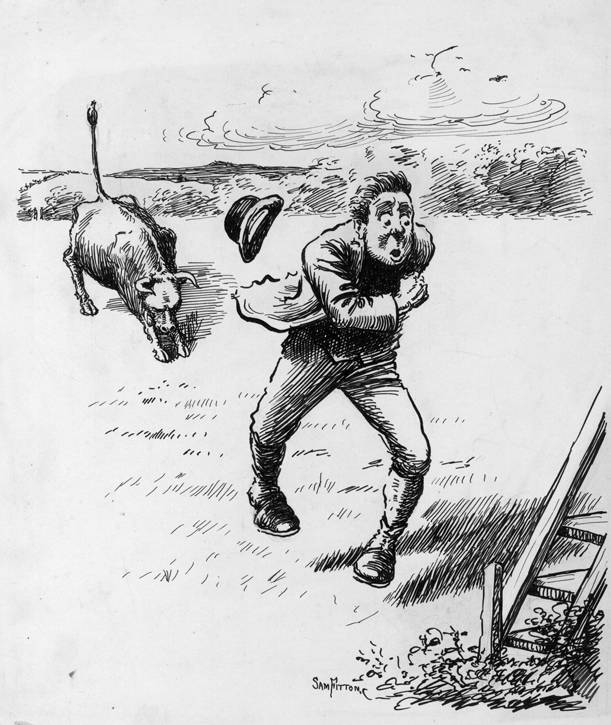 These cartoons capture the funny side of life but also touch on the struggles of workers whose lives were difficult, dirty and often short. A highlight of a millworker's working day would be dinnertime. Canteens were all but non-existent at the time so lunch was eaten around the silent machinery. Most workers were brought their dinner by relatives – often children and the elderly, as shown in his hilarious Dinner Carriers' Parade.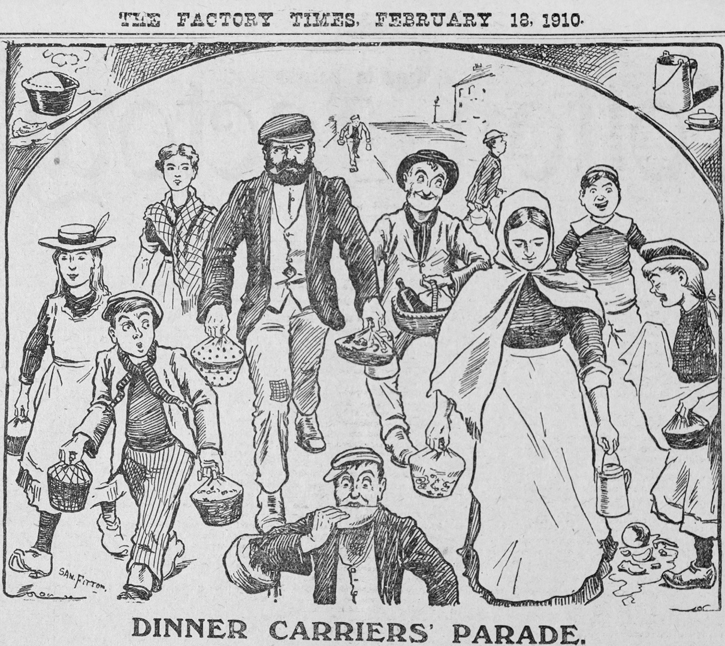 It is possible this cartoon is based on Sam's own experiences. When he was forced to give up work as a weaver in 1903, he would often bring dinner to his wife Janie at the weaving shed. Food would usually be basic – oatcakes with boiled milk and water, bread and meat wrapped in a basin and napkin or broth in a metal canteen. In lean times it might have been only bread and dripping or even just bread and 'Maggie Ann' (margarine).
Alongside his cartoons, would also be printed an amusing verse. His writing and his illustrations go hand in hand, and it is often difficult to see whether his humorous captions came first or his drawing. Amongst his most popular Lancashire Dialect verses were the comical Eawr Sarah's Getten a Chap and the more sentimental My Owd Case Clock. Shown here is an illustration for My Owd Case Clock, housed along with the rest of the Sam Fitton collection, at Oldham Local Studies and Archives.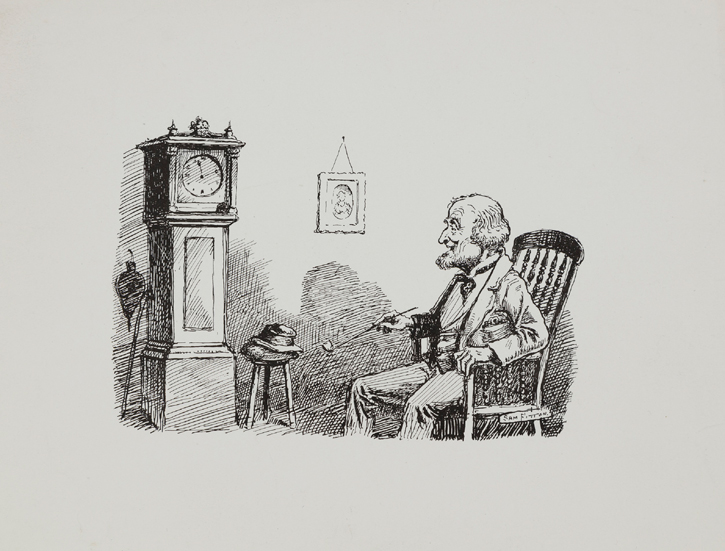 In his cartoon Shuttle Kissin', Fitton jokes that Matilda Curly Toppin' would rather kiss a shuttle than the tackler (someone who fixed the weaving machinery) who keeps pestering her. Shuttles were essential to Lancashire's cotton industry, carrying yarn – the weft – back and forth across a loom, weaving cloth as they pass over and under the warp threads.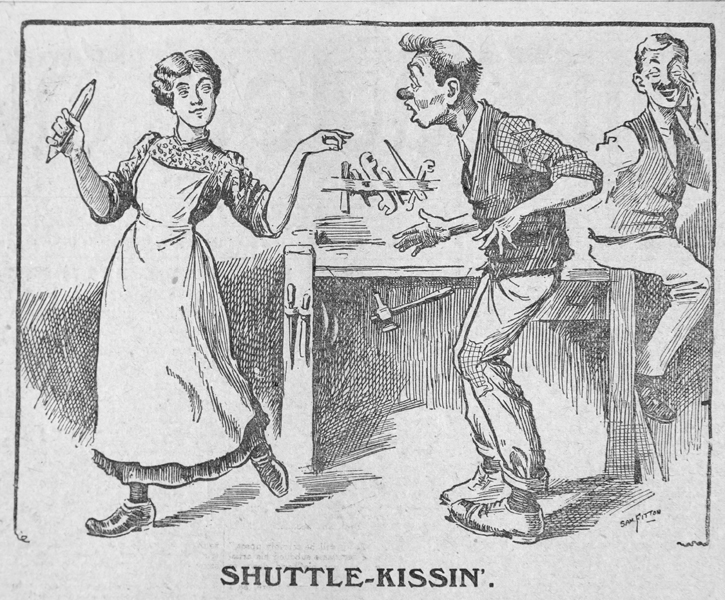 Shuttle kissing refers to the practice of sucking the thread through a small hole in the shuttle to make it ready for weaving on the loom. Weavers could be identified by colourful marks on their teeth and mouths from the thread dyes. Worse still, sharing germs and inhaling cotton fibres made this an unhealthy practice, spreading diseases such as TB. New types of self-threading shuttles were developed at this time, but shuttle kissing was not banned in England until 1952.
After Fitton's early death in 1923, his dialect writings were collected together by his second wife Annette and his good friend, the Saddleworth poet and local historian Ammon Wrigley.
They were published in a book entitled Gradely Lancashire. In it is a moving tribute by Ammon Wrigley: 'When Sam Fitton comes into my thoughts it is not as a poet and an artist, but first of all, as a most lovable man; a man that people were ever glad to meet and loath to leave.'
Karen Heatley, Senior Exhibitions and Collections Officer, Gallery Oldham
The exhibition 'Finding the Funny: Sam Fitton' is on at Gallery Oldham until 17th June 2003
Further reading
Historians Alan Fowler and Terry Wyke have produced Spindleopolis: Tickling Oldham's Funny Bone, a detailed booklet accompanying the exhibition, available from the Gallery Oldham Shop.
The Sam Fitton Collection at The National Archives