Every day, the Art UK team uncovers fascinating stories about artworks and their creators. Whether through our volunteers or Art Detective, we are constantly relaying information back to collections so that we can offer the public a wealth of knowledge.
Since launching Art UK's Sculpture Project, we have come across many works by obscure female sculptors who are not represented adequately on Wikipedia or in scholarship at large. In fact, less than 18% of biographies on the English Wikipedia are about women, with only a tiny proportion of those biographies written about female sculptors.
To address this startling content gender imbalance, we have begun launching a series of Wikipedia edit-a-thons in collaboration with the online encyclopedia and a number of our partner collections across the UK, including the Paul Mellon Centre, the University of Glasgow as well as the organisation Art + Feminism.
With the intention of finding creative and collaborative solutions to this pertinent issue, we hope to give representation to women, BAME and LGBTQ+ artists from history and the present day.
Glasgow event
Our inaugural event took place at the University of Glasgow Library on Monday 30th September. The event opened with a presentation by Art UK's Sculpture Project Officer Sarah Harmon. Dr Sara Thomas, Scotland Programme Coordinator for Wikimedia UK provided in-depth training during the edit-a-thon.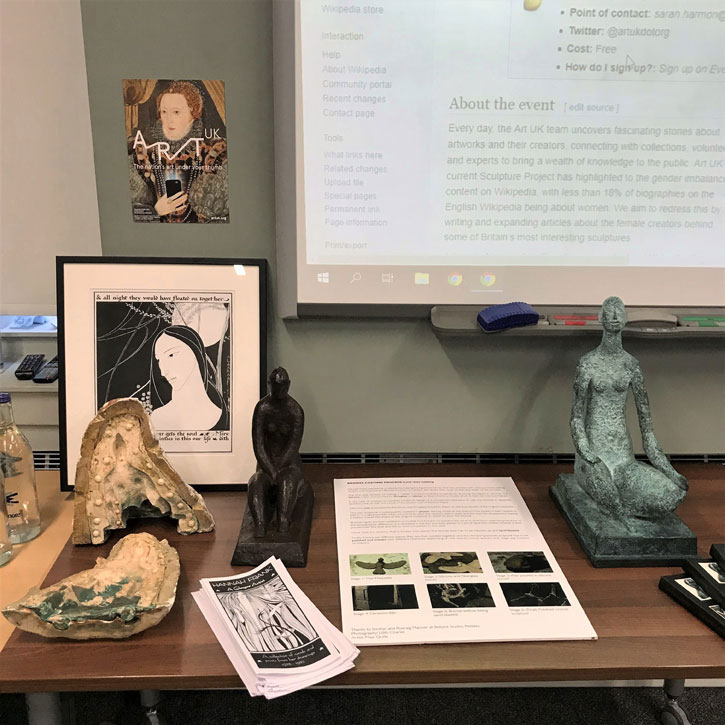 Over the course of the afternoon, the edit-a-thon improved six pre-existing Wikipedia pages (many of which were red links): Mary Fraser Tytler; Gwynneth Holt; Liljiane Lijn; Camilla Løw; Kenny Hunter and The Sockman. The attendees also created new pages for the sculptors: Fanny Lam Christie, Shona Kinloch, Juliana Cerqueira Leite, Lorna Graves and Jean Spencer, Phoebe Stabler and Sally Arnup, many of whom you can read about below...
Hannah Frank
The edit-a-thon began with a presentation about the Glaswegian-Jewish sculptor, Hannah Frank (1908–2008) by University of Glasgow History of Art students Lilith Charlet and Sylvie Rowland. Participants were inspired to begin creating and editing. Lilith and Sylvie shared about their time working in the Frank archive, researching the artist's life and work as well as their involvement in digitising, caring for and curating the archive – for physical exhibition and also online – to increase Frank's visibility.
Born in Glasgow to Russian-Jewish parents, Frank was initially known for her monochrome drawings before she focused on sculpture, which she continued to create until her 90s. She died in 2008 and was posthumously awarded the Glasgow City Council's Lord Provost's Award for Art, and an Honorary Doctorate from the University of Glasgow.
Lorna Graves
A Cumbrian artist, Lorna Graves (1947–2006) studied earth sciences and librarianship before concentrating on art. Her work appears intuitive almost to naivety, despite her formal training.
While her earthly, tactile works are typically embodied in both works on paper and sculptures, Graves' practice also explored the ancient tradition of creating talismanic forms, considered a reference to Inuit carving. Materials in these works are reduced to their simplest, primordial form.
Shona Kinloch
Shona Kinloch (b.1962) is a Scottish artist who has received public commissions across the United Kingdom as well as on five ocean liners. Her sculptures have an almost whimsical feel. Often humorous and keeping within figurative and realist traditions, her work specialises in animal and human figures, and are typically created in bronze.
In 2019 Shona Kinloch worked with three Scottish high schools as part of Art UK's Masterpieces in Schools Project.
Pecking Hen can be found at the Lillie Art Gallery, in Milngavie, Glasgow, Scotland.
Juliana Cerqueira Leite
The Brazilian sculptor Juliana Cerqueira Leite (b.1981) is based in New York, though her large-scale public commissions can be found in the UK, where she attended the Chelsea College of Arts and the Slade School of Fine Art.
Interested in combining performance art with sculpture, she often uses her own body and its movements as a source of inspiration. Due to working with tactile materials such as clay, plaster and latex, her practice references the works of Eva Hesse and Lynda Benglis.

Fanny Lam Christie
The Hong Kong-born, Scottish-based artist Fanny Lam Christie (b.1952) creates ecologically minded work that focuses on human relationships to nature. Through her exploration of materials, including those recycled from a Scottish distillery, Lam's textural, abstract sculptures evoke elements of the natural world while questioning their future.
Lam exhibits regularly and has works in public and private collections across Scotland, the UK and the United States. She has undertaken several residencies and works with students and community groups. Her work has been recognised through multiple awards including the N. S. MacFarlane Charitable Trust Award, which was presented in 2006 at the Royal Scottish Academy.
Phoebe Stabler
While Phoebe Stabler (1879–1955) may be best known for her figurative pottery, she worked across many mediums including ceramics, enamel and wood. Importantly, Stabler enjoyed a successful independent career as well as one in partnership with her husband, Harold. Stabler exhibited widely throughout her career, and her work is held in collections in the UK and across the globe.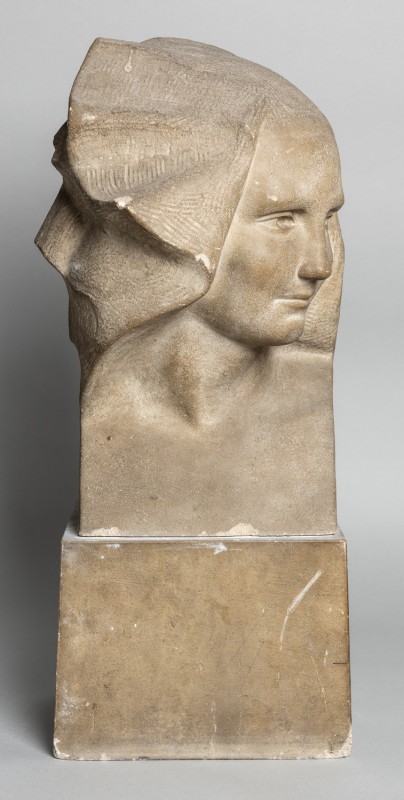 London event: Art UK x Paul Mellon Centre x Art + Feminism
Our second event was in collaboration with the Paul Mellon Centre, Art + Feminism and Wikipedia. The edit-a-thon took place in the heart of Bloomsbury, at the Paul Mellon Centre's library on Saturday 5th October. Introductory speeches were given by the Deputy Director of the Paul Mellon Centre, Dr Sarah Victoria Turner, Art UK's Content Creator Lydia Figes, Wikimedian Stuart Prior, as well as the co-founder of Art + Feminism, Jacqueline Mabey.
With the intention of using the library's resources, the edit-a-thon focused on profiles of women sculptors who already had Wikipedia pages, yet whose profiles were not substantial or well-researched.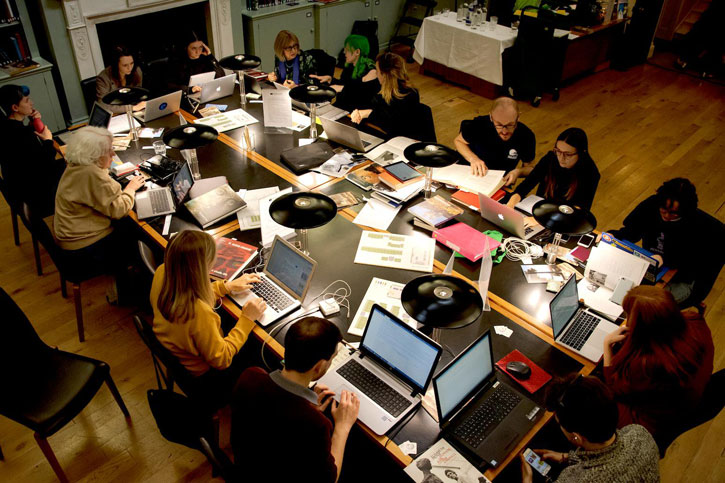 Reflecting on the event, Assistant Librarian Natasha Held remarks:
'Although driven by our digital team, the Wikipedia-edit-a-thons have provided a welcome of opportunities for the Paul Mellon Centre Library to analyse and further augment its collections of material documenting women's art practice and to broaden its audience reach. We purchased a number of new items specifically for the Wikipedia-edit-a-thon, including some about artists not previously represented in our collection. It has also been great to work collaboratively across departments and organisations and to have the library enlivened with the buzz of communal study and a sense of common purpose that the Art + Feminism, Wikipedia project brings.' – Natasha Held, Assistant Librarian, Paul Mellon Centre.
We focussed on the following women: Fiona Banner, Phyllida Barlow, Anne Damer, Sokari Douglas Camp, Elisabeth Frink, Maggi Hambling, Gertrude Hermes, Shirazeh Houshiary, Shona Kinloch, Kim Lim, Marlow Moss, Cathie Pilkington, Betty Rea, Mary Spencer Watson, Alison Turnball, Josefina de Vasconcellos and Mary Thornycroft.
Here is more information about some of those female sculptors...
Anne Damer
Anne Seymour Damer (1748–1828) was an English sculptor who was once described as a 'female genius' by her friend and art patron Horace Walpole. Overlooked in the history of sculpture, Damer exhibited regularly at the Royal Academy between the years 1784 and 1818. She was greatly influenced by neoclassicism and worked in marble, terracotta, bronze and wax.
Despite being a female artist, she achieved a huge amount of success during her lifetime. She was even invited to meet Napoleon while he was in exile on the island of Elba in 1815.
This sculptural bust of the actress and Countess of Derby, Elizabeth Farren (1759–1829) was created in 1788, a decade after Damer's husband John Damer committed suicide. It is believed that Anne Damer and Farren may have had a romantic relationship.
Mary Spencer Watson
An English sculptor, Mary Spencer Watson (1913–2007) spent most of her life working in her home county of Dorset, in the farmhouse Dunshay Manor, which is now a Landmark Trust property.
The daughter of portraitist George Spencer Watson (1869–1934), Mary's career as an artist was somewhat overshadowed by her father's, though she was a talented figurative sculptor in her own right. She often carved from Purbeck stone, the local stone extracted from the Dorset quarries. Her practice was influenced by the Arts and Crafts revival of medieval culture. Many of her works can still be found in Dorset, as well as in Salisbury Cathedral.
Known to be a lesbian, Spencer Watson settled with her longterm partner Mary. She died at the age of 92 in 2007.
Sokari Douglas Camp
The Nigerian-born artist Sokari Douglas Camp has held exhibitions in the UK and internationally since she graduated from the Royal College of Art in 1986.
A critically-acclaimed sculptor, Douglas Camp's work draws from Nigerian sculptural traditions and evokes issues to do with the African diaspora, though is equally informed by European art history.
She works with a myriad of different materials from steel to gold, but also incorporates found objects in her practice.
Kim Lim
The celebrated Singaporean sculptor Kim Lim (1936–1997) moved to England when she was 18 years old. Largely known for her abstract wood-carved structures, she also experimented with stone, marble and printmaking, most of which she created in the 1960s and 1970s.
Sinuous, tactile and minimalist formes, Lim's work often connected to nature and emphasised rhythm and repetition.
Betty Rea
The renowned English sculptor Betty Rea (1904–1965) favoured realist sculpture during a period of flourishing abstract and modernist sculpture. After studying at the Royal College of Art in the 1920s – when Henry Moore was teaching – Rea created works often showing scenes with women and girls.
Rea is also remembered for turning her attention towards anti-fascist, leftwing politics in the 1930s and setting up the Artists' Refugee Committee. She taught sculpture at Homerton College, Cambridge between 1949 and 1964.
Sarah Harmon, Project Officer, and Lydia Figes, Content Creator, at Art UK