A tale of murder and suicide overshadows this charming portrait of a young woman and girl on Hampstead Heath.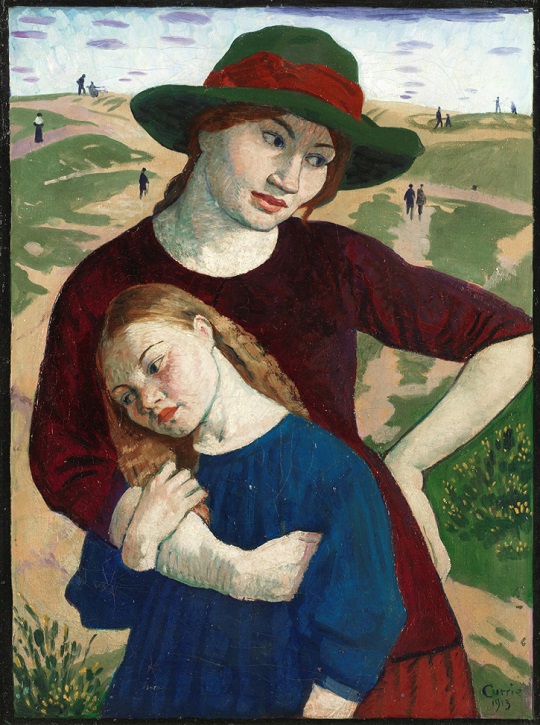 This painting by the relatively unknown John Currie (1883–1914) sold recently for £31,250 at Bonhams in London.
A crime of passion explains the high price as much as the quality of the work itself.
The identity of the girl is unknown, but the woman was Currie's lover Dolly Henry. A year after it was completed Currie stormed into a flat in Chelsea with a loaded gun and shot Dolly before turning the weapon on himself. It was the culmination of a tempestuous affair which sent shockwaves through the London art world where Currie was a rising star.
Currie was born in Staffordshire working in the Potteries as a ceramics painter before moving south. In 1910 he went to the Slade joining a group of highly gifted younger students including Mark Gertler, Adrian Allinson, Edward Wadsworth and C. R. W. Nevinson.
In the years leading up to the First World War their rowdy behaviour in the cafés and nightclubs of Soho contrasted with the refined 'Neo-Primitive' style of some of their pictures which echoed the Renaissance masters. Currie's Some Later Primitives and Madame Tisceron exemplifies this style and features portraits of himself (far left) and (from left to right) his fellow painters Gertler, Nevinson, Wadsworth, Allinson and the female proprietor of a Soho café.
The year before, Currie, who had abandoned his wife and young son, began his affair with Dolly who was a clothing model in a department store. She was strikingly good looking with long red hair and a statuesque figure. At 17, she was ten years younger than Currie.
In the years following their deaths, Currie's friends tended to portray Dolly as an empty-headed tease who drove Currie mad, cutting short what would have been a brilliant career. Dolly, a working-class Irish girl, had no influential friends to defend her reputation.
A fictionalised account of their relationship in a 1916 novel by Gilbert Cannan perhaps comes closest to the truth. Called Mendel: A Story of Youth, it's a thinly veiled portrait of Mark Gertler who, for a time, was Currie's closet friend.
The story, which features the murder of Dolly and the suicide of Currie, also outlines the doomed love affair between Gertler and another Slade student, Dora Carrington.
Currie (called 'Logan' in the book) picks up Dolly (renamed 'Nelly') at Piccadilly Tube station. 'Nelly' is bored, looking for adventure and 'Logan' is a loud-mouthed misogynist who advises Mendel not to take women seriously. 'If you can't do without them, hate 'em. They'll lick you boots for it.'
The relationship between 'Logan' and 'Nelly' is peppered with passion and furious rows. 'It is extraordinary how near love is to hate and how rotten love becomes if hate is suppressed,' says Logan to Mendel, attempting to explain the dysfunctional affair.
Currie was frequently jealous of what he saw as Dolly's flirtatious behaviour, entitling this portrait of her The Witch.
Meanwhile Gertler was also suffering in love with an unfulfilled passion for Dora Carrington, 'Greta' in Cannan's book: 'It seemed appropriate that, having known many women without a particle of love for them he should be in love with a woman who did not wish to have anything to do with him.'
As for Currie and Dolly, their on/off relationship ended on 8th October 1914 when he lost all control after hearing a rumour that Dolly had posed for 'lewd' photographs. After shooting her several times at close range he shot himself. 'I loved the girl,' he told a policeman before dying the next day in hospital with Gertler at his bedside. He was 30 and Dolly was 20.
In a letter to Dolly found after their deaths, Currie wrote: 'This crazy passion has wasted my strength and broken my will.'
Many years later Carrington and Gertler both took their own lives. Carrington in 1932, when unable to live without the writer Lytton Strachey, who had just died from cancer, and Gertler in 1939, on the eve of the Second World War.
Today, the largest collection of Currie's paintings is at The Potteries Museum and Art Gallery at Hanley in Stoke-on-Trent.
James Trollope, author and columnist