Pallant House Gallery's Pride Tour was put together in celebration of Pride Month in collaboration with local LGBTQ+ organisation Chichester Pride. On 28th May 2022 they celebrated Chichester's first-ever Pride event and will be hosting a joint Pride evening with the Gallery on 30th June 2022. Some of the committee members have visited us in the gallery, chosen an artwork and given an audio description of what it means to them and why it is important.
Our digital guide on the Bloomberg Connects app has enabled our visitors to get extra insight into our works and exhibitions whether touring the gallery or at home.

This month, enjoy a tour of queer artworks in our collection to celebrate #Pride.#innovationMW #accesstoculture pic.twitter.com/Jhxhxv0dOZ

— Pallant House Gallery (@PallantGallery) June 13, 2022
Together we have selected a number of works by LGBTQ+ artists in Pallant House Gallery's collection that are currently on display, including works from the current temporary exhibition 'Glyn Philpot: Flesh and Spirit'. This has created a comprehensive tour that covers both the eighteenth-century townhouse (Pallant House) and our new wing and a broad period of modern British art.
This selection of artworks on Art UK is just a taste of the full tour, which is available on the free Bloomberg Connects app.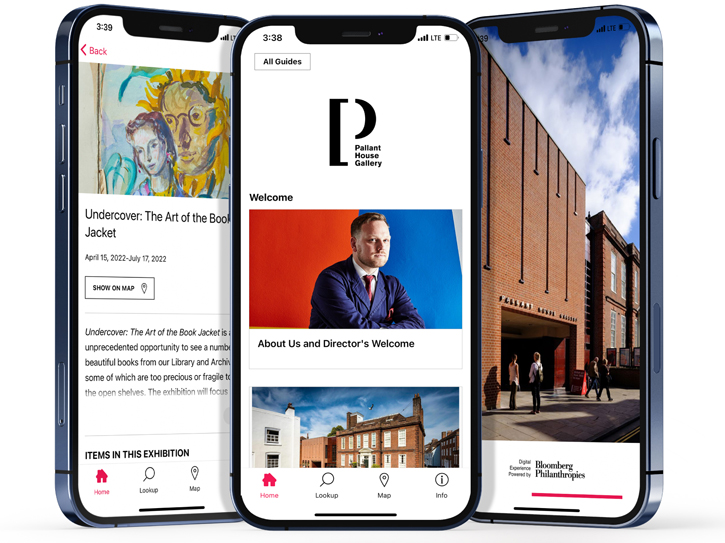 This colourful painting was produced during Christopher Wood's first visit to Cornwall in 1926 and was painted at his rented cottage Olva House in St Ives.
Wood's choice of subject, a group of ornamental Staffordshire dogs positioned on an armchair next to a window, with a Cornish seascape beyond, successfully captures the artist's imagination. Wood has painted these dogs with the proportion and positioning of family pets waiting patiently for their owner to return home, rather than the statuettes that the viewer expects.
Although the scene at Wood's rented cottage is both warm and inviting, the viewer is acutely aware of a storm brewing over Godrevy lighthouse which can be seen rising out of the sea on the left-hand side of the painting. The changing weather, coupled with a fishing boat returning to the harbour, is a prominent reminder of the dangers at sea for Cornish fishermen.
Wood was an ambitious artist, and wrote to his mother five years before this painting was produced to say that he wanted 'to try and be the greatest painter that has ever lived.' His long-term relationship with Antonio de Gandarillas, a well-connected Chilean diplomat, enabled Wood to socialise with the wealthy international elite of the period. Wood was bisexual and although his relationship with Gandarillas lasted Wood's lifetime, he had a number of affairs and was briefly engaged to Meraud Guinness.
It is likely that Wood never reached his full potential as an artist as he died at the age of 29. Whilst addicted to opium and becoming increasingly paranoid due to withdrawal from the drug, Wood jumped in front of a train at Salisbury station and was killed instantly in 1930.
This painting by Duncan Grant depicts a group of male nudes relaxing in the warm afternoon sun by a pond at Charleston farmhouse in East Sussex.
From 1916, Charleston was the artistic hub and home to members of the Bloomsbury group, a prominent group of liberal artists and writers working during the early twentieth century.
Not only was this painting thought to have been hung at Charleston in Maynard Keynes' bedroom – a room that the economist occupied on visits between 1916 and 1924 – but it is likely that the reclining figure at the centre of this painting was based on Keynes himself. Keynes and Duncan Grant were in a serious relationship several years earlier and it is possible that Bathers by the Pond is a depiction of several of Grant's lovers, including David Garnett. Garnett had strawberry blond hair and a ruddy complexion that is recognisable in the figure in the top right-hand corner of this work.
John Craxton painted Hare on a Table while sharing lodgings with fellow artist Lucian Freud at Abercorn Place, St John's Wood, London.
The starkness of the background and the intensity of the hare's blue eye create a poignant declaration on death and mortality as well as tenderness and beauty. Craxton and Freud's shared enthusiasm for creating studies from dead animals, sourcing their subjects from the local butcher and a pet shop in Camden, made for unconventional living arrangements; the art historian Kenneth Clark recalled visiting the two artists and finding a monkey hidden in their oven. Speaking of his relationship with Freud, Craxton said, 'We learnt a lot from each other. I learnt from Lucian how to scrutinise, which I wasn't doing before, and Lucian learnt how to plan pictures and use colour.'
Howard Hodgkin's use of different colours and shapes, neatly framed with an orange and green-spotted border, gives the impression that this is an abstract painting.
However, on closer inspection, Hodgkin is depicting an interior – a fireplace in the centre of the room, an LC2 Le Corbusier chair directly opposite and a mezzanine level supported by columns above. The different elements of this work form 'almost a stage-set of the mind.'
This interior belongs to a house designed and built by the architect Colin St John Wilson between 1961 and 1964 on Granchester Road in Cambridge. This is one of a pair of houses by Wilson in this location – one of which was to be his own home – that are now Grade II listed.
Granchester Road is often described as the pivotal work in the development of Hodgkin's oeuvre. The different components of this painting are not only interacting with each other but the portrait of the artist himself behind a column, the furniture, and the architecture. The components become almost interchangeable. As described by the art historian Paul Moorehouse, 'the different parts are combined in a more integrated and mutually reinforcing way.'
Robert MacBryde was part of an emerging group of artists during the 1940s who were associated with Neo-Romanticism. Born in Ayrshire, Scotland he studied at the Glasgow School of Art where he met his lifelong partner Robert Colquhoun. The couple moved to London in 1941 and quickly gained recognition. During the height of their success, they exhibited at the prestigious Lefevre Gallery in the West End, attracting a large circle of friends and followers.
The painters Michael Ayrton, Francis Bacon, Lucian Freud and John Minton were regular visitors to their studio in north Kensington where the pair hosted fashionable, usually raucous gatherings. MacBryde revealed himself to be the more outgoing and exuberant of the two men, often breaking into song or dancing a Highland reel, but both were known for their kindheartedness and generosity of spirit.
The next painting in the trail is a portrait of David Tindle as a boy by John Minton.
Minton once said: 'There is no more revealing human personality than the visual artist. For a man will paint only of himself and the things he knows, loves, hates, desires.'
Minton was the life and soul of any party, known for his brilliant sense of humour. He was often to be seen drinking and dancing in the pubs and jazz bars of Soho in the company of artists such as Lucian Freud, Robert Colquhoun and Robert MacBryde, the poets George Barker and W. S. Graham. But he could also be introspective and prone to self-doubt.
These contrasting aspects of his personality were, of course, inescapably interlinked. His drinking and hedonism invariably were to be an escape from himself.
Minton was homosexual in a period before the Wolfenden Report in 1957 and the legalisation of male homosexuality in 1967, when it was far from socially acceptable in Britain. Yet, whilst he was anti-authoritarian and did not seek to hide his sexuality, it left him conflicted, causing problems in several of his close male friendships. These personal difficulties perhaps add to the charge of his images, for Minton observed to a friend that:
'The fact of what one paints and what one is is inescapably interwoven... I often idly wonder if my preoccupation with adolescence in painting leads you to wonder what incentive, besides that of obvious influences, I have to paint pictures like that. The physical aspect of things has always been of great importance to me, and with it the touching and melancholy impermanence of all physical beauty – a sort of hopeless aching nostalgia – and the despairing transitory nature of all physical unions.'
Keith Vaughan painted Musicians at Marrakesh (1966–1970) after travelling through Morocco in April 1965 with Patrick Woodcock, a close friend and doctor.
During his 'First time out of Christendom' he recorded in his journal 'fantastic over-production of everything in the markets... crowds gentle and smiling... hot spicy smells... Arab amiability' and intense colours such as saffron, indigo and ochre. This painting was inspired by such observations as well as the souk in Marrakesh – a labyrinthine covered market and a huge, open square filled with snake charmers, food stalls and groups of exotic Berber musicians.
Vaughan evolved a unique manner of depicting his figures, often faceless and without obvious genitalia, since he regarded such details as distracting 'attention grabbers'. But there were other reasons why he did this. During the 1940s and 1950s Vaughan, like other queer artists, was compelled to self-censor and veil his imagery since overt, male nudity was suspect and any expression of same-sex eroticism carried with it legal risks and possible charges for contravening obscenity laws.
Vaughan was a prolific journal writer and revealed his most private thoughts in 61 hand-written volumes. This extremely honest document records the apprehensions and self-doubts of a gay man struggling to conceal his frustration at the social injustices in public life at the time.
He criticises censorship, voices disappointment at establishment hypocrisy and expresses horror at the lack of insight into human behaviour exercised by public figures and politicians:
'It is difficult to bear in mind that with all one's honours, distinctions and successes etc. one remains a member of the criminal class. My sexual relationships, on the rare occasions when they have been successful would, or could, earn me at least life imprisonment if known & prosecuted. How can one feel part of one's time & society in that case?'
Matt Williams, Digital Content Manager at Pallant House Gallery
To take the full Pride Tour, download the free Bloomberg Connects app