As part of Phillips Global Arts Partnership programme, we are proud to play a prominent role in supporting The Hepworth Wakefield's fifth anniversary celebrations by hosting this exhibition of Late works by Dame Barbara Hepworth. The exhibition has been curated by the curatorial team at The Hepworth Wakefield and is focused on Hepworth's late work in all its different mediums, forms, dimensions and materials. It covers the artist's most productive period from 1965 to 1975; her life was cut short in a fire in May 1975 in her Trewyn Studios in which she tragically died.
There is certainly a shared passion between us and the Hepworth in focusing on this highly energetic and creative period. All the Phillips team are delighted to be involved in our various ways in this project, and our Arts partnership team, Directors and specialists are actively encouraging all our clients and visitors to London to come and see this truly beautiful and stylish exhibition.
The importance of Hepworth's artistic influence on the world at the time cannot be overstated in my opinion. Hepworth was in a friendly rivalry with her fellow Leeds art school graduate, Henry Moore, and immediately following the end of Second World War she began achieving significant recognition. She exhibited work in the British Pavilion at the 1950 Venice Biennale; and also at the 1951 Festival of Britain Exhibition on the South Bank in 1951. Later in this same decade she was awarded the Grand Prix at the 1959 Sao Paolo Biennale. There followed major public commissions for monumental sculptural works in the early 1960s, notably Winged Figure for John Lewis in Oxford Street and Single Form for the United Nations building in 1961. This gave her the financial wherewithal to increase her studio space and staff and perhaps more importantly for Hepworth she was now able to afford to make more work in her favourite material, marble. Hepworth had dreamed of the many pieces she would create in marble since the mid-1920s.
She married her first husband, fellow sculptor John Skeaping in Italy in 1925. Skeaping was then a Rome Scholar in Sculpture and Hepworth was on a scholarship in Florence, after marrying they lived together in the British School of Rome. While Skeaping was studying, Hepworth learned to carve in stone from the master carver Giovanni Ardini and in 1926 visited the famous Carrara marble quarries for the first time. They had to return to England in 1926 due to Skeaping's ill health. However the visions of what Hepworth would create in marble remained with her and she talks of dreaming about the pieces she would create in marble when and if the opportunity arose. Most of these dreams came to fruition in these last highly productive ten years of her life. This 'new freedom' and outpouring of creativity led her to produce over 60 pieces in marble during these ten years, far far more that in the preceding 30 years.
The exhibition features both two-dimensional and three-dimensional works. The two-dimensional pieces include examples of the lithographs she produced between 1969 and 1971, namely The Aegean Suite, (1971), Opposing Forms 1970 and two drawings Genesis III from 1966 and Construction from 1966. In all these works you can see recognisable earlier forms, however new influences are taking hold, replacing the old recognisable, circles and semicircles with new shapes and symbols influenced by space exploration and the recent Moon landing in 1969. One particularly piece, Sphere (prototype) 1967–1973, is perhaps the most clearly influenced by the many new scientific breakthroughs of the time in Science and Space exploration. Hepworth had a thirst for knowledge and a genuine enthusiasm for scientific advances, astronomy and space exploration and was always up-to-the-minute with all the latest breakthroughs and innovations.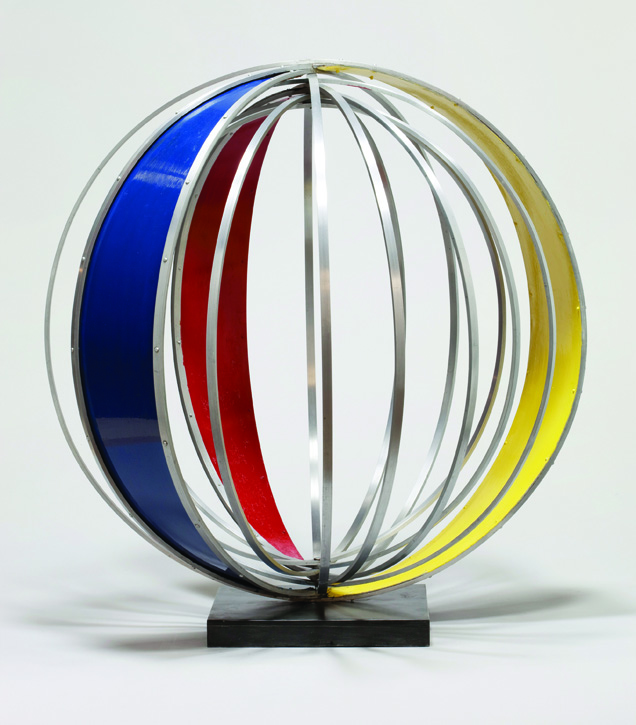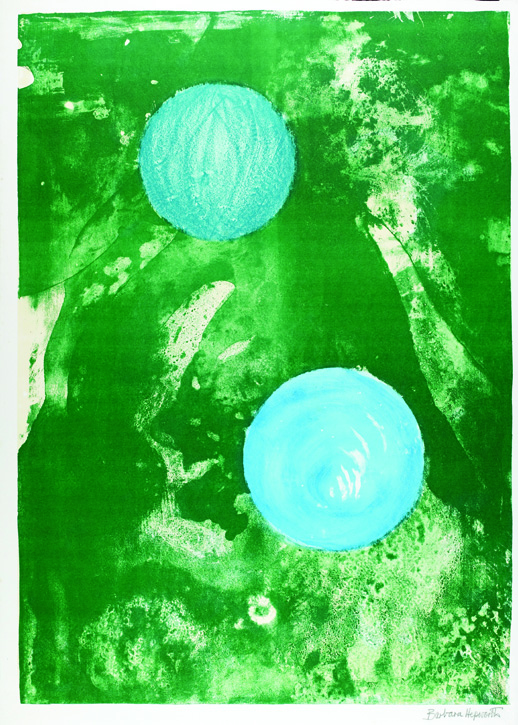 The three-dimensional works in the exhibition showcase many of her familiar materials including marble and thanks to the changes governing the ownership of Silver and Gold by individuals in 1970 in the UK, the exhibition also features work in these materials notably Three Curves with Strings (Gold Mincarlo, 1971 in 24 carat gold) and Maquette Theme and Variations, 1970 in Sterling Silver.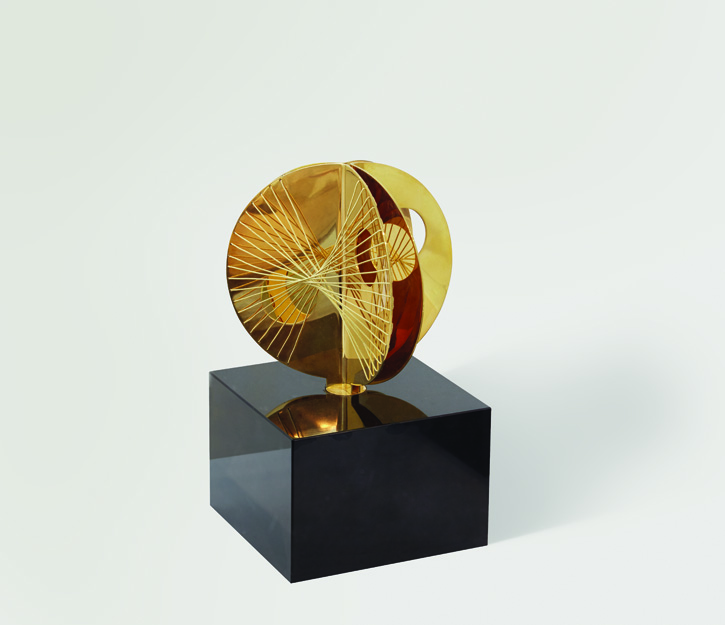 To me so much of this exhibition looks on trend, despite having been produced over 40 years ago now. It is a tribute to Hepworth's energy, passion for modern thinking, that it looks as fresh today as it did when it was first shown.
The exhibition, which opened here on 7th July continues until 27th August is open 10am to 6pm, Monday to Saturday, and is a free exhibition open to the public. I hope you enjoy this rare summer treat!
Jonathan Horwich, Senior Specialist, Phillips Auctioneers
'Late Hepworth' is an exhibition in celebration of the Hepworth Wakefield at Phillips, 30 Berkeley Square, London W1J 6EX, 7th July to 27th August 2016, free entry, open Monday to Saturday from 10am to 6pm, excluding Bank Holidays.
Art UK are proud to have Phillips Auctioneers as a Founder Benefactor.